30th May
PiL - UK Tour kicks off tonight in Bristol


24th May

The Public Image Is Rotten (Songs from the Heart)




CD Version


CD 1: Singles 1978-2015


CD 2:

B-sides, Rarities & Radio Sessions


CD 3:

12" Mixes


CD 4:

Unreleased / Rare Mixes & Tracks


CD 5:

Live at New York Ritz, July 16th 1989




DVD 1:

Promo videos 1978-2015 / Tallin, Rock Summer Festival, Estonia, August 26th 1988




DVD 2:

BBC TV Archive / Sydney, Enmore Theatre, Australia, April 10th 2013





Out 20th July (Universal)






LP Version

LP1:

Singles /

LP2:

Singles (cont.)


LP3:

B-sides /

LP4:

12" Mixes & Dance Tracks


LP5:

12" Mixes & Dance Tracks (cont.)


LP6:

Unreleased Mixes & Tracks




Glen Matlock to perform at Peace Train Music Festival (June 21-24) in the Demilitarized Zone on the border of North & South Korea


23rd May
The Professionals to play Glasgow, The Garage, 19th June

Cook 'n' Jones 'n' Idol 'n' James. Sex Generation or Generation Sex?
Check out this fun Jonesy's Jukebox chat

22nd May


Tom Spencer, Paul Cook, Chris McCormack (The Professionals),
Olga (Toy Dolls) and Danny McCormack (The Wildhearts) and their
World Cup 2018 song "Charge Of The Light Brigade"





PiL- Reading show SOLD OUT

21st May

18th May
Jamie Reid Black Queen Screen Print Released with 40 page book sampler of forthcoming publication

17th May

16th May

15th May
Glen Matlock at TUC rally, Hyde Park: All Or Nothing

7th May

MTV News clip 1983. John Lydon - pictures from film 'Corrupt'

Manic Street Preachers tackle No Feelings at Wembley Arena

2nd May
The Professionals to open for BIlly Idol at his UK shows; June 20 Manchester Apollo, June 21 Birmingham Academy & June 23 Brixton Academy





New Unofficial Vinyl

Same Old Bollocks

13 track yellow vinyl LP
Sex Pistols in Santiago 7 December 96

From radio broadcast

1st May
John Lydon Q&A event at Dundee's Whitehall Theatre. "The Public Image is Rotten - An Evening With John Lydon" Thursday August 30th


27th April
Public Image Ltd live shows selling out: Exeter, Aberdeen & Dundee sold out - get tickets for remaining shows here

Paul Cook with Jonny Weathers - Sonic Assault EP. Bass & rhythm guitars played by Dave Draper (producer of The Professionals What In The World LP). Available to download now

Paul Cook in the studio with Steve Jones on Jonesy's Jukebox


22nd April

21st April
John Lydon has added an 'In Conversation (with Barry Cain)' event to his appearance with PiL at Rebellion, August 5th

18th April




A unique master for the trailer of the 1980 Sex Pistols film, The Great Rock n Roll Swindle, is to be auctioned on 21st April by collectables and memorabilia specialists

Excalibur Auctions Ltd.




17th April

Time Out: Joe Corre: £50 million-worth of punk memorabilia was burnt, now you can see the ashes

12th April
Available to view / download from today: Sky Arts. Urban Myths: Sex Pistols (v Bill Grundy)

10th April

8th April

Joe Corré: "£5 million Punk memorabilia burn immortalised in new dramatic artwork"

3rd April
The Sun: "John Lydon blasts Ireland TV chiefs for Eurovision snub with band PiL"

30th March
PiL to play Bingley Music Live on Saturday September 1st 2018. Tickets on sale now

29th March


The Professionals - What In The World


Vive Le Rock Magazine Album of the Year
The band picked up their award at O2 Academy Islington last night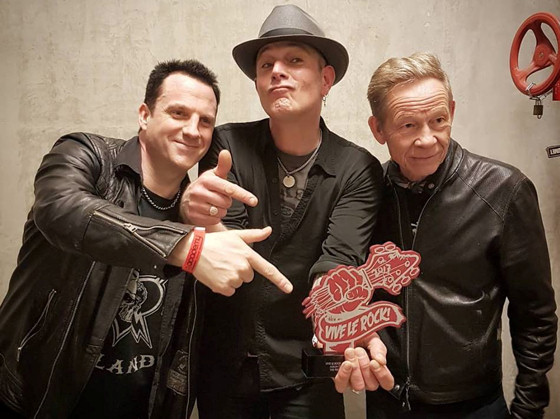 26th March
The Metro: Glen Matlock on his travel hotspots + new LP 'A Bloke About My Size' due soon

Steve Jones classic 1987 TV performances
With You or Without You
Mercy

Promo clip from NBC comedy A.P. Bio (feat. Steve Jones)

20th March
Zooparty's new album "Lardass" is now out on Deadlambrecords as a vinyl LP. As on earlier Zooparty albums Glen Matlock is a guest, and so are Brian James (ex-Damned) and Bruce Kulick (ex-Kiss). Glen plays on You Don't Know Me & Everything I Failed To Be

Paul Cook was at the Royal Albert Hall last night to see his daughter Hollie supporting headliners UB40

18th March
Daily Mail: "New film shows Vivenne Westwood's foul mouthed rants"

13th March

8th March
Record Store Day 21st April


Public Image Limited: Live At Brixton Academy 1986

(UMC/Virgin EMI 2LP) Previosuly unreleased on vinyl. The entire Brixton Academy concert from 1986


Johnny Thunders: So Alonesome

(Remarquable Records 1LP) Recorded during his stay in London in the Spring of 1978. Steve Jones & Paul Cook were among musicians to guest on the sessions

6th March

5th March
YouTube: When Sex Pistols Played In Helsingborg, Sweden 1977 (1994 SVT short)

4th March

28th February

The Professionals are confirmed for Sunday 5th August at Rebellion Festival.
They will also appear at the Vive Le Rock Awards held at O2 Islington Academy in London on 28th March
YouTube: The Wildhearts & The Professionals perform Pretty Vacant in Wakefield

24th February

22nd February

PiL announce 40th Anniversary tour, box set and documentary


To celebrate their 40th Anniversary, PiL have announced

The Public Image is Rotten:UK/Europe & Japan Tour

, kicking off in Bristol on 30th May See PilOfficial.com for all dates

Ticket pre-sale will be tomorrow, Friday, February 23rd at 11am with general sale following on Monday, February 26th at 11am

A career–spanning box set and a documentary

The Public Image Is Rotten

will also be released



16th February
The Professionals: Going Going Gone


The Guardian: John Lydon: 'I didn't want to be a comfortable, Mick Jagger-type naughty pop star'

13th February
The Professionals to play Isle Of Wight Festival (21-24 June)

YouTube: Glen Matlock video chat during current tour with Dropkick Murphys & Flogging Molly

Vinyl Guide Update: NMTB Swedish mis-press

12th February

| | |
| --- | --- |
| | John Lydon is also the MOTYW ambassador for the festival |

John Lydon on Jay Leno's Garage (CNBC). Jay Leno gives John a driving lesson

9th February

8th February

7th February


PiL Headline Rebellion Sunday 5th August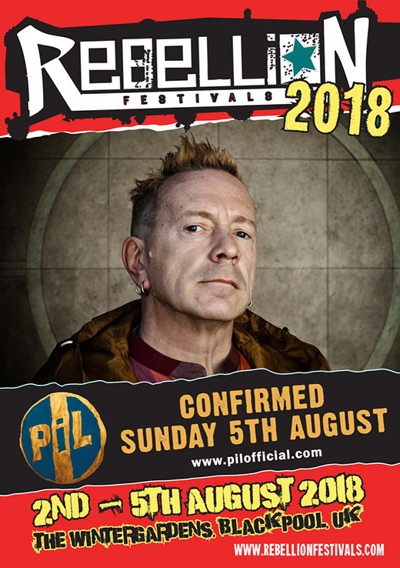 6th February
YouTube: Steve Jones with Neurotic Outsiders perform No Fun. Rehearsal Sept 1995 at The Joint, LA

3rd February
YouTube: Johnny talks about the PiL Documentary

2nd February
Tonight BBC4 9PM Hits, Hype & Hustle.. Revivals & Reunions
Glen Matlock talks Sex Pistols Flithy Lucre


Sid Vicious died on this day in 1979 - a staggering 39 years ago.

31st January


HAPPY BIRTHDAY JOHN!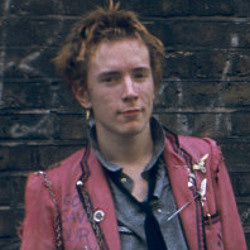 Johnny will not be respresenting Ireland in the Eurovision Song Contest. This year...
The Irish Sun
The Irish Post

27th January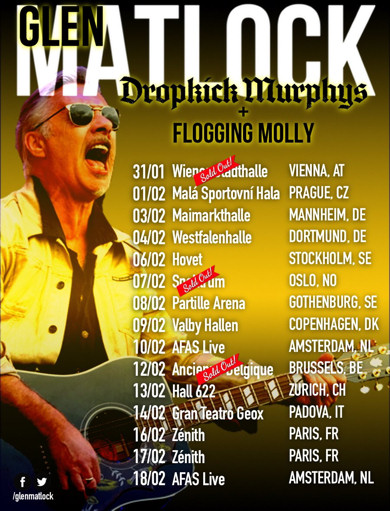 Paul Cook lent his support to daughter Hollie at her album launch which took place at Rough Trade West, Portobello Rd, London, last night. Hollie's new album Vessel Of Love is out now on Merge Records

25th January
Public Image Ltd play their 1st ever gig in Northern Ireland at The Open House Festival in Bangor on Saturday 25th August

21st January
Vinyl Guide Update
The Great Rock 'n' Roll Swindle LP Greek re-press

19th January

17th January
Glen Matlock and Johnny Depp at Shane MacGowan's 60th birthday celebration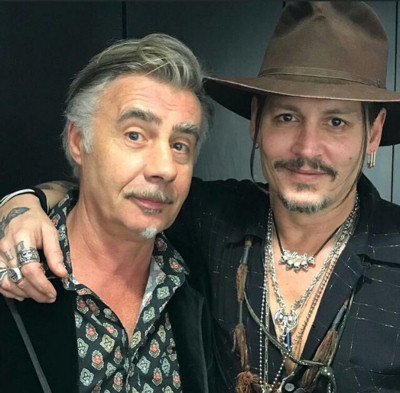 Picture by Amy Haben
http://entertainment.ie
http://www.irishexaminer.com

12th January


Professionals Vintage TV Special 24th January


Vintage TV is available on Sky 369, Freeview 82, Virgin 343, Freesat 505 and BT/TalkTalk 82





11th January
Pistols USA: 40 years on... more articles: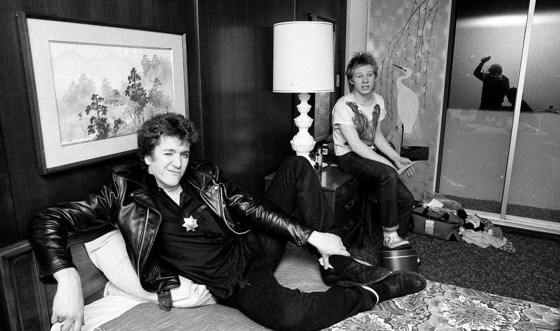 San Francisco Winterland - rare pictures
Dallas Longhorn Ballroom - marquee re-created
Tulsa Cains Ballroom - pictures

10th January
The Professionals will be playing at The Warehouse, Wakefield on Friday February 23rd as part of the Scott Sorry benefit show with the Wildhearts

9th January
The Professionals will be joining Buzzcocks and The Vapors on May 6th (Bank Holiday weekend) for a special one off show at UEA Norwich

God Save The Queen on A&M records sells for $14,690 - the most ever paid for a record on Discogs

5th January 2018
YouTube: ITN News short. Sex Pistols 1986 court case victory

Tulsa Film: Cain's Ballroom memories of Sex Pistols gig 12 January 1978

Outcast Revisited: Winterland Special - rare pictures from 14 January 1978

31st December 2017
YouTube - Unheard before: Some Steve Jones for New Year: Recorded January 17 2012 "Let There Be Talk" EP72: Steve with comedian Ian Edwards

30th December
Billy Duffy reflects on his year including his work on The Professionals LP

29th December
Tulsa World - 40 years after the Sex Pistols played Cain's Ballroom: a celebration

YouTube interview - This is Art: Julien Temple cuenta contra qué se rebelaban los Sex Pistols

27th December
The Power Chord Hour - Paul Cook and Tom Spencer talk Professionals on their visit to NYC

23rd December
NY Times - DOA: A Sex Pistols Concert Film Languished for Four Decades

22nd December


Vive Le Rock magazine Album Of The Year!




The Professionals - What In The World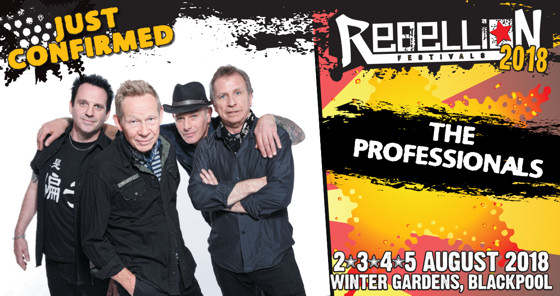 Confirmed today - The Professionals to play Rebellion Festival August 2018





21st December
Remembering the Sex Pistols penultimate UK gig in Cromer, 40 years on

19th December
YouTube: Steve Jones guests with with Royal Machines

15th December
Video: John Lydon at The Great British Postcard Competition

13th December
Steve Jones neXt2rock contest final from The Viper Room

11th December

10th December
The Irish Sun: Johnny Rotten reveals why he wants to do Eurovision for Ireland

9th December

7th December
Glen Matlock & a star rich cast including Johnny Depp to turn out for Shane McGowan's birthday

Never Mind The Bollocks Vinyl Guide Update: Further Japanese obi variation

6th December
Vinyl Guide Update:
The Biggest Blow / My Way 12" Australia Wizard - different label font

4th December

The Irish Sun reports on John Lydon "Music legend vying represent Ireland at next year's Eurovision"

29th November
The new edition of Classic Rock magazine includes a 6 page Professionals feature
The Professionals will play PSK Stockholm - 2 day punk festival - held 11-12 May 2018
Radio London: Listen to Paul Cook & daughter Hollie talking to Gary Crowley
Paul & Tom talk to myglobalmind.com

Malcolm McLaren's grave desecrated by vandals

28th November
Glen Matlock 'Remembering Johnny Thunders'
Glen pictured down under in Wellington, NZ

24th November

23rd November
Glen Matlock Down Under....


Today FM: John Lydon on being the next Irish entry to Eurovision...

22nd November
Never Mind The Bollocks Vinyl Guide Update. 1st 1000 with variant A1 B3 matrix

18th November
Listen to Paul Cook on BBC6 Music's Round Table discussing the latest releases - available on iPlayer [thanks Steve Sommer]

16th November



Glen Matlock & Walter Lure Preview 40th Anniversary 'L.A.M.F.' Shows for Johnny Thunders' Classic

15th November

12th November

Live Photos: Glen Matlock, The Prince Of Wales Hotel, Brisbane, 10th Nov

10th November

Loudwire: Paul Cook Plays 'Wikipedia: Fact or Fiction?'

8th November

God Save The Queen 1977 Virgin Records 10" acetate is up for sale. Estimate £10,000-14,000

7th November
Paul Cook & Tom Spencer USA Loudwire video interview

6th November

Look out for Paul Cook & Tom Spencer in a Professionals Planet Rock Radio takeover coming soon.

4th November




The Professionals




What In The World



Top 10 Chart Success!



No 7 in the Official Rock Chart


No 4 in Independant Album Breakers Chart
Plus... No 13 in Independant Album Chart






3rd November

2nd November

BBC Radio: 40 Years of 'Never Mind The Bollocks' with Steve Jones

1st November

30th October


YPAGE ENDYYY