REVIEWS Latest
see also REVIEWS BOOKS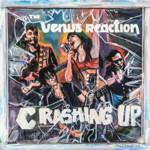 The Venus Reaction: Crashing Up / Lifetime 7" clear vinyl single
(Plane Groovy)
The Venus Reaction is a project put together by David Donley, multi-skilled musician who's performed drum duties live with Glen Matlock's Philistines on many occasions. Glen himself lends a hand, providing the bass on lead track Crashing Up, a song about being bullied for looking different. The lyrics are penned by a young victim and are poignant and heartfelt. David has seized the opportunity to show off his prowess on guitar with some rip roaring super fast licks. It's mightily energetic with a strong vocal by Amie Conradine.
The formula is repeated on the flip-side Lifetime, this time with Philistine Jim Lowe providing the bass. The lyrics by David are autobiographical which, like Crashing Up, give an authentic air to the proceedings. Ed Graham provides the drums on both tracks adding to the accomplished vibe of the single.
Pressed on clear vinyl in a quality card sleeve, it's a good looking neat slice of heads down, ballsy rock 'n' roll. Plus there's a download card if you've got rid of your deck. Limited to 500 copies.
The Venus Reaction can be purchased from
www.burningshed.com
&
www.themerchdesk.com

YouTube Preview https://www.youtube.com

Review by Phil Singleton
(November '17)
---
Bored Teenagers Vol. 9: 27 Great British Punk Originals '77'-'82
(Bin Liner Records)
The reason for reviewing this CD on GSTSPs will soon become clear.
This series of compilations began way back in 1999 and 18 years later they are still finding rare and unheard cuts from obscure punk bands.
Volume 9 includes The Crabs, Nuffin', The Toads, The Coils, and FU-2 who feature Helen Wellington-Lloyd as guest vocalist on all 5 of their tracks. Helen was a central character in the world inhabited by Malcolm McLaren and the Sex Pistols and became known to many as 'Helen Of Troy' in The Great Rock 'N' Roll Swindle. So how does she do? She's not the best vocalist in the world, but she's more than adequate giving a Poly Styrene-esque squealing performance on some rather catchy punk-pop songs - Maybe and Soho being the pick of the bunch. Terry Piper, a friend of Helen's who formed FU-2 provides notes which give context to the music. The CD includes 2 studio videos of the band with Helen. Paul Cook's then-girlfriend also appears in the footage. A loose Pistols connection, but worth a mention!

Aside from FU-2, there are 22 other tracks to get your punk rock teeth into. None will make it onto a Now That's What I Call Punk Rock hits album, but that's the whole point. This is the sound of the back room rather than the suburbs, but it's exactly what punk was about. Kids everywhere being inspired to give it a go. Results may vary, but enthusiasm runs throughout, and the result is some solid punk rock.

The Toads from Norwich steal the show with 9 DIY slices of disaffection, Suppression/Oppression and Bank Job amongst the standouts. The Coils from Northumberland are likewise spiky, fast and raw, Upper Class Cretin! If you like your punk direct, these 2 bands are for you.

The Crabs are perhaps the best known having had a track on the Farewell To The Roxy album in '78. They recorded 4 studio tracks in total, all included here. They are excellent, on par with many of their better known contemporaries - there's a feeling of a missed opportunity for this band. Nuffin' date from 1976, these guys were there at the start. They hung around the periphery of the Roxy Club scene without achieving much of anything, save for the 4 cuts of primate punk included here, We're Plastic proving the most satisfying.

Whatever your reason for grabbing a copy of Vol 9, just be warned, you may find yourself forking out for more from the Bored Teenagers catalogue. The 20 page booklet is packed with information and pictures - an indication of the care that's gone into the package.

Commendable, enjoyable and above all, authentic. With added Helen Wellington-Lloyd.

http://shop.detourrecords.co.uk/
Review by Phil Singleton (September '17)
---
©2017 Phil Singleton / www.sex-pistols.net
All rights reserved. Not to be reproduced without permission.