The Professionals Album Launch Gigs
The Slade Rooms, Wolverhampton, 27th October 2017
The Garage, London, 28th October 2017
Review & Pictures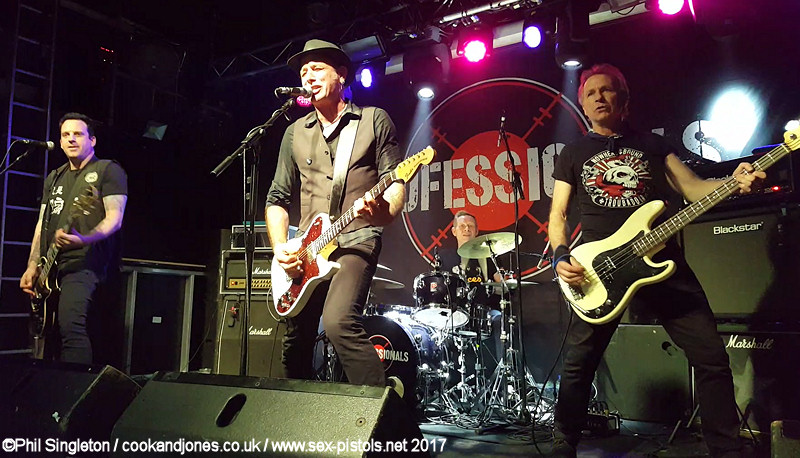 Above: The Garage
The weekend it all came together for Paul Cook and the rejuvenated Professionals. The last two years had been building towards this moment. From testing the water back in 2015, via the the writing and recording of a new LP and consolidating the personnel, through to the launch of the album itself, What In The World.

Had the last two years all been worth it? The album has received incredible reviews from across the board, online, on air and in the printed press. Outstanding songwriting, playing and production. It's more of a rebirth than a reunion.

So here they were with back to back shows to celebrate. The first gig at The Slade Rooms in Wolverhampton enabled the band to iron out any kinks prior to the big bash in the capital the following day. Not that much fine tuning was necessary - they'd already put in the hard yards rehearsing so they were primed and ready.

Erupting into life with Payola followed by the rock-centric Northern Slide, the template Professionals sound was quickly established. Time now for the first new song of the evening, Good Man Down, one of five played. Sonically uplifting oldies Join The Professionals, Just Another Dream, Crescendo and 1-2-3 were delivered with spine tingling clarity, but in amongst them were new tunes Rewind, Let Go, Take Me Now and Going Going Gone - all very, very catchy, with brilliant memorable lyrics. These were the highlights of the set, sitting effortlessly alongside the established songs. Powerful and direct - in many respects they even eclipse the early 80's material. When you have to leave out the likes of New Generation and Hats Off from your set - both new, both incredible - you can be sure the planets are aligning.

The main set closed with the trio of Kick Down The Doors, Silly Thing and Little Boys In Blue, triumphantly performed. It's worth noting the chemistry within the band and the guitar interplay between Tom Spencer and newly enlisted Chris McCormack - they have nailed the 'Professionals' sound. You didn't hear anyone present at these two shows demanding Steve Jones. Yes, we all love Steve, but Tom & Chris are awash with the same sound and attitude and have taken it up a notch. It feels like a brand new band now, rooted in the here and now. Tom's confidence has grown immeasurably during the past couple of years - it's hard to imagine the band without him. These guys are The Professionals.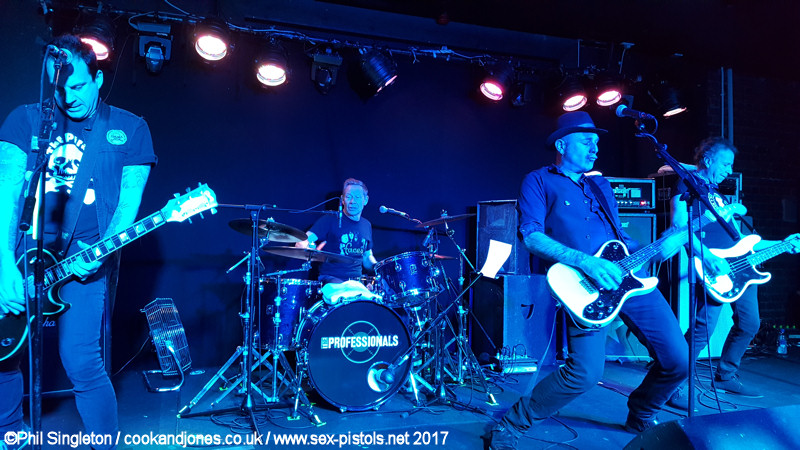 The Wolverhampton crowd were enthusiastic and well educated in all things Pros, buying into every new song. There was not a whiff of negativity nor a solitary shout to stick to the old stuff. Paul Myers pumped so much energy through his bass, he ended up with a wrist injury! Needless to say he carried on unperturbed (stopping off en route back to The Garage the next day to have a wrist support fitted - the lad's a professional). Cookie is without doubt the head Professional. The re-launch has given Paul the platform to emerge into the spotlight and gain some proper recognition for his own achievements. Too right. It was fitting therefore that he announced the encore would celebrate 40 years of Never Mind The Bollocks. Bodies ("I'm not an animal, I'm a Professional") and Pretty Vacant closed the show in a rampant fashion.

A warm up show it may have been, but in reality it was far more than this - it was the real deal, and to make it a bit more special, it was the actual album release day. We also got to see the brand new drum skin.

Down to London and The Garage for the main launch party the following day. First off, if you got down there in good time you would have been rewarded by the amazing support, Hands Off Gretel. Totally original and refreshing. By the time the theme music to the TV show The Professionals announced the main event, the place was packed out - a great sight to see.

The stakes were higher than the night before. This was a major show for the band and the number of photographers gathered in the pit bore testament to this. Heightened anticipation there may have been, but the previous day's trip to the Midlands had put paid to any anxiety on stage. Payola once again opened the set with a tsunami of sound which tore through the crowd. It was something to behold.

Framed by their new backdrop, they looked awesome. The band have acquired a new found confidence during the recording of the album and it's given them a stage presence and tough persona to match the blistering music. The songs continued, the new material - like the night before - being received as rapturously as the classics. We got the added bonus of Bodies and Pretty Vacant, which were great to witness again, but it was the band's own material that really ripped the roof off. The perfect size of the The Garage coupled with the volume and acoustics meant The Professionals were the juggernaut we'd dreamt about. An unstoppable behemoth.

Two spectacular gigs that have kicked down the doors to a new, brighter future. Wolverhampton and London witnessed the rebirth of The Professionals. Mission accomplished. Magnificent.



Review & pictures by Phil Singleton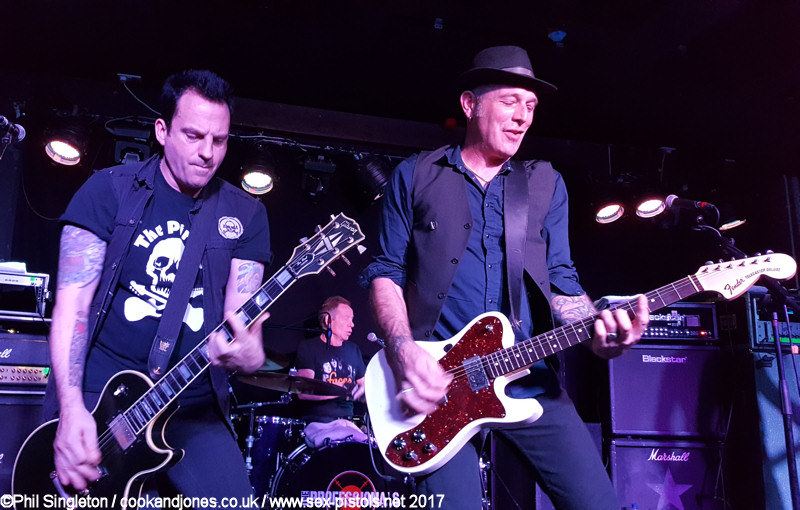 Above: The Slade Roms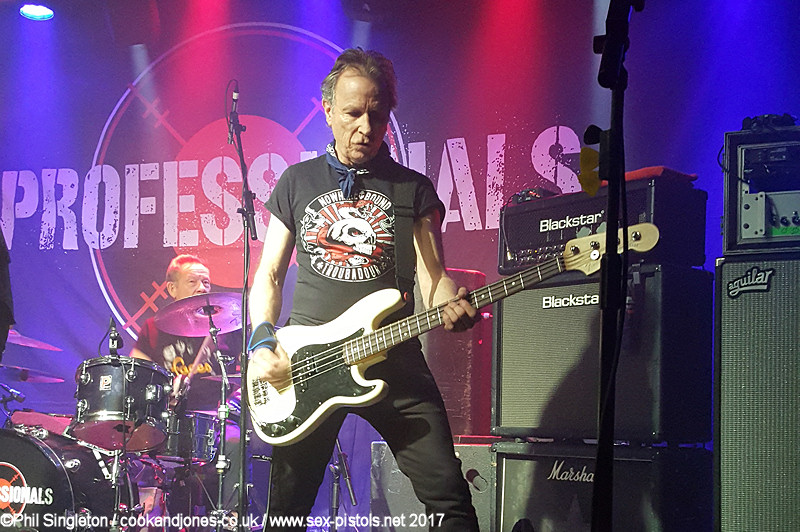 Above: The Garage

The Slade Rooms Wolverhampton Soundcheck >
The Slade Rooms Wolverhampton Gallery >
The Garage London Soundcheck >
Text & Pictures ©Phil Singleton / cookandjones.co.uk / www.sex-pistols.net 2017
All rights reserved. Not to be reproduced without permission
God Save The Sex Pistols / Kick Down The Doors ©Phil Singleton / cookandjones.co.uk / www.sex-pistols.net 2017