24th November
Dennis Morris' Sid Vicious photos featured in streetwear brand Young and Reckless collection
Dennis Morris: Behind The Design.Talking about his Sid T-Shirts collaboration with Young & Reckless: YouTube
Vinyl Guide Update: NMTB West German includes Bodies twice
22nd November

Steve Jones joins The Cult in LA
Hollywood Palladium, 20th November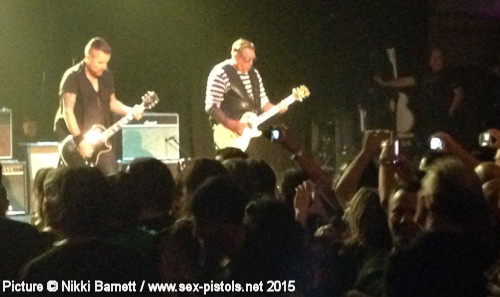 [thanks to Dave & Nikki Barnett for photo]
18th November
PiL on The Late Show last night

Neil McCormick's Needle Time: John Lydon. Promo Video
The Stranger: John Lydon Interview
Steve Jones and Mark Sovel Interview about Jonesy's Jukebox
17th November
John Lydon appears in Dreadtown, a Steel Pulse crowd funded documentary.

PiL will appear on the Colbert Late Show tonight (Tuesday, Nov 17th) at 11:35 pm ET/10:35 pm CT on CBS.
16th November
Glen Matlock will tell the story of how the Sex Pistols exploded onto the music scene in the late 1970s, and disintegrated almost as quickly, at the Horsebridge Centre in Whitstable on Saturday, December 5.
Jonesy's Jukebox Audio 13 November 15: Guest Joe Walsh
13th November

10th November

The story of the first Sex Pistols gig: Danny Kleinman film posted at GQ online
9th November
Glen Matlock, Earl Slick and Slim Jim Phantom
ĎMen Of No Shameí Australian Tour 2016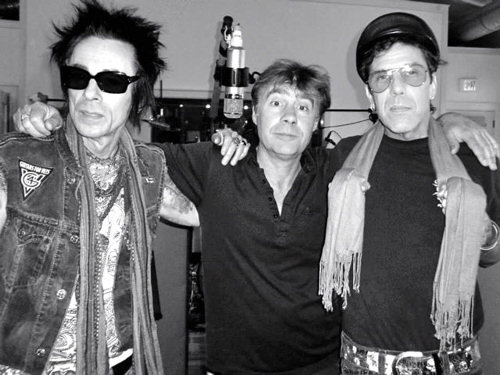 Friday 26th February 2016 Surfer Paradise Beergarden, Gold Coast QLD
Saturday 27th February 2016 Chardonís Hotel (Backroom), Brisbane QLD
Sunday 28th February 2016 Newtown Social Club, Sydney NSW
Wednesday 2nd March 2016 Cambridge Hotel, Newcastle NSW
Thursday 3rd March 2016 Fowlers Live, Adelaide SA
Friday 4th March 2016 Ding Dong Lounge, Melbourne VIC
Saturday 5th March 2016 Flying Saucer Club, Elsternwick VIC
The band will be taking part in Q&A sessions before each show
Tickets on sale now
Punk London announced at Be Reasonable Demand The Impossible: Vive le Punk! Vive art schools! Vive London!
Glen Matlock looks at early Sex Pistols photo during Be Reasonable Demand The Impossible
8th November
Jonesy's Jukebox Audio 6 November 15. Guest Fred Armisen
6th November
Today marks the 40th anniversary of the Sex Pistols first ever gig, which took place at St Martinís School Of Art, London.
The date is celebrated by the press.
Telegraph: On The Trail of the Sex Pistols
Edgar.com: The Sex Pistols: How they changed music
History Pod Sex Pistols Video

Junkyard on PBS FM:The Professionals Special (Playlist)
5th November
Vinyl Guide Updates
France Anarchy In The UK 122 1977 with missing label
C'Mon Everybody New Zealand 2nd Pressing
4th November

Soho Radio: Punk and New Wave Glen Matlock Special

3rd November
The place where Sex Pistols debuted is now a luxury penthouse apartment
Steve Jones with Billy Idol on Jonesy's Jukebox - picture
1st November
Jonesy's Jukebox Audio: https://audioboom.com. Special guest Billy Idol.
30th October

28th October

27th October
Jonesy's Jukebox is back!

Fridays 12:00 noon to 2:00pm

Plus....

Steve Jones on Spotify
'In Residence' DJ spot
24th October

23rd October
PiL on Later With Jools Holland tonight, BBC2, 11:35pm performing three tracks. The show will also be available online via BBC iPlayer. Watch Double Trouble, live on Later With Jools Holland from Tuesday's show.
22nd October

19th October

PiL will be appearing on this week's Later With Jools Holland on BBC2, Tuesday, October 20th at 10:00pm. The show is also available online via the BBC iPlayer. This will be the band's second appearance on the show.
18th October

14th October

PiL The One New Video

JAMIE REID solo at MULTIPLIED + New Editions [thanks Alain clerc & Stuart Craig]
11th October
Glen Matlock: Asbury Club, Argentina Photos
10th October
Glen Matlock video Interviews in South America
Somos Rock: Argentina
Vorterix Interview
AudiovisualTelam
John Lydon and The Professionals are featured in the latest 'Legends' issue of Vive Le Rock Magazine.
"Punk pioneers Sex Pistols and others depicted in clay figures"
6th October
PiL will release 'The One' in UK/Europe on limited edition etched vinyl on Friday, November 13th. The 7" single features 'The One' on one side and an etched PiL logo on the other.
'Bettie Page' will be released on the same day in the US and features the track along with an etch of Bettie Page. All original artwork was designed by John Lydon. The singles can be ordered individually, or as a bundle, via the Cargo Records website.
Order: The One etched 7" vinyl
Order: Bettie Page etched 7" vinyl
Order: The One / Bettie Page bundle
Glen Matlock: 10 October at Abbey Road in Mar de Plata, Buenos Aires.
YouTube: Glen Interview in Argentina
5th October
PiL YouTube: Shepherd's Bush Highlights
Deeper Water
Rise
Disappointed
3rd October
Paul Cook saw John in action last night at PiL's Shepherd's Bush Empire gig.
2nd October