10th October
Glen Matlock video Interviews in South America
Somos Rock: Argentina
Vorterix Interview
AudiovisualTelam
John Lydon and The Professionals are featured in the latest 'Legends' issue of Vive Le Rock Magazine.
"Punk pioneers Sex Pistols and others depicted in clay figures"
6th October
PiL will release 'The One' in UK/Europe on limited edition etched vinyl on Friday, November 13th. The 7" single features 'The One' on one side and an etched PiL logo on the other.
'Bettie Page' will be released on the same day in the US and features the track along with an etch of Bettie Page. All original artwork was designed by John Lydon. The singles can be ordered individually, or as a bundle, via the Cargo Records website.
Order: The One etched 7" vinyl
Order: Bettie Page etched 7" vinyl
Order: The One / Bettie Page bundle
Glen Matlock: 10 October at Abbey Road in Mar de Plata, Buenos Aires.
YouTube: Glen Interview in Argentina
5th October
PiL YouTube: Shepherd's Bush Highlights
Deeper Water
Rise
Disappointed
3rd October
Paul Cook saw John in action last night at PiL's Shepherd's Bush Empire gig.
2nd October

1st October
PiL YouTube Highlights

Double Trouble: Buckley
One Drop: Reading
Disappointed: Reading
Loudwire John Lydon Interview (Part 1)
Glen Matlock 'Brothers Of Brazil' Full Set Video at Rock in Rio

Glen Rock in Rio Photos
Glen in Brazil. Review in Portuguese
Glen Matlock Live in Paraguay October 11 at Hard Rock Cafe, Asuncion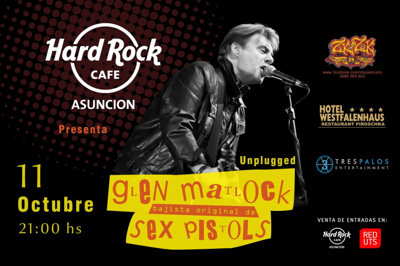 Generating Steam Heat radio show. Fan who saw the Pistols at The Stowaway, Newport in Sept '76 talks about the gig
27th September

24th September
Piers Morgan's Life Stories: John Lydon. Tomorrow ITV 9-10PM


Press: Daily Star: Pricked into punk: How Johnny Rotten got his name
Press: John Lydon: I was banned from BBC in 1978 for speaking out about Jimmy Savile

Backstage Auctions, Inc
Historic archive of 'London Features International' (LFI), which was one of the oldest and best-known London based British photo agencies. Offered are over 25,000 original negatives, slides and transparencies from the 1965 - 1980 British music scene including some of the most iconic musicians and bands of all time. The collection is presented in a little over 400 individual lots, almost all of which will be offered with a full transfer of rights, which makes this material not only collectible but also commercially appealing and exceptionally valuable. Among the many artists featured in this collection we have some very interesting SEX PISTOLS material that we believe the visitors to your website might be interested to see and know about.
Here is a direct link to the featured lots: http://www.backstageauctions.com/catalog/sex-pistols/
The auction preview is currently live.
The auction itself will start this coming weekend and will end on Sunday, October 4, 2015.
1st October
Sao Paulo, Carioca Club

3rd October
Curitiba, Master Hall
Arsenal Fan TV John Lydon Interview [thanks Martin Smyth & Carlos]
PiL: YouTube
Manchester Double Trouble
Manchester Public Image
Glasgow Double Trouble
21st September

I Swear I Was There - 40th Anniversary Edition
I Swear I Was There author David Nolan is putting out what he describes as a 'final call' for people who claim they were at the Pistols' infamous gigs at the Lesser Free Trade Hall in Manchester to come forward.
Morrissey, half of Joy Division, nearly all of Buzzcocks, Tony Wilson and Mark E. Smith of The Fall - plus a cast of thousands - all claim to have seen the Pistols in Manchester on June 4th 1976. David's book is being updated next year to mark the 40th anniversary.
Were you there? Contact David on Twitter @nolanwriter or email him at david@mediaexpertise.net
In the meantime, David has donated his copy of the first edition of I Swear - signed by the likes of Tony Wilson, Peter Hook, Howard Devoto, Pete Shelley and Steve Diggle - to Syrian refugee charity People Over Borders. Details here... https://rafflecreator.com/pages/7990/people-over-borders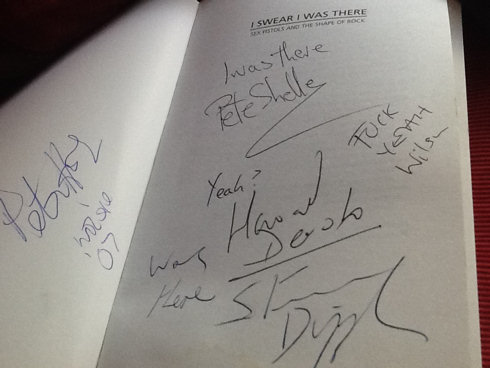 18th September
Guides Updated
My Way Australia Virgin Promo - sleeve added
Filthy Lucre Live Japanese 2008 CD album replica
17th September
Blast from the past! Sex Pistols coverage on UK Channel 4's The Big Breakfast. Transmitted 24.06.96
Public Image Ltd: The Making of What The World Needs Now Film
Latest issue of French magazine Rock & Folk has an interview with John Lydon, conducted by Geant-Vert.
John Lydon News Round-up
Manchester Evening News Interview
Orange County Register Interview
Glen Matlock: Rock in Rio September 2015. Keep an eye out for further Glen shows in South America including Argentina 8th October.
13th September
Mark Radcliffe BBC audio John Lydon Interview (Part 1)
Mark Radcliffe John Lydon Interview (Part 2)

12th September
PiL - What The World Needs Now: New entry @ 29 in Album Charts
PiL - What The World Needs Now: New entry @ 3 in Indie Album Charts
PiL - What The World Needs Now: New entry @ 4 in Vinyl Album Charts
PiL - What The World Needs Now: New entry @ 19 in Physical Album Charts
John Lydon News Round-up
Daily Record Interview. John takes aim at Donald Trump
Salon.com Interview
Songfacts.com Interview
Pop Matters Interview
The Telegraph Interview
Spin Magazine Interview
L.A.Times Interview
CNN YouTube Interview
8th September
BBC Video Clip. John Lydon: Life before Sex Pistols 'pointless'
The Big Issue: John Interview
6th September
John Lydon interview: Digital Trends
John still hates The Rock & Roll Hall of Fame
The Art Desk: 10 Questions with John Lydon

5th September
The new series of Piers Morgan's Life Stories, which began last night on ITV, will feature John Lydon as the subject of one show.
3rd September

Happy 60th Birthday
Steve Jones
1st September

THE COMPLETE PROFESSIONALS
3 CD SET - 47 TRACKS

47 track round up of singles, LP tracks and unreleased gems, including The Looters, Sham Pistols, demo tracks & radio sessions.

A feature covering the details of the contents will follow on the site nearer to the release date.

Pre-order from Amazon & get a hint of the content!

Out 16th October.
John Lydon teaser promo for KCSN 88.5 FM Interview
30th August
PiL - Double Trouble No. 2 in the Vinyl Singles Chart!
PiL - Double Trouble No. 3 in the Physical Singles Chart! [thanks Andy Alexander]
RIGHT AFTER THE SEX PISTOLS

Exhibition

A photographic record shot by Pierre Bénain at John Lydon's home during summer 1978

Stardust Gallery
September 3 - October 10
19, rue Notre Dame de Nazareth 75003
Paris

Phone 00 33 (0)140 099 529

French magazine, Rock & Folk #577, includes photos from the the Exhibition & interview with Pierre Bénain by Géant Vert
25th August
THE PROFESSIONALS - BRISTOL, THE FLEECE TUES 13 OCTOBER.
The Professionals get ready for their London show with a club show at The Fleece, Bristol.
24th August
PiL - US DATES. PRE-SALE DETAILS

The Big Issue - John Lydon Interview & Cover. Out now.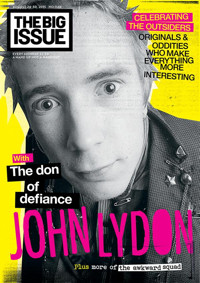 French magazine, Rock & Folk #577, includes unseen pictures of John Lydon shot in July 1978 by French photographier Pierre Bénain (interview conducted by Géant Vert).
22nd August
The Professionals

THE COMPLETE PROFESSIONALS

3 CD Box Set Available To Pre-order

47 Track Collection

Released 16 October
20th August

Public Image Limited
Double Trouble
Bettie Page
Turkey Tits

10" Vinyl

Out Tomorrow

GSTSPs Review

Quality. Wonderfully presented, PiL's new 10" single is housed in a glossy card sleeve, with colour inner dust jacket.

You'll be familiar with John's cover art, but the back is eye-popping. Bloomin' 'eck! The inner sleeve art is rather, shall we say - expressive. Very funny.
Very smothering.

As for the musical content, Double Trouble is an instant PiL classic. Confrontational from the off, it pushes you into a corner with its no-nonsense, no backing down, take no prisoners lyrical barrage. The music is equally as crisp and brash, ducking and weaving like the subject matter. There's a splash of humour thrown in to keep the listener's thought processes on the move. If you thought PiL might be going soft, or predictable, you are wrong.

Solid bass underpins Bettie Page, a look back at the origins of the USA & its original intent. Peel back the layers and the Land of the Free is exposed as the greatest pornographic country in the world, a nation of contradiction, of the naked and the brave. Not that John is knocking this, more pointing it out as he casts an observational eye over his adopted homeland.

Then there is the non-album track, Turkey Tits. A funky affair, it's no filler; establishment figures claiming undue credit for the genius of others, child sex shame, prostitution, and a dollop of John anger, give Turkey Tits some balls. It even brings to mind The Cowboy Song, the first ever PiL B-side, only this time the end product doesn't meander; it's sharp, snappy, and clever.

As with all PiL, interpretation is very much in the ears and imagination of the listener. This is my take, buy it and discover your own. I guarantee it'll make you think.

Review by Phil Singleton
Classic Rock: John Lydon's Advice For Young Punks
James Stevenson-The Punk Clubs of London Tour
18th August
Keeping It Cool At The Pingvin Club

New Bootleg vinyl LP: Oslo, Norway, 20th July 1977 show
Pressed in three coloured vinyls; pink, yellow & white. (100 of each)
15th August
Vinyl Update: "Sex Pistols" 1980's Picture Disc
14th August

John Lydon v Stephen Fry - Don't miss this audio! [thanks David Barnett, Stuart Barstow & Roy]
"Unaired TV ad": Nursery Rhyme Time With John Lydon
Richard Branson reunited with policeman who reported his Nottingham store for displaying NMTB [thanks Paul Townshend & Stuart Barstow]
2nd August

Slim Jim Phantom with special guest Glen Matlock at The Jazz Cafe, London August 15th
1st August
Rolling Stone: Julien Temple on 'Lost' Pistols Film [thanks Carlos, Herve, & Gaff]
30th July