20th May
Kiss This Promo Press 1992
19th May
Steve Jones appeared on Saturday Night Live last night. "Saturday Night Live season finale was notable for its final appearances by a number of soon-to-be-former castmembers, including, in all likelihood, Fred Armisen, who reprised his Ian Rubbish punk character with a live band that included Sonic Youth's Kim Gordon, Steve Jones of the Sex Pistols, Dinosaur Jr's J Mascis, "Portlandia" co-star and former Sleater-Kinney member Carrie Brownstein, and husband-and-wife duo Aimee Mann and Michael Penn."
16th May
"Sid Vicious comes to life at Mainline Theatre." Play Vicious Circles reviewed. montrealgazette.com
13th May
Montreal plays host to the play Vicious Circles: mainlinetheatre.ca/
12th May
Public Image Ltd Full Sydney Concert Now Live on Moshcam.

"Vicious Circles (Sex Pistols Play)": YouTube Trailer
10th May
"Punk: Chaos to Couture" exhibit. Short feature: www.youtube.com/
8th May
Main Offender T-shirts features new 21st Century designs inspired by Malcolm and Vivienne Westwood including a new range of Summer of '76 Anarchy shirts.
Also, on the fashion front, the UNIQLO UT T-shirt event celebrates the release of a limited-edition series of T-shirt collaborations centered on iconic artists, designers, musicians, and photographers, as well as music pieces from Sex Pistols, David Bowie and Madonna.
The project is being celebrated with an event on Thursday 16 May from 8pm-9:30pm at their flagship store on 111 Powell St, San Francisco. Keanan Duffty will be a host for the event, given his connections to the Bay Area fashion community and in music with the Sex Pistols & David Bowie.
The Lightning Raiders:
Psychedelic Musik / Views

Cook 'N' Jones lost gem now on CD.

Steve & Paul provided the musical backbone on "Psychedelic Musik" and it's
B-side "Views", a single by The Lightning Raiders, released May 1980.

Both tracks available on Sweet Revenge, a compilation of The Lightning Raiders recordings.
7th May
A look at the Kiss This Promo CD from 1992.
Glen Matlock was present at Willie Nile's show at the 100 Club, London, this week and joined him on stage for People Who Died.
30th April
NMTB Vinyl Guide Updates:
Brazil Fourth Pressing
UK Seventh Promo
UK Eighth Copyproof
Australia Second Pressing Promo
Japan Columbia Promo
26th April
Vinyl Updates:
Brazil God Save The Queen / Did You No Wrong promo sleeve added to Vinyl Guide.
UK / Canada God Save The Queen import sleeve.

Unofficial vinyl keeps on coming. Recently surafced on auction sites are Live In Texas 1978 7", Attack In Dallas 10", Live at Green Cinema 7", & For A Few Dollars More LP. Nothing new in terms of content.
Never Mind The Bollocks has also made another appearance on auction sites as a Japanese 10" picture disc in various colour combinations. [thanks Jeff]
25th April
New York news. Punk: Chaos To Couture. Exhibition featuring 100 punk-influenced pieces by designers including Alexander McQueen, Rodarte, Marc Jacobs and Alexander Wang. Both men and women's fashion is featured, including the Gianni Versace-designed 'safety pin dress' worn by Elizabeth Hurley in 1994. Opens May 9. The Metropolitan Museum of Art, 1000 Fifth Avenue, New York, 10028-0198, United States. Chaos To Couture - exhibition (9 May 2013 to 11 August 13).
23rd April
Season Xero interviews Glen Matlock - interview & live clips.
22nd April

19th April

"Better a spectacular failure, than a benign success"

Malcolm McLaren gets grave stone and a death mask in Highgate Cemetery

Installed this week in secrecy at his grave in the eastern part of the cemetery, 100 yards from the memorial to Karl Marx
Glen Matlock unplugged at Haus der Jugend Düsseldorf 16th April 2013.
Glen Matlock. Interview at Piranha Bar, Montreal.
16th April
Glen Matlock's solo show in Cologne last night reviewed for GSTSPs by Andreas Volkert.
Steve Jones made a cameo in Saturday Night Live spoof The History of Punk, featuring a "pro-Thatcher" punk band! (note: video plays in US only).
Sad Vacation, a new 90 minuute film about Sid Vicious and Nancy Spungen is in production.
"... features some of their friends and contemporaries sharing their tales on the most controversial Rock & Roll couple there ever was. Directed and shot by Danny Garcia (The Rise and Fall of The Clash, Looking for Johnny), with just a smart phone, Sad Vacation is truly Punk Rock cinema at its best! Includes interviews with Marky Ramone, Sylvain Sylvain (New York Dolls), Bob Gruen, Frank Infante (ex Blondie), Andy Shernoff (Dictators), Leee Black Childers, Marty Thau, Cynthia Ross (B- Girls), Kenny 'Stinker' Gordon (Pure Hell), Henri Paul and more." chipbakerfilms.com/ [thanks Rat]
Elle magazine May 13 issue, has a Punk 'it's back' feature - from a fashion point of view.
13th April

PiL Down Under
exclusives
PiL in Sydney filmed by MoshCam
12th April

Glen Matlock & Sylvain Sylvain at Drew's N.J. Full show: http://youtube.com/watch
"John Lydon Threatens Legal Action Over Publicist's Spit Claims": www.contactmusic.com
John on Maggie: "Sex Pistol Johnny Rotten attacks hate mobs celebrating Baroness Thatcher's death as 'loathsome' and calls for respect." Read more: /www.dailymail.co.uk/
Also reported in NME. www.nme.com/news/ [thanks Norrie]
10th April
Mojo Magazine May 13 has a feature on Sheila Rock's fothcoming book, Punk +. which features almost 200 unseen photographs, including Glen Matlock carrying Sid Vicious at the Vicious White Cats gig in '78. The book will be released as a deluxe hardback (£100) and on-line at the end of April.
8th April
Marie Claire May 2013 issue includes a six page feature, The Story Of Punk.
7th April
Worldwide Vinyl Guide Updates:
United Kingdom Pretty Vacant White Label Test Pressing
Canada Pretty Vacant
South Africa Pretty Vacant
Thailand Holidays In the Sun
Japan 12" No One Is Innocent
United Kingdom No One Is Innocent Kiss This Promo
Pretty Vacant / Seventeen / Satellite WLTP 12" (Chaos Records)
The Early Years Live 12" EP (Receiver Records)

6th April
"And now it's a crime to hate the Sex Pistols. Manchester cops are to be given special sensitivity training in handling complaints from punks, 'metallers', goths and 'emos'": www.dailymail
Glen Matlock Interview: Virginia Beach April 2013. www.youtube.com
Steve Jones and a dog! www.youtube.com
PIL live in Shanghai www.youtube.com
The date for the first ever US release of PiL's 1978 album 'First Issue' is 18th June. 2 x CD / LP + Download / Digital. www.pilofficial.com/

Roger Ebert, writer of the original aborted script for the Who Killed Bambi film, has died. brooklynvegan.com/roger_ebert_rip.htm
The Sex Pistols/Bill Grundy Amish spoof on BBC sketch show, 'It's Kevin', has grabbed much attention, including that of SPIN. View the video spin.com/articles
2nd April
PiL in China: 'Beijing's beautiful' for king of punks. chinadaily.com.cn/ [thanks Dave Smitham]
Anarchy In The UK on EMI appeared on the Antiques Roadshow (BBC1) - and GSTQ on A&M also got a mention bbc.co.uk/iplayer/ (The story begins 35:47 in...) [thanks Marshal Peters]
1st April

Sex Pistols/Bill Grundy Amish spoof on BBC sketch show, 'It's Kevin': bbc.co.uk/iplayer/ [thanks Nick & Sean Carlson]
30th March
"China says no to Kraftwerk, yes to Sex Pistol. Chinese officials have refused permission for veteran German electronic band Kraftwerk to perform in the country but sanctioned the first concert by PiL, fronted by Sex Pistols lead singer John Lydon, promoters said on Friday." chinapost.com

John Lydon: "Hello, me old China"
29th March
Nite Cort Video Interview: Cort Mccown with Steve Jones tradiov.com/la/videos/
John Lydon reveals Chinese government requested his lyrics before approving PiL gigs.
Read more at nme.com/news/
PiL play in Beijing tomorrow.
28th March
PiL will play Glastonbury Festival this year. Day to be confirmed.
PiL in Paris: Cite De La Musique, 23rd October. See pilofficial.com
25th March

Pretty Vacant Record Store Day Details Released Today
Side A: Live version of Pretty Vacant from Hammersmith Apollo 2nd September 2008, with the country and western intro.
Side B: The rare 1977 mono mix of Pretty Vacant from the US promo.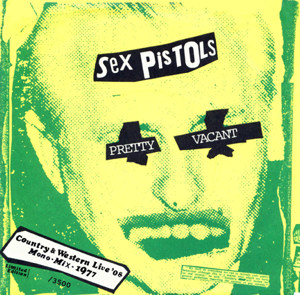 Sex Pistols have announced that the band will release a very special version of Pretty Vacant as a limited edition 7" record on April 20th for Record Store Day.
The A-Side is a previously unreleased version of Pretty Vacant recorded live at the Hammersmith Apollo on 2nd September 2008. Featuring a 'Country & Western' style intro it, as John Lydon says, "brings out the c*nt in country".
The flip-side is a 1977 mono mix of Pretty Vacant which was only previously available on an American promo of the single. The 3,500 limited edition, numbered 7"s come in a faithfully replicated version of the original American promo.
Pretty Vacant was originally released in July 1977 and was the third single taken from Never Mind The Bollocks Here's The Sex Pistols. Another masterpiece, the single, with its rallying cry 'and we don't care!' swept the nation.
ARTIST: Sex Pistols
TITLE: Pretty Vacant (Country & Western 2008 live) / Pretty Vacant (1977 Mono Mix)
CAT. NO/ UPC: SexPiss1977(5) / 00602537328499
FORMAT: 7" Limited Edition Vinyl (3,500 numbered)
Both sides recorded by Chris Thomas.
22nd March
Pretty Vacant is set to be re-released on 7" on Record Store Day in the UK on April 20.
Paul Cook pictured at the VIP preview of the David Bowie Exhibition at the V&A, London.
21st March
Paul Cook will be drumming for Vic Godard And Subway Sect at The Water Rats Theatre, Kings Cross, London, Friday 29th March. For further Subway Sect dates see vicgodard.co.uk/
From pilofficial.com "Record Store Day USA April 20th. Light In The Attic Records will release a replica 7" of PiL's debut single 'Public Image' wrapped in its 4 page PiL newspaper sleeve; as per the original October 1978 UK release. The single will be limited edition of 4,000 copies and available at all good record shops in the USA.
The single will be followed later in the year by the first ever official US release of the band's debut album 'First Issue. Issued as an expanded, 2xCD and single vinyl edition; with various bonus material including an almost hour-long audio interview circa 1978."
PiL will play Body & Soul Festival, Ballinlough Castle, Co. Meath, Ireland, 23rd June.
20th March
This evening Paul Cook is at the VIP preview of the David Bowie Exhibition at the V&A, London.
NMTB Vinyl Worldwide Updates:
Glitterbest First Pressing - 'A' sticker sleeve
Italy - Fourth OVED pressing
Netherlands - First pressing label variation
Spain - Second pressing update
West Germany - Fourth OVED pressing
West Germany / Benelux - sleeve variation
Thanks to Chris Visser for the additions.

19th March
To commemorate PiL's April Japanese tour, EMI Japan have released Reggie Song / Out of the Woods on CD along with the 2011 paper sleeve editions of the PiL back catalogue albums. http://www.emimusic.jp/artist/pil/
18th March
Glen Matlock and Sylvain Sylvain live www.youtube.com/
14th March
Glen Matlock live shows: Fans in the US/Canada please note the gig list has been updated.
13th March
Interview/review: Glen Matlock, Foremans, Nottingham. thisisnottingham.co.uk
Steve Jones: Suffragette City

The soundtrack for Californication Season 6 which kicks off with Steve Jones' performance of Bowie's Suffragette City, is available in the UK at a reasonable price from Amazon!
[thanks Eliot Wien]
Yesterday's Metro newspaper (in the Life & Style section) had a two page Barclaycard promotion called The Musical Mystery Bus Tour which included a picture of the Sex Pistols and information on St Martins College of Art, and Tin Pan Alley / Denmark Street. [thanks Keith Ruel]
12th March
Worldwide Vinyl Guide Update: Holidays In The Sun Italian reproduction.
11th March
Glen Matlock's show at The Islington on 8th March reviewed.
The ICA in London are marking the 20th anniversary of Mick Ronson's death on 27th April.
MickRonsonfest: The Mick Ronson Memorial Concert 27 April: £7 / £6 Concessions / £5 ICA Members.
Featuring the premiere screening of The Mick Ronson Memorial Concert from 1994 with an introduction by Maggi Ronson and talks from special guests including Glen Matlock and Gary Kemp.
Sylvain Sylvain will accompany Glen Matlock on his accoustic US Tour following Tommy Ramone falling ill.
The Canadian leg will feature Scott Kempner of the Dictators.


March 15: The Linda, Albany, US
March 16: Cyber West Café, Binghamton, US
March 17: Record Collector, Bordentown, NJ
March 19: Westcott Theater, Syrcacuse, US
March 20: Croc Roc Café, Harrisburg, US
March 23: The Atrium, Oshawa, Canada
March 24: The Rivoli, Toronto, Canada
March 25: This Ain't Hollywood, Hamilton, Canada
March 27: Zaphods, Ottawa, Canada
March 28: Pyranah Bar, Montreal, Canada
March 31: Café Nine, New Haven, US
April 1: City Winery, NYC, US
April 2: Stanhope House, New Jersey, US
April 3: Brighton Bar, NJ, US
April 5: Jewish Mother, Virginia Beach, US
April 6: Capital Ale House, Richmond, US
April 7: Jammin Java, DC, US

Glen & Sylvain
Plus, see Glen Up Close & Personal in Nottingham on Sunday 10th March. Foremans Bar, 13-15 Forman St, Nottingham, NG1 4AA. Tickets £10. Limited to 45.
3rd March
Worldwide Vinyl Guide Updates:
Pretty Vacant South Africa.
God Save The Queen South Africa EMI company sleeve.
God Save The Queen Rhodesia Music Express sleeve.
Mojo magazine (April 2013) includes a 100 greatest music movies feature called 'Reel Cool Time'; Sex Pistols at no. 81 'The Filth & The Fury' and no. 57 'The Great Rock 'N' Roll Swindle' .
PiL Europe dates in June
Zagreb, Club Tvornica, Croatia, June 12th
Belgrade, Club SKC, Serbia, June 13th
Skopje, Skopsko Kale, Macedonia, June 14th
Nizhnii Novgorod, Milo Concert Hall, Russia, June 18th
Mo scow, Izvestiya Hall, Russia, June 19th
Porto, Casa da Música, Suggia Hall, Portugal, June 21st
Lisboa, Coliseu De Lisboa, Portugal, June 22nd
http://www.pilofficial.com/info.html
25th February
The Guardian reports: "Malcolm McLaren's widow fears Metropolitan Museum of Art will get punk fashion show all wrong. The New York museum's forthcoming show could be riddled with errors and fail to give Malcolm McLaren due credit, say critics, as a battle against fakes and counterfeits from the era rages."guardian.co.uk/fashion/ [thanks Robert Banks]
23rd February
Final selling price for Steve Jones' blue Filthy Lucre guitar. $19,102.80 U.S. Dollars.
21st February
NMTB UMC Vinyl Guide Updates:
UMC Single LP + CD 2012
UMC Double Coloured Vinyl LP 2012
20th February
PiL UK dates in June
Oxford, 02 Academy, UK, June 9th
Leicester, 02 Academy, UK, June10th
Brighton , Dome, UK, 27th June
Manchester, Ritz, UK, 28th June
http://www.pilofficial.com/info.html for pre-sale details.
18th February

Glen Matlock solo dates - support by Tommy Ramone
March 15: The Linda, Albany, US
March 16: Cyber West Café, Binghamton, US
March 19: Westcott Theater, Syrcacuse, US
March 20: Croc Roc Café, Harrisburg, US
March 22: Sound Lab, Buffalo (To be confirmed)
March 23: The Atrium, Oshawa, Canada
March 24: The Rivoli, Toronto, Canada
March 25: This Ain't Hollywood, Hamilton, Canada
March 27: Zaphods, Ottawa, Canada
March 28: Pyranah Bar, Montreal, Canada
March 29: Club Passim, Cambridge, US
March 30: Café Nine, New Haven, US
April 2: Stanhope House, New Jersey, US
April 3: Cutting Room, NYC, US
April 5: Capital Ale House, Richmond, US
April 6: Jewish Mother, Virginia Beach, US
April 7: Jammin Java, DC, US
16th February
PiL will play their first club shows in Italy since 1987 this October.
Bologna, Estragon, Italy October 26th
Roma, Atlantico, Italy, October 27th
BBC4 : When Albums Ruled the World. Last 10 minutes are about NMTB. It features Chris Thomas and Noel Gallagher talking about the album. Noel puts the needle to the start of Holidays, sits back and says "I have released 10 albums but nothing as good as this." bbc.co.uk/iplayer/
12th February
"Sex Pistols Fan Pic to Resurrect the Spirit of '76.. ... The $2.2 million punk picture, financed by the British indie outfit Wellington Films and Zentropa Sweden, will star Paloma Faith in the lead role of Rhino." www.artinfo.com/news/
Worldwide Vinyl Guide Updates:
Anarchy In The UK 1983 UK 7" Press Out Centre
Pretty Vacant UK Jukebox
Something Else UK Jukebox
The International Swingers in action in LA. thelosangelesbeat.com/
Trivia: The Food Network in Canada play an instrumental of Submission throughout Restaurant Makeover. The Food Network has channels in other territories, including the UK and US. Has anybody else heard the same? [thanks Kevin King]
Daughter of Sex Pistols film maker Julien Temple, Juno Temple, won the Rising Star at the Bafta awards this week in London.

11th February
9th February
Includes additional information on where
to find the tracks in their best quality
5th February
International Swingers LA Dates this week
Clem Burke, Glen Matlock, James Stevenson, Gary Twinn
07/02/13 North Hollywood atSkinny's Lounge
08/02/13 Indio Palm Springs at The Date Shed
09/02/13 Huntington Beach at Fitzgerald's
3rd February
Steve Jones 1996 Filthy Lucre guitar for sale.
Plus Video Feature.
2nd February
1st February
Glen Matlock to perform at The Islington on Friday 8th March.
THE ISLINGTON, 1 Tolpuddle Street, Angel, Islington, London, N1 0XT http//:theislington.com
+44 207 684 1577
Box Office Info: www.ticketweb.co.uk Ticketweb 24 hour hotline 0844 477 1000
31st January
Happy birthday John!
Worldwide Vinyl Update - new information: Japanese Anarchy In The UK (EMI EMR-20373)