5th December
Following on from NMTB, Universal Japan are set to release The Great Rock 'N' Roll Swindle LP in platinum SHM-CD format on 18th December. Comes in cardboard sleeve with obi replicating the original vinyl.
4th December
John Lydon reveals record label woes led to butter adverts and 'I'm A Celebrity'.
Read more at www.nme.com/news/
3rd December
Universal Japan have issued Never Mind The Bollocks in platinum SHM-CD format with cardboard replica sleeve & poster. The quality of these releases are supposed to be incredible - but can it get any better?!!


PiL: Gold
Double CD compilation
Out this week

Disc 1
1. Four Enclosed Walls 2. Public Image 3. Home 4. Albatross 5. Tie Me to the Length of That 6. Flowers Of Romance 7. Hard Times 8. Warrior (12" extended mix) 9. USLS1 10. Bags 11. Chant 12. Cruel 13. Religion I 14. Religion II

Disc 2
15. The Order Of Death 16. Rise 17. Seattle 18 Death Disco (12") 19. Acid Drops 20. Under The House 21. Disappointed 22. Covered 23. Happy 24. The Body 25. Memories 26. Don't Ask Me 27. This Is Not A Love Song (12") 28. Ease
Glen Matlock Screen On The Green 30th November YouTube:
Stepping Stone
Pretty Vacant
Johnny Rotten puts Malibu retreat up for sale at nearly $2 million
26th November
Glen Matlock & The Philistines final show of 2013.
Wednesday 4 December; Surya, 156 Pentonville Road, N1 9JL London


19th November

100 Year Celebration of Screen On The Green - Glen Matlock appears on 30th November.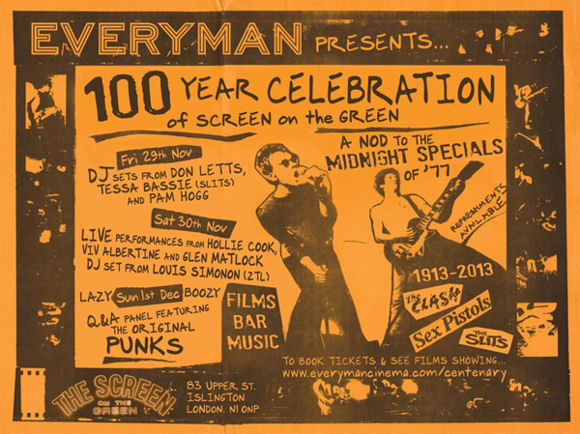 YouTube Manraze:
Manraze "I Surrender" Lyrics Video
Phil Collen Def Leppard/Manraze Audio Interview in Oscar's Guitar Shop
16th November
The private view for 'Goldie: The Lost Tribes' at Mead Carney Gallery in London on 13th November was attended by Glen Matlock, Paul Cook and Professional Ray McVeigh. Goldie is a British electronic music artist, DJ, visual artist and actor.


More Vinyl....

GSTQ / No Feeling A&M 12" on coloured vinyl in "new" picture sleeve. So far, on yellow, purple (122 copies of each, red (30 copies), and sky blue (89 copies). And no doubt loads more to follow.

The vinyl listed on 28th October has also appeared in further colours - added to original news item below.
12th November
Glen Matlock has returned from NYC where he has played bass on the forthcomg Wendy James album.
New: John Lydon Sound Box Video Interview.
John Lydon Interview in Daily Record.This has now been much quoted due to John talking about Mick Jagger coming to Sid Vicious' aid following his arrest for the muder of Nancy Spungen: ""The only good news is that I heard Mick Jagger got in there and brought lawyers into it on Sid's behalf because I don't think Malcolm lifted a finger. He just didn't know what to do. For that, I have a good liking of Mick Jagger. "There was activity behind the scenes from Mick Jagger so I applaud him. He never used it to advance himself publicity-wise." www.dailyrecord.co.uk/ [thanks Martin Parry & others]
SHOWstudio: Stussy - Talking Punk with Don Letts and John Ingham.
4th November
The famous / ultra-rare Virgin Records Lentilmas flexi disc which reportedly included the Sex Pistols, can be heard on Soundcloud. It was sent out by Virgin, along with a Christmas card, in 1977. https://soundcloud.com/
Is it really worth £1000s of pounds? Are the Pistols even on it? [thanks Stu Barstow]
3rd November
Manraze – featuring Paul Cook, Def Leppard guitarist Phil Collen, his former Girl bandmate Simon Laffy - have released a trailer for upcoming EP I Surrender.
The three-track EP will be released on November 12 via iTunes and follows the launch of their second album PunkFunkRootsRock in 2011. Tracklist: I Surrender / All I Wanna Do / Connected.

29th October
Film director Julien Temple, who documented the rise of the Sex Pistols, has been declared a music icon.
The awards ceremony took place at the Queen Elizabeth Hall in London's Southbank Centre last night and awards were given to British and international filmmakers and directors. Julien Temple received the Icon Award, which was given to him by Ray Davies of The Kinks, a band for who he directed a number of videos. Temple has also worked on videos for Neil Young, Blur, Duran Duran, Paul McCartney and Scissor Sisters as well as directing music documentaries The Filth & The Fury, The Future Is Unwritten and Oil City Confidential.
28th October
Lou Reed RIP. Steve Jones covering Lou Reed's song "Perfect Day".
Glen Matlock and James Stevenson on Death or Glory Web Series.


More 7" vinyl! Not Greek!

Winterland Sound Check 14th January 1978 (pink, blue or purple vinyl 100 each). 2nd version - see 21st October news item for picture.

Pretty Vacant, New Zealand sleeve & labels (black or purple vinyl. Colours ltd to 100)

God Save the Queen, A&M label, Freddie Mercury sleeve (plum red, pink, purple vinyl. Colours ltd to 100).
Pictured left.

God Save the Queen, Japan label with a Brazil / Japanese sleeve (black, yellow, purple, pink, marbled aqua vinyl. Colours ltd to 100).
Pictured left.
Love Kills are hosting a free all-day event on 2nd Feb 2014 to mark 35 years since Sid's death. Location outside Warwick Ave Tube Station, London.
Boogie Oogie Oogie! From the book Tell Me When by Barry Cain: flexifriend.blogspot.co.uk/ [thanks Stu Barstow]
25th October
Glen Matlock guests on Steve Trash's group Trashbeat. Song is Called "Toys" and is available on Soundcloud. Hugh Cornwell and Clem Burke also appear.
New Irish John Lydon documentary on TG4 player: www.tg4.ie/en/player/ [thanks Wayne Daly]
From Rolling Stone Mag. Several Unseen Photos of Virgin Records Icons.
Richard Branson Associated Press Interview. Talks About How It All Began. Releasing Sex Pistols.
24th October
NME out this week has another 500 best albums of all time list... NMTB is 38.


Virgin Records - 40 Years of Disruptions

Exhibition runs this week Oct 24 to Oct 29.

Exhibition includes photos, memorabilia, song and video installations of Virgin Records artists including The Sex Pistols and PIL.

Venue: STUDIO B1, VICTORIA HOUSE, SOUTHAMPTON ROW, LONDON WC1.

Guardian Feature:
Pop-up art exhibition to mark 40th anniversary of Virgin Records

[thanks Markus Prem]
Sex Pistols Took Over My House: "Mark Wilson was 14 when, in 1976, he first heard the Sex Pistols. He spent the best part of the next four decades collecting all the band memorabilia he could get his hands on. But then he made the hardest decision of his life - to sell it." www.bbc.co.uk/ [thanks Carlos Lopez, Daniel Parker, Stu Craig]
YouTube John Round-Up:
John Interview on CNN. Talks About Royals and Sex Pistols.
John Lydon Discusses What Makes a Great Song.
PIL Shepherd's Bush Empire Encore. Oct.21, 2013.
YouTube Steve Round-Up. Live with Ian Rubbish at Festival Supreme Oct 19.
Steve presented as part of Ian Rubbish's band.
Life Goes On.
Sweet Iron Lady.
Steve Sings Silly Thing.
Follow links to a whole load more! [thanks as ever to Carlos Lopez]
21st October
Winterland soundcheck... again. White label 7" with wrap around sleeve - 10 copies.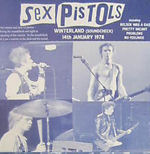 Incidentally, Hello!!! Winterland & Winterland Goodbye!!! have been pressed in pink, clear, (both 250 copies) & black. Rumour of a picture disc as well.

Talking of picture discs... here we go again... more Greek vinyl:
Live In Islington UK '76 pic disc 7" (pic is from '77!!! LOL). Only 30 copies if you are bothered.
No More Silence In Atlanta 10" Box Set. 10 copies. ZZZzzzz.
Did you know, the latest edition of BBC1 TV Quiz Pointless had the Sex Pistols chart hits as the final question? Available in UK on iPlayer (start programme at 42 mins). [thanks David Jones]
20th October
John Lydon on Winning the 2013 BMI Icon Award.
John Lydon Accepts the 2013 BMI Icon Award.
John Lydon Uncut Magazine Interview In November 2013 Issue.
18th October
YouTube: John's Complete Acceptance Speech at BMI Awards
Steve Jones Audio Interview With Jay Mohr on Mohr Stories
SHOWstudio. Audio Interview With Bob Gruen.Bob talks about photographing Sid
CNN: John 'Rotten' Lydon: I'm not a museum piece
Sex Pistols' Johnny Rotten On The Real Meaning Of Punk
16th October

John Lydon Named BMI Icon at 2013 Awards in London
Report and pictures:
www.bmi.com/news/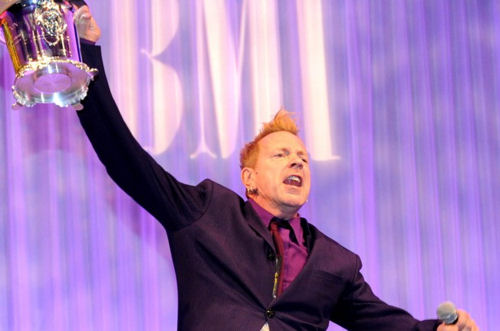 ©Picture BMI
Asked by Rolling Stone "how it feels to be hailed as an icon", Lydon replied, "Fantastic. When you're offered these things, you have to be sensible and see them as somewhat of a challenge. I've always got the thing in mind of the Rock and Roll Hall of Fame – that was something that I bitterly detested and rejected. This is slightly more serious, and it's very interesting that it's the British music industry saying, "Well done, John." I think I've done a lot for this country, so it's quite nice for that to be noted."
http://blurtonline.com
14th October
Hello!!! Winterland
Winterland Soundcheck on bootleg! Already!

Hello!!! Winterland:
Some people don't mess about do they? A mere 4 weeks after appearing on the internet, the Winterland Soundcheck has appeared in full as a 7" 33 1/3 RPM record.
Side One: Belsen Was A Gas / Pretty Vacant
Side Two: Problems / No Feelings
Winterland Goodbye!!!
Not to miss an opportunity, another 7" has surfaced simultaneously with three tracks (Bodies / Anarchy Tn The USA / No Fun) from the Winterland show itself...


[thanks Jon Edwards]
Of course, no vinyl round-up would be complete witthout more crap from Greece.
New!! Live in Brixton 2007 Bodies / Anarchy In the UK. 7" transparent vinyl. Ltd to 50 copies.
Virgin 40th Anniversary exhibition: www.nme.com/
13th October
The Greek Rock 'N' Roll Swindle!! Yet more expensive 7" vinyl from Greece. Please stop!
Live in Atlanta 05-01-78: EMI / Pretty Vacant. Clear vinyl. Ltd to 10 copies.
Live at Budokan, Tokyo 16-11-96: Pretty Vacant / Anarchy In The UK Ltd to 50 copies.
Dead Drunk In Japan! Club Citta, Kanagawa, Kawasaki, Japan: No Feelings / Pretty Vacant. Ltd to 100 copies.
Hammersmith, 02-09-08 London: No Feelings / God Save The Queen / Problems. Ltd to 50 copies.
Vinyl Bootleg Guide Updated with the above releases.
Plus Substitute / New York / Holidays In The Sun One Sided 12" Picture Discs in Counterfeit Guide.
"Punk idols the Sex Pistols are more costly for vinyl buff devotees than Elvis Presley and The Rolling Stones, according to new research. Experts at Record Collector magazine have calculated the cost of amassing a set of the rarest items for music fans." www.independent.ie/
YouTube:
Glen Matlock with Walter Lure (Heartbreakers): Chinese Rocks at CBGBs Festival Oct 13 www.youtube.com/watch
www.youtube.com/watch
Glen Matlock & Steve Diggle at Atelier Des Moles Oct. 5, 2013.
Full show: www.youtube.com/
In case you've never seen it - a blast from the past. Jonathan Ross with Russ Meyer discussing Who Killed Bambi.
9th October
God Save... Preview: Punk '76 "Fashion Is Never Wrong" DVD
NME - out today - marks the 35th anniversary of Nancy's death with a 3 page feature on Sid & Nancy.
6th October
Manraze, the Sex Pistols, Def Leppard, and Girl supergroup, have announced that they will be releasing a new EP, entitled "I Surrender," on November 12th. The group, which features Paul Cook, Def Leppard's Phil Collen, and Girl's Simon Laffy, are giving fans an advanced listen to the three-song EP's title track here. (Note: You need to log-in to Soundcloud).
Collen offered this background information about the track, "The song is eight years old. It practically never got finished. I was on tour last year and started singing the chorus. "Early this year, I re-did the guitars to Paul's original demo drums. I did a vocal and Simon played new bass-lines. Ger McDonnell then did a brilliant edit and mix on what we gave him. Debbi Blackwell-Cook supplied the wailing outro-vocals that you hear at the end of the song. We feel this is our best song yet." The other two tracks on the EP include a live studio recording of a song called "Connected - Live from Shepherd's Bush", and a new version of the song "All I Wanna Do."
Iggy Pop Rare footage from 1979 with Glen Matlock playing bass - Iggy covers Sinatra in NYC.
3rd October
Exclusive! Swedish EMI Termination Memo 18th January 1977.
Unearthed by Lars Erik Holmquist - thanks to GSTSP contributor Michael Bällstav.
Pubilic Image Limited - Virgin Records 40th Anniversary vinyl re-issues.
"Album" picture disc , 7' "This is Not a Love Song" and 12" of "Rise" and "Warrior." Releases start with Album on 180gram vinyl picture-disc on 21st October.
PiL's UK / European Tour starts in Bristol on 12th October.
Full details: www.pilofficial.com/shows.html
Very short notice on this one, so no time to edit!
"Hello, I'm writing to inform you of a really interesting opportunity to get a piece of Sex Pistols history. My brother and I are currently working on funding a webseries called EDIT using the platform Kickstarter. One of the artists that we're working with, David King, has donated a piece of his to help us raise money - it's a beautiful picture that he took of Sid Vicious and Nancy Spungen.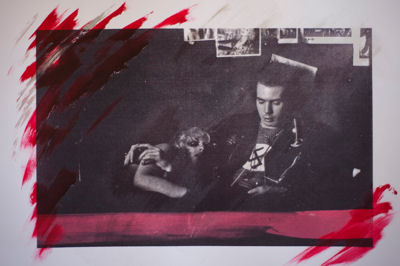 Here's the story behind it: David: I took the photograph in 1978 at the end of filming of an interview for a documentary on the punk scene. Within weeks, Nancy Spungen was dead – stabbed in the bathroom of a New York hotel, and Sid Vicious jailed for her murder. Weeks later he, too, would be dead from an overdose of heroin. The photograph first appeared in a Rolling Stone magazine news story about the murder dated 30th November 1978, and has been in the my personal collection – unseen and unpublished – ever since.'
Mixed media screen print on Somerset Satin 300g/m2 archival paper 56 x 76cm. It's available to the first person who pledges £1,000 to our project. If you're interested in it, please do get in touch. I'd really appreciate it if you post it on your page. We've only got until Friday 4th Oct before the campaign ends, so please get the word out ASAP! If you have any questions, please do get in touch. Here's the link to the website: http://www.kickstarter.com/projects/1191833315/edit All the best, Dan."
1st October
10th October: CBGB Festival w/ Glen Matlock Cheetah Chrome, Lydia Lunch, Richard Lloyd, Syl Sylvain, Lenny Kaye, & The Waldos.
26th September
War Torn Streets - Fossey Tango ft Glen Matlock
Glen sings for The Love a Child Foundation Orphanage

25th September
Terry Rawlings talks to Chris Spedding & discusses his work with the Sex Pistols. http://www.youtube.com/
John Lydon: 'I was snubbed for role in Crossroads' "Lydon, now 57, returns to Birmingham next month with his band PiL, Public Image Limited. And he admits: "As a kid, I used to rush home from school and put Crossroads on. "So, once I became famous, I tried to get a spot on it. I wanted to play David Hunter's illegitimate son, which would have been one of the worst things ever. "After Meg and Sandy Richardson – the first disabled character in a TV soap – having me in there as well would have been a right whack-attack. "I put the feelers out to try to get into it. And, guess what, I got a negative response." www.birminghammail.co.uk/ [thanks Bobe]
The feature was picked up by The Times & run today.
"Happy birthday to the 40-year-old Virgin. As Virgin Records celebrates its 40th birthday, Sheryl Garratt says there was only one label that could handle the unruly Sex Pistols." www.telegraph.co.uk/
21st September

18th September
NMTB Guide Update: SPOTS orange sticker.


13th September
Update: Short review by GSTSP stalwart Geant-Vert:
"Steve didn't play "Amazing Grace" as reported by journalists; although the first notes sound like a gospel song followed by a blues riff. He also plays an unknown rhythm shortly after. I like the "turn Sid down!!!" yelled by Rotten. Pretty Vacant is pretty wild and much better than the live version; strange when the band ask Sid to tune while Steve plays the song in a strange key. John is doing some pre-PIL vocalism.
Amazing find!
Winterland soundcheck audio & photos - 14th January 1978.
Belsen, Vacant, Problems, No Feelings, & burst of Ramones!
Soundcheck was recorded in the KSAN remote truck on a cassette that still plays 35 years later! 20 minutes long. By Jim Draper.
11th September
New CD Review: Many Faces Of the Sex Pistols. 3 CD Set (Music Brokers MBB7149)

Punk '76 Documentary Trailer. Odean Entertainment. Cinema next Monday, DVD 18th November.
"The birth of Anarchy. From Sex to the Sex Pistols."
Pre- order here: The Birth Of Anarchy - Punk '76 [DVD]
Alan Moore on 'Fashion Beast' and the fashion industry's dark side. "Alan Moore's Fashion Beast has a fascinating history. It began life as a screenplay conceived and commissioned by punk legend and one-time Sex Pistols manager Malcolm McLaren from the legendary V for Vendetta writer in 1985."
Rare Record Guide 2014: Pistols represented by four rarities in the Top Ten.
More limited vinyl turning up from Greece on auction sites:
Live at Brunel University 77 7": I Wanna Be Me / Seventeen.
Live In The Studio 77 7" picture disc: Here We Go Again / Revolution In The Classroom (!!!! not the Pistols).
At last night's Manic Street Preachers 100 Club launch show for their new single & album, singer James Dean Bradfield said: "We played some Sex Pistols tracks at the soundcheck this afternoon; Bodies, Liar and God Save The Queen, and it is a fucking honour to stand on the same stage as Steve Jones".
7th September
Glen Matlock out & about in London. Last night Glen attended the launch of The Clash Sound System boombox in Berwick St, and two nights before he was watching the Katmen (fest. Slim Jim Phantom) at the Borderline.
4th September
Gareth Southgate's Rotten confession about Stuart Pearce: "He took me to a Sex Pistols concert once – if you could call it a concert – and I am still recovering!"
3rd September
Japan Kiss This CD - rare pressing (Virgin VJCP-28132).
1st September
Anarchist - The Malcolm McLaren Generation: Film Trailer.
30th August
Film: Anarchist - The Malcolm McLaren Generation. First showing reviewed.
25th August

20th August
Steve Jones and Johnny Depp Pictured at The 9th Johnny Ramone Tribute.
Steve Jones and Burlesque Star Dita Von Teese Pictured at The 9th Johnny Ramone Tribute.
18th August
Steve Jones to appear at the 9th Annual Johnny Ramone Tribute tonight.
15th August

Vinyl Updates:
Indecent Exposure Live at the 76 Club Burton, Sept 24 1976 is out again on vinyl with full colour cover: 50 silver, 150 red and 150 white & a rare test press. The usual!

Also recently on the market in ridiculously low numbers have been:
One sided New York 12" picture disc.
One sided Holidays In The Sun 12" picture disc.
One sided Substitute 12" picture disc. All selling in the region of £180!
How about something new?!!!!!
Glen Matlock Speaks To 6 Towns Radio (Audio).
Sylvain Sylvain, Glen and Clem Burke perform Personality Crisis.
Teddie Dahlin Interview regarding her book A Vicious Love Story at Rebellion 2013.
Check out the britishmusicexperience [thanks Keith Ruel]
5th August

3rd August
Punk Globe review of Glen Matlock's Rattle Your Cage.
31st July
Mick Farren remembered by The Guardian.
29th July
Review. The Philistines with guest Clem Burke, live at The Railway Hotel, Southend.
Mick Farren (singer with the Deviants) died on Saturday night after collapsing on stage at London's Borderline club.
Mick's 'The Titanic Sails at Dawn' June 1976 feature was one of the critical documents that formulated punk attitudes - especially with regards to 'rock royalty'.
Read it in the Press Cuttings Archive.
27th July
Glen Matlock took to the stage along with Clem Burke for an encore of Personality Crisis at Sylvain Sylvain's 100 Club show on Thursday (25th July).
Mark Wilson's Sex Pistols memorabilia collection (see News 9th July), has sold at auction for over £10,000. Video feature tyneandwear.sky.com/
The non-story concerning Morrissey's NME Sex Pistols letter 'emerging' has gathered a head of steam in the press. Yawn. www.rte.ie/
www.3news.co.nz/
24th July
According to The Sun: "A Letter penned by singer Morrissey in which he slated the Sex Pistols' scruffy stage gear has emerged 37 years on".
However, this is not news at all, as the letter has never really been lost! See Press Cuttings Archive.
New York Times: One-Episode Show With a Lasting Impact on Hip-Hop. "Michael Holman took Malcolm McLaren, the manager of the Sex Pistols, to witness Afrika Bambaataa and Jazzy Jay mixing beats at an open-air free-for-all in the maze of brick towers at the Bronx River Houses."

21st July
Clem Burke and James Stevenson from The International Swingers will be interviewed on 6music on Saturday 27th July. [thanks Wayne Spencer]
Listen again to Glen Matlock on the Nicky Horne Classic Rock Show.
20th July
The International Swingers make their European debut. Last night's London gig reviewed.
Saturday 27th July. Glen Matlock & The Philistines play The Railway Hotel, Southend.
For this special one off show the band will be featuring Blondie drummer Clem Burke on drums. Support from Andy Gallager. Tickets £15 each.
John Lydon says The Rolling Stones looked 'silly' at Glastonbury.
Plenty of media coverage of John's forthcoming BMI Award on 15th October.
18th July
BMI Icon Award for John Lydon. www.bmi.com/
/www.independent.ie/
16th July
A Vicious Love Story T-shirts. Produced by author Teddie Dahlin, featuring the book cover with photo of Sid on stage at the Trondheim concert. £15 pounds plus postage. For further details contact Teddie. Email tedahlin@hotmail.no
15th July
Music Is.... with Glen Matlock.
Glen live dates:
Friday 19th July. The International Swingers The Lexington, London.
Thursday 8th August. Sugarmill, Stoke. "Oatcake day is in it's fourth year and we are proud to announce the headline act for our Sugarmill show is the legendary Glen Matlock."
"Sex Pistols star Johnny Rotten warning about Jimmy Savile was cut by BBC. ... an interview circa late 1978, where he joked about people he'd like to kill and interestingly he quipped, "I'd like to kill Jimmy Savile". He went on to comment about the late DJ and serial sex criminal's 'seediness', and also that he (Savile) 'was into all sorts'." Listen here...
10th July
Site Update: 7" Reissues Promo CD.
9th July
Paul Cook attended The Who gig last night at Wembley Arena. Glen Matlock was at Blondie's Roundhouse gig on Sunday 7th July. (Yes I said no more "tittle-tattle" - but .... oh, I don't know).
Fan Mark Wilson has been in touch to say he is selling his Sex Pistols memorabilia at auctioneers Anderson and Garland. View the catalogue here.
6th July
Full page Trouser Press Sex Pistols advert from January 1978.
Worldwide Vinyl Updates:
Australia Anarchy In The UK / No Fun 1983 Sample
Italy Pretty Vacant Punk Rock Insert
West Germany GSTQ A4 Fold-out Information Sheet
1st July
Vinyl Bootleg Guide Updated.
No One Is Innocent / My Way Italian Coloured Vinyl 7"