2nd August

Slim Jim Phantom with special guest Glen Matlock at The Jazz Cafe, London August 15th
1st August
Rolling Stone: Julien Temple on 'Lost' Pistols Film [thanks Carlos, Herve, & Gaff]
30th July
29th July
Vinyl Update. NMTB Finland Printed Sleeve.
Derailed Sense: A film about Vic Godard & Subway Sect. Paul Cook appears.
28th July


To coincide with the release of "The Complete Professionals" (a 3CD set being released by Universal in October) original members Paul Cook, Ray McVeigh and Paul Myers are teaming up with Tom Spencer, for an intimate night at the 100 Club, celebrating the music of the band.

For Cook, McVeigh & Myers this will be the first time in over 30 years since they were last on stage together!

Special guests for the evening will be the brilliant Ed Tudor Pole.
Glen Matlock at the Frank Sinatra and His Music opening - video.
Glen @ Sinatra photos.
Virgin Money boss Jayne-Anne Gadhia banks on the Sex Pistols for growth.
Misfits Jerry Only's kook to include chapter about having dinner with Sid Vicious the night he died.
Jimmy Page talks Sex Pistols. [thanks Martyn Pick & Carlos]
25th July
Paul Cook, plus lots of mods, turned up to say farewell today to A. Cooke, Pie & Mash shop, 48 Goldhawk Road, Shepherds Bush. As seen in There'll Always Be An England DVD extra, The Knowledge.
17th July
Glen Matlock & the Marshall London Smartphone
Glen on Bloomberg TV promoting the Marshall London
Glen performs Pretty Vacant with string quartet
Glen Marshall London Smartphone photos
Guide to the Marshall London Smartphone
14th July
Uncut Magazine Ultimate Music Guide - Sex Pistols. Out in the UK Thursday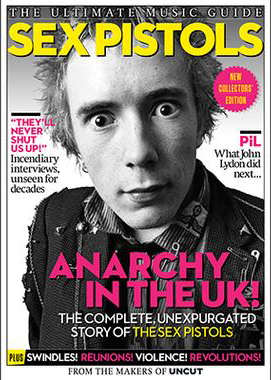 13th July

12th July
TV Throw videos from Sex Pistols Virgin Money advert.
The Big TV Throw Highlights of TV Throws available soon on www.borndifferent.com.
11th July
Vinyl Update. Ultra rare NMTB Austria second pressing added to the Guide.
10th July
Vinyl Update. Spunk Record Store Day 2015 white vinyl re-issue.
Burton skip hire firm turns to film for Virgin Money Sex Pistols advert.
A Skip hire yard was transformed into a film set as part of an advert starring the Sex Pistols. Willshee's Skip Hire, in Glensyl Way, Burton, welcomed a film crew from the Virgin Money company onto the site as crews launched 77 televisions into the air, and onto a giant record painted on the forecourt. Read more: www.burtonmail.co.uk/
8th July

7th July
Johnny Rotten on Greece, the Confederate flag and Obamacare.
The Arts Desk takes a look a the Spunk bootleg & notes a black vinyl pressing is due on 7th August. (white vinyl was released on Record Store Day 18th April).
6th July

PiL - Double Trouble. Official stream via Soundcloud
5th July
John Lydon news. John will be appearing on The Greg Gutfeld Show tonight, Sunday July 5th at 10pm Eastern Time on Fox News Channel.
The show will also be repeated at 1am, then again next Saturday, July 11th at 10pm ET. You can also watch live online via the Fox News Channel website.
29th June


THE PROFESSIONALS ARE BACK
MEET THE NEW RECRUIT
TOM SPENCER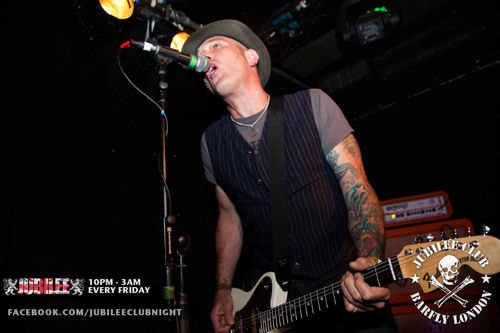 Welcome Tom

Tom introduces himself as the new Professional:
Who the fuck is Steve Jones? He's one of the reasons I play guitar. I was ten when 'Never Mind The Bollocks' came out. My dad bought it and hated it, so gave it to me. It was an early copy with a free single. It still has its £2.99 Woolworth sticker on it. Doubt if it's worth anything now, cos I played it to death on a shitty old gramophone system - weighing down the needle with pennies to stop the jumping.
I bought the Swindle singles as they came out.....and then The Professionals stuff. My point is, I'd love to see Jones up there playing it, but right now it's not an option. He's in LA and isn't tempted So, should the other three members not bother? Should I have turned the job down?.....bollocks to that! There are great songs that never got a proper live airing at the time.
Rehearsals have been great, hearing those songs come to life. There are three legendary original members involved. Cookie of course, then Ray McVeigh and Paul Myers.
Why me? I've spent years on the road, touring the world, with bands from Big Boy Tomato, The Lurkers, Sugarsnatch, The Yoyos, Ginger Wildheart, The Dogs D'Amour, The Loyalties and now The Men They Couldn't Hang. All those bands have turned me into......well....a Professional.
I'm not Steve Jones but it's an honour to front the band. So I'm going to give those songs the respect, energy and attitude they deserve.
As for Steve, Tom has told God Save The Sex Pistols that Steve's involvement cannot be ruled out completely. There is a possible scenario... watch this space.
28th June


CONFIRMED!
THE PROFESSIONALS ARE BACK
Paul Cook, Paul Myers, & Ray McVeigh are currently in rehearsal
No Jonesy this time, but his space is filled
by "the magnificent" Tom Spencer
By all accounts the band are sounding great
Stay tuned for more Professionals news, including gigs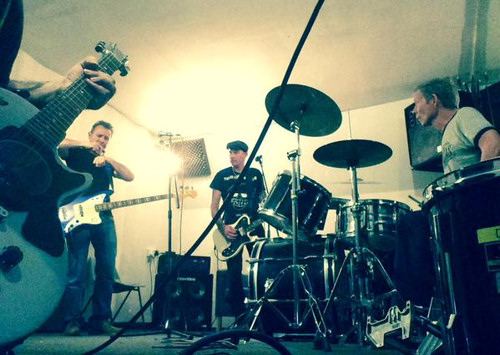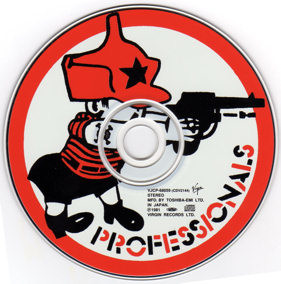 The Professionals now have an official twitter & Facebook

27th June
Glen Matlock from 2014 talking about the Sex Pistols and his career. You can check out the podcast here. https://www.mixcloud.com/
Gene Simmons (who loves record companies by the way) "And if it wasn't for record companies, there'd be no Sex Pistols, there'd be no punk, there'd be no nothing. There would be punk, but it would be in a small club. It would never become huge." [thanks Michael Bällstav]
26th June
Glen Matlock & Paul Cook attended The Jam exhibition private view at Somerset House last night.
25th June
Steve Jones picture/feature in Mirror newspaper (UK).
24th June
The Professionals now have an official twitter & Facebook.
23rd June

Winterland 14 January 1978
Full live recordings of both support acts at the Pistols final show, The Nuns, then the Avengers...
The Nuns https://www.youtube.com/watch
The Avengers https://www.youtube.com/watch
[thanks Sean Mayall]
18th June
Midge Ure talks about the time he was asked to join Sex Pistols. (Phew! Thank God that didn't happen)
Paul Cook guests on Delta Deep's blues band formed by his Manraze bandmate Phil Collen.
14th June
Glen Matlock live at Camden Rocks - GSTSPs Review/Picture
PiL - Rise: The Collection

The 16 track compilation, entitled 'Rise: The Collection' includes songs from every PiL album 1978-2012, and also features an extensive 24 page booklet including sleevenotes, memorabilia and photos compiled and written by PiL Official.

1. Public Image 2. Careering 3. Chant (live in Paris 1980) 4. Banging the Door 5. Religion (live in Tokyo 1983) 6. This Is Not A Love Song (12") 7. Tie Me To The Length Of That 8. Rise 9. Bags 10. Seattle 11. Angry 12. Happy 13. Disappointed (12") 14. Don't Ask Me 15. Covered 16. Deeper Water
Sex Pistols Invade Texas - live at Randy's Rodeo, January 8, 1978
Incredible previously unpublished pictures & account of this historic show

The collection of Jordan (Pamela Rooke) is up for auction on 23rd June.
"The collection of Jordan (Pamela Rooke) – the 'high priestess of Punk', lots 221 to 237, charts her time spent working with Westwood and McLaren at 430 Kings Road, 1974 -1982. Her non-compromising personal style - with spiked tinted hair, cubist face paint, wearing provocative bondage or fetish gear - made her the living embodiment of Punk, more so than even Vivienne Westwood herself. Jordan states: 'This collection represents the very essence of me and reflects a very rare occurrence - that of two parallel forces coming together to become something unique. I see it now, that these clothes and myself were meant for each other and because of this I regard them as dear old friends that are to be loved and admired. Never before have I contemplated parting with my 'old friends' and it has been a difficult decision for me to make but the overriding feeling is that after 40 years I feel I need them to see the light of day and be treasured by someone else'.
See more at: http://kerrytaylorauctions.com/catalog. [thanks David Barnett]

Glen Matlock 'All or Nothing' Camden Rocks 2015
30th May

Tulsa T.V. News Memory. A mix of Screen on The Green audio with rare Tulsa footage (different angles).

Joey Ramone's Birthday Bash 2015 feat. Glen Matlock. Full performace from C.J.Ramone and The Joey Ramone Tribute Band. Glen joins at the end for a rendition of 'What a Wonderful World' May 19, 2015 N.Y.
Sid film 'Sad Vacation' teaser trailer 2015.
Sex Pistols Live at Dundee Scotland Poster. Discussed in soon to be released documentary.
Signed Sex Pistols Photo Up for Auction. [thanks Micke B]
23rd May

God Save the Queen: The World's Most Collectible Single:
The Tale of the Sex Pistols' Infamous Anthem

By Dominic Pedler

Released 15 Sep 2015 (Red Planet)
Available to pre-order
19th May

PUBLIC IMAGE LTD
WILL RELEASE THE ALBUM
'WHAT THE WORLD NEEDS NOW…'
ON 4TH SEPTEMBER
AHEAD OF A
23-DATE UK/EUROPE TOUR THAT KICKS OFF ON
18th SEPTEMBER

Public Image Ltd (PiL) announce the release of their 10th studio album 'What The World Needs Now…' on 4th September 2015. The 11-track album follows the huge critical success of 2012's 'This is PiL', the band's first album in 17 years. Album opener and lead single 'Double Trouble' sees the band launching into a statement of intent that will be released on 21st August. The 10" vinyl version will be backed by 'Bettie Page' and also come with additional nonalbum bonus track 'Turkey Tits'. Commenting on the new album, John Lydon says, "Buy now while stocks last." Widely regarded as one of the most innovative and influential bands of all time, PiL's music and vision earned them 5 UK Top 20 singles and 5 UK Top 20 albums. With a shifting line-up and unique sound, John Lydon guided the band from their debut album 'First Issue' in 1978 through to 1992's 'That What Is Not'. After a 17 year hiatus, Lydon reactivated PiL in 2009 by taking them back on the road worldwide. Last year the band returned to Steve Winwood's Wincraft studio in the Cotswolds' to record the new album. Released on 4th September, 'What The World Needs Now…' precedes the start of their 23-date UK/Europe tour, which kicks off in Glasgow on 18th September and follows on from last year's one-off sold-out show at London's Indigo at the 02. The UK/Europe tour will be followed by North America dates. UK/Europe Dates below. Tickets go on general sale at 9am Thursday 21st May. Preceded by pre-sale at 9am on Tuesday 19th and Wednesday 20th May. See www.pilofficial.com for ticket links. 'What The World Needs Now…' is self-funded by PiL and will be released on PiL's own label 'PiL Official' via Cargo UK Distribution.

'Double Trouble' 10" Vinyl
A-side: Double Trouble
B-side: Bettie Page Turkey Tits

'What The World Needs Now'
Track Listing
1. Double Trouble 2. Know Now 3. Bettie Page 4. C'est La Vie 5. Spice of Choice 6. The One 7. Big Blue Sky 8. Whole Life Time 9. I'm Not Satisfied 10. Corporate 11. Shoom


UK Tour Dates
Glasgow, 02 ABC, Scotland, Friday, September 18th 2015
Manchester Academy, UK, Saturday, September 19th 2015
Newcastle, Riverside, Sunday, September 20th 2015
York, Fibbers, UK, Tuesday, September 22nd 2015
Coventry, The Copper Rooms @ Warwick University, UK, Wednesday, September 23rd 2015
Bristol, 02 Academy, UK, Friday, September 25th 2015
Buckley, Tivoli, Wales, Saturday, September 26th 2015
Reading, Sub 89, UK, Sunday, September 27th 2015
Bexhill, De La Warr Pavilion, UK, Tuesday, September 29th 2015
Norwich, UEA, UK, Wednesday, September 30th 2015
London, 02 Shepherds Bush Empire, UK, Friday, October 2nd 2015
Frome, Cheese and Grain, UK, Saturday, October 3rd 2015
Southampton, Engine Rooms, UK, Sunday, October 4th 2015

Europe Tour Dates
Paris, Le Trianon, France, Tuesday, October 6th 2015
Amsterdam, Paradiso, Netherlands, Wednesday, October 7th 2015
Lausanne, Les Docks, Switzerland, Friday, October 9th 2015
Venice, Rivolta, Italy, Saturday, October 10th 2015
Milan, Magazzini Generali, Italy, Sunday, October 11th 2015
Mannheim, Alte Seilerei, Germany, Tuesday, October 13th 2015
Ludwigsburg, Rockfabrik, Germany, Wednesday, October 14th 2015
Berlin, Columbia Theatre, Germany, Thursday, October 15th 2015
Bochum, Zeche, Germany, Saturday, October 17th 2015
Antwerp, Trix, Belgium, Sunday, October 18th 2015

North America Tour Dates
TBC

http://www.pilofficial.com

for further information
11th May

John Lydon - London 100 Club 26th April 2015 Q&A