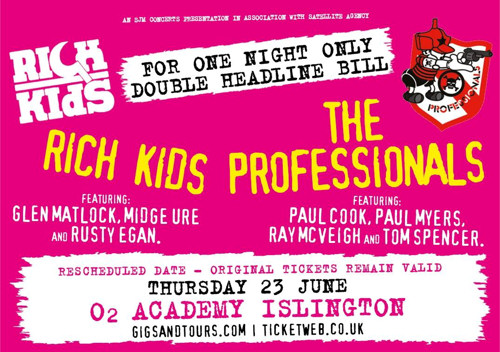 PiL UK Tour Dates
Coventry, The Copper Rooms Warwick University, May 24 / Wakefield, Warehouse 23, May 25
Wrexham, William Aston Hall, May 26 / Walton-On-Trent, Bearded Theory Festival May 28
Cardiff, Tramshed, May 29 / Sunderland, The Point, May 30
Lincoln, Engine Shed, June 1 / Blackburn, King George's Hall, June 2
London, Indigo at O2, June 4 / Oxford, O2 Academy, June 6
Sheffield, O2 Academy, June 7 / Holmfirth, Picturedrome, June 8
Falkirk, Warehouse, June 10 / Inverness, Ironworks, June 11
Edinburgh, Liquid Rooms, June 12 / Wolverhampton, Slade Rooms, June 14
Brighton, Concorde 2, June 15 / Bath, Komedia, June 17
Northampton, Roadmender, Sat, June 18
See www.pilofficial.com for ticket links and info…
21st May
PiL have announced their first South American tour for 24 years. The 5 date tour starts in Uruguay on August 10th and continues to Argentina, Chile and Mexico. See PiLofficial.com for all dates. Tickets go on sale this Monday, May 23rd at 11am (local times)
20th May

Steve Jones' autobiography to be called Lonely Boy
PiL concert footage - rather good - from Bratislava 17th May
14th May

Steve Jones Autobiography
November 2016
Hardcover: 352 pages
Publisher: William Heinemann (17 Nov. 2016)
The true untold story of the Sex Pistols from the man who formed the band and kick-started Punk.
Ask anyone who knows about music and they'll tell you: without Steve Jones punk rock would not exist. This is not hyperbole. The prototypical street urchin turned Sex Pistols guitarist was the sole inspiration and creator of the punk movement which began shaking the culture in late 1970s London.
His autobiography presents never before told stories of the sexual abuse Jones suffered at the hands of his stepfather, stories of petty crime he perpetrated as a young boy, the sadness from never knowing his real father, the early days as a Pistol, and how the hell a band with one album meant so much to so many people.
[thanks Andrew Williams]
Glen Matlock, Paul Cook (& fellow Professional Ray McVeigh) were at Iggy Pop's gig last night at Royal Albert Hall.
12th May

Punk, the Pistols & the Provinces
BBC Radio 4 Tuesday 24 May 11.30am
repeat 3.30pm Saturday 28 May

Tracing the impact punk had outside London, calling at Northallerton where the Sex Pistols played their first gig away from the capital, and Huddersfield, where they played their last.
Features chat with Paul Cook; Mark Burgess of The Chameleons (he reveals how he set about Johnny Rotten with a gigantic cake);
& punters who were at concerts which book-ended the band's career
11th May

7th May

Glen Matlock attended Donovan's 70th birthday celebrations last night at London Palladium
6th May

RICH KIDS / PROFESSIONALS GIG: NEW DATE & VENUE




Now 23rd June, 02 Academy


Due to the ongoing structural work at Shepherds Bush Empire being extended into June, all of the shows planned at the venue have been forced to cancel or reschedule.
Full statement: https://www.facebook.com/o2shepherdsbushempire/
5th May
2nd May

Sex Pistols event for York.
Archaeologist John Schofield from the University of York was part of the team that documented the artworks made by the band during their time living in Denmark Street in Soho, which drew comparisons between the significance of the graffiti and prehistoric cave paintings. Prof Schofield will discuss the Sex Pistols and their cultural contribution, as well as the reaction to this archaeological investigation. He will also reveal what John Lydon
thought of it all, and ask whether something so recent can be of archaeological interest.
30th April

Rare clip of Sex Pistols performing God Save The Queen in Maasbree, 11 December 1977 has appeared online
[thanks Pete Malburn]
teachrock.org/resources/video/sex-pistols-god-save-the-queen-1977/


The Times today
[thanks Keith Ruel]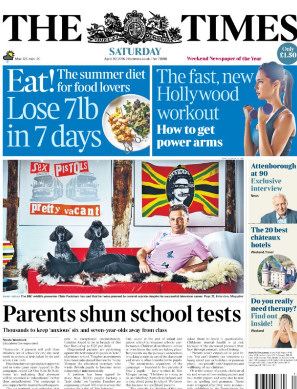 27th April
21st April
Glen Matlock - Burning Sounds (Rich Kids) Rough Trade West - London Record Store Day Saturday 16th April 2016

Ahead of the publication of Malcolm McLaren's biography: Tales & photos from a weekend in Las Vegas after the Sex Pistols split.
Backstage Auctions (www.backstageauctions.com) Rock 'n' Pop auction starts this weekend and ends Sunday, May 1. Includes Sex Pistols related collectibles e.g. John Lydon interview cassette from 1985 & Pistols band itinerary from 2007 backstageauctions.com/catalog/sex-pistols/
Sex Pistols chart again in USA. NMTB hits #13 on Record Store Day 2016
Sid Vicious: Live at the Electric Ballroom, London, August 15th 1978 was a low key RSD release.

Only 300 copies in splatter vinyl.
There is more than one colour available; yellow vinyl with red and black splatter or dark red with green splatter.
Capturing a Culture. British Rock Tribes. Janette Beckman talks about her photos of youth culture in the UK; Sex Pistols included
17th April
Ruen Brothers Join Jonesy's Jukebox at the Festival of Books in LA.
The Ruen Brothers share a story about their Dad & The Great Rock 'n' Roll Swindle singers auditions. "They called us foul mouthed yobs"
Jonesys Jukebox: Steve Jones & Jeff Ho Signing at L.A. Times Festival of Books
Glen Matlock 'I'm Not Your Steppin Stone' Live at Rough Trade (Record Store Day 2016)
Glen appears on The International Swingers' Gun Control 7" Record Store Day release


Bootleg Guide updated with Winterland Concert 2xLP & The Punks In Nashville Rooms '76 7"
13th April
London Live TV Glen Matlock & Paul Cook together
Discussing the Rich Kids / Professionals Shepherds Bush show 19 May

9th April

Sharks reform with Paul Cook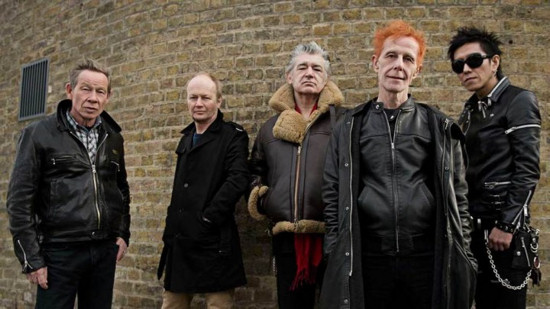 British rock band Sharks have reformed with three original members Chris Spedding (guitar), Steve (Snips) Parsons and Nicky Judd (keyboards). Also on board are Sex Pistol/Professionals drummer Paul Cook (drums) and Toshi Ogawa from Kingmob and Hey! Hello! on bass. Sharks were originally formed in 1972 by Andy Fraser after the demise of Free.
See Classic Rock Magazine for the story
7th April
Sex Pistols - April 1976: The Art of PT Madden is at the Wilkinson Gallery, London, from 16 April.
Exhibition of unseen photos of Sex Pistols at The Nashville is previewed in The Guardian
40 Greatest Punk Albums of All Time, according to Rolling Stone Magazine. But why is NMTB not #1? [thanks Markus Prem]
6th April

Rolling Stones EXHIBITIONISM: Saatchi Gallery, London
Glen Matlock with Donovan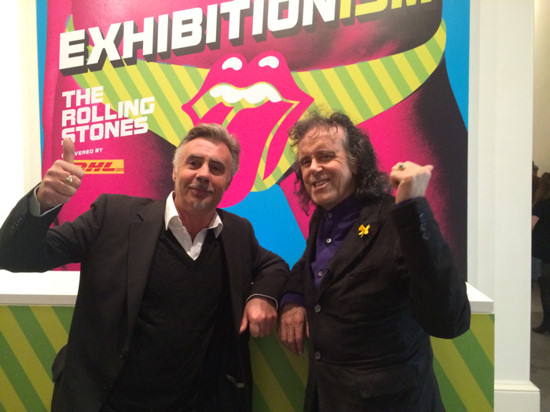 In the press: John Lydon's former Gunter Grove home available for rent
http://www.mirror.co.uk/
http://www.dailymail.co.uk/
http://www.zoopla.co.uk/

5th April
Glen Matlock was at last night's Rolling Stones EXHIBITIONISM private view at Saatchi Gallery London, along with the Stones themselves - including Bill Wyman.
4th April

2nd April
Steve Jones to appear at Adopt the Arts Rock & Roll Hall of Fame event 12 May 2016
"Rock And Roll Hall Of Fame inductees Glenn Hughes (DEEP PURPLE, BLACK SABBATH) and Robin Zander (CHEAP TRICK) will be honored by Adopt The Arts on Thursday, May 12 at the Fonda Theatre in Los Angeles, California.
Hosted by Jane Lynch and Matt Sorum (GUNS N' ROSES, VELVET REVOLVER), the event will feature a host of special musical guests such as: Corey Taylor (SLIPKNOT, STONE SOUR), Dean and Robert DeLeo (STONE TEMPLE PILOTS), Billy Duffy (THE CULT), Gilby Clarke (GUNS N' ROSES), Steve Jones (SEX PISTOLS), Steve Lukather (TOTO), Chad Smith (RED HOT CHILI PEPPERS), & Geezer Butler (BLACK SABBATH). All proceeds benefit Adopt The Arts."
1st April
Steve Jones: Multiply The Cash In Your Bank Account! 955KLOS Promo Video

Teaser 1: Jonesy's Jukebox Sunset Sound Session Featuring Cheap Trick
31st March
London Live TV Friday 8th April. Paul Cook will appear to talk about The Professionals / Rich Kids 19th May gig at Shepherds Bush Empire.
Watch out for the interview around 7:15pm (Freeview 8 Sky 117 Virgin 159 YouView 8) [thanks London Live]
29th March




I Swear I Was There:
Sex Pistols, Manchester and the Gig That Changed the World
by David Nolan (Music Press Books)
40th Anniversary Edition

Published 2nd June 2016
New pictures, new interviews....
Audio: Jonesy's Jukebox at Sunset Sound Sessions with Cheap Trick
Daily Mail: John Lydon discusses fears over his eye sight
See also: The Sunday Times
The Mirror [thanks Keith Ruel]
23rd March
Message from The Professionals: "Due to unforeseen circumstances, The Professionals have had to cancel their forthcoming shows in Leeds and Newcastle (31 March / 1 April). We sincerely apologise for any inconvenience caused and we hope to return later in the year."
22nd March

The Independent: "Sex Pistols graffiti helps Tin Pan Alley building to Grade 2 listed status. The cartoon drawings and graffiti he scrawled all over the 1970s hangout of the Sex Pistols" Decision by the Department of Culture is a major victory in campaign to maintain Denmark Street.
Mick Rock has posted an early Pistols 100 Club picture on Instagram
John Lydon Q Magazine #358 "Social media is a very, very silly thing!"
19th March

Malcolm McLaren's son - Joe Corre - has been in the news regarding his wish to burn his £5m punk memorabilia collection. It sounds like he wants to raise his profile! Daft.
http://www.bbc.co.uk/news/magazine-35819847
https://www.enca.com/life/punks-dead-says-son-sex-pistols
Plus others of the same....
11th March
The Spectator: Anarchy in the EU: Paul Cook on why Brexit isn't punk





"Sex Pistols" by Johan Kugelberg and Jon Savage
Rizzoli International Publications
320 pages 11th October 2016

"A definitive celebration packed with previously unseen material of the original punk band... an unprecedented wealth of material - from McLaren's handwritten letters to never-before-seen photographs of the band, Jamie Reid's iconic album artwork, and a range of ephemera from concert tickets to fanzines - to produce the most comprehensive visual history of the band ever produced and a bible of popular culture for years to come."
9th March

Other unofficial vinyl recently released
Winterland Concert - a double LP of 14 Jan 78 gig, plus soundcheck on side 4
Never Mind The Bollocks box set (LP, poster, and t-shirt)
Record Store Day Saturday 16 April, sees the release of PIL Live at Shepherd's Bush Empire 2015 (Let Them Eat Vinyl), on clear vinyl
Glen Matlock and Ian Hunter guest on The Rebelles' new punk and glam covers album and first single video 'All The Young Dudes'
Matlock and Phantom - Melboune pictures March 4, 2016
3rd March
Save Tin Pan Alley Petition
"The famous Sex Pistols home and former recording studio filled with their 1977 cartoon murals is under threat from development into flats at the outbuilding to the rear of 6 Denmark St. Glen Matlock, Captain Sensible and Rupert Orton have come to say "No! Save the building for the National Trust in this the 40th Anniversary of Punk."
See also: London Weekly News Feature
[thanks Stu Craig]
Glen Matlock returns to play Camden Rocks. Carl Barat & The Jackals, The Godfathers, Glen Matlock and Billy Bragg lead the latest acts announced for Camden Rocks which takes place on Saturday 4th June 2016 in over 20 venues in NW1, London.


Video: Jonesy's Jukebox with guest Lita Ford. Steve talks about his upcoming memoirs book
Photos: Men Of No Shame (Matlock / Phantom), Brisbane, 27th February '16
1st March

Glen Matlock - Davo Radio Interview: Glen talks Australia
27th February
YouTube Interview: Songwriters' Circle with Glen Matlock: The Institute of Contemporary Music Performance

Glen Matlock - Star Scene: Trip to Australia interview


Chunk of Punk Exhbition: A Barbican Music Library Exhibition
Rockarchive founder and world renowned music photographer, Jill Furmanovsky, opens her archive to share her mainly unseen collection of anarchic Punk images. Featuring The Buzzocks, The Clash, The Sex Pistols and many more, A Chunk of Punk is a photographic celebration of 1970's subversive culture.
Runs from March 2 to April 28
Evening Standard - "Picture this: photo show takes visitors backstage with the stars of punk."
[thanks Ray & Keith Ruel]
Sex Pistols Stories in Lita Ford's New Book


22nd February
Pistols first Wycombe gig 20th February 76 recollections, courtesy of Wycombe Wanderers FC [thanks Graham Britten]
Jonesy's Back. New Jonesy's Jukebox Website on line
"Sex Pistols photographer accuses artist Elizabeth Peyton of copyright infringement. Dennis Morris is considering legal action over painting removed from Sotheby's day sale last week."
14th February
Glen Matlock & Paul Cook were at The Who's gig last night at Wembley Arena