22nd September

Vic Godard & Subway Sect:
1979 NOW!
New album



Featuring Paul Cook on drums & fellow Professional Paul Myers on bass

Released on October 6th
20th September
Glen Matlock playing Bowie with the cover band Holy Holy featuring Toni Visconti.
Manchester Hallé Orchestra covers Oasis, Sex Pistols and The Smiths, celebrating the musical heritage of the Free Trade Hall.
Sex Pistols - Anarchy in the UK (Sock Puppet Parody)!
Iconic NME Photography Exhibition Including Sex Pistols at Royal Albert Hall.
15th September

PUBLIC IMAGE LTD ANNOUNCE ONE-OFF SHOW
AT LONDON O2 INDIGO, DECEMBER 13 2014

Tickets: O2 priority pre-sale available from Wednesday 17th September at 11am. General Sale available from Friday 19th September at 11am
See www.pilofficial.com for more info…

This is the first PiL show since October 2013 and their only show of 2014.

PiL are currently preparing to enter the studio to record their 10th studio album, the follow-up to their critically and publicly acclaimed 2012 album, 'This is PiL' (which had been the band's first album in 20 years and was released via their own PiL Official Ltd label). The new PiL album will be recorded in late 2014 with a tentative release date of summer 2015 planned. The band will be taking time off from the studio to play this special one-off show.

Don't forget...

JOHN LYDON 'ANGER IS AN ENERGY: MY LIFE UNCENSORED' AUTOBIOGRAPHY PUBLISHED OCTOBER 9th 2014.

The book is Lydon's first complete autobiography and covers his life from childhood through to the present day taking in Sex Pistols and Public Image Ltd, along with his TV and media work.
14th September
The Great Rock 'N' Roll Swindle 1980 Single LP Guide. Updated with further French & 2 West German pressings.
Telegraph.co.uk. Personal Finance- Glen Matlock: 'Leaving the Sex Pistols cost me millions of pounds.' [thanks Keith Ruel]
9th September
Keith Levene's Commercial Zone 2014 will drop on November 23, 2014 - the 35th anniversary of Metal Box's release, completing the circle for Keith.
8th September
Anger Is An Energy. John Lydon Book Tour / Q&A / Signings
Thursday October 9th at 7.30pm Manchester, Royal Albert Hall - SOLD OUT
Friday October 10th at 7.30pm, Chester Literary Festival - SOLD OUT
Saturday October 11th at 9pm, Cheltenham Literary Festival
Sunday October 12th at 7pm, Bexhill, City Bookshop, De La Warr Pavilion
Tuesday October 14th at 7pm, Birmingham, Adrian Boult Hall Conservatoire
Wednesday October 15th at 7.30pm, Sheffield, Off the Shelf Festival
Thursday October 16th at 7.30pm, London, Old Truman Brewery, with The Times
Info from johnlydon.com
7th September

THE GREAT ROCK 'N' ROLL SWINDLE SINGLE LP

Left: LP advert from 'Smash Hits' magazine
More pictures of Paul Cook from John Varvatos' opening night in London.
Paul & Adam Ant
Paul & Iggy
Paul & Paul Weller
Paul & Jimmy Page
Paul & family

6th September
On Wednesday 3rd Sept, John Varvatos opened his London store in Conduit Street. In the crowd were Paul Cook, Ringo Starr, Jimmy Page, Adam Ant, Iggy Pop, Paul Weller, and others. Click for a great picture of Ringo Starr and Paul Cook, doing the peace/no peace sign! Ringo said "It's not that way round." "It is that way round in the band I'm in." Paul replied.
https://www.facebook.com/JimmyPagePhotos/
3rd September
Matlock, Phantom, & Slick: Gallery from Southend show.
1st September
Wendy James Interview With Chris Frantz. Discusses The Price Of The Ticket - her new album with Glen Matlock on bass.
30th August
Glen Matlock features as a cameo in Ben Jagger and Alistair Audsley's film 'The Paddy Lincoln Gang'.
The Pie & Mash shop in Shepherds Bush, frequented by Paul Cook & Steve Jones (as seen in There'll Always Be An England DVD extras), has been sold to redevelopers. "A.Cookes---Traditional Pie & Mash. 48 Goldhawk Road, Shepherds Bush, London W12. ... We are pleased to announce that we have today agreed mutually acceptable terms to sell 'A Cooke's to Orion Shepherds Bush Limited, the developer leading the regeneration of the Shepherds Bush Market and we wish them well in delivering this very important regeneration scheme."
Billy Idol Interview During The Opening Night of Dennis Morris' Bollocks Exhibition: Billy talks about his early years as a young Sex Pistols fan.
Playing the 100 Club, London, on 19 Sept are Sex Pissed Dolls. They are an all girl covers band playing Sex Pistols, Clash, Sham 69 etc. The band members are... Nancy Doll, Connie Rotter, Anna Key, Jilly Idol.
27th August
NMTB Vinyl Guide Update. 2014 Back To Black Series.
Johnny Ramone 2014 Tribute Photo Set.
26th August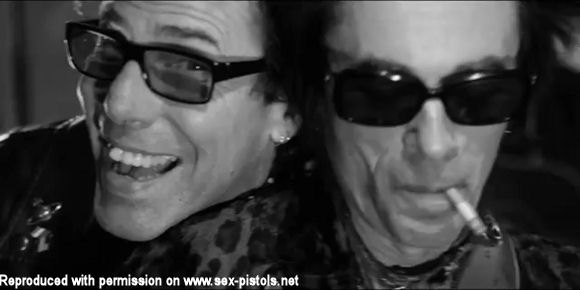 Johnny Ramone Tribute 2014 (Full Concert). Rob Zombie played his set first, followed by Steve Jones and Duff McKagan with Billy Idol.
However, if you want to cut to the best bits...
Silly Thing (Steve vocal)
Judy Is A Punk (Steve vocal)
I Wanna Be Sedated
Danny Says
California Sun
Rockaway Beach
Worldwide Vinyl Guide: Another Anarchy 12" France variation from 1977 added.
23rd August
Sonny Vincent & Spite: "Sonny Vincent of Testors formed a new project with Rat Scabies (the Damned), Glen Matlock (Sex Pistols) and Steve Mackay (Stooges). Sonny Vincent & Spite promises to "fuck shit up" on its debut album Spiteful, which arrives on November 17th. Prepare yourself for rock & roll badassery by streaming snippets from the 14 track album in the trailer below. Pre-order Spiteful now through Still Unbeatable Records - the limited edition release will be available orange vinyl (150 copies), black vinyl (300 copies), and on CD (500 copies)."
20th August
First Look: Dennis Morris' "The Bollocks" at Known Gallery, LA. Superb selection including some previously unseen pictures.
Lydon at De La Warr Pavilion 12 October - further information [thanks ShaneZane]
Worldwide Vinyl Guide: Another Anarchy oddity from 1992 added.
The final two parts of the Barry Cain's McLaren interview have now gone up on the Flexipop! website - http://flexifriend.blogspot.co.uk/
18th August

MATLOCK, PHANTOM & SLICK LIVE
Ray Morrissey, caught the band at Under The Bridge, Fulham Road, London, 15th August:
"A rare chance to see this great collection of musicians (not forgetting Stereophonics producer Jim Lowe on bass). The 75 minute set featured a mixture of new tracks written by Glen and classic covers. The band looked super cool on stage and Glen does a great job of getting the crowd to sing along. The sound has a rock 'n' roll rockabilly feel mainly due to Slim Jim's stand up drumming beat.
Setlist: Happy (Pharrell Williams) / Blank Generation (Richard Hell And The Voidoids) / Action Stations / God Save The Queen / Live Wire / Speak Too Soon / Sexy Beast / Chill / Dead End Street (Kinks) / Yes Siree / John I'm Only Dancing (guest Reeves Gabrels on guitar) / Rock This Town (Slim Jim Phantom on vocals) / Pretty Vacant. Encore: All Or Nothing.
Guests in the crowd included Paul Cook, Clem Burke, Patti Palladin and Maggi Ronson."
YouTube: John I'm Only Dancing (guest Reeves Gabrels on guitar)
15 minute clip from Rebellion
Never mind the Daily Mail - John Lydon Sighting.
15th August
Matlock, Phantom, Slick - Happy (Pharrel Williams) DEBUT VIDEO
Plume Of Feathers, Greenwich. All welcome to our Blues & Soul this Sunday from 6pm hosted by the legendary Paul Cook.
Bollocks Exhibition Private Reception Photos.
Sex Pistols Photos at The Bollocks Exhibition (Video).
Sid's 'My Way' used in luxury car commercial.
Joe Stevens Sex Pistols Photos Digital Presentation.September 13 in Dover, New Hampshire, USA.
13th August
12th August
October 9 Manchester. John Lydon: Appearance/Interview to promote new autobiography; Anger Is An Energy. "John Lydon – In Conversation with Dave Haslam" at Albert Hall. Tickets go on sale at 10am on Wednesday August 13 from www.seetickets.com .
Dennis Morris Interview and Exhibition Video at Known Gallery.
Sid Vicious: Grand Jury Document.
Let It Rock Exhibition in Copenhagen.

6th August
The Bollocks, an exhibition of Sex Pistols photographs by Dennis Morris 8th - 23rd August, Known Gallery, 441 North Fairfax Avenue, Los Angeles, CA 90036.
The Exhibition: 40 photographs, black and white, colour, portraits, live shots. A special installation with giant photographs of fans and punk scenes printed on drapes will stage the show; A Virgin record shop, from the time of the Never Mind the Bollocks launch, will be recreated.
A limited edition photo publication will be available on the opening night Known Gallery: knowngallery.com/ is an influential platform on the LA art scene with strong ties with the contemporary street art movement and alternative popular culture in general. Dennis Morris: dennismorris.com/
4th August

3rd August
The first part of an interview Barry Cain did with McLaren in 1979, not long after the court case, has just gone up on the Flexipop! website http://flexifriend.blogspot.co.uk/. [thanks Barry Cain]
2nd August
YouTube: Glen Matlock Live in Edinburgh. Full 72 minute show.

Glen Matlock. Q Magazine :"Songs That Made Me A Punk".
1st August

John Lydon:
Anger is an Energy:
My Life Uncensored

New autobiography released on October 9th

Leading UK Memorabilia Dealers On The Search For Sex Pistols And Punk Memorabilia.
Read more: http://www.digitaljournal.com/

31st July
Glen with Midge Ure in the press discussing their musical relationship prior to Voewood Festival.
Plus, Glen interview regarding upcoming gig at Under the Bridge in London on 15 August.
28th July

27th July
Glen Matlock Interview: The Guardian.
US TV commercial for T-Mobile features clip of Sid Vicious. [thanks KGuitar]
26th July
The Mirror: "Sex Pistols' Glen Matlock hasn't spoken to John Lydon in 5 years: Rules out Reunion; "There is nothing I know of in the offing and I'm really not that fussed about it.""
25th July
Tomorrow, Glen will be on the Loose Ends show on BBCRadio4 6.15PM talking about his exciting musical ventures!
Yesterday Glen was on Channel 5 The Wright Stuff. Some interesting chat about some unfinished Pistols recordings, one of his apparently has an "Interstellar Overdrive" Pink Floyd feel to it, the rest are after he left the band. Watch yourself: View Episode On Demand. [thanks Ray & Glyn W]
The Faces, Can and Captain Beefheart: Glen Matlock's six best albums.
23rd July
Glen Matlock was interviewed yesterday on BBC6 Music, Radcliffe and Maconie show.
Listen 6 Music site via the iplayer, approx. 15 minutes. ".... Sex Pistols' legendary bass player, Glen Matlock is about to make his Edinburgh festival debut, telling his own tale of how the band formed, then exploded onto the music scene...and then disintegrated. [thanks Andrew Brooksbank]
22nd July
Steve Jones Puts On His Record Producer Hat Again. Jesse Jo Stark.
"The singer/songwriter will release her debut EP Down Your Drain on September 3rd. The new release was produced by the Sex Pistols' Steve Jones and is preceded by the tasty "Baby Love""
More Vinyl Rarities!!
Japan NMTB 1977 Rare Obi Variation
UK Pretty Vacant 1977 Black / Blue Text Label Variations
Keith Levene's "I Was a Teenage Guitarist 4 The Clash!" now has its own dedicated website.
15th July
Radio 2 Top 100 Greatest Guitar Riffs. Vote for Pretty Vacant. [thanks Ray & Simon]
Bumper bundle of Vinyl Rarities added to the site.
Australian / Australasia Swindle Double LP Unique Mis-pressing
Pretty Vacant Japanese Promo 7"
Holidays In The Sun UK Jukebox Pressing 7"
Anarchy In The UK 12" France Label Variation
Anarchy In The UK 1983 UK Acetate 7"
More Bootleg Vinyl. It keeps on coming!!!
Live In England 1976 7"
New Screen On The Green LP
Indecent Exposure Brown Vinyl LP
Live In Netherlands December 1977 7"
Live At Baton Rouge 1978 10"
21st July 1996 Live At Phoenix Festival 10"
14th July
Never Mind The Bollocks has re-entered the UK Album charts at no. 24!
Britain's Most Dangerous Songs a reminder to those yet to own it!
11th July
Glen Matlock: Short clip from the recent BBC Tin Pan Alley Tour www.bbc.co.uk/programmes/
6th July
BBC News.
Tomorrow 7th July BBC Radio 2 10-11PM. London's Tin Pan Alley. Glen Matlock features.
Friday 11th July BBC 4 9-10 PM. Britain's Most Dangerous Songs. Features Sex Pistols and contribution from Glen Matlock.
5th July


Photo: Tina Korhonen

GLEN MATLOCK ANNOUCEMENT!

A busy August coming up, so if you are in 'hood come on down. I will be appearing at the

Edinburgh Festival

for a week from the 31st July, doing my solo acoustical one man show, and giving it a fair old bit of chat.www.assemblyfestival.com/
Hot foot from that, I will be piecing up with these bunch of reprobates - Earl Slick, Slim Jim Phantom and my old mucker Jim Lowe for some action of the louder variety.
MATLOCK, PHANTOM & SLICK LIVE:


August 8th Green Room, Welwyn Garden City

www.wegottickets.com/event/28020


August 9th Hertford Corn Exchange, Hertford

www.facebook.com/events/1561407664086460


August 10th Rebellion Festival, Blackpool

www.rebellionfestivals.com


August 14th The Railway Hotel, Southend On Sea

www.railwayhotelsos.co.uk


August 15th Under the Bridge, Chelsea

https://agmp.ticketabc.com/events/glen-matlock/


August 17th Voewood Festival, Holt Norfolk

www.voewoodfestival.com

Photo: Debra Raffles Trizzin

i
1st July

28th June
The 10th Annual Johnny Ramone Tribute with Steve Jones, 24th August at Hollywood Forever Cemetery
YouTube Features:
Duff McKagan and Steve Jones Announce The 10th Annual Johnny Ramone Tribute
Linda Ramone: Part One / Part Two (On part 2 she praises Steve Jones for always being there)
Ramones Punk Rock Story Time with Steve Jones Part 1
Ramones Punk Rock Story Time with Steve Jones Part 2
Inside the 10th Annual Johnny Ramone Tribute www.rollingstone.com
I Got You In My Camera - Punk 1976-1979
Wednesday 2nd July - Sunday 27th July 2014. Rockarchive collective / Punk aficionado Jon Savage (England's Dreaming). Under Jon's guidance Rockarchive have pulled together some of the world's best Punk images from both sides of the pond. This exhibition brings together work from photographers such as Sheila Rock, Roberta Bayley, Adrian Boot, Bob Gruen, Ray Stevenson and Jill Furmanovsky together for the first time in one truly Punk rock exhibit. The rich visual material with many never before seen photographs from the brief but incendiary Punk era has resulted in one of the most exciting exhibitions Rockarchive has ever produced. 'I Got You In My Camera - Punk 1976-1979' promises to be a must see for all Punk fans and collectors. During this exhibition Rockarchive will play host to many Punk themed evenings, from film screenings, book signings, guest appearances and performances. Be sure to keep an eye on our website for further details. http://campaign.r20.constant [thanks Stuart Craig]

24th June
18th June
"Coinciding with London Fashion Week this September, BBC Four and BBC Radio 6 Music will collaborate on programming around the relationship between music and fashion. Underneath the working title Oh You Pretty Things!, a 3-part series will consider the relationship between British rock and pop music and fashion with interviews using the Sex Pistols' Glen Matlock..." http://news.list-online.com/
17th June
16th June

Never Mind The Bollocks Here's The Sex Pistols
180g Vinyl

2014 UK limited edition 180g Universal Music
Back To Black reissue of the classic 12-track LP picture sleeve
with MP3 download code
14th June
The ultimate Professionals release is coming...
"Steve Jones talks about acting, Sex Pistols, and life's miscellanea."
11th June
I've been away for a couple of weeks. Major news (Jesus Christ Superstar cancellation etc) & snippets can all be found on the Twitter feed. Normal Service Resumed.... Phil
Exclusive pictures June 2014 of Claude Engel. The main man behind the recording of My Way in Paris, and sole creator of the orchestration.
Simon Pegg likens Rik Mayall's influence to that of the Sex Pistols.
Following on from Viv Albertine's acclaimed book comes..... Billy Idol's autobiography in October.

29th May
Glen Matlock, Slim Jim Phantom & Earl Slick
At work in upstate New York last week....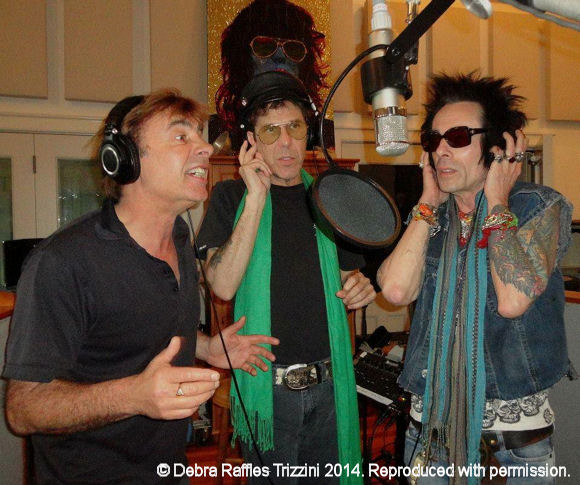 28th May

Dennis Morris lawsuit against painter copyright infringement of his Sex Pistols photos.
New vinyl has surfaced on the internet:
Never Mind The Bollocks - Tokyo. FM radio broadcast 16 Nov 96. 10 inch LP. Only 12 copies (6 black vinyl / 6 clear).
7" New York / EMI. Pingvin Club, Oslo, Norway, 20 July 77 (10 copies).
Pictures to be posted soon. [Thanks Harry Nordskog & Patrick Lilienthal]

27th May
Russian 6" Flexi Discs. Flowers Of Romance & Understanding slotted into the guide.
26th May
Super Duper Alice Cooper. Film features the voice of John Lydon amongst the cast.
Worldwide Vinyl Update:
NMTB Japan 2007.
Plus, prior to a forthcoming detailed look at the single LP version of The Great Rock 'N' Roll Swindle, here' s the Japanese Swindle Laser Disc which used the same front & rear design.
23rd May
Nice item: Pistols 1996 Reunion French Documentary.
19th May
Glen Matlock - Saturday, 24th May. Selby Town Hall
Tickets available from the town hall, by phoning 01757 708449 , or online at selbytownhall.co.uk. £14 in advance, £16 on the door.
Glen is set to appear at the Edinburgh Fringe Festival "The heady days of the Sex Pistols will be relived by bassist and founder member, Glen Matlock, in George Square Gardens." The full Edinburgh Festival Fringe programme will be revealed on 5 June. [thanks Stuart Craig]
New Worldwide Vinyl Updates:
Three more Polish Postcards: My Way / Problems / Black Arabs.
GSTQ: Sample Not For Resale stickered sleeve.
18th May
More from Wendy James new album featuring Glen Matlock.
Steve Jones The Nerdist Podcast.
15th May
Don't Bin Tin Pan Alley
London's Denmark Street is under imminent threat of redevelopment.
Des Hoskins has been in touch with the following:
"Despite assurances to the contrary by developers Orms, it is clear that a modern redevelopment will destroy the c17th character, history and legacy of this small street in London's west end. A street that has a major part in english rock n' roll history and none more so than in the story of Sex Pistols and their residence at number 6. Enterprise (rehearsal) Studios, music venue 12 Bar Club, the street's numerous guitar and music shops and numerous other businesses face certain demise under current plans. Please join and share this petition to increase the pressure upon Camden Council and English Heritage to preserve the heritage of this precious community. The awareness and support of the global Sex Pistols audience would undoubtedly support this cause. This isn't just about music history. It's about music's present and future. Thank you."
Sign the petition.
http://www.change.org/petitions/
Rio 50 Degrees: Carry on CaRIOca. BBC One Sunday 18th May 22.30. Includes Biggs / Pistols content. Directed by Julien Temple. [thanks Stu]
7th May
Steve Jones at WonderCon 2014 "Game Of Jones".
Sex Pistols no. 8 in the Record Store Day albums best sellers list.
6th May
Glen Matlock - Friday 9th May. West End Centre, Aldershot.
"The founding member of the Sex Pistols will be reading extracts from his autobiography, I Was A Teenage Sex Pistol" and playing his music. Tickets £15/£13"
Music Heritage UK Podcast: Sex Pistols at Screen on the Green - Midnight Special 29 Aug 76.
Featuring a few songs from the bootleg and an interview with Colin Payne, who was a technician on the day (and actually still works in the cinema). [thanks James Ketchell, Music Heritage UK]
Sound Cloud: https://soundcloud.com/music-heritage-uk-podcast/midnight-special
iTunes: https://itunes.apple.com/gb/podcast/music-heritage-uk-podcast/id742880887?mt=2
Paul Cook's daughter Hollie: Recent Interview.
5th May
The Ukrainians - Never Mind The Cossacks: RSD Release Reviewed. It's good!
Style Icons with Keanan Dufty presents an interview with Malcolm McLaren.

30th April
Steve Jones and Glen Matlock guest on The Glorious new album, "Afflecks Palace".
"Glen Matlock joined drummer Clem Burke of Blondie on "Like A Bullet From A Gun" bringing their unique style & sound. We couldn't wish for a more rocking bass player & drummer. One of the best rhythm sections ever! Steve Jones joined Billy Duffy of The Cult to reign down supreme guitar power on a vintage track titled "The Glorious" to be featured on "Afflecks Palace" as a bonus track. The outro features 3 guitar solo's from Billy Duffy, Steve Jones & Mick Rossi."
John Lydon Talks About His Role in Jesus Christ Superstar.
Sex Pistols Onesie for Babies..... Cool!
You won't want to miss this....

Viv Albertine:

Clothes, Clothes, Clothes. Music, Music, Music. Boys, Boys, Boys.

Out May 15th
in hard & softback
"Viv Albertine is one of a handful of original punks who changed music, and the discourse around it, forever."
Soon to be released, documentary about the legendary Club Zebra, where the Pistols played in July 77.
clubzebrafilm.blogspot.it [thanks George Barry]
27th April
26th April
Remaining Stock Available
On-line Now!

Never Mind The Bollocks
Alternative Takes

7x7" box set
22nd April
Glen Matlock to play at Joey Ramone's Birthday Bash 19th May.
Wendy James' album - with Glen on bass. Listen to "You're A Dirtbomb, Lester" on Soundcloud.
Pistols NMTB 7x7"s Box Set Video. (can't be viewed in UK)
21st April
Easter Monday - a few unusual items added to GSTSPs....
Vinyl My Way: UK DJ Edition
Warner Bros. Longhorn Ballroom Letter Dec 77 "It is imperative that this appearance be supported..."
Italian Press Adverts for God Save The Queen and Pretty Vacant
20th April
I hope everybody got what they were after on RSD yesterday. There is a "Pistols" release you may have missed...

Artist: THE UKRAINIANS Title: NEVER MIND THE COSSACKS
Format: 12" 45rpm Label: ZIRKA RECORDS

"Never Mind The Cossacks is a mind-blowing collection of classic Sex Pistols songs re-interpreted with an eastern European twist by John Peel favourites The Ukrainians. Style-wise, Never Mind The Cossacks is an intoxicating cocktail of traditional Ukrainian music and British Indie pop. Vodka-fuelled fiddles, accordion and mandolins interweave beautifully with powerful drums, driving bass and wonderfully zizzy electric guitars. The issue is limited to 650 copies, all pressed on yellow vinyl, and the first 500 albums only will be individually numbered 1 - 500. Tracklist: Side A: Anarchy In The UK, God Save The Queen, Pretty Vacant, Anarchy In The UK (acoustic) Side B: Holidays In The Sun, Problems, God Save The Queen (live), Anarchy In The UK (live)."

Buy It Here

: Never Mind the Cossacks
New book: Seditious Theology: Punk and the Ministry of Jesus (Farnham: Ashgate Publishing, 2014). Author: Dr Mark Johnson.
Mark has provided the following background information: "It was actually my PhD which I then turned into a book. The reason I thought I would draw your attention to it is that the approach I took was primarily looking at things from the perspective of SEX/Seditionaries, Mclaren/Westwood, the Sex Pistols and Jamie Reid etc." http://seditioustheology.com/