5th March

4th March
Some interesting recordings have been turning up on the web recently.
First, more 7" vinyl from Greece.
The latest claims to be from Westfield College, London, 21st November 1975!
Don't Give Me No Lip Child / New York. Limited to 100 copies.
Is it what it says it is? I've no idea but it seems unlikely a recording was made so early in the band's career. If it had, why would it end up in the hands of a bootlegger in Greece 40 years later? Is someone brave enough to splash out? Not me!
Of more interest are the Unreleased NMTB & Swindle Mixes.
These appear to have surfaced earlier this year and are now apparently making the rounds via the murkier corners of the internet. The mixes are said by those who have heard them to be different to all those currently/previously available.
The 18 mixes are as follows:
Anarchy In The UK (Rejected Wessex Overdubs) / Belsen Vossa Gassa (Backing Vocal Live Mix) / The Great Rock 'N' Roll Swindle (Guitar & BV Take) / C'mon Everybody (Guitar Overdub mix) / Something Else (Guitar Overdub Mix) / Friggin' In The Riggin' (Guitar Mix) / Rock Around The Clock (Piano Mix) / EMI (Wessex Studio) / No One Is Innocent (Backing Vox Mix) / Submission (Wessex Studio) / Holidays In The Sun (Wessex Studio) / My Way (Steve Jones Mix) / Lonely Boy (Overdub Mix) / Body (Wessex Studio) / No Feelings (Wessex Studio) / Substitute (overdub Mix) / No Lip (Overdub Mix) / Stepping Stone (Overdub Mix). [thanks Matt & Glyn for info]
Note: GSTSPs does not condone the manufacture or distribution of bootlegs. Please don't ask. Thanks.
1st March

Glen's Live Showcase Video in Italy.
26th February
Glen Matlock Radio London interview - talking to Robert Elms about his Filthy Lucre Photofile book.

Paul Cook and daughter Hollie were at the Shepherd's Bush Empire last night to watch Wilko Johnson's one-off show featuring Roger Daltrey.
24th February
Glen "Yeah Right" live in Tokyo. Top Quality Video!
23rd February

Glen Matlock / Sylvain Sylvain US Tour

02 March Cyber West Café, Binghamton
03 March Cutting Room, NYC
04 March Asbury Lanes, Asbury Park
05 March Café Nine New Haven, CT
07 March Midway Café Boston, MA
08 March Shaskeen, Manchester
09 March L'Agittee, Quebec City
11 March L' Esco, Montreal
12 March Zaphods, Ottawa
14 March Rockpile, Toronto
15 March This Ain't Hollwood, Hamilton
16 March Magic Bag, Detroit
18 March RnR Hall Of Fame, Cleveland
19 March The Loft, Lansing
20 March City Winery, Chicago
21 March Bells Distillery, Kalamazoo
22 March Bernies Distillery, Columbus
25 March Hard Rock Café, Pittsburgh
27 March Kung Fu Necktie, Philly
28 March BoneYard Atlantic City, NJ
29 March BoneYard Mohawk, NJ

22nd February
Discovered! Malcolm McLaren confirmation letter regarding the Sex Pistols 28 November 1975 gig at Queen Elizabeth College, Kensington. The band had made their live debut a mere 3 weeks before.
21st February
In Devon tonight? "Founding member of the Sex Pistols, Glen Matlock tells the story of the band at the Plough in Torrington"
Italy: Scenasonica Rewind & Play: Glen Matlock.
Speaking of Glen... check the latest on his son's group Dead!. Rock Sound are streaming their new song 'Tu Me Manques', /www.rocksound.tv/
For those who haven't seen it: John Lydon's "Corrupt" Movie from 1983 (Full).
17th February
Record Guide Update: Three more Polish Postcard Singles added: Something Else / You Need Hands / God Save The Queen.
16th February
John Lydon to publish new autobiography. "Simon & Schuster has signed the world rights to a new autobiography by Sex Pistols singer Johnny Rotten. S&S senior non-fiction commissioning editor Kerri Sharp won the rights to the book in a "hotly contested auction" after she met the star in a London hotel in November 2013." thebookseller.com/
Morrissey talks about seeing the Pistols. www.youtube.com/
12th February
Glen to play Italian shows this weekend.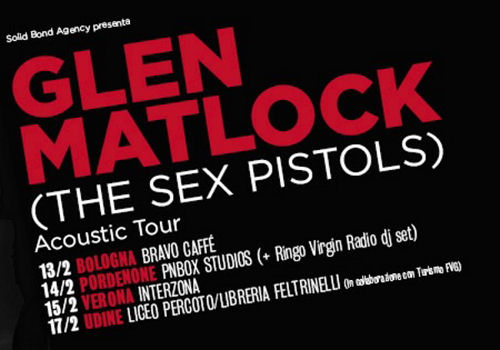 Coming soon on GSTSP's...

Glen talks about his forthcoming
Sex Pistols Filthy Lucre Photofile book.

Out March 10th
8th February
Glen Interviewed by Guy Perryman in Tokyo.
BBC Arts & Culture: Musical memorabilia: Danny Baker's rock treasures... [thanks Stu Barstow]
Pretty Vacant: The Graphic Language of Punk, an exhibition on view through to March 15 in the galleries at Moore College of Art & Design in Philadelphia. The exhibition features several hundred posters, flyers, fanzines, handbills, record sleeves, badges and other graphic materials from the collection of Andrew Krivine.
3rd February
2nd February
Glen Matlock to play The Forever Sun Festival July 2014
Plus... Glen Matlock a Pordenone - 14 febbraio 2014 Pnbox Studios. Promo for Glen live 14th February.
1st February
Pil Documentary. Announcement from PiL


"Calling all PiL fans! We are in the process of making a comprehensive, career-spanning documentary film about Public Image Ltd. and we would like your help! We are looking for never before seen photographs as well as film and video footage of PiL and John Lydon from any time period. If you have ANYTHING that you think may be of interest please drop us a note. You will be credited in the end titles if we use your footage. Do you have a snapshot at The Rainbow on Christmas 1978? Do you have a photo souvenir of the infamous Ritz riot show? Do you have a picture with or without John showing your injuries after being hit by a flying object! Did you shoot video of John signing your PiL records at the Monsters of Alternative rock Tour in 1989? We know PiL fans are most creative people. Your ongoing support is greatly appreciated. We salute you lollypop mob. If you can help please send us an email to: PiLarchive@gmail.com"
Teddie Dahlin - author of A Vicious Love Story - has a 4 page feature on Sid Vicious in the new issue of Vive le Rock Magazine. A hardback version of the book with a DVD of the relevant locations is also in prepartaion.
29th January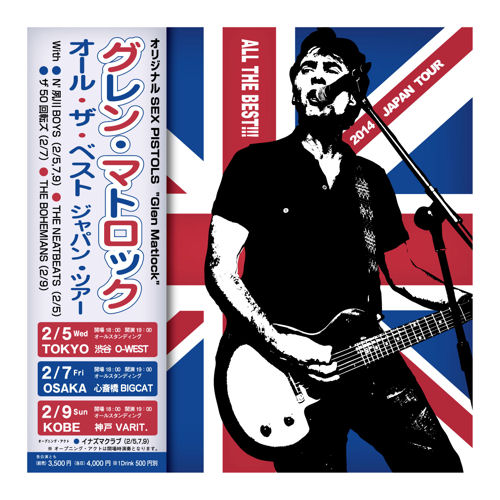 Glen plays Tokyo (5th Feb) , Oska (7th Feb) & Kobe (9th Feb). The Kobe show is already sold out!
28th January
Vinyl Updates added to Worldwide Guide:
God Save The Queen 10" Counterfeit A&M Acetate from 2002
Silly Thing / Anarchy In the UK Portugal upgrade
USA Jem Import Sleeve

MOJO asks: What Is John Lydon's Best Album?
The International Swingers in LA: YouTube catch-up.
http://www.youtube.com/
http://www.youtube.com/
http://www.youtube.com/
NMTB Pure Audio Review by SoundBlab.
Tribute stalwarts, Sex Pistols Experience play 100 Club on 8th March with guests Lizzie & The Banshees.
They are out on the road extensively over the coming months in UK & Europe.
17th January

NEVER MIND THE BOLLOCKS
HIGH FIDELITY PURE AUDIO (BLU-RAY)

Out Monday 20th January in the UK

Here it is!! NMTB in Pure Audio in the UK

30 Track Edition
Holidays In The Sun / Bodies / No Feelings / Liar / God Save The Queen / Problems / Seventeen / Anarchy In The UK / Submission / Pretty Vacant / New York / EMI
B-sides: No Feeling / Did You No Wrong / No Fun / Satellite
Live Happy House, Stockholm, Sweden - 28th July77 : Anarchy In The UK / I Wanna Be Me / 17 / New York / EMI / Submission / No Feelings / Problems / God Save The Queen / Pretty Vacant / No Fun.
Winter Gardens, Penzance, Cornwall – 1st September 77: Problems / No Fun / Anarchy In The UK
Keanan Duffty, who designed clothes for the Pistols 2003 US Tour, was a guest on Why We Listen. He talks about Slinky Vagabond his band with Glen Matlock, Clem Burke and Earl Slick.
Listen/Download the podcast.
16th January
Updated in two days!
Interview Vinyl
The Remixes - Vol. 1
14th January
12th January
'The International Swingers' LA Dates for January 2014 re-scheduled for next weekend:
January 18 Farmers Market 6333 W. 3rd St. Los Angeles, CA 90036
January 19, 2014 Redballs Rock & Roll Pizza 13816 Princeton Avenue Moorpark, CA 93021
Dennis Morris YouTube interview: "Dennis Morris is a British photographer best known for his images of Bob Marley and the Sex Pistols. In 1979, he created the logo for the band Public Image Limited and the innovative Metal Box album packaging"
6th January

Julien Temple: Spending Xmas with the Pistols: BBC Interview. [thanks Wayne Spencer]
'The International Swingers' Announce LA Dates for January 2014
January 11 Farmers Market, 6333 W. 3rd St. Los Angeles, CA 90036
January 12, Redballs Rock & Roll Pizza, 13816 Princeton Avenue, Moorpark, CA 93021
Press: " The International Swingers; Clem Burke, James Stevenson, Gary Twinn and Glen Matlock are better known to many as members of Blondie, Sex Pistols, The Cult and Twenty Flight Rockers, but that's about to change when, this summer, TV viewers worldwide will see this group of veteran punk rockers get together to record the debut Swingers single at The Foo Fighters' Studio 606 using the Neve console famously used by Tom Petty, Nirvana, Fleetwood Mac and Paul McCartney to name a few. With legendary Brett Geruwitz of Bad Religion in the producer's chair this will be compelling viewing for all rock fans. The tv show takes place over a 48 hour period in which the band is challenged to record 2 songs from start to finish, ready to release, on a vinyl 45 single, just like they did it in the old days of the Beatles, Stones and even Blondie. The Redballs show will be filmed for TV so be early and ready too whoop and holler so you can see yourself on Esquire Network this summer!"
Harry Nordskog, co-author of Sex Pistols: Exiled To Oslo is selling his remaining copies of the book for 5 GBP/7 EURO + postage. Postage in eEu is about 12 EURO.
Contact Harry direct for further details / info. Email: nordskogharry@gmail.com
HAPPY NEW YEAR EVERYONE!
30th December
Christmas With The Sex Pistols: Julien Temple Interview.

iplayer: Christmas With The Sex Pistols
Glen Matlock and Sylvain Sylvain will be on tour together in 2014.
The Sex Doll Tour starts on 2nd March in New York.
22nd December

21st December
Christmas With The Sex Pistols (Never Mind The Baubles has been vetoed as the title) will focus on Xmas and the Pistols rather than a straight run through of the concerts, but there is some brilliant footage of the shows included. BBC4 Boxing Day 10PM. Duration: 1 hour.
18th December

How the Sex Pistols saved Christmas. "For the families of the striking fire fighters, Christmas 1977 was going to be a difficult one. With little or no money coming in, celebrations, presents, and even food were on ration. But something quite wonderful happened on that Christmas Day in Merrie England, when four of the country's allegedly most reviled people brought happiness and festive gifts to the firefighters and their families. This was Christmas Day 1977, when The Sex Pistols played a benefit gig for the families of striking fire fighters at the Ivanhoe's club, Huddersfield, in the north of England. " Read more...
16th December
Superman is dead S.I.D. Shepherd Fairy & Dennis Morris exhibition event.
Featured a special one-off performamce by "supergroup" Ritchie Love.
Ritchie Love are Billy Idol, Steve Jones, Clem Burke, and Leigh Gorman:
I'm Waiting For The Man
I Wanna Be Your Dog (1)
I Wanna Be Your Dog (2)
Dancing With Myself
Event Photo Set
Rock NYC Blog reports: "They covered the greatest punk anthems of the 70s-80s, Eddie Cochran's 'Something Else' and 'C'mon Everybody' covered by the Sex Pistols, Generation X's 'Ready Steady Go', Sex Pistols''Silly Thing', Billy Idol's 'Dancing with Myself', Iggy Pop's 'I Wanna be your dog' and 'No Fun', then there was 'My Way' and they were gone,… nooooo so soon? They came back for an encore with Lou Reed's 'I'm Waiting For The Man'..."
12th December
Shepherd Fairy & Dennis Morris exhibition. December 13 - Jan 11. Subliminal Projects. Los Angeles. Ca. [thanks Rob Banks]
9th December
BBC Four - Never Mind the Baubles: Xmas '77 with the Sex Pistols.
Boxing Day 10PM. Duration: 1 hour.
"Looking back to Christmas 1977 with an irreverent portrait of the times, featuring unseen footage of the Sex Pistols. Never mind the baubles, director Julien Temple presents a unique insight into the tradition and transgression of Christmas. Featuring interviews and 70s archive, framing the Sex Pistols' last UK concert with Sid Vicious, for the children of striking firemen in Huddersfield on Christmas Day 1977."
[thanks Steve Duffy & Marco Rat]
8th December
The family dynasty continues! Sam Matlock's - son of Glen - band, DEAD! are on tour. Glen says "They have been having a bit of Radio One action - record of the week on the Rock Show a fortnight ago and have picked up a few plays on Zaine Low and a couple of other shows too. They put on a good show live and are well worth checking out, and are all on the handsome side." Of course!
Dec 9th Tunbridge Wells The Forum
Dec 10th Birmingham Roadhouse
Dec 11th Leeds Santiagos
Dec 13th Manchester Sound Control
Dec 14th Durham Fishtank
Dec 15th Glasgow The Garage
Dec 16th Dundee Non - Zeros
Dec 17th Newcastle Other Rooms
Dec 18th London Surya
Free download of Radio One championed single "We Are Dead" available via Facebook.
7th December
Barry Cain, journalist & author of the acclaimed 77 Sulphate Strip: The year that changed music: An Eyewitness Account of the Year That Changed Everything
has published an "outtake" from the book - a Johnny Rotten interview from 1978. Feature also includes unpublished pictures of John in LA. http://flexifriend.blogspot.co.uk/ [thanks to Barry Cain himself]
For Glen Matlock's final Philistines show of the year, he was joined on stage by Spandau Ballet sax player Steve Norman for Ambition and Dead End Street.
Over in France, John is interviewed in "l'Equipe" the biggest French sports newspaper. He talks about Arsenal and his favourite team circa 1970-72, Charlie George, George Best and Peter Marinello. The headline reads "The Emirates Stadium is absolute ugliness!"
5th December
Following on from NMTB, Universal Japan are set to release The Great Rock 'N' Roll Swindle LP in platinum SHM-CD format on 18th December. Comes in cardboard sleeve with obi replicating the original vinyl.
4th December
John Lydon reveals record label woes led to butter adverts and 'I'm A Celebrity'.
Read more at www.nme.com/news/
3rd December
Universal Japan have issued Never Mind The Bollocks in platinum SHM-CD format with cardboard replica sleeve & poster. The quality of these releases are supposed to be incredible - but can it get any better?!!


PiL: Gold
Double CD compilation
Out this week

Disc 1
1. Four Enclosed Walls 2. Public Image 3. Home 4. Albatross 5. Tie Me to the Length of That 6. Flowers Of Romance 7. Hard Times 8. Warrior (12" extended mix) 9. USLS1 10. Bags 11. Chant 12. Cruel 13. Religion I 14. Religion II

Disc 2
15. The Order Of Death 16. Rise 17. Seattle 18 Death Disco (12") 19. Acid Drops 20. Under The House 21. Disappointed 22. Covered 23. Happy 24. The Body 25. Memories 26. Don't Ask Me 27. This Is Not A Love Song (12") 28. Ease
Glen Matlock Screen On The Green 30th November YouTube:
Stepping Stone
Pretty Vacant
Johnny Rotten puts Malibu retreat up for sale at nearly $2 million
26th November
Glen Matlock & The Philistines final show of 2013.
Wednesday 4 December; Surya, 156 Pentonville Road, N1 9JL London


19th November

100 Year Celebration of Screen On The Green - Glen Matlock appears on 30th November.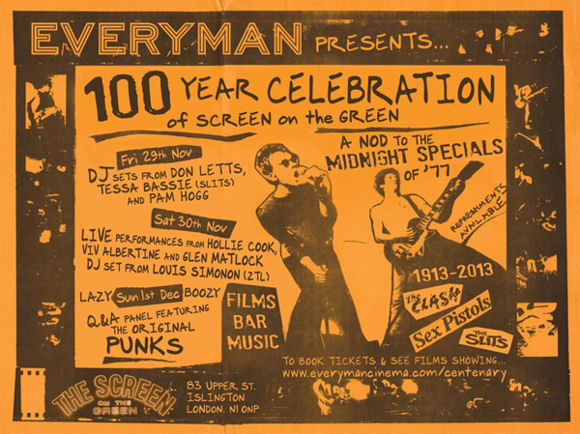 YouTube Manraze:
Manraze "I Surrender" Lyrics Video
Phil Collen Def Leppard/Manraze Audio Interview in Oscar's Guitar Shop
16th November
The private view for 'Goldie: The Lost Tribes' at Mead Carney Gallery in London on 13th November was attended by Glen Matlock, Paul Cook and Professional Ray McVeigh. Goldie is a British electronic music artist, DJ, visual artist and actor.


More Vinyl....

GSTQ / No Feeling A&M 12" on coloured vinyl in "new" picture sleeve. So far, on yellow, purple (122 copies of each, red (30 copies), and sky blue (89 copies). And no doubt loads more to follow.

The vinyl listed on 28th October has also appeared in further colours - added to original news item below.
12th November
Glen Matlock has returned from NYC where he has played bass on the forthcomg Wendy James album.
New: John Lydon Sound Box Video Interview.
John Lydon Interview in Daily Record.This has now been much quoted due to John talking about Mick Jagger coming to Sid Vicious' aid following his arrest for the muder of Nancy Spungen: ""The only good news is that I heard Mick Jagger got in there and brought lawyers into it on Sid's behalf because I don't think Malcolm lifted a finger. He just didn't know what to do. For that, I have a good liking of Mick Jagger. "There was activity behind the scenes from Mick Jagger so I applaud him. He never used it to advance himself publicity-wise." www.dailyrecord.co.uk/ [thanks Martin Parry & others]
SHOWstudio: Stussy - Talking Punk with Don Letts and John Ingham.
4th November
The famous / ultra-rare Virgin Records Lentilmas flexi disc which reportedly included the Sex Pistols, can be heard on Soundcloud. It was sent out by Virgin, along with a Christmas card, in 1977. https://soundcloud.com/
Is it really worth £1000s of pounds? Are the Pistols even on it? [thanks Stu Barstow]
3rd November
Manraze – featuring Paul Cook, Def Leppard guitarist Phil Collen, his former Girl bandmate Simon Laffy - have released a trailer for upcoming EP I Surrender.
The three-track EP will be released on November 12 via iTunes and follows the launch of their second album PunkFunkRootsRock in 2011. Tracklist: I Surrender / All I Wanna Do / Connected.

29th October
Film director Julien Temple, who documented the rise of the Sex Pistols, has been declared a music icon.
The awards ceremony took place at the Queen Elizabeth Hall in London's Southbank Centre last night and awards were given to British and international filmmakers and directors. Julien Temple received the Icon Award, which was given to him by Ray Davies of The Kinks, a band for who he directed a number of videos. Temple has also worked on videos for Neil Young, Blur, Duran Duran, Paul McCartney and Scissor Sisters as well as directing music documentaries The Filth & The Fury, The Future Is Unwritten and Oil City Confidential.
28th October
Lou Reed RIP. Steve Jones covering Lou Reed's song "Perfect Day".
Glen Matlock and James Stevenson on Death or Glory Web Series.


More 7" vinyl! Not Greek!

Winterland Sound Check 14th January 1978 (pink, blue or purple vinyl 100 each). 2nd version - see 21st October news item for picture.

Pretty Vacant, New Zealand sleeve & labels (black or purple vinyl. Colours ltd to 100)

God Save the Queen, A&M label, Freddie Mercury sleeve (plum red, pink, purple vinyl. Colours ltd to 100).
Pictured left.

God Save the Queen, Japan label with a Brazil / Japanese sleeve (black, yellow, purple, pink, marbled aqua vinyl. Colours ltd to 100).
Pictured left.
Love Kills are hosting a free all-day event on 2nd Feb 2014 to mark 35 years since Sid's death. Location outside Warwick Ave Tube Station, London.
Boogie Oogie Oogie! From the book Tell Me When by Barry Cain: flexifriend.blogspot.co.uk/ [thanks Stu Barstow]
25th October
Glen Matlock guests on Steve Trash's group Trashbeat. Song is Called "Toys" and is available on Soundcloud. Hugh Cornwell and Clem Burke also appear.
New Irish John Lydon documentary on TG4 player: www.tg4.ie/en/player/ [thanks Wayne Daly]
From Rolling Stone Mag. Several Unseen Photos of Virgin Records Icons.
Richard Branson Associated Press Interview. Talks About How It All Began. Releasing Sex Pistols.
24th October
NME out this week has another 500 best albums of all time list... NMTB is 38.


Virgin Records - 40 Years of Disruptions

Exhibition runs this week Oct 24 to Oct 29.

Exhibition includes photos, memorabilia, song and video installations of Virgin Records artists including The Sex Pistols and PIL.

Venue: STUDIO B1, VICTORIA HOUSE, SOUTHAMPTON ROW, LONDON WC1.

Guardian Feature:
Pop-up art exhibition to mark 40th anniversary of Virgin Records

[thanks Markus Prem]
Sex Pistols Took Over My House: "Mark Wilson was 14 when, in 1976, he first heard the Sex Pistols. He spent the best part of the next four decades collecting all the band memorabilia he could get his hands on. But then he made the hardest decision of his life - to sell it." www.bbc.co.uk/ [thanks Carlos Lopez, Daniel Parker, Stu Craig]
YouTube John Round-Up:
John Interview on CNN. Talks About Royals and Sex Pistols.
John Lydon Discusses What Makes a Great Song.
PIL Shepherd's Bush Empire Encore. Oct.21, 2013.
YouTube Steve Round-Up. Live with Ian Rubbish at Festival Supreme Oct 19.
Steve presented as part of Ian Rubbish's band.
Life Goes On.
Sweet Iron Lady.
Steve Sings Silly Thing.
Follow links to a whole load more! [thanks as ever to Carlos Lopez]
21st October
Winterland soundcheck... again. White label 7" with wrap around sleeve - 10 copies.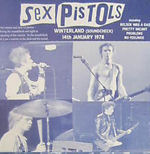 Incidentally, Hello!!! Winterland & Winterland Goodbye!!! have been pressed in pink, clear, (both 250 copies) & black. Rumour of a picture disc as well.

Talking of picture discs... here we go again... more Greek vinyl:
Live In Islington UK '76 pic disc 7" (pic is from '77!!! LOL). Only 30 copies if you are bothered.
No More Silence In Atlanta 10" Box Set. 10 copies. ZZZzzzz.
Did you know, the latest edition of BBC1 TV Quiz Pointless had the Sex Pistols chart hits as the final question? Available in UK on iPlayer (start programme at 42 mins). [thanks David Jones]
20th October
John Lydon on Winning the 2013 BMI Icon Award.
John Lydon Accepts the 2013 BMI Icon Award.
John Lydon Uncut Magazine Interview In November 2013 Issue.
18th October
YouTube: John's Complete Acceptance Speech at BMI Awards
Steve Jones Audio Interview With Jay Mohr on Mohr Stories
SHOWstudio. Audio Interview With Bob Gruen.Bob talks about photographing Sid
CNN: John 'Rotten' Lydon: I'm not a museum piece
Sex Pistols' Johnny Rotten On The Real Meaning Of Punk
16th October

John Lydon Named BMI Icon at 2013 Awards in London
Report and pictures:
www.bmi.com/news/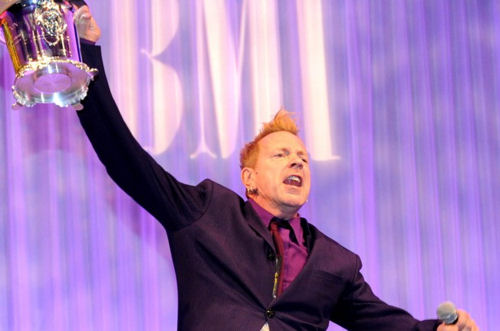 ©Picture BMI
Asked by Rolling Stone "how it feels to be hailed as an icon", Lydon replied, "Fantastic. When you're offered these things, you have to be sensible and see them as somewhat of a challenge. I've always got the thing in mind of the Rock and Roll Hall of Fame – that was something that I bitterly detested and rejected. This is slightly more serious, and it's very interesting that it's the British music industry saying, "Well done, John." I think I've done a lot for this country, so it's quite nice for that to be noted."
http://blurtonline.com
14th October
Hello!!! Winterland
Winterland Soundcheck on bootleg! Already!

Hello!!! Winterland:
Some people don't mess about do they? A mere 4 weeks after appearing on the internet, the Winterland Soundcheck has appeared in full as a 7" 33 1/3 RPM record.
Side One: Belsen Was A Gas / Pretty Vacant
Side Two: Problems / No Feelings
Winterland Goodbye!!!
Not to miss an opportunity, another 7" has surfaced simultaneously with three tracks (Bodies / Anarchy Tn The USA / No Fun) from the Winterland show itself...


[thanks Jon Edwards]
Of course, no vinyl round-up would be complete witthout more crap from Greece.
New!! Live in Brixton 2007 Bodies / Anarchy In the UK. 7" transparent vinyl. Ltd to 50 copies.
Virgin 40th Anniversary exhibition: www.nme.com/
13th October
The Greek Rock 'N' Roll Swindle!! Yet more expensive 7" vinyl from Greece. Please stop!
Live in Atlanta 05-01-78: EMI / Pretty Vacant. Clear vinyl. Ltd to 10 copies.
Live at Budokan, Tokyo 16-11-96: Pretty Vacant / Anarchy In The UK Ltd to 50 copies.
Dead Drunk In Japan! Club Citta, Kanagawa, Kawasaki, Japan: No Feelings / Pretty Vacant. Ltd to 100 copies.
Hammersmith, 02-09-08 London: No Feelings / God Save The Queen / Problems. Ltd to 50 copies.
Vinyl Bootleg Guide Updated with the above releases.
Plus Substitute / New York / Holidays In The Sun One Sided 12" Picture Discs in Counterfeit Guide.
"Punk idols the Sex Pistols are more costly for vinyl buff devotees than Elvis Presley and The Rolling Stones, according to new research. Experts at Record Collector magazine have calculated the cost of amassing a set of the rarest items for music fans." www.independent.ie/
YouTube:
Glen Matlock with Walter Lure (Heartbreakers): Chinese Rocks at CBGBs Festival Oct 13 www.youtube.com/watch
www.youtube.com/watch
Glen Matlock & Steve Diggle at Atelier Des Moles Oct. 5, 2013.
Full show: www.youtube.com/
In case you've never seen it - a blast from the past. Jonathan Ross with Russ Meyer discussing Who Killed Bambi.
9th October
God Save... Preview: Punk '76 "Fashion Is Never Wrong" DVD
NME - out today - marks the 35th anniversary of Nancy's death with a 3 page feature on Sid & Nancy.
6th October
Manraze, the Sex Pistols, Def Leppard, and Girl supergroup, have announced that they will be releasing a new EP, entitled "I Surrender," on November 12th. The group, which features Paul Cook, Def Leppard's Phil Collen, and Girl's Simon Laffy, are giving fans an advanced listen to the three-song EP's title track here. (Note: You need to log-in to Soundcloud).
Collen offered this background information about the track, "The song is eight years old. It practically never got finished. I was on tour last year and started singing the chorus. "Early this year, I re-did the guitars to Paul's original demo drums. I did a vocal and Simon played new bass-lines. Ger McDonnell then did a brilliant edit and mix on what we gave him. Debbi Blackwell-Cook supplied the wailing outro-vocals that you hear at the end of the song. We feel this is our best song yet." The other two tracks on the EP include a live studio recording of a song called "Connected - Live from Shepherd's Bush", and a new version of the song "All I Wanna Do."
Iggy Pop Rare footage from 1979 with Glen Matlock playing bass - Iggy covers Sinatra in NYC.
3rd October
Exclusive! Swedish EMI Termination Memo 18th January 1977.
Unearthed by Lars Erik Holmquist - thanks to GSTSP contributor Michael Bällstav.
Pubilic Image Limited - Virgin Records 40th Anniversary vinyl re-issues.
"Album" picture disc , 7' "This is Not a Love Song" and 12" of "Rise" and "Warrior." Releases start with Album on 180gram vinyl picture-disc on 21st October.
PiL's UK / European Tour starts in Bristol on 12th October.
Full details: www.pilofficial.com/shows.html
Very short notice on this one, so no time to edit!
"Hello, I'm writing to inform you of a really interesting opportunity to get a piece of Sex Pistols history. My brother and I are currently working on funding a webseries called EDIT using the platform Kickstarter. One of the artists that we're working with, David King, has donated a piece of his to help us raise money - it's a beautiful picture that he took of Sid Vicious and Nancy Spungen.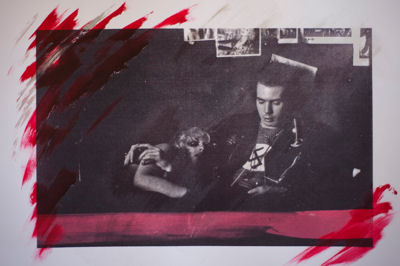 Here's the story behind it: David: I took the photograph in 1978 at the end of filming of an interview for a documentary on the punk scene. Within weeks, Nancy Spungen was dead – stabbed in the bathroom of a New York hotel, and Sid Vicious jailed for her murder. Weeks later he, too, would be dead from an overdose of heroin. The photograph first appeared in a Rolling Stone magazine news story about the murder dated 30th November 1978, and has been in the my personal collection – unseen and unpublished – ever since.'
Mixed media screen print on Somerset Satin 300g/m2 archival paper 56 x 76cm. It's available to the first person who pledges £1,000 to our project. If you're interested in it, please do get in touch. I'd really appreciate it if you post it on your page. We've only got until Friday 4th Oct before the campaign ends, so please get the word out ASAP! If you have any questions, please do get in touch. Here's the link to the website: http://www.kickstarter.com/projects/1191833315/edit All the best, Dan."
1st October
10th October: CBGB Festival w/ Glen Matlock Cheetah Chrome, Lydia Lunch, Richard Lloyd, Syl Sylvain, Lenny Kaye, & The Waldos.
26th September
War Torn Streets - Fossey Tango ft Glen Matlock
Glen sings for The Love a Child Foundation Orphanage

25th September
Terry Rawlings talks to Chris Spedding & discusses his work with the Sex Pistols. http://www.youtube.com/
John Lydon: 'I was snubbed for role in Crossroads' "Lydon, now 57, returns to Birmingham next month with his band PiL, Public Image Limited. And he admits: "As a kid, I used to rush home from school and put Crossroads on. "So, once I became famous, I tried to get a spot on it. I wanted to play David Hunter's illegitimate son, which would have been one of the worst things ever. "After Meg and Sandy Richardson – the first disabled character in a TV soap – having me in there as well would have been a right whack-attack. "I put the feelers out to try to get into it. And, guess what, I got a negative response." www.birminghammail.co.uk/ [thanks Bobe]
The feature was picked up by The Times & run today.
"Happy birthday to the 40-year-old Virgin. As Virgin Records celebrates its 40th birthday, Sheryl Garratt says there was only one label that could handle the unruly Sex Pistols." www.telegraph.co.uk/
21st September