26th January
Worldwide Vinyl Updates.
Holidays In The Sun: French Test Pressing
Something Else UK Mispress
Something Else UK No Necklace Later Pressing
Malcolm McLaren Brothel Creepers Story. Previously unpublished photo of McLaren inside Let It Rock.
Joe Corré: scion of punk royalty set on halting fracking.
22nd January

Steve Jones cameo in King Tuff's new video 'Headbanger'.
SEX PISTOLS VAN
Seen in Sligo town, Ireland!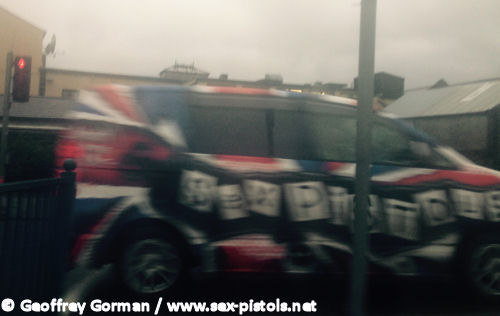 Gavin Walsh reports: "A pal of mine, Geoffrey Gorman, is a taxi-drive in Sligo. He was parked at a traffic light when he spotted a van coming in the opposite direction - he managed to get a shot! Class!!"
Anyone else seen it?!!
21st January
Music video by Medusa performing Sid and Nancy. Directed by Julian Molinero, starring Jake Cash and Maddison Delaney.
Why London's music scene has been rocked by the death of Denmark Street. From the 50s to the present day, Tin Pan Alley played host to the NME and Melody Maker, the Sex Pistols and the Stones. However, the recent closure of 12 Bar Club and Enterprise rehearsal studios marks the end of one of London's musical meccas.
19th January
Steve Jones with Jesse Jo: Down Your Drain

Save Soho Report (Pistols mentioned)
Wendy James: First single 7" vinyl 'Bad Intentions And a Bit Of Cruelty' (feat. Glen Matlock), released internationally on Record Store Day, April 18. Accompanying gigs to promote release plus line-up to be announced.
A Fan made Lego recreation of Batman Vs Superman features a cameo from John Lydon voicing Alfred Pennyworth, Bruce Wayne's butler. [thanks Johnny B]
7th Janaury
Happy New Year!
John Lydon Coin Carving.
Latest bootleg from Sweden: 'Never Mind The Rumours, This Recording Exists!'. from 'Barbarella's' Vaxjo, Sweden 23/07/1977. The show is spread across two 10" discs. 7 sets on clear vinyl, 4 on black vinyl.

17th December
Never Mind The Bollocks chosen for the prestigious Grammy Hall of Fame in America.
| | |
| --- | --- |
| Sex Pistols bootleg Spunk has been given a further CD re-pressing this month. | |
YouTube: PIL 13 December 2014 'Public Image' live + more.
Set List: Deeper Water / Albatross / This Is Not a Love Song / Poptones / Careering / The Body / Warrior / Reggie Song / Death Disco / Out of the Woods / Encore: One Drop / Public Image / Rise / Open Up
11th December
Never Mind The Buzzcocks, Monday 22nd December, Christmas Special features Glen Matlock, dressed as? You'll have to tune in to find out.... "Host Rhod Gilbert and regular team captains Noel Fielding and Phill Jupitus are joined by X-Factor judge Louis Walsh, Sex Pistol Glen Matlock, comedian Lloyd Langford and musician Melissa Steel for a Christmas themed show."
NME.com report on John's book signing in Oxford. Simon Cowell & Band Aid come in for some stick.
Plus, the Sex Pistols are too fat to reunite. [thanks Wayne Skipworth]
Dee Dee Ramone's artistic side on display in New York In one picture Sid Vicious is chased out of the Chelsea Hotel.
The Muse Gallery, 269 Portobello Road, London, W11 1LR ,has a pop-up shop selling one off guitars by guitar maker Steven Marlow. Sid Vicious makes an appearance.
6th December

Ian Patrick McLagan (12 May 1945 – 3 December 2014)
Ian, keyboard instrumentalist with the Small Faces and The Faces was a close friend of Glen Matlock with whom he performed on many occassions, including the reformed Faces in recent years. Ian also worked with Glen on the Rich Kids album in 1978.
Ian & Glen together in 2002 at Wembley Record Fair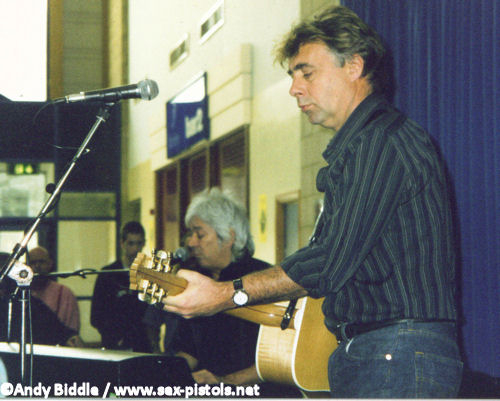 The recently unearthed live tape - posted on YouTube - Sex Pistols: Barbarellas, Växjö Sweden 23 July 77, has appeared on bootleg vinyl; 2 x 10" clear vinyl. Limited to 7 copies - until it comes out again, and again...
1st December
Site Update. NMTB - rare mis-spelt "No Fellings" 6th Pressing.
Oxford Mail: "Sex Pistols' Johnny spreading word. The Sex Pistols may never have played Oxford's Sheldonian Theatre in their punk heyday. But their former lead singer John Lydon – known as Johnny Rotten during his time with the world's most notorious band – will be at the Sheldonian on Monday, December 8, to discuss his autobiography Anger is an Energy with broadcaster David Freeman."
Motley Crue playing homage to the Sex Pistols every night on their farewell tour.
26th November
Site Update. The Great Rock 'N' Roll Swindle UK Cassettes. Revised.
25th November
Glen Matlock & Paul Cook were amongst guests last night at Rotten Hill Gang's launch party for their debut album 'Rotten Hill Gang Vol 1' at Maxilla Social Club, London, (in The Clash heartland under The Westway between Latimer Road and Ladbroke Grove). The band feature three singers, one male and two females, one of whom is Hollie Cook, daughter of Paul. Glen sung a song with them while Paul played drums on a song - this was the first ever time Paul Cook and his daughter Hollie had been on stage together. Clash-man Mick Jones also guested on guitar.
Sonny Vincent & Spite 'Clouds' Video - includes guest Glen Matlock.
23rd November
Channel 4, Wednesday 26 November, "Posh Pawn" at 8pm (UK) has "....a rare Sex Pistols guitar" on the show. channel4.com / channel4.com/programmes [thanks George Barry]

Keith Levene - CZ2014 released today...
20th November
John Lydon Oxford Book Event
John Lydon will be doing one last 'Anger is an Energy' book event on December 8th at Oxford's Sheldonian Theatre.
This event will NOT be followed by a public signing, pre-signed copies of John's book will be available ONLY at the event on the evening for £20. There are two buying options for this event.
Option 1 costs £20 and gets you entry to the event and a pre-signed copy of 'Anger is an Energy'.
Option 2 costs just £5 and is a general, unallocated seating ticket for the event. See Blackwell website.
Sonos: Musical Darts with Steve Jones.
Sonos: Behind the scenes with Steve Jones.
Sonny Vincent talks about his new album 'Spiteful' which includes guests Glen Matlock, Rat Scabies and Steve Mackay.
18th November
NME.com. Lydon article. John has spent 10 grand on iPad apps the past couple of years.
Widely reported in the media, including The Telegraph, who have a video.
Sex Pistols 100 Club 1976 - a fan's story.
Small Business Trends: What the Punk Rock Band, The Sex Pistols, Teaches Us About Branding.
12th November
Site Updates. Rock 'N' Roll Swindle Single LP
Australia Second Pressing
France First/Second Cassette Pressings
11th November
10 foot high posters advertising John Lydon's book are starting to appear on London Underground tube stations....
Paul Cook & family went to see Billy Idol at his Hammersmith Apollo London show this week.
Sydney Morning Herald: Legal action looms over Vivienne Westwood biography.
4th November
Site Updates.
1979 Great Rock 'N' Roll Swindle LP with two conflicting cover stickers.
Added to vinyl bootleg guide: Sex Pistols - Bogarts, Birmingham 1976/1/2. (Note; date given makes no sense - should be 20th October 1976). 5 pressings on clear vinyl, 5 in black vinyl.
2nd November
Sex Pistols: Växjö Sweden 23 July 77, live tape found! Posted online today. [thanks Stefan Nyström]
November issue of Record Collector has an article on the top 50 Debut Albums with NMTB (SPOTS stickered and blank rear) copy at 31, valued at £700.
Vh1 Daniel Radcliffe Guess Who? Sid Vicious.

1st November
John Lydon Interview Round-up.
The Guardian: "My family values"
ShortList.com
Evening Echo
NME

30th October
John Lydon three page interview in current NME. On Jessie J; "She's God's gift to songwriting". Modern football; "£75 a ticket these days to go to Arsenal? For that money, you should get to have sex with all the footballers wives". On the future: "I'll be making music until the day I die".
John Interview: www.youtube.com/
Another copy of 'God Save The Queen' A&M single up for auction.
28th October
Site Update: The Great Rock 'N' Roll Swindle Ultra-rare Single LP Philippines.

27th October
'From Sex To Punk' John Tiberi's Pistols Photos Exhibition in Malaga.
Teaser Video: www.youtube.com/
Promo Advert: www.youtube.com/
Feature: www.youtube.com/
Glen Matlock plays on the forthcoming Chris Spedding album, Joyland.
The Guardian: Anger is an Energy review – John Lydon's autobiography is a ripe, breathless romp.

23rd October

Patrice Guino's blog: John in Paris
19 October, Paris, "Thé des écrivains"
21 October, Paris, "Fnac Saint Lazare"

22nd October

John in the Media...
Lydon Will Never Reunite With 'Talentless' Sex Pistols.
Interview Flux Magazine.
Glen Matlock with Mickey Leigh and members of Dictators and Blue Oyster Cult: Breast Cancer Research Foundation Benefit Concert October 31 New York.
20th October

Best of John in the Media...
RTE Radio 1 Podcast audio.
'Newstalk' Irish Radio Podcast Pt 1
Interview in the Irish Times.
YouTube: 'Anger is an energy' chant at Rough Trade East.
YouTube: Q&A at the Old Truman Brewery in London.
Kisses Andrew Neil on TV.
[thanks to Simon Leppington, Gavin Walsh & Carlos Lopez]
15th October
The Guardian: John Lydon's full Q&A's webchat.
The Guardian: Anger Is an Energy review.
Paul Cook DJ set in Malaga, Spain October 23rd. 'From Sex To Punk' event: John Tiberi photos to be exhibited.
Bombed Out! Punk and New Wave Memoirs book by Peter Alan Lloyd. Pistols influence on the Liverpool scene covered in the book.
13th October
John Lydon Media Round-up.
The Guardian Web Chat tomorrow 1-2PM. Post your questions.
Never Mind The Bollocks 2. John talks about the fate of NMTB 2
BBC Radio 2 interview, 8 October
Radcliffe and Maconie Radio 6 interview, 9th October
BBC 5 Live Radio Interview
Channel 4 Jon Show TV Interview
Talks about Sid on BBC 5 Live
NME: Cheltenham Talk: Sid's death
BBC Breakfast TV, 9th October
Sheffield Press Preview Interview
Manchester Book Launch Review
The Register Book Review
Vivienne Westwood also has a book out....
The Sunday Times extracts: [thanks Keith Ruel]
Pretty violent: Westwood reveals McLaren as cruel lover
The Rule Breakers

12th October

11th October

8th October
John Lydon - Paris book launch Tuesday 21 October, 12:30pm. Fnac St Lazare, Passage du Havre 109, rue Saint-Lazare, Paris, 75009. Hosted by Géant-Vert.
New book signing Q&A event now confirmed at Rough Trade East Friday October 17th at 8pm. Please note the Times Q&A at Truman Brewery on October 16th is now sold out. Friday October 17th at 8pm
Rough Trade East, Brick Lane, London - TICKETS
See www.johnlydon.com for all confirmed book events and signings...
British politicians are 'uneducated morons' - John Lydon. Channel 4 News. Watch it tonight 7PM.
Vid Vicious - a Sid inspired wine from Spain! A white wine made mainly with godello grapes from the Ribeira Sacra region in the Bibei valley in Spain.

Designer Keanan Duffty will be performing this weekend in New York at Bowie Ball, which is hosting a record release party for Keanan's new covers album TOTAL DRAGON POP. The first 100 guests at Bowie Ball will receive a free copy of the CD.


TDP is the new 12 track album which features Glen Matlock,Clem Burke, Earl Slick (also producing) along side Pete Shelley on backing vocals on a cover of Boys Keep Swinging. Other tracks include versions of songs originally recorded by Katy Perry, Joy Division, Lana Del Rey, Primal Scream, Japan, Bauhaus and Gary Numan.
Available on CD and iTunes on October 13th.
Malcolm McLaren Video Interview from 1984

5th October


Daily Mail: Johnny Rotten's VERY scandalous nights in the Commons: Sex Pistols star reveals how he attended late night drinking ... [thanks Wayne Skipworth]
Glen in Singapore YouTube: Live Punk + Performance
Press Interview: "Likes big ballads."
John Lydon: Anger is an Energy: My Life Uncensored
Worldwide release info is still being finalised but the book now has a tentative publication date of April 2015 in North America via Dey Street Books. Germany, via Heyne Verlag, is scheduled for March 2015, and France, via Seuil, will be the same day as the UK, Thursday, October 9th 2014. More worldwide release info will follow as it is confirmed.
The book is John's first complete autobiography and covers his life from childhood through to the present day taking in Sex Pistols and Public Image Ltd, along with his TV and media work. Also included is a selection of rare and/or unpublished pictures. Read full press release via this link.

28th September
Sky Arts 1 HD Fri 3 Oct, 10:30pm. Anarchy In Manchester. Showing Granada series So It Goes in 6 parts.
First show preceeded by There'll Always Be An England - Sex Pistols live 2007, and followed by Sid! By Those That Knew Him. sky.com/tv/show/anarchy-in-manchester/
October edition of Record Collector has punk memorabilia feature with lots of Pistols related rarites. recordcollectormag.com/
27th September

GLEN MATLOCK IN SHANGHAI
Shot courtesy of Sheila Rock of Glen performing
at the
Agnes B, Punk +
exhibition at the Power Station arts complex in Shanghai last night. Singapore next!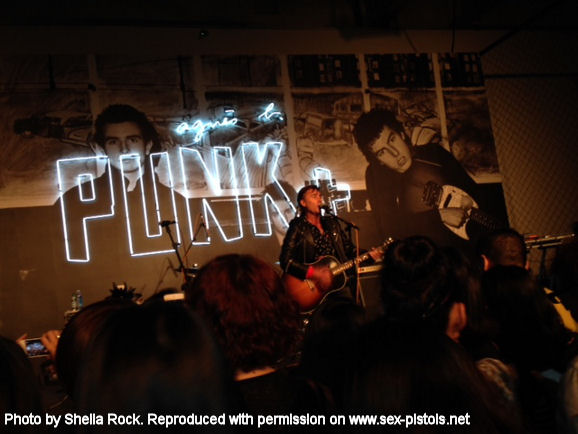 NEW LIMITED EDITION BOOK 'RESONATORS'
BY SCARLET PAGE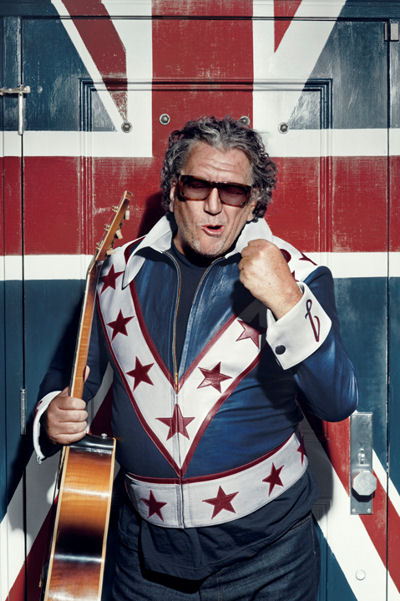 Scarlet Page's book,

RESONATORS

, featuring exclusive photographs of

Steve Jones

, is now available to pre-order exclusively at www.redgiantpublishing.com
This beautiful large format book is strictly limited to 1,480 copies worldwide and is available in both Deluxe and Collector editions. Including over 120 exclusive and never before seen photographs taken over the past two years, Scarlet's personal approach and style has produced beautiful and intimate portraits of The Resonators, capturing sides of guitar legends rarely seen by their fans. Guitarists included within

RESONATORS

are; Wilko Johnson, Jimmy Page, Brian May, Paul Stanley, Sir Paul McCartney, Peter Green, Joe Walsh, Slash, Nile Rodgers, Mick Jones, Jeff Beck, Paul Weller, Mark Knopfler, Noel Gallagher, Serge Pizzorno, Wayne Kramer, Albert Lee, Billy Corgan, Johnny Marr, Graham Coxon, Justin Hawkins, Robert Fripp, Steve Jones, John Squire, John Frusciante, Hank Marvin, Kelly Jones, Dick Taylor, John Squire, Phil Manzanera, Hank Marvin, Phil Collen, Vivian Campbell and Jack White The Book Each book is individually signed and numbered by Scarlet Page, hand-bound in quarter leather and printed on 200gsm acid free matt art paper with silver gilt edges. The book has been printed and bound by one of the world's leading makers of fine limited edition books. In over 8,000 words of brand new text, Scarlet tells us the stories behind the pictures.
The

Deluxe Edition

is limited to 300 copies worldwide and is presented within a beautiful and stylish RESONATORS presentation box and accompanied with a signed RESONATORS collage print. In addition the Deluxe Edition also comes with a hand crafted portfolio box containing 34 beautifully printed 8' x 10' images, one for each of the guitarists featured in RESONATORS.
To pre-order your Deluxe Edition book please click here
The

Collectors' Edition

is limited to 1,180 copies worldwide and is presented within a beautiful and stylish RESONATORS presentation box and accompanied with a signed RESONATORS collage print.
To pre-order your Collectors' Edition book please click here
24th September

Additional John Lydon book signings now confirmed for Liverpool, Reading, Brighton, Nottingham and London Oxford Street. Full list of confirmed dates as follows...
Thursday October 9th at 7.30pm Manchester, Royal Albert Hall - Q&A Event and Book Signing SOLD OUT
Friday October 10th at 1pm Waterstones Liverpool One - Public Book Signing
Friday October 10th at 7.30pm Chester Literary Festival - Q&A Event and Book Signing SOLD OUT
Saturday October 11th at 9pm Cheltenham Literary Festival - Q&A Event and Book Signing
Sunday October 12th at 2pm HMV Reading - Public Book Signing
Sunday October 12th at 7pm Bexhill, City Bookshop, De La Warr Pavilion - Q&A Event and Book Signing
Monday October 13th at 1pm Waterstones Brighton - Public Book Signing
Tuesday October 14th at 7pm Birmingham, Adrian Boult Hall Conservatoire - Q&A Event and Book Signing
Wednesday October 15th at 1pm Waterstones Nottingham - Public Book Signing
Wednesday October 15th at 7.30pm Sheffield, Off the Shelf Festival - Q&A Event and Book Signing
Thursday October 16th at 7.30pm London, Old Truman Brewery, with The Times - Q&A Event and Book Signing
Friday October 17th at 1pm HMV London, 363 Oxford Street - Public Book Signing
Info from /www.johnlydon.com/
Site Updates: The Great Rock 'N' Roll Swindle 1980 Single LP Guide Updated.
Plus Japanese Swindle Laser Disc with Sid Vicious cover.
22nd September

Vic Godard & Subway Sect:
1979 NOW!
New album



Featuring Paul Cook on drums & fellow Professional Paul Myers on bass

Released on October 6th
20th September
Glen Matlock playing Bowie with the cover band Holy Holy featuring Toni Visconti.
Manchester Hallé Orchestra covers Oasis, Sex Pistols and The Smiths, celebrating the musical heritage of the Free Trade Hall.
Sex Pistols - Anarchy in the UK (Sock Puppet Parody)!
Iconic NME Photography Exhibition Including Sex Pistols at Royal Albert Hall.
15th September

PUBLIC IMAGE LTD ANNOUNCE ONE-OFF SHOW
AT LONDON O2 INDIGO, DECEMBER 13 2014

Tickets: O2 priority pre-sale available from Wednesday 17th September at 11am. General Sale available from Friday 19th September at 11am
See www.pilofficial.com for more info…

This is the first PiL show since October 2013 and their only show of 2014.

PiL are currently preparing to enter the studio to record their 10th studio album, the follow-up to their critically and publicly acclaimed 2012 album, 'This is PiL' (which had been the band's first album in 20 years and was released via their own PiL Official Ltd label). The new PiL album will be recorded in late 2014 with a tentative release date of summer 2015 planned. The band will be taking time off from the studio to play this special one-off show.

Don't forget...

JOHN LYDON 'ANGER IS AN ENERGY: MY LIFE UNCENSORED' AUTOBIOGRAPHY PUBLISHED OCTOBER 9th 2014.

The book is Lydon's first complete autobiography and covers his life from childhood through to the present day taking in Sex Pistols and Public Image Ltd, along with his TV and media work.
14th September
The Great Rock 'N' Roll Swindle 1980 Single LP Guide. Updated with further French & 2 West German pressings.
Telegraph.co.uk. Personal Finance- Glen Matlock: 'Leaving the Sex Pistols cost me millions of pounds.' [thanks Keith Ruel]
9th September
Keith Levene's Commercial Zone 2014 will drop on November 23, 2014 - the 35th anniversary of Metal Box's release, completing the circle for Keith.
8th September
Anger Is An Energy. John Lydon Book Tour / Q&A / Signings
Thursday October 9th at 7.30pm Manchester, Royal Albert Hall - SOLD OUT
Friday October 10th at 7.30pm, Chester Literary Festival - SOLD OUT
Saturday October 11th at 9pm, Cheltenham Literary Festival
Sunday October 12th at 7pm, Bexhill, City Bookshop, De La Warr Pavilion
Tuesday October 14th at 7pm, Birmingham, Adrian Boult Hall Conservatoire
Wednesday October 15th at 7.30pm, Sheffield, Off the Shelf Festival
Thursday October 16th at 7.30pm, London, Old Truman Brewery, with The Times
Info from johnlydon.com
7th September

THE GREAT ROCK 'N' ROLL SWINDLE SINGLE LP

Left: LP advert from 'Smash Hits' magazine
More pictures of Paul Cook from John Varvatos' opening night in London.
Paul & Adam Ant
Paul & Iggy
Paul & Paul Weller
Paul & Jimmy Page
Paul & family

6th September
On Wednesday 3rd Sept, John Varvatos opened his London store in Conduit Street. In the crowd were Paul Cook, Ringo Starr, Jimmy Page, Adam Ant, Iggy Pop, Paul Weller, and others. Click for a great picture of Ringo Starr and Paul Cook, doing the peace/no peace sign! Ringo said "It's not that way round." "It is that way round in the band I'm in." Paul replied.
https://www.facebook.com/JimmyPagePhotos/
3rd September
Matlock, Phantom, & Slick: Gallery from Southend show.
1st September
Wendy James Interview With Chris Frantz. Discusses The Price Of The Ticket - her new album with Glen Matlock on bass.
30th August
Glen Matlock features as a cameo in Ben Jagger and Alistair Audsley's film 'The Paddy Lincoln Gang'.
The Pie & Mash shop in Shepherds Bush, frequented by Paul Cook & Steve Jones (as seen in There'll Always Be An England DVD extras), has been sold to redevelopers. "A.Cookes---Traditional Pie & Mash. 48 Goldhawk Road, Shepherds Bush, London W12. ... We are pleased to announce that we have today agreed mutually acceptable terms to sell 'A Cooke's to Orion Shepherds Bush Limited, the developer leading the regeneration of the Shepherds Bush Market and we wish them well in delivering this very important regeneration scheme."
Billy Idol Interview During The Opening Night of Dennis Morris' Bollocks Exhibition: Billy talks about his early years as a young Sex Pistols fan.
Playing the 100 Club, London, on 19 Sept are Sex Pissed Dolls. They are an all girl covers band playing Sex Pistols, Clash, Sham 69 etc. The band members are... Nancy Doll, Connie Rotter, Anna Key, Jilly Idol.
27th August
NMTB Vinyl Guide Update. 2014 Back To Black Series.
Johnny Ramone 2014 Tribute Photo Set.
26th August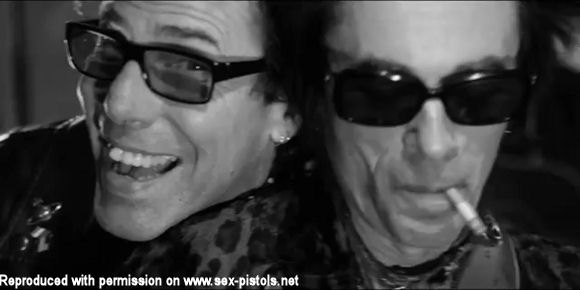 Johnny Ramone Tribute 2014 (Full Concert). Rob Zombie played his set first, followed by Steve Jones and Duff McKagan with Billy Idol.
However, if you want to cut to the best bits...
Silly Thing (Steve vocal)
Judy Is A Punk (Steve vocal)
I Wanna Be Sedated
Danny Says
California Sun
Rockaway Beach
Worldwide Vinyl Guide: Another Anarchy 12" France variation from 1977 added.
23rd August
Sonny Vincent & Spite: "Sonny Vincent of Testors formed a new project with Rat Scabies (the Damned), Glen Matlock (Sex Pistols) and Steve Mackay (Stooges). Sonny Vincent & Spite promises to "fuck shit up" on its debut album Spiteful, which arrives on November 17th. Prepare yourself for rock & roll badassery by streaming snippets from the 14 track album in the trailer below. Pre-order Spiteful now through Still Unbeatable Records - the limited edition release will be available orange vinyl (150 copies), black vinyl (300 copies), and on CD (500 copies)."
20th August
First Look: Dennis Morris' "The Bollocks" at Known Gallery, LA. Superb selection including some previously unseen pictures.
Lydon at De La Warr Pavilion 12 October - further information [thanks ShaneZane]
Worldwide Vinyl Guide: Another Anarchy oddity from 1992 added.
The final two parts of the Barry Cain's McLaren interview have now gone up on the Flexipop! website - http://flexifriend.blogspot.co.uk/
18th August

MATLOCK, PHANTOM & SLICK LIVE
Ray Morrissey, caught the band at Under The Bridge, Fulham Road, London, 15th August:
"A rare chance to see this great collection of musicians (not forgetting Stereophonics producer Jim Lowe on bass). The 75 minute set featured a mixture of new tracks written by Glen and classic covers. The band looked super cool on stage and Glen does a great job of getting the crowd to sing along. The sound has a rock 'n' roll rockabilly feel mainly due to Slim Jim's stand up drumming beat.
Setlist: Happy (Pharrell Williams) / Blank Generation (Richard Hell And The Voidoids) / Action Stations / God Save The Queen / Live Wire / Speak Too Soon / Sexy Beast / Chill / Dead End Street (Kinks) / Yes Siree / John I'm Only Dancing (guest Reeves Gabrels on guitar) / Rock This Town (Slim Jim Phantom on vocals) / Pretty Vacant. Encore: All Or Nothing.
Guests in the crowd included Paul Cook, Clem Burke, Patti Palladin and Maggi Ronson."
YouTube: John I'm Only Dancing (guest Reeves Gabrels on guitar)
15 minute clip from Rebellion
Never mind the Daily Mail - John Lydon Sighting.
15th August
Matlock, Phantom, Slick - Happy (Pharrel Williams) DEBUT VIDEO
Plume Of Feathers, Greenwich. All welcome to our Blues & Soul this Sunday from 6pm hosted by the legendary Paul Cook.
Bollocks Exhibition Private Reception Photos.
Sex Pistols Photos at The Bollocks Exhibition (Video).
Sid's 'My Way' used in luxury car commercial.
Joe Stevens Sex Pistols Photos Digital Presentation.September 13 in Dover, New Hampshire, USA.
13th August