7th December

6th December
The Observer: Sex Pistols' 'Anarchy in the UK' Is More Relevant Now Than Ever

5th December
NMTB Vinyl Worldwide Guide Update: SPOTS USA Import

2nd December

Lonely Boy: Tales of a Sex Pistol With Steve Jones
Steve will appear at The Grammy Museum, LA, Tuesday 10th Jan 2017 to talk about his book. Tickets on sale 8th December

30th November

29th November

28th November
Steve Jones on Radcliffe and Maconie. BBC Radio 6 Music 8th December 1PM

26th November
Glen Matlock Sky News: "Joe (Corre) is not the anti-Christ, he's a nincompoop"









Anarchy In The UK
EMI 2566

Released on this day 1976

Happy 40th!




Joe Corre: Burn Punk London takes place today - location to be confirmed 1PM


Here's the Press Conference
He's already burnt an Anarchy acetate. Shame, but what can you do? It's his stuff.

Steve Jones Mojo Interview - extract

40 Years Of the Sex Pistols with Glen Matlock on Talk Is Jericho

21st November

20th November
Steve Jones radio interview BBC Radio 5 Live this morning. Starts 34 mins [thanks Stu Barstow]

The Mirror: Sex Pistols legend Steve Jones reveals devastating impact of child sex abuse

The Guardian: Lonely Boy by Steve Jones

18th November
Is Malcolm McLaren's son, Joe Corre, having second thoughts about burning his punk rarities? Or, as I suspect due to a reserve of £1million, it's designed to illustrate the value of what he's going to burn.
Either way, his ORIGINAL 8inch ACETATE OF ANARCHY IN THE UK / PRETTY VACANT has been on ebay [thanks Paul Oakley]

Steve Jones Lonely Boy Interview: Front Row BBC Podcast

John Lydon Interview in current issue of Vive Le Rock

God Save The Queen included in 'Air Guitar Anthems' - an album compiled by Brian May

17th November


STEVE JONES



LONELY BOY



Out today in UK

From what I've read so far, it's as honest as
you can get.
What Steve feels, he says
...pure Jonesy




15th November

The Cult at the KLOS Warehouse with Jonesy's Jukebox [thanks Paul Starick]

14th November

You Tube: PIL John Lydon Interview Rock Of Europe 29 Sept 89

John at Iceland Airwaves November. Top quality video


11th November

Burn Punk London: McLaren's son, Joe Corre, shows off an acetate of Anarchy in the UK / Pretty Vacant he is going to burn...

KLOS and Jonesy's Jukebox are moving to a new space...

9th November
Glen Matlock London Date: 25th November at Phoenix Artist Club, Charing Cross Road, WC2. "An Evening with...."

8th November
Glen Matlock live on ITN London 6PM tonight, followed by Facebook Live.

YouTube: John Lydon: 1984 Australian TV Interview

The Times: Steve Jones - My Life as a Sex Pistol (aged 61)

YouTube History Pod: Sex Pistols 1st gig

Guardian: The Art of Sex Pistols in Pictures / God Save Sex Pistols book

Rough Trade East: God Save Sex Pistols Deluxe Edition Launch 24th November with Johan Kugelberg, John Tiberi, and writer-journalist John Ingham

The Chelsea Hotel in New York has sold for $250 million. The infamous hotel where Sid's girlfriend Nancy met her end, will be developed as a combination of a hotel and condominiums. The building has been in turmoil since 2011 as, after being purchased by a previous developer, many rent-stabilised tenants were evicted and the hotel closed. 51 tenants remain in the property –which was constructed in 1884

6th November
BBC plays Sex Pistols' 'God Save the Queen' instead of national anthem. This caused quite a stir!

4h November




YouTube: John Lydon Q&A at Iceland Airwaves November 2016

3rd November

Record Collector Magazine. New issue out today with John Lydon interview [thanks Tim Jones]

Proud Camden Exhibition. 40 Years of Punk: Photographs by Adrian Boot
3rd November- 22nd January 2017

Dennis Morris A Life in Focus. Hackney Museum 15 minute documentary

31st October
Announcement from Glen Matlock: "Sorry to announce that the Manchester show at Gorilla tomorrow night has had to be rescheduled..." Details here
Glen will be back in Manchester on November 30th at The Deaf Institute


| | |
| --- | --- |
| | |

28th October
Dave Vanian & Captain Sensible visit Jonesy's Jukebox - full audio








PiL 'Metal Box' & 'Album' Box Sets

The release of the two sets has

been put back to

9th December on CD

16th December on vinyl

It will be worth the wait

27th October
John Lydon Previews November UK Shows in MOJO

Joe Corre, Malcolm McLaren's son, will appear at a Punk London debate at the Museum of London on 18th November, prior to burning his memorabilia on 26th. Also present will be Jordan, employee of McLaren's at SEX

Sad Vacation: The Last Days of Sid & Nancy, a film by Danny Garcia is released 9th December in the US on DVD & at selected theatres
New teaser trailers have been released


26th October
Glen Matlock.. an Evening With.

Extra Date:

18 Nov

Nantwich

Crown Ballroom
Tickets http://www.brownpapertickets.com/event/

25th October
New Professionals album in the pipeline

YouTube: Rare clip of Steve Jones at Concrete Foundations Forum in 1989

21st October
The Tomboys. Produced by Glen Matlock




19th October


SSHH in NYC last night
Glen Matlock & Clem Burke with
Zak Starkey & SSHH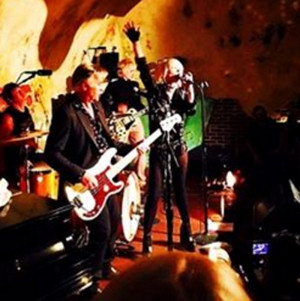 Sharks live Ya Ya Pop - good shots of Cookie!

Burn Punk Documentary - McLaren's son to burn his collection next month

Steve Jones performed at Foo Fighters Allstar Charity Gig

18th October
Calibre magazine. John Lydon: Politics and Pathos [thanks Andrew Brooksbank]

Sharks: Music Breakout (Live at the Borderline 30th September 2016)

17th October

| | |
| --- | --- |
| | Football Pistols April 1980 |

15th October

14th October

Vinyl Singles Guide Updated

A real gem!




13th October

5th October

3rd October

Live video: The Sharks - Ya Ya Pop. King's Cross Station

1st October
YouTube Highlights from the last couple of days:
Glen Matlock performs Folsom Prison Blues in Berlin
Steve Jones, Billy Idol, Clem Burke & Duff McKagan: C'mon Everybody in LA


29th September

| | |
| --- | --- |
| | |

NMTB - Limited Pressing on Yellow Vinyl. Released 14 October via Vinyl Store

John Lydon: Esquire Magazine: What I've Learned

Sheila Rock - From Punk to the English Sea Exhibition
Chelsea College Of Arts Space, 16 John Islip Street, Pimlico, London SW1. Showcasing photos taken during the punk heyday of 1976 to 1978. A section is dedicated to Jordan.
Runs until 28 October.
Further info: http://www.chelseaspace.org / http://www.sheilarock.com

26th September


The Sharks - Filming at Kings Cross 24th September


Steve 'Snips' Parsons, Nick Judd, Chris Spedding, Paul Cook, Toshi Ogawa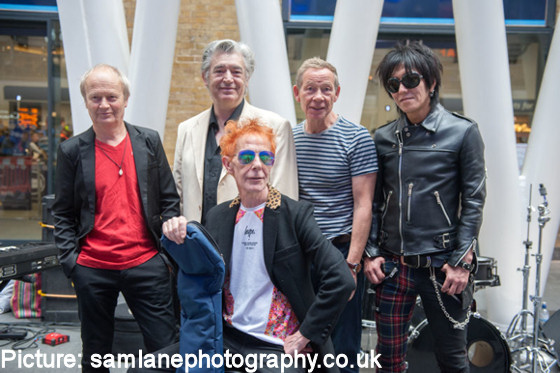 Filming took place on the main concourse at Kings Cross Station, London on Saturday. The Sharks commissioned the D2D Dance Company to create a dance routine in the grand tradition of the

Twist, the Locomotion and the Hully Gully for the Ya Ya Pop track from their forthcoming Killers of the Deep album.
The Sharks played four versions of the track with 20 female dancers performing the new dance. Chris Spedding and Snips also performed the title track from Chris's Joyland album

.





25th September
Never Mind The Bollocks complete album show in LA, January '17
Band: Steve Jones, Paul Cook, Duff McKagan and guest vocalists?
Information from jonesysjukebox


22nd September

21st September

20th September

100 Club Punk Festival 40 Years On - 20th & 21st September 1976
Feature in Austrian press - for German speaking fans [thanks Markus Prem]


The Mirror: John Lydon reveals 'the most punk thing' he's ever done

19th September
Watch Glen Matlock discussing punk's birth at Walthamstow Rock 'n' Roll Book Club, along with additional guests Jonh Ingham and Richard Boon

Steve Jones and Billy Idol chat and perform acoustic Dancing With Myself at the opening of Ramones exhibit at the Grammy Museum, LA, 16th September

18th September
Previously unavailable Sex Pistols Paris recording surfaces.
According to YouTube promo below, www.partnersincrime.fr. are posting Sex Pistols Chalet Du Lac 3rd Sept 76 concert on 20th September.

John Lydon talks to The Big Issue about the big issue of our time, The Great British Bake Off. And lots more!

15th September

14th September



Picture: Julian Lennon visits Jonesy's Jokebox 13th September
Video: Julian Lennon visits Jonesy's Jokebox 13th September
Full Audio: Julian Lennon visits Jonesy's Jokebox 13th September

8th September

YPAGE ENDYYY