30th March

Legendary Sex Pistols and Public Image Ltd (PiL) front man and lyricist Mr John Rotten Lydon will return to 100 Club for the first time in nearly two decades. The week before James Callaghan became Prime Minister and The Brotherhood of Man won the Eurovision Song Contest a handful of people witnessed the performance of a 20-year-old singer who within months would truly shake Britain out of its lethargy. Johnny Rotten and the Sex Pistols appeared in the first of a series of infamous gigs at the 100 Club in Oxford Street and by the end of 1976 had become one of the most revered bands of all time. Nearly 40 years later John Lydon returns to the 100 Club for an intimate conversation about his extraordinary life. He shares his experiences from the Pistols to PiL, from his beginnings as a sickly child of immigrant Irish parents, growing up in post-war London, to his present status as vibrant, alternative national hero and a true legend. But the actual agenda for this unique event won't be known until the night because the questions are chosen by the live audience. "Who needs Question Time!" John's autobiography

Anger Is An Energy: My Life Uncensored

- a Sunday Times Bestseller is available in paperback from May 7th. £25 + BF includes "Limited Edition Collector's Paperback"
USA PUBLICATION
Anger Is An Energy: My Life Uncensored
Published in North America on April 28th via Dey Street publishers
The book can be pre-ordered online via the Harper Collins website.
To tie in with the release of the book John will be taking part in three book events in New York.


Tuesday April 28th

, 8-9pm Saint Vitus Bar (with Word Bookstore), 1120 Manhattan Ave, Brooklyn NY 11222 Book Event: In conversation with Brandon Stosuy, Managing Editor of Pitchfork Tickets via Word Bookstore website


Wednesday April 29th

8-9pm Bookends, East Ridgewood Avenue Center, 211 East Ridgewood Avenue, Ridgewood, NJ 07450 Instore event More info via Bookends website


Thursday, April 30th,

7-8:30pm The Strand Bookstore, Broadway, New York, NY 10003 Book Event: In conversation with Isaac Fitzgerald, Books Editor - Buzzfeed Tickets via Strand website
29th March
Site Updates - France - Cassettes
NMTB Glitterbest 11 Track
NMTB Virgin
Swindle 2LP
23rd March
Site Updates - Vinyl.
NMTB Netherlands label mispress 1977
Something Else United Kingdom Push-Out Centre 7"
Counterfeit: God Save The Queen A&M 12" Version 2
Counterfeit: God Save The Queen Brazil / Japan Hybrid 7"
22nd March
Paul Cook is enjoying The Who at O2 Arena tonight.
22nd March
Thursday 19 March 2015. The Boisdale Boogie Woogie Dinner with Jools Holland and guests at Boisdale, Canary Wharf, London, featured Glen Matlock as part of the house band. The event was to raise funds for The Joe Strummer Foundation. Read GSTSP review here.
Glen Matlock at Chortle Awards 2015
16th March

12th March
Glen Matlock, New Model Army, join Camden Rocks, 30th May, London.
The Damned Documentary. Sex Pistols included in the film (not in trailer!)

God Save The Queen! Elizabeth Hurley shows off her patriotic and punky sides in Sex Pistols t-shirt ...
10th March

Sex Pistols – Record Store Day Exclusive!
NMTB Picture Disc
April 18th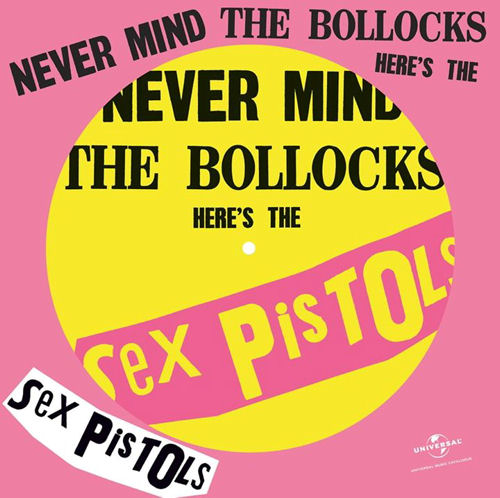 Press: "Exclusively for this year's Record Store Day, the Sex Pistols will release Never Mind The Bollocks, Here's The Sex Pistols as a one LP Picture Disc. The limited edition vinyl featuring all 12 classic tracks from the legendary album will only be available to buy from high street record stores from Saturday April 18th 2015. The yellow/pink NMTB artwork picture disc is housed in packaging loosely based on the rare 1978 picture disc release. As per the 2012 CD and vinyl releases the album was mastered from the original tapes."
RSD Q-Z info: http://www.xfm.co.uk/record-store-day/releases/2015-q-z/"
Bootleg Spunk also appears in the RSD list.
9th March
Site Updates.
The Chelsea Hotel & 63 Bank Street NYC, where Nancy & Sid died - how they look in 2015.
Vinyl Single - Holidays In The Sun 1977 label mispress.
5th March

New CDs due April
OK, it's Spunk & another fag end compilation, however here they are....
[thx Lee Bradley]
GSTQ A&M has sold again. This time on ebay for £11,500.
2nd March
Sex Pistols God Save The Queen A&M unplayed single sold for £6000

Wednesday 4th March ITV1 at 10.45pm: Pop Gold Hellraisers. Includes "rare" footage of Pistols.

James Stevenson "Suzi's Problem" - Video features guest Glen Matlock

Q magazine '100 Records That Shaped Modern Music' with Noel Gallagher picking NMTB
22nd February
John Lydon: I'd like to apologise to the entire human race
19th February
Glen Matlock at NME Awards, Brixton Academy tonight. Viv Albertine won best book.

14th February
Glen Matlock remembers Steve Strange. Sky News interview.
13th February
11th February
The Glorious 'Afflecks Palace' album, which includes guest appearances by Steve Jones and Glen Matlock, will be released soon. Glen plays on 'Like a Bullet From a Gun'; Steve plays on the "bonus track" 'The Glorious'

SEX PISTOLS VAN UPDATE!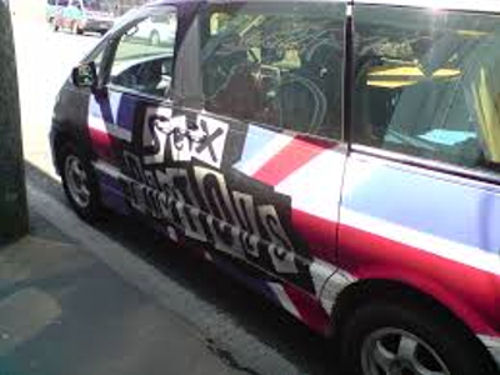 Reto Mast from Switzerland reports:
"This Van is probably a Wicked Camper. They come in many cool designs!"
Note, the design is different to the one below!
Site Update: Vinyl Bootleg Guide.
3rd February
Rich Kids - Glen Matlock/Midge Ure interview Feb 1978
2nd February
On the anniversary of Sid's death, GSTSPs brings you a unique newspaper report on the tragedy. Why unique? This report from the Los Angeles Herald Examiner is dated 2nd February 1979, the SAME day as Sid's death. [thanks Gavin Walsh]
1st February
"Anarchy on Eastenders" [thanks Graham Britten]
31st January

VIVE LE ROCK ISSUE 24
"AFTER THE PISTOLS"
THE PROFESSIONALS FULL STORY:
AS TOLD BY THE BAND THEMSELVES


RICH KIDS GLEN MATLOCK INTERVIEW

PIL EARLY YEARS WITH LEVENE




SID IN NYC
Out Now!!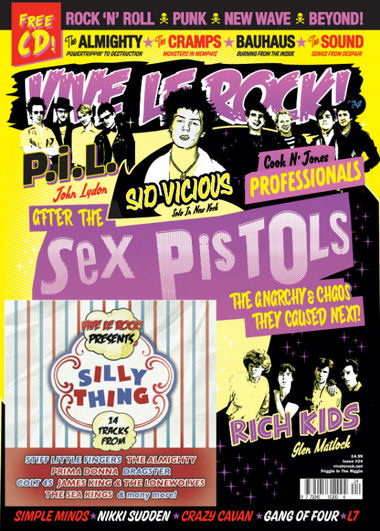 28th Janaury
Worldwide Vinyl Updates.
Anarchy In The UK West Germany Variation
NMTB Canada Alternative Sleeve 2
NMTB Italy OVED Fourth Pressing
The Molly Meldrum Story- an Australian TV documentary about the career of Molly Meldrum. When the year reaches 1977, Molly tells a quick story about John and Sid. [thanks Gary Luney]

26th January
Worldwide Vinyl Updates.
Holidays In The Sun: French Test Pressing
Something Else UK Mispress
Something Else UK No Necklace Later Pressing
Malcolm McLaren Brothel Creepers Story. Previously unpublished photo of McLaren inside Let It Rock.
Joe Corré: scion of punk royalty set on halting fracking.
22nd January

Steve Jones cameo in King Tuff's new video 'Headbanger'.
SEX PISTOLS VAN
Seen in Sligo town, Ireland!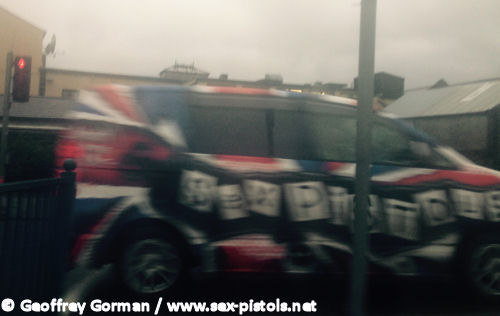 Gavin Walsh reports: "A pal of mine, Geoffrey Gorman, is a taxi-drive in Sligo. He was parked at a traffic light when he spotted a van coming in the opposite direction - he managed to get a shot! Class!!"
Anyone else seen it?!!
21st January
Music video by Medusa performing Sid and Nancy. Directed by Julian Molinero, starring Jake Cash and Maddison Delaney.
Why London's music scene has been rocked by the death of Denmark Street. From the 50s to the present day, Tin Pan Alley played host to the NME and Melody Maker, the Sex Pistols and the Stones. However, the recent closure of 12 Bar Club and Enterprise rehearsal studios marks the end of one of London's musical meccas.
19th January
Steve Jones with Jesse Jo: Down Your Drain

Save Soho Report (Pistols mentioned)
Wendy James: First single 7" vinyl 'Bad Intentions And a Bit Of Cruelty' (feat. Glen Matlock), released internationally on Record Store Day, April 18. Accompanying gigs to promote release plus line-up to be announced.
A Fan made Lego recreation of Batman Vs Superman features a cameo from John Lydon voicing Alfred Pennyworth, Bruce Wayne's butler. [thanks Johnny B]
7th Janaury
Happy New Year!
John Lydon Coin Carving.
Latest bootleg from Sweden: 'Never Mind The Rumours, This Recording Exists!'. from 'Barbarella's' Vaxjo, Sweden 23/07/1977. The show is spread across two 10" discs. 7 sets on clear vinyl, 4 on black vinyl.

17th December
Never Mind The Bollocks chosen for the prestigious Grammy Hall of Fame in America.
| | |
| --- | --- |
| Sex Pistols bootleg Spunk has been given a further CD re-pressing this month. | |
YouTube: PIL 13 December 2014 'Public Image' live + more.
Set List: Deeper Water / Albatross / This Is Not a Love Song / Poptones / Careering / The Body / Warrior / Reggie Song / Death Disco / Out of the Woods / Encore: One Drop / Public Image / Rise / Open Up
11th December
Never Mind The Buzzcocks, Monday 22nd December, Christmas Special features Glen Matlock, dressed as? You'll have to tune in to find out.... "Host Rhod Gilbert and regular team captains Noel Fielding and Phill Jupitus are joined by X-Factor judge Louis Walsh, Sex Pistol Glen Matlock, comedian Lloyd Langford and musician Melissa Steel for a Christmas themed show."
NME.com report on John's book signing in Oxford. Simon Cowell & Band Aid come in for some stick.
Plus, the Sex Pistols are too fat to reunite. [thanks Wayne Skipworth]
Dee Dee Ramone's artistic side on display in New York In one picture Sid Vicious is chased out of the Chelsea Hotel.
The Muse Gallery, 269 Portobello Road, London, W11 1LR ,has a pop-up shop selling one off guitars by guitar maker Steven Marlow. Sid Vicious makes an appearance.
6th December

Ian Patrick McLagan (12 May 1945 – 3 December 2014)
Ian, keyboard instrumentalist with the Small Faces and The Faces was a close friend of Glen Matlock with whom he performed on many occassions, including the reformed Faces in recent years. Ian also worked with Glen on the Rich Kids album in 1978.
Ian & Glen together in 2002 at Wembley Record Fair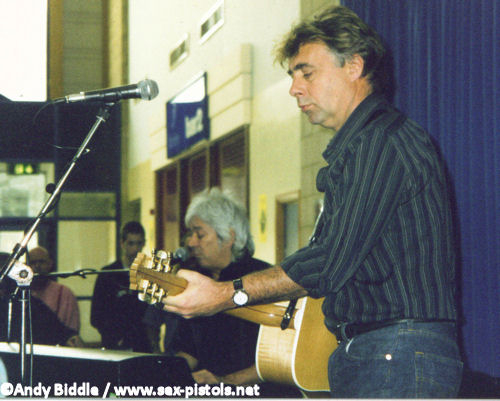 The recently unearthed live tape - posted on YouTube - Sex Pistols: Barbarellas, Växjö Sweden 23 July 77, has appeared on bootleg vinyl; 2 x 10" clear vinyl. Limited to 7 copies - until it comes out again, and again...
1st December
Site Update. NMTB - rare mis-spelt "No Fellings" 6th Pressing.
Oxford Mail: "Sex Pistols' Johnny spreading word. The Sex Pistols may never have played Oxford's Sheldonian Theatre in their punk heyday. But their former lead singer John Lydon – known as Johnny Rotten during his time with the world's most notorious band – will be at the Sheldonian on Monday, December 8, to discuss his autobiography Anger is an Energy with broadcaster David Freeman."
Motley Crue playing homage to the Sex Pistols every night on their farewell tour.
26th November
Site Update. The Great Rock 'N' Roll Swindle UK Cassettes. Revised.
25th November
Glen Matlock & Paul Cook were amongst guests last night at Rotten Hill Gang's launch party for their debut album 'Rotten Hill Gang Vol 1' at Maxilla Social Club, London, (in The Clash heartland under The Westway between Latimer Road and Ladbroke Grove). The band feature three singers, one male and two females, one of whom is Hollie Cook, daughter of Paul. Glen sung a song with them while Paul played drums on a song - this was the first ever time Paul Cook and his daughter Hollie had been on stage together. Clash-man Mick Jones also guested on guitar.
Sonny Vincent & Spite 'Clouds' Video - includes guest Glen Matlock.
23rd November
Channel 4, Wednesday 26 November, "Posh Pawn" at 8pm (UK) has "....a rare Sex Pistols guitar" on the show. channel4.com / channel4.com/programmes [thanks George Barry]

Keith Levene - CZ2014 released today...
20th November
John Lydon Oxford Book Event
John Lydon will be doing one last 'Anger is an Energy' book event on December 8th at Oxford's Sheldonian Theatre.
This event will NOT be followed by a public signing, pre-signed copies of John's book will be available ONLY at the event on the evening for £20. There are two buying options for this event.
Option 1 costs £20 and gets you entry to the event and a pre-signed copy of 'Anger is an Energy'.
Option 2 costs just £5 and is a general, unallocated seating ticket for the event. See Blackwell website.
Sonos: Musical Darts with Steve Jones.
Sonos: Behind the scenes with Steve Jones.
Sonny Vincent talks about his new album 'Spiteful' which includes guests Glen Matlock, Rat Scabies and Steve Mackay.
18th November
NME.com. Lydon article. John has spent 10 grand on iPad apps the past couple of years.
Widely reported in the media, including The Telegraph, who have a video.
Sex Pistols 100 Club 1976 - a fan's story.
Small Business Trends: What the Punk Rock Band, The Sex Pistols, Teaches Us About Branding.
12th November
Site Updates. Rock 'N' Roll Swindle Single LP
Australia Second Pressing
France First/Second Cassette Pressings
11th November
10 foot high posters advertising John Lydon's book are starting to appear on London Underground tube stations....
Paul Cook & family went to see Billy Idol at his Hammersmith Apollo London show this week.
Sydney Morning Herald: Legal action looms over Vivienne Westwood biography.
4th November
Site Updates.
1979 Great Rock 'N' Roll Swindle LP with two conflicting cover stickers.
Added to vinyl bootleg guide: Sex Pistols - Bogarts, Birmingham 1976/1/2. (Note; date given makes no sense - should be 20th October 1976). 5 pressings on clear vinyl, 5 in black vinyl.
2nd November
Sex Pistols: Växjö Sweden 23 July 77, live tape found! Posted online today. [thanks Stefan Nyström]
November issue of Record Collector has an article on the top 50 Debut Albums with NMTB (SPOTS stickered and blank rear) copy at 31, valued at £700.
Vh1 Daniel Radcliffe Guess Who? Sid Vicious.

1st November
John Lydon Interview Round-up.
The Guardian: "My family values"
ShortList.com
Evening Echo
NME

30th October
John Lydon three page interview in current NME. On Jessie J; "She's God's gift to songwriting". Modern football; "£75 a ticket these days to go to Arsenal? For that money, you should get to have sex with all the footballers wives". On the future: "I'll be making music until the day I die".
John Interview: www.youtube.com/
Another copy of 'God Save The Queen' A&M single up for auction.
28th October
Site Update: The Great Rock 'N' Roll Swindle Ultra-rare Single LP Philippines.

27th October
'From Sex To Punk' John Tiberi's Pistols Photos Exhibition in Malaga.
Teaser Video: www.youtube.com/
Promo Advert: www.youtube.com/
Feature: www.youtube.com/
Glen Matlock plays on the forthcoming Chris Spedding album, Joyland.
The Guardian: Anger is an Energy review – John Lydon's autobiography is a ripe, breathless romp.

23rd October

Patrice Guino's blog: John in Paris
19 October, Paris, "Thé des écrivains"
21 October, Paris, "Fnac Saint Lazare"

22nd October

John in the Media...
Lydon Will Never Reunite With 'Talentless' Sex Pistols.
Interview Flux Magazine.
Glen Matlock with Mickey Leigh and members of Dictators and Blue Oyster Cult: Breast Cancer Research Foundation Benefit Concert October 31 New York.
20th October

Best of John in the Media...
RTE Radio 1 Podcast audio.
'Newstalk' Irish Radio Podcast Pt 1
Interview in the Irish Times.
YouTube: 'Anger is an energy' chant at Rough Trade East.
YouTube: Q&A at the Old Truman Brewery in London.
Kisses Andrew Neil on TV.
[thanks to Simon Leppington, Gavin Walsh & Carlos Lopez]
15th October
The Guardian: John Lydon's full Q&A's webchat.
The Guardian: Anger Is an Energy review.
Paul Cook DJ set in Malaga, Spain October 23rd. 'From Sex To Punk' event: John Tiberi photos to be exhibited.
Bombed Out! Punk and New Wave Memoirs book by Peter Alan Lloyd. Pistols influence on the Liverpool scene covered in the book.
13th October
John Lydon Media Round-up.
The Guardian Web Chat tomorrow 1-2PM. Post your questions.
Never Mind The Bollocks 2. John talks about the fate of NMTB 2
BBC Radio 2 interview, 8 October
Radcliffe and Maconie Radio 6 interview, 9th October
BBC 5 Live Radio Interview
Channel 4 Jon Show TV Interview
Talks about Sid on BBC 5 Live
NME: Cheltenham Talk: Sid's death
BBC Breakfast TV, 9th October
Sheffield Press Preview Interview
Manchester Book Launch Review
The Register Book Review
Vivienne Westwood also has a book out....
The Sunday Times extracts: [thanks Keith Ruel]
Pretty violent: Westwood reveals McLaren as cruel lover
The Rule Breakers

12th October

11th October