Please note there will be an interruption to site updates due to family bereavement
23rd May

God Save the Queen: The World's Most Collectible Single:
The Tale of the Sex Pistols' Infamous Anthem

By Dominic Pedler

Released 15 Sep 2015 (Red Planet)
Available to pre-order
19th May

PUBLIC IMAGE LTD
WILL RELEASE THE ALBUM
'WHAT THE WORLD NEEDS NOW…'
ON 4TH SEPTEMBER
AHEAD OF A
23-DATE UK/EUROPE TOUR THAT KICKS OFF ON
18th SEPTEMBER

Public Image Ltd (PiL) announce the release of their 10th studio album 'What The World Needs Now…' on 4th September 2015. The 11-track album follows the huge critical success of 2012's 'This is PiL', the band's first album in 17 years. Album opener and lead single 'Double Trouble' sees the band launching into a statement of intent that will be released on 21st August. The 10" vinyl version will be backed by 'Bettie Page' and also come with additional nonalbum bonus track 'Turkey Tits'. Commenting on the new album, John Lydon says, "Buy now while stocks last." Widely regarded as one of the most innovative and influential bands of all time, PiL's music and vision earned them 5 UK Top 20 singles and 5 UK Top 20 albums. With a shifting line-up and unique sound, John Lydon guided the band from their debut album 'First Issue' in 1978 through to 1992's 'That What Is Not'. After a 17 year hiatus, Lydon reactivated PiL in 2009 by taking them back on the road worldwide. Last year the band returned to Steve Winwood's Wincraft studio in the Cotswolds' to record the new album. Released on 4th September, 'What The World Needs Now…' precedes the start of their 23-date UK/Europe tour, which kicks off in Glasgow on 18th September and follows on from last year's one-off sold-out show at London's Indigo at the 02. The UK/Europe tour will be followed by North America dates. UK/Europe Dates below. Tickets go on general sale at 9am Thursday 21st May. Preceded by pre-sale at 9am on Tuesday 19th and Wednesday 20th May. See www.pilofficial.com for ticket links. 'What The World Needs Now…' is self-funded by PiL and will be released on PiL's own label 'PiL Official' via Cargo UK Distribution.

'Double Trouble' 10" Vinyl
A-side: Double Trouble
B-side: Bettie Page Turkey Tits

'What The World Needs Now'
Track Listing
1. Double Trouble 2. Know Now 3. Bettie Page 4. C'est La Vie 5. Spice of Choice 6. The One 7. Big Blue Sky 8. Whole Life Time 9. I'm Not Satisfied 10. Corporate 11. Shoom


UK Tour Dates
Glasgow, 02 ABC, Scotland, Friday, September 18th 2015
Manchester Academy, UK, Saturday, September 19th 2015
Newcastle, Riverside, Sunday, September 20th 2015
York, Fibbers, UK, Tuesday, September 22nd 2015
Coventry, The Copper Rooms @ Warwick University, UK, Wednesday, September 23rd 2015
Bristol, 02 Academy, UK, Friday, September 25th 2015
Buckley, Tivoli, Wales, Saturday, September 26th 2015
Reading, Sub 89, UK, Sunday, September 27th 2015
Bexhill, De La Warr Pavilion, UK, Tuesday, September 29th 2015
Norwich, UEA, UK, Wednesday, September 30th 2015
London, 02 Shepherds Bush Empire, UK, Friday, October 2nd 2015
Frome, Cheese and Grain, UK, Saturday, October 3rd 2015
Southampton, Engine Rooms, UK, Sunday, October 4th 2015

Europe Tour Dates
Paris, Le Trianon, France, Tuesday, October 6th 2015
Amsterdam, Paradiso, Netherlands, Wednesday, October 7th 2015
Lausanne, Les Docks, Switzerland, Friday, October 9th 2015
Venice, Rivolta, Italy, Saturday, October 10th 2015
Milan, Magazzini Generali, Italy, Sunday, October 11th 2015
Mannheim, Alte Seilerei, Germany, Tuesday, October 13th 2015
Ludwigsburg, Rockfabrik, Germany, Wednesday, October 14th 2015
Berlin, Columbia Theatre, Germany, Thursday, October 15th 2015
Bochum, Zeche, Germany, Saturday, October 17th 2015
Antwerp, Trix, Belgium, Sunday, October 18th 2015

North America Tour Dates
TBC

http://www.pilofficial.com

for further information
11th May

John Lydon - London 100 Club 26th April 2015 Q&A
9th May

Cllr Ray Davies has died

Famous for protesting in Caerphilly against Sex Pistols in December 76

He later regretted his actions and recently unveiled a blue plague to commemorate the Pistols gig on 14 December at the Castle Cinema

[thanks Sean Carlsen]
Unseen Chalkie Davies photographs of 70s and 80s pop stars go on show. Including Sex Pistols signing their record deal outside Buckingham Palace.
8th May
Rock Cellar Magazine has John Lydon on their front cover this month.
6th May
John Lydon interview on Fox News.

3rd May

2nd May
John Lydon in the US. Interview in Strand Bookstore, Brooklyn.

John Lydon. Interview and photos from St.Vitus Club in N.Y
29th April
John Lydon - London 100 Club 26th April 2015 Q&A
Photos of this special event
27th April

26th April

Sex Pistols - The Punk Rebellion (CG Entertainment)
DVD out in Italy 5th May

Two different covers listed
Content unknown

[Thanks Markus Prem in Vienna]
Paul Cook - along with Man Raze colleague Simon Laffy - guests on the cover "Black Coffee" on Phil Collen's new blues-based music project Delta Deep. Read more at blabbermouth.net/
20th April
The Top 40 Vinyl Album Chart (19 April 2015)
Never Mind The Bollocks RSD release in at no 3!
Former bootleg (now semi-official) Spunk is no 16!
Sex Pistols triumph on Record Store Day!
18th April

17th April
'Changing Britain Festival' at the Southbank Centre, London. This Sunday 19th April 3.30pm – 4.30pm "Punk Punk defined the spirit of rebellion among UK youth during the 1970s. We look back on this British movement with a panel including Don Letts, director, DJ and band member of Big Audio Dynamite, Glen Matlock, original bass guitarist with the Sex Pistols, Viv Albertine, legendary guitarist with The Slits and chaired by Paul Burgess."
http://www.southbankcentre.co.uk/whatson/changing-britain-w1-day-2-88908
14th April
BBC 2 last night Collectaholics, a guy had a collection of posters inclu. a few original Pistols ones.
Also on Youtube https://www.youtube.com/
13th April
Some more top shelf titillation - Anarchy In The UK poster in 1977 adult magazine photo shoot.
This week sees the launch of the first official Top 40 Vinyl Chart for albums and singles.
There is also a Top 40 Biggest Vinyl Singles of the decade so far: Pretty Vacant sits at 32.
11th April
Octavio Cohen Escali passed away 7th April.
He was Sid's 'baby sitter' during the Parisian trip in 1978, and the guy who tried to teach Sid how to play Eddie Cochran and Gene Vincent songs. He was the bass player for JohnnyThunders when the Living Dead play Le Gibus Club in Paris. He also played some gigs with the New York Dolls in NYC in 1976.
On ITV's Dickinsons Real Deal yesterday, a FAKE / BOOTLEG God Save The Queen A & M (the 2002 one wirh yellowy labels) was discussed along with a collection of genuine Beatles Red A Label promos. Thankfully the dealer didn`t offer enough, and they went to auction, the GSTQ got just £38. The seller was really dubious where and when he bought it. I bet! Watch it on the usual catch up platforms. [thanks Glyn W]
'Dance To The Sex Pistols' LP
Another bootleg of Barbarella's, Vaxjo, Sweden, 23rd July 1977 show. So far pressed in three coloured vinyls; pink, yellow & white. (100 of each).
4th April

2nd April

Public Image Ltd: Album. Limited Edition Picture Disc LP - a bargain for a tenner at What Records. Plus check their Pistols stock.
30th March

Legendary Sex Pistols and Public Image Ltd (PiL) front man and lyricist Mr John Rotten Lydon will return to 100 Club for the first time in nearly two decades. The week before James Callaghan became Prime Minister and The Brotherhood of Man won the Eurovision Song Contest a handful of people witnessed the performance of a 20-year-old singer who within months would truly shake Britain out of its lethargy. Johnny Rotten and the Sex Pistols appeared in the first of a series of infamous gigs at the 100 Club in Oxford Street and by the end of 1976 had become one of the most revered bands of all time. Nearly 40 years later John Lydon returns to the 100 Club for an intimate conversation about his extraordinary life. He shares his experiences from the Pistols to PiL, from his beginnings as a sickly child of immigrant Irish parents, growing up in post-war London, to his present status as vibrant, alternative national hero and a true legend. But the actual agenda for this unique event won't be known until the night because the questions are chosen by the live audience. "Who needs Question Time!" John's autobiography

Anger Is An Energy: My Life Uncensored

- a Sunday Times Bestseller is available in paperback from May 7th. £25 + BF includes "Limited Edition Collector's Paperback"
USA PUBLICATION
Anger Is An Energy: My Life Uncensored
Published in North America on April 28th via Dey Street publishers
The book can be pre-ordered online via the Harper Collins website.
To tie in with the release of the book John will be taking part in three book events in New York.


Tuesday April 28th

, 8-9pm Saint Vitus Bar (with Word Bookstore), 1120 Manhattan Ave, Brooklyn NY 11222 Book Event: In conversation with Brandon Stosuy, Managing Editor of Pitchfork Tickets via Word Bookstore website


Wednesday April 29th

8-9pm Bookends, East Ridgewood Avenue Center, 211 East Ridgewood Avenue, Ridgewood, NJ 07450 Instore event More info via Bookends website


Thursday, April 30th,

7-8:30pm The Strand Bookstore, Broadway, New York, NY 10003 Book Event: In conversation with Isaac Fitzgerald, Books Editor - Buzzfeed Tickets via Strand website
29th March
Site Updates - France - Cassettes
NMTB Glitterbest 11 Track
NMTB Virgin
Swindle 2LP
23rd March
Site Updates - Vinyl.
NMTB Netherlands label mispress 1977
Something Else United Kingdom Push-Out Centre 7"
Counterfeit: God Save The Queen A&M 12" Version 2
Counterfeit: God Save The Queen Brazil / Japan Hybrid 7"
22nd March
Paul Cook is enjoying The Who at O2 Arena tonight.
22nd March
Thursday 19 March 2015. The Boisdale Boogie Woogie Dinner with Jools Holland and guests at Boisdale, Canary Wharf, London, featured Glen Matlock as part of the house band. The event was to raise funds for The Joe Strummer Foundation. Read GSTSP review here.
Glen Matlock at Chortle Awards 2015
16th March

12th March
Glen Matlock, New Model Army, join Camden Rocks, 30th May, London.
The Damned Documentary. Sex Pistols included in the film (not in trailer!)

God Save The Queen! Elizabeth Hurley shows off her patriotic and punky sides in Sex Pistols t-shirt ...
10th March

Sex Pistols – Record Store Day Exclusive!
NMTB Picture Disc
April 18th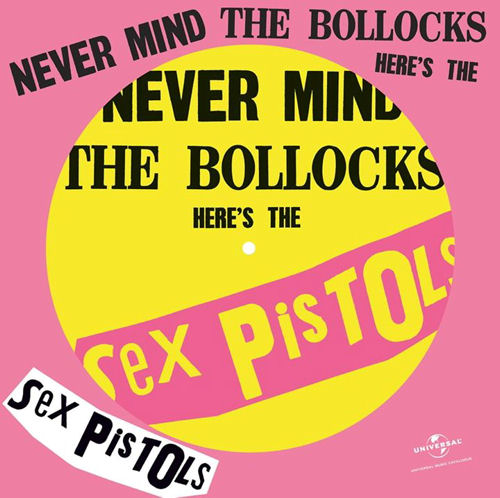 Press: "Exclusively for this year's Record Store Day, the Sex Pistols will release Never Mind The Bollocks, Here's The Sex Pistols as a one LP Picture Disc. The limited edition vinyl featuring all 12 classic tracks from the legendary album will only be available to buy from high street record stores from Saturday April 18th 2015. The yellow/pink NMTB artwork picture disc is housed in packaging loosely based on the rare 1978 picture disc release. As per the 2012 CD and vinyl releases the album was mastered from the original tapes."
RSD Q-Z info: http://www.xfm.co.uk/record-store-day/releases/2015-q-z/"
Bootleg Spunk also appears in the RSD list.
9th March
Site Updates.
The Chelsea Hotel & 63 Bank Street NYC, where Nancy & Sid died - how they look in 2015.
Vinyl Single - Holidays In The Sun 1977 label mispress.
5th March

New CDs due April
OK, it's Spunk & another fag end compilation, however here they are....
[thx Lee Bradley]
GSTQ A&M has sold again. This time on ebay for £11,500.
2nd March
Sex Pistols God Save The Queen A&M unplayed single sold for £6000

Wednesday 4th March ITV1 at 10.45pm: Pop Gold Hellraisers. Includes "rare" footage of Pistols.

James Stevenson "Suzi's Problem" - Video features guest Glen Matlock

Q magazine '100 Records That Shaped Modern Music' with Noel Gallagher picking NMTB
22nd February
John Lydon: I'd like to apologise to the entire human race
19th February
Glen Matlock at NME Awards, Brixton Academy tonight. Viv Albertine won best book.

14th February
Glen Matlock remembers Steve Strange. Sky News interview.
13th February
11th February
The Glorious 'Afflecks Palace' album, which includes guest appearances by Steve Jones and Glen Matlock, will be released soon. Glen plays on 'Like a Bullet From a Gun'; Steve plays on the "bonus track" 'The Glorious'

SEX PISTOLS VAN UPDATE!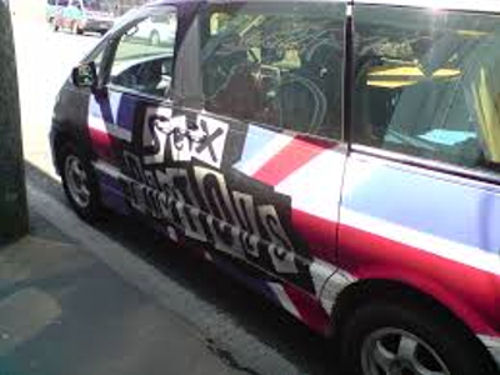 Reto Mast from Switzerland reports:
"This Van is probably a Wicked Camper. They come in many cool designs!"
Note, the design is different to the one below!
Site Update: Vinyl Bootleg Guide.
3rd February
Rich Kids - Glen Matlock/Midge Ure interview Feb 1978
2nd February
On the anniversary of Sid's death, GSTSPs brings you a unique newspaper report on the tragedy. Why unique? This report from the Los Angeles Herald Examiner is dated 2nd February 1979, the SAME day as Sid's death. [thanks Gavin Walsh]
1st February
"Anarchy on Eastenders" [thanks Graham Britten]
31st January

VIVE LE ROCK ISSUE 24
"AFTER THE PISTOLS"
THE PROFESSIONALS FULL STORY:
AS TOLD BY THE BAND THEMSELVES


RICH KIDS GLEN MATLOCK INTERVIEW

PIL EARLY YEARS WITH LEVENE




SID IN NYC
Out Now!!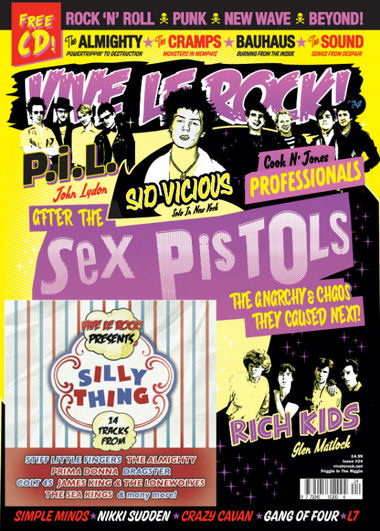 28th Janaury
Worldwide Vinyl Updates.
Anarchy In The UK West Germany Variation
NMTB Canada Alternative Sleeve 2
NMTB Italy OVED Fourth Pressing
The Molly Meldrum Story- an Australian TV documentary about the career of Molly Meldrum. When the year reaches 1977, Molly tells a quick story about John and Sid. [thanks Gary Luney]

26th January
Worldwide Vinyl Updates.
Holidays In The Sun: French Test Pressing
Something Else UK Mispress
Something Else UK No Necklace Later Pressing
Malcolm McLaren Brothel Creepers Story. Previously unpublished photo of McLaren inside Let It Rock.
Joe Corré: scion of punk royalty set on halting fracking.
22nd January

Steve Jones cameo in King Tuff's new video 'Headbanger'.
SEX PISTOLS VAN
Seen in Sligo town, Ireland!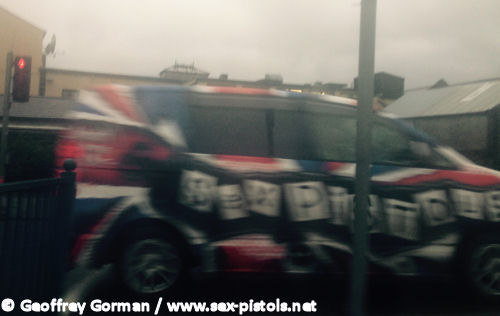 Gavin Walsh reports: "A pal of mine, Geoffrey Gorman, is a taxi-drive in Sligo. He was parked at a traffic light when he spotted a van coming in the opposite direction - he managed to get a shot! Class!!"
Anyone else seen it?!!
21st January
Music video by Medusa performing Sid and Nancy. Directed by Julian Molinero, starring Jake Cash and Maddison Delaney.
Why London's music scene has been rocked by the death of Denmark Street. From the 50s to the present day, Tin Pan Alley played host to the NME and Melody Maker, the Sex Pistols and the Stones. However, the recent closure of 12 Bar Club and Enterprise rehearsal studios marks the end of one of London's musical meccas.
19th January
Steve Jones with Jesse Jo: Down Your Drain

Save Soho Report (Pistols mentioned)
Wendy James: First single 7" vinyl 'Bad Intentions And a Bit Of Cruelty' (feat. Glen Matlock), released internationally on Record Store Day, April 18. Accompanying gigs to promote release plus line-up to be announced.
A Fan made Lego recreation of Batman Vs Superman features a cameo from John Lydon voicing Alfred Pennyworth, Bruce Wayne's butler. [thanks Johnny B]
7th Janaury
Happy New Year!
John Lydon Coin Carving.
Latest bootleg from Sweden: 'Never Mind The Rumours, This Recording Exists!'. from 'Barbarella's' Vaxjo, Sweden 23/07/1977. The show is spread across two 10" discs. 7 sets on clear vinyl, 4 on black vinyl.