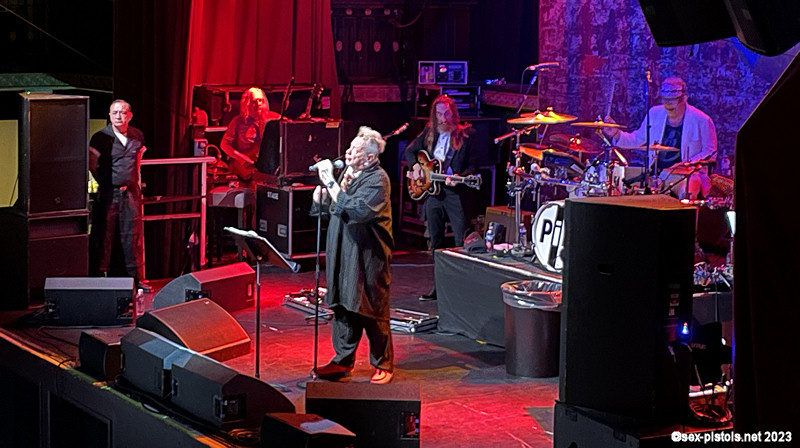 40 years since I first saw PiL live, also in Manchester. Yikes.

The passing of time has given John a vast catalogue to explore, and he chose his material from right across the years with a focus on PiL's latest album, End Of World, and multiple selections from Metal Box.

Sell-out crowds and positive reviews of the previous dates ensured PiL were already in a buoyant vein of form. Even so, a PiL Manchester show is always extra-special. It's a crowd that comes to enjoy and interact, not to stare. The sound too was spot on, crisp and clear, with John's vocals and the individual instrumentation of Lu, Scott and Bruce allowed to shine.

John began: "Good evening. I have one request, you silly arseholes with your cameraphones. Fuck off! This is a live performance, use your fucking memory." He's right, who doesn't get pissed off by countless phones held aloft at gigs. It made a difference, not many were willing to run the risk of incurring John's wrath.

Penge opened the show, followed by a terrific and theatrical Albatross. New song Being Stupid Again was a early highlight in the set. It's a perfect PiL song with cutting lyrics, laced with humour and irony. It speaks truth without offending. Musically it could fit into almost any PiL era. A modern masterpiece.

"Ahhh, fucking Manchester," John said in appreciation during This Is Not A Love Song. A huge cheer came straight back. Strange to think this was PiL's latest single back at that gig 40 years ago and, just like the band, it has continued to evolve; tonight's contemporary interpretation showing the flexibility that's central to PiL.

"You're my people and I'll never let you down," John told us. He was never likely to with razor sharp renditions of Poptones, Death Disco and current classic Car Chase to grip us. The evening threw up some great sequencing, The Room I Am In / The Flowers Of Romance being spectacular. Also paired were late 80's jewels The Body and Warrior, these two are always welcome.

John dedicated the set closer, Shoom, to the Sex Pistols, "I'm not being sour about this, on the contrary, I wish them the very worst!"

It was evident the band had picked up on, and appreciated, the connection with the crowd. There were no dissenters in the Ritz. The encore of Public Image, Open Up and Rise was the perfect way to close a perfect evening. John summed it up for everyone; "It's a pleasure to be here, proper people."

Was it the best night of the tour? I wouldn't bet against it.