Dog Day Afternoon
Crystal Palace Park 1st July 2023


Iggy Pop, Blondie, Generation Sex, Stiff Little Fingers, Buzzcocks, Lambrini Girls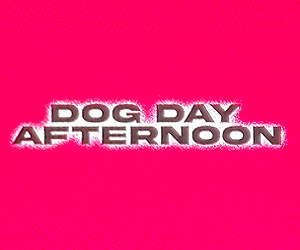 Filthy Lucre Tour 1996, Finsbury Park revisited. As soon as Dog Day Afternoon was announced, I just had to be there. The similarities and links to that historic day were striking. Three former Sex Pistols, Iggy Pop, Stiff Little Fingers and Buzzcocks, together again on the same bill for a full day festival under the sunny London sky.

Of course the main protagonists from 1996, the Sex Pistols themselves are no longer together as a band - that ship has sailed. What we did get was Steve Jones and Paul Cook in Generation Sex and Glen Matlock in the legendary Blondie.

It seems I wasn't the only one who had realised the magnitude of the day, the park was swamped with thousands of eager punters, it can't have been far short of a sell out. The park itself was more rectangular than square, and a very long rectangle at that. It was a very warm day and the big screens regularly reminded us to hydrate. Sounds simple enough, unfortunately the trek to the water fountains at the back was about half a mile and nigh on impossible to access due to the masses descending on the nearby toilets. I got sunburnt as well but that was my fault for being unprepared. Anyway, enough of the festival gripes, what about the music?

The Lambrini Girls are a young, all girl 3 piece. They are proudly punk rock, they make a decent racket, are vocal proponents of woke ideology and, according to the on screen graphics, 'suck dick'. They are also keen on audience participation (not to suck dick, I hasten to add) and were determined to seize the moment. I guess I'm a dinosaur.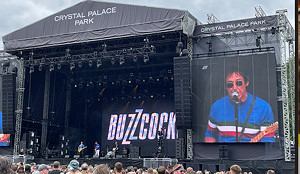 The Buzzcocks, now just Steve Diggle and friends, gave us a mixture of old classics and newer post-Shelley songs, the likes of Manchester Rain and Senses Out Of Control giving validity to the current incarnation of the band. I was unsure how Diggle would handle the squeaky Shelley tunes but he's surprisingly good, with Fast Cars, Orgasm Addict, Promises and Ever Fallen In Love being particularly strong. Obviously they finished with Harmony In My Head, the only classic single blessed with Diggle's lead vocal from way back in 1979. The crowd reaction said it all - Buzzcocks did good.

Stiff Little Fingers' stock has never waned over the decades and as a live outfit they remain as popular as ever. When they arrived on stage it felt as though the energy of the day switched up a notch. Jake Burns said he would cut his usual prattling and get on with the songs. If you'd never seen SLF before and had a check list of songs you wanted to hear, you would have ticked 90% of the boxes. My Dark Places, Jake's admirable song about his depression, was the only song you'd describe as a deep cut. From the opening Tin Soldiers through to the closing Alternative Ulster, it was one crowd pleaser after another. Jake took a moment to remember Terry Hall before Doesn't Make It Alright. It was a stark reminder of the passing of time.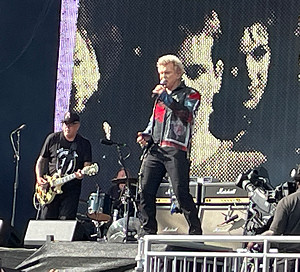 Next up was a brand new outfit, whose constituent parts seemed somewhat familiar; Generation Sex. On the face of it, the melding of Steve Jones and Paul Cook with Billy Idol and Tony James of Generation X, seems, well a bit unorthodox. A little wacky it may be, but it works. First and foremost it's got a feel good vibe running right through it. If it wasn't fun for the band they wouldn't be doing it. They took to the stage to a rapturous reception. Billy Idol looks in the mood and with his permanent smirk and undeniable stage presence he struts around like he's on top of the world. Is he real or a caricature? If he is the latter, there's only one person he could be based on, and that's Billy Idol! He can also handle a song. The set opened with the unmistakable refrain of Pretty Vacant and the party was up and running. Billy sang in his own style, avoiding the pitfalls of straying into Lydon territory. This could have proved more tricky with Bodies, but again Billy's intonation was purely Idol. Naturally the crowd went nuts for this one. God Save The Queen completed the Never Mind The Bollocks selection. Generation Sex also allow us to enjoy not just Pistols tunes, but those fabulous Generation X songs we never thought we'd hear live again. They've some punk classics in their armoury; Ready Steady Go, Wild Youth, King Rocker, Dancing With Myself, and best of all, one of the greatest songs of the punk era, Kiss Me Deadly. Most Generation X songs were fast, and original guitarist Derwood's technique was perfect for the task. Funnily enough, I recall asking Steve Jones about 20 years ago who his favourite 'punk' guitarist was and he replied "Derwood". It's fair to deduce that Steve, and Steve alone, is the man capable of delivering and enhancing these tunes with the necessary gusto.

The remaining material was taken from the Cook 'n' Jones Swindle era. Black Leather (featuring metal-esque guitar work), a wonderful Silly Thing, and My Way, which closed proceedings. This was the highlight for me with its display of band camaraderie. Tony James had a beaming smile throughout the set, fooling around with Steve and swapping banter with the band throughout: (Paul: "Now for some bollocks". Tony: "Must be one of yours then!") It was, as it happened, Silly Thing! By the time My Way was played Steve was busy teasing the audience, keeping us hanging after the opening 60 seconds of the song, before eventually unleashing his full on guitar chords, with Billy bellowing "regrets I've had a few…". There were few regrets both on and off stage. Hats off to Generation Sex.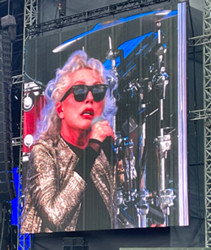 Blondie are as professional as they come. Regular tours and festival appearances continue to delight generations, but today was just a little bit extra special, it was Debbie Harry's birthday. In recent times, Glen Matlock has become a fixture in the band underpinning the music with his rhythmic and adaptable bass lines. Blondie go down a storm with dancing breaking out everywhere you looked. There's no need to list all the songs played but it's a treat to hear Long Time from the Pollinator album, what a song! Heart of Glass has undergone a transformation since Glen joined and now concludes with a smidging of Donna Summer followed by a short blast of God Save The Queen. Glen enjoyed a huge cheer from the crowd during Debbie's band introductions, which, in my mind at least, fed neatly into the Finsbury Park 96 Part 2 spirit.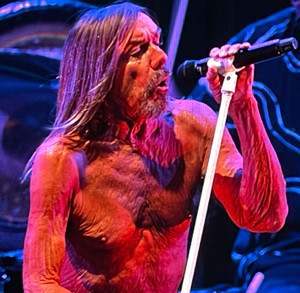 Like Debbie, Iggy Pop is timeless. In my review of the Finsbury Park 96 show I described Iggy's performance as "inspirational", referring to him affectionately as an "old croc". He was a mere 49. Almost 3 decades later and age no longer defines Iggy. He stripped off his shirt during the first song - the unforgiving big screens highlighting his wrinkled, slightly twisted torso. This is what immortality looks like. The waves of energy generated by his show engulfed Crystal Palace, the giant transmitting station adjacent to the park ought to have broadcast this raw power to the rest of the nation. Backed by a stunning set of musicians, Iggy never let up, prowling the stage, cavorting, throwing himself and his microphone around during an unforgettable 90 minutes. If forced to pick out a highlight it would have to be I Wanna Be Your Dog, Iggy and his band excelled themselves during this elongated rendition. But then I'd be ignoring Raw Power, I'm Sick Of You, Nightclubbing, new songs Modern Day Rip Off and Frenzy, and… well, the entire set was incredible. Iggy tried to get staff to fix up some stairs so he could go into the crowd and in turn, get punters onto the stage. Unfortunately, they didn't play ball which may have cost us a finale of No Fun with customary stage invasion. It didn't matter. It was a privilege to witness. We are unlikely to see his kind again.

It was an unforgettable and unmissable day. Yes, it was the closest event possible to that life changing day 27 years ago, but more, much more than this…. it will go down in history as a legendary day in its own right. Now, where did I put the calamine lotion?

Phil Singleton

---
Filthy Lucre Finsbury Park 1996 >
©Phil Singleton / www.sex-pistols.net 2023
All rights reserved. Not to be reproduced without permission.
God Save The Sex Pistols ©Phil Singleton / www.sex-pistols.net 2023