The Professionals - Liverpool
EBGB's 26th October 2023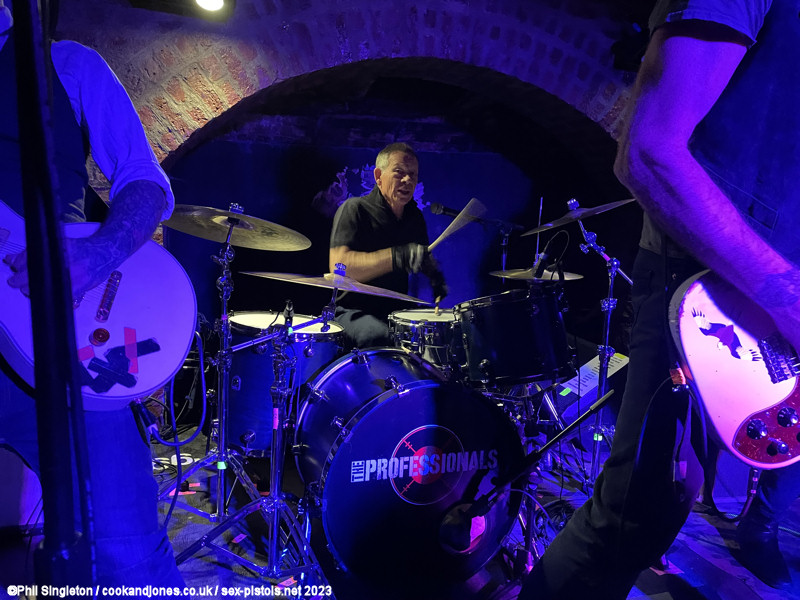 "It's the first night of the tour and I'm excited like a little kid to be out. Let's have some fun," Tom told us. And we did. The Professionals kicked off their tour in the basement Cavern-esq EBGB's, their second visit to this Liverpool venue. This time they've two new guys to break in, Dean Croney (guitar) and Marc Haywood (bass). They've chosen well, these guys are no slouches. If there were any first night nerves it didn't show, the energy and the style were there in spades, and of course the playing was spot on. "They've had so much to learn and they're doing so brilliant," remarked Tom. Amen to that. An injection of new enthusiasm has helped reinvigorate the band and this can also be seen in the set list.

The band are no longer reliant on the 80s oldies, and have added a couple of songs from their 21st century back catalogue that haven't been played live before: Gold & Truthful (excellent guitar by Dean) and The Elegant Art of Falling Apart. The strength of Paul Cook/Tom Spencer's songwriting gives scope for interchanging songs between tours and tonight we got a good mix of What In The World and SNAFU: Going Going Gone, Good Man Down, Bad Baby, Hats Off, Rewind, Let Go, Easily Lead, Spike Me Baby, M'Ashes… it's a fine set.

Dean, Paul, Tom, Marc

The old days weren't overlooked: Just Another Dream, Payola, Kick Down The Doors and yes, Silly Thing, were given an airing although The Professionals are so much more than a nostalgia act, and this was reflected by the audience response to the 'new' material which is just as popular. An Amy Winehouse/Johnny Thunders mash-up, Rehab/Born To Lose, (b-side of the new single) closed the set with a blast.

It remains an incredible sight to witness Paul's playing; Tom tells us Paul was frozen in 1976 and no one is disputing it. Of course Tom himself never lets you down. He loves being in The Professionals. Just as much as you love going to see them, so get out there!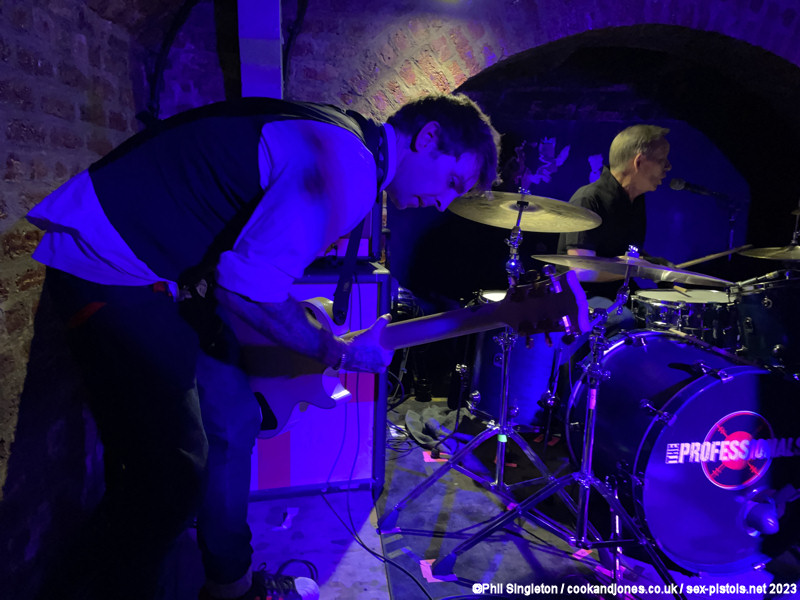 Dean & Cookie
Tom & Marc
Phil Singleton
---
©Phil Singleton / cookandjones.co.uk / www.sex-pistols.net 2023
All rights reserved. Not to be reproduced without permission.
God Save The Sex Pistols / Kick Down The Doors ©Phil Singleton / cookandjones.co.uk / www.sex-pistols.net 2023