DAY BY DAY
The God Save The Sex Pistols' exclusive guide
Compiled by Herve Labyre
Artwork by Alex Poray
1971 - 1974
1971-1972

Paul Cook (drums), Steve Jones (vocals), schoolmate Warwick "Wally" Nightingale (guitar) form a band called The Strand (from the Roxy Music song "Do The Strand") with friends Jimmy Mackin (organ) and Steve Hayes (bass). Other people are briefly involved.
Steve Hayes is later replaced on bass by Del Noone and Jimmy Mackin leaves. Steve Jones and Paul Cook frequently hang around a teddy boys clothes shop called "Let it Rock" on the King's Road, owned by Malcolm McLaren and Vivienne Westwood.
1973
The band gets help from Malcolm McLaren and finds a place to rehearse, in Covent Garden.
Before the year is out Del Noone fails to turn up at rehearsals and finally leaves the band.
Glen Matlock, who works in Malcolm's shop (now called "Too Fast To Live Too Young To Die"), joins the band as the bass player. They rehearse regularly and begin to take the band more seriously. Steve Jones starts playing the guitar as well as singing.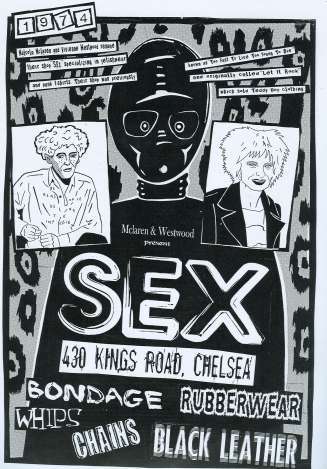 1974
The band changes their name to The Swankers for a while. They leave the Covent Garden rehearsal room. With the help of Wally's dad, they rehearse in studios belonging to Hammersmith Council which later become the Riverside studios.
They cover songs by bands such as the Rolling Stones and the Small Faces, and also start writing their own. The first notable effort was Scarface, which later evolved into Did You No Wrong.
The first gig takes place at the Tom Salter's Café in London. It's for a birthday party of a friend of Paul Cook's. The play-list includes their own song, Scarface, along with a cover of Whatcha Gonna Do About It? by the Small Faces.
The name of the band is nearly changed to QT Jones and the Sex Pistols but is never really used. A T-shirt was made with the name Kutie Jones and his Sex Pistols. The word "Sex" is a reference to McLaren's shop which has changed its name again to "Sex" and now sells rubber and leather clothes.
Around the years 1974 /1975, Chris Spedding and his girlfriend Nora (later Nora Lydon) visit the shop regularly.
Compiler's Note: This is a Sex Pistols day by day diary. For details on events listed here, please visit the sections on this website.
Hervé Labyre would like to thank Jos Hocks, Dino Everett, Géant Vert, Tetu Otani, Peter Ratcliffe, Tony, Bernard Bacos, Rat, Christophe Guerinet, and Phil Singleton
Text by Hervé Labyre © Hervé Labyre 2006
Artwork by Alex Poray © Alex Poray 2006
Edited by Phil Singleton

Please e-mail any additions and/or corrections.

God Save The Sex Pistols ©2000 - 2010 Phil Singleton / www.sex-pistols.net. All rights reserved.
This feature is copyright to God Save The Sex Pistols and the author and may not be reproduced without written permission.