Wally Nightingale leaves the band which now consists of Paul Cook (drums), Glen Matlock (bass) and Steve Jones (guitar). Malcolm McLaren is back from the USA, following a stint managing the New York Dolls during their 'Red Patent Leather' period, before their split. He officially becomes the manager of the band. Steve Jones now plays a Les Paul guitar which belonged to the New York Dolls (thanks to Malcolm!)
1975
August 21 (?): John Lydon auditions. Johnny Rotten joins as the singer after miming to an Alice Cooper song on the jukebox in Malcolm's shop. The name of the band is changed to Sex Pistols.

So when did
John Lydon audition for the Sex Pistols
? It has been stated previously that it was possibly Saturday 23th August. Paul Gorman, who was in The Roebuck on the night it took place, re-examines the evidence and posits a different conclusion.
Paul takes up the story exclusively for
God Save The Sex Pistols
.
Click here
.
They spend time rehearsing covers by the Stooges, The Who, the Creation and the Small Faces along with their own songs Did You No Wrong (lyrics re-written by Johnny Rotten), Seventeen, Submission and Pretty Vacant. Rehearsals take place in the Crunchie Frog, Rotherhithe studios, near London's docklands, for a short time, and then they leave to various locations such as a room behind the Roundhouse, in London.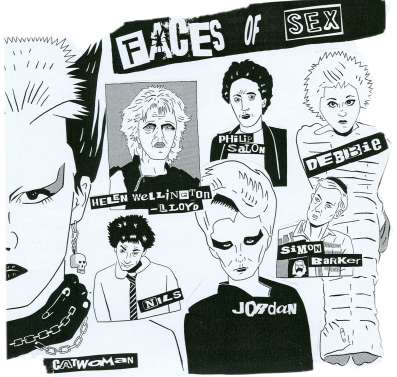 November 6: First gig, arranged by Glen Matlock. St Martin's School of Art in London, supporting Bazooka Joe.
November 7: Central School of Art and Design, London.
November 21: Westfield College, London.
November 28: Queen Elizabeth College, London.
December 5: Chelsea School of Art, London.
December 9: Ravensbourne College of Art, London.
December 10: Fairholt House, London City Polytechnic