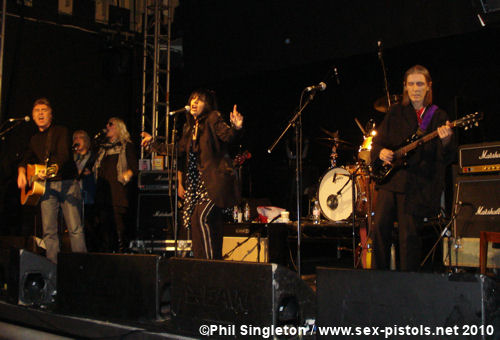 Glen, Patti Palladin, and Steve during the soundcheck
Phil: What are your thoughts on last night & how it went?
Glen: It's one of relief that we pulled it off. We didn't have that long to rehearse properly.
What pleased you the most?
What pleased me was the turn out of the crowd, the turn out of the artists, and how everyone mucked in; we helped one another out with equipment. With events like this you can have big egos "I'm not going on before so & so", "I've gotta go on second from last" and so on, and there was none of that at all.
There was a whole panoply of different styles and different takes on the punk idiom. It was good that there were people there from "both sides"... there were Punks like Mick Jones and New Romantics such as was Gary Kemp. It showed the Rich Kids were a bridgehead between Punk and the New Romantics.
How about the performance of the Rich Kids themselves last night?
We all did well. There was a couple of little bits... it didn't help that there were a couple of tuning problems which broke the flow, but it padded the set out a bit (laughing).
I was pleased with myself really, because on the album there are keyboard ideas and I thought how are we going to get around that? "Oh, let's get in a keyboard player", which we did (Terry Edwards), and we had Maggie (Ronson) and Tracie (Hunter) to do backing vocals which helped, and it all worked, it all came together. That was my idea.
The Rich Kids only rehearsed the day before so we didn't have long to make it all slot in, but everyone has done enough since then to be able to get on with it. I'm feeling quite pragmatic this morning!
I was pleased for Steve but it was quite a bitter sweet night. He's really not well at all.
He must have been moved by the occasion.
Yes. He had a lot going on; his extended family were there as well, so he was coping with that and he had all his mates. I think it was quite an interesting mix of people that came to the show.
It was an excitable crowd who were there to enjoy themselves. With some reunions you do get an element of cynicism.
It wasn't a reunion done because nobody's doing anything, therefore we're gonna go back to.... that's all a bit Spinal Tap. It wasn't that, it was purely to try and find the best way that collectively we could all do something for Steve. That was that.
The underlying thing was it could have been a maudlin night and it wasn't, it was a celebration. It wasn't a wake. Luckily Steve was still in a position to play.
It was apparent everyone was doing it for the right reasons and that came across on stage. All the band pulled out the stops and delivered.
No one wants to be left with egg on their face so they're gonna try their hardest. Another nice little touch, I was chatting to Mick Jones afterwards about Rusty nearly getting the gig with The Clash, and so when he deputised on the drums for Carbon/Silicon last night he kept it really, really simple as if to prove a point!
What will be your lasting memory of the show?
It took a lot for Steve to see the enterprise through, both physically and emotionally. Steve hadn't played with us all for so long and it was great to see him up on stage, playing so well. That'll be my lasting memory. I was knocked out by Steve's grit and determination.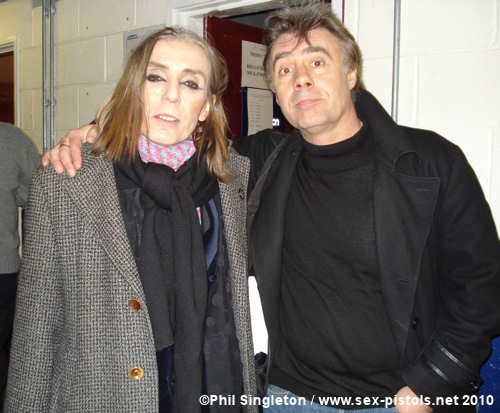 Steve New with Glen at 12.20AM 8th January 2010, 02 Academy Islington