First out of the traps was Strange One, the perfect platform to both reacquaint and lay out before us the unique sound of the band. The buoyant crowd were delighted with this. It was weighted perfectly, followed immediately by the powerful Hung On You – at this point proceedings really took off.
Perhaps the most pleasing aspect was observing how much all four of them were enjoying every moment. Midge looked as if he'd never been in any other band! His guitar playing was superb, matched by his incredible voice. Glen himself remarked on it during the set.
Rusty is also one hell of a drummer. The word "power" has often been tagged onto the Rich Kids, and it's easy to see why. He almost murdered the hi-hat during Marching Men.
The chance to play these songs live after three decades seemed to touch all of them. Glen was clearly delighted with how it was unfolding. Underpinning the set, his rock solid bass lines were delivered with an invigorating swagger, oozing confidence and purpose. That's the point. This evening had a clear purpose and it manifested itself at all levels. If you wanted a lesson in how to perform rock 'n' roll bass on stage, Glen gave it. He also gave a fine vocal performance as he took the lead on Burning Sounds, just like on the original album.
Put You In The Picture was electrifying. It was the moment for Steve New to remind everyone how amazing a guitarist he actually is. Seeing Steve up on stage, putting on a mesmerising performance in such circumstances, was one of the most moving moments I've ever witnessed at a gig; perhaps the most. Despite being unwell, he was brilliant. Truly brilliant. I couldn't help but wonder how he must have felt, not just during the Rich Kids performance, but by the occasion itself. I tried hard not to think about it – it was too difficult.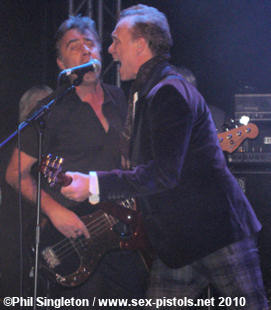 Steve's guitar energised the self titled anthem Rich Kids which, coupled with Midge's guitar, sounded more powerful and dynamic than the original single. Scintillating.
Here Come The Nice, the Small Faces song they covered back in 1978, was again given the Rich Kids treatment: Midge jokingly accused them of ripping off the Rich Kids!
A highlight for me was the B-side Only Arsenic, dedicated to journalists. This has always been a favourite of mine, and it lived up to expectations, with the girls on backing vocals adding some complimentary gusto.
Of course, this being a special night, further additions were made to the cast. Gary Kemp appeared for Ghosts Of Princes In Towers. Clearly another fan of the band, armed with his guitar, he threw himself into the cause. He was .... fantastic. I'd never seen him knock out rock 'n' roll licks with such passion – I'd no idea he had it in him. Full marks to Gary, he gave his all, doubling up at the microphones for the song's communal shouts, and putting himself about the stage. Everyone raised the bar tonight. Everyone. (Pictured left: Glen & Gary)
There had to be an encore. There just had to be. This time they were joined by a host of guests from the evening, Mick Jones, Tony James, Patti Palladin, Clive Langer, Beatrice Brown....
All Or Nothing, a war cry for any generation, galvanised everyone into an explosion of energy and emotion. We knew the very last concert by the Rich Kids was approaching its end. Finally, I guess it had to be, a reprise of the song that first announced their arrival all those years ago - Rich Kids.
Then it was over. Like all good things, it passed in a flash. But what a blinding flash it proved to be. I wonder if this was the best ever Rich Kids show? Devoid of all the baggage that comes with youth, all four were relaxed, on the same side, with their skills sharpened by maturity.
We all wish Steve the very best of luck with his battle against illness. The love that was on show for him tonight was humbling. Everyone pulled together, from the artists, the management, through to the fans that made it a sell out success.
"They've got so much feeling..." *
Without a hint of reservation, Midge referred to himself as a Rich Kid during the show, and that was the point. It was the Rich Kids on stage, not a mere shadow of past glories, but the real deal. For one night only.
"The thing about Rich Kids is, they're all there" * And they were, on 7th January 2010, for Steve. All of them. If you were too, you were a lucky one. A Rich Kid.
*Lyrics from Rich Kids