| | |
| --- | --- |
| Glen Matlock: Rattle Your Cage | CD Reviews |
Iggy Pop – California Hitch-Hike (Easy Action CSSPCD004)
Released 3rd May 2010
Iggy Pop specialist label Easy Action are renowned for their quality Iggy Pop re-releases. As enthusiasts themselves, they never fail to deliver. Their latest CD, California Hitch-Hike, is another case in point. What grabs you immediately is the high quality, original, style of packaging. A glossy oversized slip case slides open to reveal a postcard of the band line-up posing in the desert, an informative booklet with rare pictures and the memories of Brian James and Ivan Kral, and the CD.
Recorded live at the Old Waldorf, San Francisco in 1979, the New Values Tour marked a return to form for Iggy who was riding on a resurrected wave following the punk explosion. So what could be better than having two of those punk rockers responsible as part of his band? Glen Matlock and Brian James, who had performed No Fun and 1970 (I Feel Alright) countless times with their respective bands, were a perfect fit. Ivan Kral (keyboards) and Klaus Kruger (drums) completed the line-up.
It's top stuff as well. Brian's guitar style was often infused with a Stooges vibe, so here he can deliver the songs that influenced him with the main man himself. He relishes the opportunity, matching – and at times surpassing – the excitement of Ron Asheton's own guitar flare; Real Cool Time, TV Eye, I Wanna Be Your Dog, and No Fun all sounding magnificent. But check out Iggy's solo cuts as well. New Values, Five Foot One, Funtime, Dog Food and Take Care Of Me, (the latter two from the Soldier LP which featured Glen), are awash with verve.
Glen's bass is solid and distinctive throughout – he also provides backing vocals and as a consequence, a little bit of UK vocal sound.
As a fan of Easy Action's previous releases and an admirer of their attention to detail, I knew this would be an excellent addition to Iggy's live catalogue. And that's what it is. Excellent.
Review by Phil Singleton (April 2010)
---
London Cowboys - Relapse (Jungle FREUD CD 094)
Released 8th September 08
Featuring Glen Matlock, Jerry Nolan, Tony James, Arthur Kane, Terry Chimes, Mike Monroe, Pete Farndon, Sylvain Sylvain, Johnny Thunders, and lots more.
The London Cowboys were in existence in one form or another for close on a decade, and had at their core the duo of Steve Dior (vocals/guitar) and Barry Jones (guitar). This 2 CD set consists of a Best Of... disc, and a disc of unreleased recordings.
The band's output was sporadic, and with the ever changing line-up, an in-depth booklet containing details of which track was recorded when, and who played on what, would have added to the enjoyment of the collection. Unfortunately, we don't get that. The booklet contains a sketchy history by Steve Dior and the memories of friend Peter Gravelle. It is entertaining in its own way, but it fails to shed any light on what makes the band of interest to fans of the late 70's / early 80s punk scene. In other words, who was playing on the different songs and when were they recorded, and while we are at it, what records were they originally released on? The booklet is also very difficult to read due to the font size and layout.
For instance, let's take Glen Matlock. Dior's notes give the impression Glen was drafted in as a proper band member. Not so, Glen always maintained he was just helping out his mates. I imagine this was true for most of the stars listed. That's not a complaint, it just needs making clear.
As neither the booklet nor the press release bother to tell you, I will instead: The Best Of is basically the highlights of the band's two studio LPS, Animal Pleasure (82) and Tall In The Saddle (84).
Glen played on Tall In The Saddle. My own research shows that the songs from that LP which appear on this compilation are Blue Murder, Underworld USA, Courtesan, and Centrefold. However, I shouldn't have to dig through my own records to find that out.
So, 4 out of 10 for the booklet. A missed opportunity.
What about the music?
It's surprisingly good. With so many "name" contributors, it could turn out either a mess or an inspired amalgam of influences. Thankfully, it's the latter. Phew. The melting pot of talent throws up some intriguing performances.
Aside from the obvious influences, T Rex (Hook Line & Sinker, Wow Wow Oui Oui) and New York Dolls (Saigon), the mood of the songs vary from the atmospheric Underworld USA, via the funky Courtesan, to the ballsy Design For Living and Bleed Me. The London Cowboys are definitely at their best when they up the pace, as ably demonstrated by Centrefold (which is backed by Dolls-esque vocals), Reggae Cop, and the excellent Going Through The Motions.
Blue Murder is close in style to Johnny Thunders' 80s LP Que Sera Sera, with bursts of sax and pounding guitars. The London Cowboys, not surprisingly, will appeal primarily to the Thunders/Dolls crowd. That's not to say it's not without weak moments, Animal Pleasures being the guilty party here.
The second CD consists of late 80's demos when Steve Dior and Barry Jones decanted to LA and were being courted by MCA and later Chrysalis as a possible new Gun n' Roses or Billy Idol(!)
These are far heavier sounding rock tunes with AOR production and over the top guitar (Cult sounding in places), interspersed with rock ballads. Songs about Hollywood, fast cars etc. Steve Dior's singing is similar to Billy Idol's in places, just check out the dreadful Comeback and the marginally better After Midnight. I kept expecting him to break into "It's a nice day for a White Wedding, it's a nice day to start againnnn....!"
But it is not all bad news; there is some storming stuff on display, Overloaded in particular. And there are two versions of Jerry Nolan's wonderful Countdown Love. As a fan of this song, it was great to hear two "new" versions of it. Unfortunately, the highs are outweighed by the lows on the second disc as the band are clearly trying to sound like contemporary bands of the late 80s, a far cry from their original loose and far more invigorating remit.
Also included on the CDs are four songs - two per disc - by The Idols, the previous group to feature Steve Dior and Barry Jones, plus ex- New York Dolls Jerry Nolan and Killer Kane. On Disc One are two real gems, both sides of the single cut by The Idols. If you've not got these songs, Girl That I Love and You, in your collection, you should have. These are pure New York Dolls sounding sleaze balls. Although it's painful to have to say it, they are the best two songs on the collection. Disc Two concludes with 2 Idols demos, Too Right Wing and Bigger Splash. These are also worthy of your attention.
However, overall, if you've an interest in the musicians involved and of this period of London/NYC underground rock, Relapse is worth seeking out. Not just as a history lesson, but because of the array of genuine punk rock talent that was thrown into the mix; it couldn't fail to produce some unique moments. Sure, it's hit and miss (and apart from Countdown Love - the unreleased recordings are, by and large, best forgotten), but it's nonetheless fascinating and entertaining. And let's not forget why I'm reviewing it in the first place, Glen Matlock works his bass magic on four tracks.
6 out of 10 for the music.
Review by Phil Singleton (August 2008)
As a further reference point, check out The Physicals' Skulduggery. If you liked this, the London Cowboys may be for you.
---
Glen Matlock and The Philistines - On Something (EMI)
For a detailed review, studio visit, and interview with Glen,
visit the special On Something section.
---
Best Of The Rich Kids (EMI 7243 5 90661 2 7)
| | |
| --- | --- |
| | Track listing: Strange One / Hung On You / Ghosts Of Princes In Towers / Cheap Emotions / Marching Men / Put You In The Picture / Young Girls / Bullet Proof Lover / Rich Kids / Lovers And Fools / Burning Sounds / Empty Words / Here Comes The Nice (live) / Only Arsenic / Bonus Tracks: No Lip / The Move / Shape Of Things To Come / King / Precious / Just Like Lazurus / Ambition / Twisted / Tomorrow's Zero |
The anniversaries continue thick & fast. It's now 25 years since the Rich Kids' album Ghosts Of Princes In Towers was released, so it's fitting that the album gets another airing, its first since the release on Cherry Red in 1999. In essence that's what this 'Best Of' actually is; the album, the respective b-sides, plus nine tracks taken from the now deleted Burning Sounds demos album released in 1998 (Rev-ola/Creation Records), pushing the running time up to 78 minutes.
Revisiting this album serves a reminder of its consistency. This is its strength. Stand-out classics such as the title track Ghosts..., Burning Sounds and Rich Kids only tell part of the story. While Young Girls may never be considered great, the remainder of the album still doesn't disappoint. Glen and Steve New quickly assembled a great set of songs during the formation of the band. Kicking off with the atmospheric, almost experimental sounding and aptly titled Strange One, this is immediately counterbalanced by the punchy Hung On You, which allows Midge Ure to flex his vocal chords, while Steve New kicks in with some adrenalin fuelled guitar work. These first two opening songs essentially map out the album. Throughout, the song writing is augmented by the solid production of Mick Ronson.
Cheap Emotions displays pop sensibility. Marching Men makes for a menacing, brooding album track, but perhaps was not the best choice for the group's 2nd single. Much better is Put You In The Picture; fast, fun, it showcases the band's musicianship at its best. Bullet-Proof Lover is another underrated Rich Kids song, again capturing the excitement and distinctive sound of the band, with Rusty Egan managing to keep up with Steve's rampant guitar. Superb.
Lovers and Fools has proved a surprise package over the years. Continuing where Hung On You left off, it still hits home with its infectious hook. The original album concluded with the anthemic Burning Sounds, which along with the aforementioned Ghosts.., and Rich Kids, are three of the best tracks to emerge in 1978, in the wake of the Pistols break-up and the dissemination of 'punk'. Unmissable.
Of the three b-sides, Empty Words would have fitted it effortlessly on the original LP, and here it is to prove it, with ample energy, lightening guitar and drums, and driving bass. Here Comes The Nice, is a live cover of The Small Faces song. Nothing spectacular, but commendable. Only Arsenic however, is a 'lost' Glen Matlock classic. A brilliant piece of song writing, with a great chorus (even including some harmonies), and a spine tingling conclusion as the guitar fades out in full flow.
The 'bonus' tracks are all demos featuring Glen on lead vocal, with the exception of the cover Shape Of Things To Come, (live with Midge), and Tomorrow's Zero (vocal Steve New). Due to the space restrictions, the tracks selected for this compilation are those that did not appear in any guise on the original LP or singles. No Lip is militaristic in delivery, featuring that unmistakable bass line. The Move is a fast, 60's sounding romp, with a biting sax thrown in. The Shape Of Things To Come is a terrific track in its own right, and the Rich Kids carry it off with aplomb with an exciting live interpretation. The remaining demos were recorded prior to the unmade second album. King is more pedestrian than earlier recordings and somewhat chaotic in execution, giving an indication that the band was perhaps struggling to hold its shape by this time. Precious, however is much better, a more coherent pop song, with some nice subtle moments, and is perhaps the strongest of the later unreleased material. Just like Lazarus continues in the same vein, with a strong hook, and complimentary guitar work. Ambition is a crucial inclusion. Recorded by Iggy Pop on Soldier, and later by Glen again on his Open Mind album, it's one of Glen's best compositions from this era, and this early version is stunning. Great lyrics, with a tough sound. Twisted isn't so good. Sounding like a meandering instrumental jam session, I doubt this would have ever surfaced in an 'official' capacity. The final track, Steve New's Tomorrow's Zero, appears to sound the death knell for the band. A cacophony of sound, it seems a million miles away for the slick songs that made Ghosts Of Princes In Towers such a timeless gem.
If you missed out on the Ghosts Of Princes In Towers CD releases in the past, then don't miss out again. It's a stunning album. The extras are a worthy inclusion and give a further insight into one of the most creative bands to emerge out of this period. In fact, I enjoyed revisiting it so much, I think I'll press Play once more. Oh yes, it's at a budget price as well.
Review by Phil Singleton (July 2003)
---
Dead Men Walking (Resistance 001)
| | |
| --- | --- |
| | Track Listing: The Stand / Burning Sounds / Comeback / Do You Believe In The Westworld / Rain In The Summertime / Ghosts Of Princes In Towers / View From A Tree / Heart As Big As Liverpool / Spirit Of '76 / Stepping Stone / Never Take Me Alive / Story Of The Blues / 68 Guns / Pretty Vacant / All Or Nothing |
Recorded live at the Guildford Festival, August 5th 2001, this release is a comprehensive summary of the Dead Men Walking project so far. For the uninitiated, Dead Men Walking comprise of Glen Matlock, Mike Peters, Pete Wylie, and Kirk Brandon. Four men armed with nothing but their acoustic guitars (plus a little bit of electric guitar care of Pete Wylie).
'The resistance starts here' is their motto, and it's a valid one. They are not claiming to be taking on the world or overthrowing the musical establishment, but they are making a stand for musicians aged 40 plus who still have plenty to say and are passionate about what they do. If Dead Men Walking stand for anything, it's anti-ageism. A look at the track listing shows what a strong set of songs the foursome have written and performed during their individual careers. The enthusiasm of the band is infectious. The set is delivered raw and bullshit-free.
There are bound to be detractors. In many ways that's the whole point of Dead Men Walking. They're not teenagers any more, but this does not mean they have nothing to say. Great songs remain great, and age doesn't have to diminish passion.
This CD, on sale at Dead Men Walking concerts, captures this passion. The only difference between the Guildford Festival performance and their regular set is the length of the show. While the Guildford set was restricted to just under 70 minutes, catch them on tour and you'll be enjoying two hours plus.
It's to be hoped that a proper studio album will follow before too long. In the meantime, grab yourself a copy of this live CD.
[Footnote: Against all odds, Dead Men Walking are proving to be influential in their own right. 'Three Men and Black', an acoustic gathering consisting of Steve Diggle, J J Burnel, Jake Burns, and Pauline Black are soon to hit the road.]
Review by Phil Singleton
---
Glen Matlock And The Philistines - Open Mind (Peppermint PEP CD2)
Track Listing: Open Mind / Regular Ray Of Sunshine / Ducking And Diving / Sound Of Swinging London / Idiot / Ambition / Gimme Gimme Gimme / Sad Meal For One / Mugs Game / Speed Of Sound / Catatonic / Rattle Your Cage
The first thing to hit you is the striking cover and superb booklet complete with pictures and full lyrics. And all songs self /co-penned. A good start.
With the title 'Open Mind', I wonder if Glen is asking the listener to give his new material a fair hearing prior to judging. He needn't worry, as there is nothing too surprising on the album - it delivers exactly what we want to hear. He's not out to break new ground, he's here to do what he does best, rock and swagger. Sure, there's Hammond organ and even Mellotron in the mix, but far from being intrusive (Oasis style), it merely adds texture. In many respects 'Open Mind' is the natural successor to 'Who's He Think He Is When He's At Home?'.
The opening title-track is a punchy affair with plenty of rock guitar courtesy of Mick Jones. Glen is unique amongst many of his contemporaries, possessing a refreshing air of self-depreciation and humour, giving a welcome (and ego-less) balance to his lyrics. Check out 'Regular Ray Of Sunshine', 'Mugs Game', and 'Sound of Swinging London' for proof. Talking of London, his hometown culture is further in evidence in the tongue-in-cheek 'Ducking and Diving'. You won't catch Glen singing about LA.
On 'Idiot', Glen and Patti Palladin sing "Shit for brains" as the pace switches back and forth between a stroll and a brisk run. 'Ambition' (a Glen composition originally performed by Iggy Pop on 'Soldier') takes its foot off the gas without losing its energy. Featuring Mike Peters on harmonica, it proves the album's only deviation from the norm. Glen's pop sensibility drives 'Gimme Gimme Gimme' along at a brisk pace. There's no Abba rip-off (i e SOS!) here however. It's too smart for that.
Having displayed his musical landscape, Glen switches up a gear and provides no less than five of his best to close the album. 'Sad Meal For One' is the perfect illustration of Glen Matlock - the mature songwriter. Thoughtful tune with thoughtful lyrics to match. 'Mugs Game' is absolutely superb; thundering bass, great guitar by James Stevenson, questioning lyrics and one of his best ever tunes. It's followed by the terrific pogo friendly 'Speed of Sound', a sing-a-long designed to get you moving. The Johnny Thunder-esque 'Catatonic' sustains the energy level with guitar overload, performed by long time accomplice Steve New, a contributor throughout the album.
'Rattle Your Cage'. From the moment it kicks in you know you're listening to something exceptional. Boasting possibly Glen's finest riff since 'Pretty Vacant', its chorus demands audience participation. At the song's conclusion, Glen repeats the opening riff, a nice touch that makes sure you don't forget 'Rattle ...' as the album closes in fine style.
The impressive array of musicians contributing to the album has ensured a quality product. Furthermore, and just as important, all the musicians excel in Glen's musical genre. The right people on the right album. Special mention must go to Chris Musto, whose drumming seems to become more dynamic with the passage of time! Glen himself sounds more comfortable on 'Open Mind' than on his debut solo album, and this is reflected in a confident vocal style.
If you like your music ballsy, tuneful, with a nod towards the Pistols, 'Open Mind' is essential.
Review by Phil Singleton
---
GLEN MATLOCK - WHO'S HE THINK HE IS WHEN HE'S AT HOME (Creation CRECD191)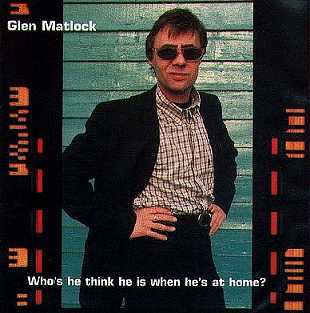 Tracks: MY LITTLE PHILISTINE / APPARENTLY / DON'T PUT ME ON / MY MAN /HOT WATER / MY BIG MOUTH / THE RIGHT STUFF / STORY OF YOUR LIFE / A DIFFERENT WORLD / WHAT DO YOU WANT FROM ME / SOMETHING FOR NOTHING / WALK IT LIKE YOU TALK IT Running Time: 44:15 mins

Glen employed a mixture of youth (Chris McCormack) and experience (Steve New), so I guess it was no surprise when the album roared out of the speakers with "My Little Philistine", the pounding bass and drums vying for attention with layers of rocking guitars.
Thankfully the energy is not limited to the opening track and positively fizzes throughout the album, making it hard to select a favourite.
"Don't Put Me On" contains guitar to match Johnny Thunders at his best. "My Big Mouth" is a classic, a touch autobiographical no doubt. "The Right Stuff" is particularly reminiscent of The Professionals. It's easy to imagine Steve Jones enjoying this material. (Isn't it time Glen, Steve, and Paul got together to deliver a killer set?).
Glen's songwriting strengths are on view both musically and lyrically. Glen handles the vocals throughout effortlessly, having developed a strong vocal style. Check out "A Different World". "Story Of Your Life" provides the only respite from the otherwise unrelenting pace, strangely similar to "All The Young Dudes". There's no better way to close the set than with "Walk It Like You Talk It", which leaves its chorus rooted in your brain.
In keeping with the rest of the album the rhythm section shakes you and the guitars soar, leaving you wanting more. If you love guitar music look no further, Noel Gallagher would have killed for these songs on "Be Here Now". Do yourself a favour, do Glen a favour, do decent music a favour. Buy it.
Review by Phil Singleton
---
RICH KIDS - GHOSTS OF PRINCES IN TOWERS (Cherry Red CDMRED157)
Tracks: STRANGE ONE / HUNG ON YOU / GHOSTS OF PRINCES IN TOWERS / CHEAP EMOTIONS / MARCHING MEN / PUT YOU IN THE PICTURE / YOUNG GIRLS / BULLET PROOF LOVER / RICH KIDS / LOVER AND FOOLS / BURNING SOUNDS / (& Bonus Tracks) EMPTY WORDS / HERE COMES THE NICE (Live) / ONLY ARSENIC Running Time: 47:57 mins
On the back of the Sept'98 Rev-Ola compilation CD 'Burning Sounds', it was decided to reissue, and more importantly remaster, the Rich Kids debut album for a '99 re-release. Many people thought the production, by Bowie guitarist Mick Ronson on the original version wasn't everything it should have been, and in all fairness it probably wasn't. The songs are definitely there, it's just that it's all so 'muddy' and compressed. However, Glen doesn't blame Ronson for the album's sound, instead he points the finger at how the album was mastered by EMI. Now, I'm not claiming to know all the technical ins and outs of recording an album, but I do know there was definitely something wrong somewhere with the original, if you've ever heard any Rich Kids live tapes, or even saw Glen perform the songs live recently, you'll know exactly what I mean... When I heard about this reissue I was pleased, though looking back I really don't know what I expected. I should have realised it wasn't going to be that different, it was only getting remastered, not remixed. I think I expected a completely different album, well it's not. In fact it'll take a good ear to hear the differences, though that's not to say there aren't any, because there are. It's really more a case of Joe Foster (who compiled and produced the Rev-Ola CD) cleaning things up.
If you're a big fan of the album you'll spot the odd difference, the guitars are clearer here or there, or you can make out the backing vocal that bit better etc etc, it's all that sort of thing, nothing major. Probably the biggest difference on this version compared to the now deleted Dojo CD version are the bonus tracks. All three have slightly longer intros or outros, for example, on 'Here Comes The Nice' you hear Steve New telling the audience they're being filmed, and on 'Empty Words' you hear the band tuning up... As well as being remastered, the CD also has revamped packaging. Glen says that good old EMI have lost the original artwork, so they decided to base the artwork on the original as opposed to redoing it. The front cover now features a close up of the pic that was on the original front cover, and it now also has an inner booklet featuring some good pics of the band along with sleevenotes by a girl called Emma Gill. I have to say that despite the odd mistake, or maybe giving Midge more credit than he was probably due, the sleevenotes are very good. I suppose it's interesting seeing it from a non-Pistols fan point of view... If you're one of those people who never got round to buying the Dojo CD, or if you're a new fan who liked the 'Burning Sounds' compilation then this is definitely for you.
The 1996 Japanese reissue was taken from a different cut (see below), and even Glen says he prefers that version to this one! In the mean time if you can't get that version, you really should get this. The most important thing about this reissue is that the album is back in the shops, because more than anything, it is a really good album. It took me years to really appreciate it but now I love it. Stuff like, 'Hung on You', 'Ghosts...', 'Burning Sounds', and even 'Put You in the Picture' along with the B-sides 'Empty Words' and 'Only Arsenic' (especially that one) are firm favourites of mine, and always will be. As I've said before the band always hated the power pop tag, but it's as good a description as any, and it's easy to hear their influence on many of todays like minded bands. Another big plus for this reissue is that unlike the 'Burning Sounds' compilation it's available on mid-price for around a tenner, and you really can't argue with that...
Review by Scott Murphy
---
RICH KIDS - GHOSTS OF PRINCES IN TOWERS (Japanese import) (EMI/Toshiba TOCP-8957)

A unique reissue. The Rich Kids - Ghosts... CD came out in Japan on 24.7.96 but took ages to get over here. It features the original artwork, front and back (rather than a photograph of the sleeve as featured on the Dojo CD version), and a 20 page English/Japanese info/lyric booklet. The running time is 47.45 minutes, where as the Dojo version is only 47.12 minutes with 'Empty Words' gaining a pre-song tune up. The Jap CD features a much stronger bassier mix, giving it much more bollox!
Review by Mark Woodley
---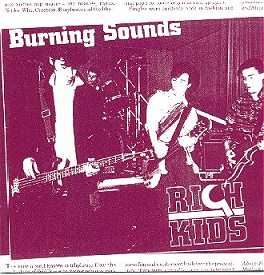 RICH KIDS - BURNING SOUNDS (CREATION / REV OLA CREVO51CD)
Running Time: 70:16 mins
September 28th 1998 finally saw the release of Rev-Ola's Rich Kids outtakes CD 'Burning Sounds'. To be honest there's not a lot of details about the tracks in the sleevenotes, and there were so many tracks on the CD that I just didn't know anything about that I decided to ask a man who did... Glen Matlock.
GHOSTS OF PRINCES IN TOWERS: A pre Midge Ure demo recorded as a three piece with Glen, Steve New and Rusty Egan. Glen can't remember exactly where or when it was recorded, but he thinks it might come from Manchester Square Studios mid-1978. A much rawer version of the track than the eventual LP version, including a few little differences in the lyrics, but it's still a great track. By the way, Mick Jones doesn't play on any of the demos, he only ever played a few early live gigs with the band. I did ask!
RICH KIDS: Another pre-Midge demo (as are the next seven tracks), which Glen thinks may have come from the original, 'Rich Kids' single sessions recorded with Mike Thorne, which the band then rejected. This version is a little more 'poppy' than the eventual track, it's also weird hearing Glen singing it and not Midge. Interesting to hear but not as good as the 'real' version.
NO LIP: One of the very first demos the band ever did, recorded at the Riverside studios. A much more poppy version, including handclaps, than the Pistols but with great loud guitars, and a good vocal from Glen.
THE MOVE: An early unreleased track, which Glen admits to not being that keen on. I actually quite like it, it would have easily fitted in on 'Ghosts'. Catchy chorus with good guitars, a wild sax, and a beginning borrowed from 'Shape Of Things To Come' (which by coincidence turns up later on in the CD!). Incidentally Glen can't remember who played the sax on it, so if it's you, get in touch and he'll buy you a beer!
EMPTY WORDS: Another track which Glen reckons may come from the aborted 'Rich Kids' single sessions with Mike Thorne. To be honest musically this version isn't that different, maybe a little bit faster, but that's about it.
STRANGE ONE: A much faster version than the 'Ghosts' track, almost 'punky!' Glen told me he wasn't in the studio when that version was mixed, apparently after the band had finished recording the track Glen went home, and while messing about the rest of the band decided to slow the tape right down and then the machine went funny, but they decided to keep it like that anyway! However, it's not how the song got its name, Glen reckons it was probably written about "some girl"!
BULLET PROOF LOVER: Another rawer, faster version, and again it's weird hearing Glen singing it and not Midge. That applies to most of the CD, it's weird hearing different versions of the tracks you've been listening to for years, though that doesn't mean to say they're not as good...
BURNING SOUNDS: Recorded at Abbey Road studios, Glen says they had just finished recording it when the orchestra booked in for the next session arrived! Bit of a culture shock there! This track was part of Glen's live set for years and hopefully always will be...
HUNG ON YOU: This was always one of my favourite Rich Kids tracks, and to be honest this slower version isn't as good. Although Glen got the title of this one from an old shop in the Kings Road during the sixties, it was written about a certain John Rotten! - "We love each other!".
SHAPE OF THINGS TO COME: A cover of the old Headboys track recorded live with Midge on vocals, which Glen thinks may possibly come from the same gig as 'Here Comes The Nice' (the live B-side of 'Marching Men'). Apparently the gig was taped by the EMI mobile but was stopped due to fighting in the crowd! This also accounts for why a live version of 'Pretty Vacant' isn't on the CD, Joe Foster told me they couldn't find a version that didn't get interrupted in some way - bloody hooligans! Despite being live it's still a great version, really powerful with Steve knocking lumps out of his guitar, excellent stuff!
CHEAP EMOTIONS: Another live track most likely recorded at the same gig but this time with Glen on vocals. And another example of what a great live band they must have been. Any chance of some reunion gigs Glen!!
KING: The first of the previously unreleased second album demos with Glen on vocals. As with all the second album demos Glen's not exactly sure who's on it, but he reckons this one does feature Steve New. There's a little drop in sound quality on this track, but it's still reasonably clear. A definite change of direction on this one. No where near as poppy, but still with a distinctive Rich Kids sound... "King of the moment..."
PRECIOUS: Again, a previously unreleased demo with Glen on vocals. Glen reckons it could possibly come from sessions done at a small Warners studio, but he's not exactly sure who's on it. He says there was a bit of a floating band by this time, and that basically whoever was there at the time would play on the tracks. A really catchy track that sees the re-introduction of sax, along with great lyrics that aren't, as I first thought, written about the Pistols - there's certainly a lot of people too precious about them...
JUST LIKE LAZURUS: A track Glen also recorded as 'The Jimmy Norton Explosion' along with Danny Kustow and Budgie for a John Peel session in 1979. However, this is a much more powerful version. That's arguably the best track on the CD. If this had ever been a single, I'm sure the Rich Kids career would have taken a different direction.
AMBITION: This is an early version of the track that Iggy Pop decided to include on his 'Soldier' album. This version is very sax and vocal led. Glen says there is a version somewhere that features Paul Cook on drums, however, he doesn't think it's this one. Another very underrated track.
TWISTED: An instrumental track which I thought sounded a bit like Dick Dale or something similar, Glen agreed but thought it was more like some old Pink Floyd track - he should know!
TOMORROW'S ZERO: A track written and sung by Steve New that was set for inclusion on the second album, and again could possibly have been recorded at Warners studios. This track sees the first major keyboard influence, however, the guitars are definitely still there! Although the sound quality isn't perfect it's still one of the stand out tracks.
FOREVER AND EVER: Only the second track on the CD to feature Midge on vocals, and also the last! This is another Steve New track, and one of the few new tracks the band got round to playing live before they split, including a airing on "Rock Goes To College". Again, it's another 'keyboardy' track and a definite change of direction. Apparently this track is a demo but it sounds to me like it could be live, Glen's not too sure.
12 MILES HIGH: Another Steve New track, this time also including vocals by him. As well as "Rock Goes To College" the band also played it on their second and final "Revolver" appearance. An excellent track that's not a million miles away from early New Order. A really catchy chorus too, get this one in your head at work and you've got it all day!
POINT IT TO YOUR HEAD: Yet another Steve New track, including vocals, and definitely the best of the lot. A great semi-acoustic guitar and drum sound with haunting lyrics, superb stuff. As Glen said himself Steve wrote a lot of great tracks for the second album, and it's just a pity that "stupid hats" began to be more important than the music!
SILENCE: The last Steve New track, and the last track on the CD. Glen reckons Steve went a bit weird towards the end, this song would certainly support that! A very acoustic track, with piano, and soft vocals, not really my kind of thing, and to honest not the best way to end the CD... (In fact there's a CDR acetate of the album doing the rounds which ends on another Steve New track called 'Godearth' pity they didn't go with that track because it's far superior...)
Well that's that, 21 songs clocking in at just over 70 minutes, a CD full of tracks you probably haven't even heard of, let alone already own! And despite the fact most of the tracks are demos the sound quality is surprisingly good. Joe Foster at Creation along with Steve New have done a great job mixing the tapes, incidentally Buzzcocks bassist, and sometime Glen Matlock band member, Tony Barber also worked with Foster on CD production... All in all, Glen hopes that this CD will give fans a chance to hear the tracks as they originally sounded and also to give them a chance to hear how they might have sounded in the future. Quite rightly, he's not entirely happy with the packaging, he likes the photos etc, but not the colour.
Apparently the cover he agreed was bright red with metallic silver, and they changed it without telling him! I have to agree, in general the packaging is great but the two colour (purple/white) cover makes it look like a bootleg. The eight page booklet features some great rare photos, and cuttings (including one of Glen as a My Guy pin-up!), along with an edit of Pat Gilbert's 1998 Record Collector article as the sleevenotes.
A great CD and certainly value for money. Tracks like 'Just Like Lazurus', '12 Miles High' and 'Point it to Your Head' show that the band were certainly growing, and easily capable of eclipsing their great, but poorly mastered, past recordings. Definitely a must have for Rich Kids fans, and also a great selection for new fans to get their teeth into. Although Glen always hated the 'power pop' tag, it's as good a description as any, and it's easy to hear their influence on some of today's like-minded bands (3 Colours Red take a bow, c'mon Chris McCormack, own up!). Why is it all the best bands always implode?
Review by Scott Murphy
---
VARIOUS ARTISTS - THE MICK RONSON MEMORIAL CONCERT (CITADEL CIT2CD)
Released in '97, this 2-CD set includes the highlights from 1994's Mick Ronson memorial concert at the Hammersmith Apollo. Ronson was the producer of the Rich Kids 'Ghosts Of Princes In Towers' album and this resulted in his sister Maggi inviting Glen Matlock to perform at the tribute gig following Mick's sad death due to liver cancer. Glen was playing at the time with the then called Mavericks (later rechristened The Philistines) who comprised of, vocalist - Gerry Foster, guitarist - Paul O'Brien and former Radio Stars drummer - Paul Simon. For this gig, which Glen called "a gas and an honour", the band also featured keyboard player Blue Weaver, veteran of such bands as Amen Corner and Love Affair, after it was originally planned that ex Mott The Hoople man Morgan Fisher would be involved.
As well as arranging to play this gig Glen also wrote a tribute to Mick, the soulful 'My Man' which was latter to appear on Glen's solo album released by Creation Records. A video of this tribute gig is also due to appear at some stage, and of course Glen was involved in the '97 tribute in Hull as well. But this set, which also features the likes of: Ian Hunter, Roger Daltrey, Steve Harley and Mick Jones, only features one of the three tracks that the band performed. The two missing tracks are 'My Man' and a track called 'Take A Long Line' which Mick had recorded for his final album 'Heaven And Hull'. Included on this CD is the superb rendition of 'Burning Sounds' which is one of the stronger tracks on the excellent Rich Kids album that Mick produced, and a track which The Mavericks performed live on a regular basis.
All in all this is a worthy tribute to a wonderful guitarist and an important purchase for Glen/Pistols completists.
Reviewed by Jim Henderson