Glen Matlock & The Philistines
On Something - Studio visit / album review
By Phil Singleton
Tracks: Piece Of The Action / Be Somebody / OK Kiddo / White Knuckle Ride / On Something / Suck It And See / Playboy Blues / On The Horizon / Kooky Animal / Whose Side Are You On? / Better Start (Getting Used To It) / The Swanker
Part One. Recording / mixing sessions: Sawmill, Golant, Cornwall.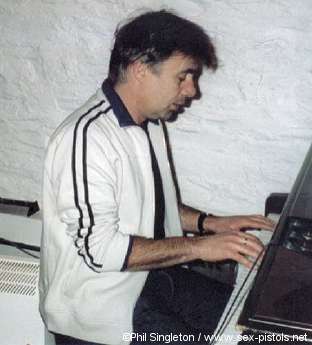 A trip down to the idyllic, and wonderfully remote recording location in southern Cornwall, known simply as 'Sawmill', found Glen hard at work mixing tracks from his forthcoming CD. After disembarking from the boat (yes, it is that remote, miss the tide and you'll find yourself unable to make the trip) and choosing myself a room (accommodation is all part of the Sawmill experience), it was downstairs to the studio to catch up with progress so far.
Drummer Chris Musto had laid down his drum parts in the days prior to my arrival. Steve New was in residence, to overdub additional guitar parts, while engineer Greg was using the latest state of the art mixing technology to give the required polish. All under the watchful eye of Glen.
(Left: Glen lets rip with an impromptu rendition of Great Balls Of Fire)
Also visiting was Glen's friend from college days, Mark Helfond. Being in such a remote spot limited trips to the pub, so clear heads were the order of the day, allowing total focus on the job in hand. (Note: On the first night of my stay, a trip to the pub was attempted. This involved meandering through woodland and crossing a river in pitch black. While more 'senior' members of our party approached the crossing with trepidation, it was left to yours truly to lose his footing. Steve New insisted I dried my sock on the pub radiator, much to the horror of the locals!)
OK Kiddo was undergoing a final mix. Glen has performed the song live acoustically on a number of occasions, giving it time to mature. It's a solid rocky number, coupled with an effective hook betraying Glen's Faces influences.
Resurrected from the original Philistines album Hard Work (also mixed at Sawmill) is the gem Suck It And See. This has proved a crowd favourite over the years and still appears as part of The Philistines live set. It's a cracking tune live, and here in its new studio guise it sounds even more vibrant. The multi-layered sound fits perfectly as the arrogant verses kick the energy off, before the chorus delivers full on, Steve New's rip-roaring guitar befitting such a stormer. Lyrically, Glen reflects on the fine line between making things happen & leaving it to fate.
After a late night in the studio, the following morning began by staggering into the kitchen to find Steve hard at work preparing breakfast. Fortification over, it was a trip over to BBC Radio Cornwall in Truro where Glen was taking part, via a link to London, in a tribute to the late Joe Strummer for the BBC World Service.
Timing it right for the tide, it was back to more mixing. Whose Side Are You On? is another corner stone of The Philistines current live set. Its message is clear, and acts as a continuation of the theme Glen addressed in Open Mind. It's a no-nonsense slice of guitar rock, blessed with a distinctive Matlock tune. Listening to tracks, either in their entirety, or in segments, as the engineer and Glen reworked, improved, and added to the tracks, allowed time to reflect on how well written and constructed they are. Hearing the quality blast out of the speakers was awesome. It cannot be understated how important Glen's tunes were to the Pistols and - hell, let's not exaggerate here - to rock 'n' roll. What's more invigorating is that he has not lost the knack. Glen has also developed a trademark sound, the result of years of song writing. If only he hadn't left the Pistols in Feb 77…
White Knuckle Ride is a perfect example of this. Demoed originally for Open Mind, the song has grown in stature, and takes the listener on a white-knuckle ride of their own. Again, Steve plugged himself in and produced another breathtaking performance before casually returning to the lounge to carry on with some Internet surfing.
With a bizarre name game underway courtesy of Greg, the lengthy sessions were punctuated with exclamations of 'Julius Cesar', 'Horatio Nelson', 'Roger Moore', 'Richard Branson', 'Magnus Magnusson', 'Albert Tatlock', and 'Count Basie', to name just a few. Time for more kip.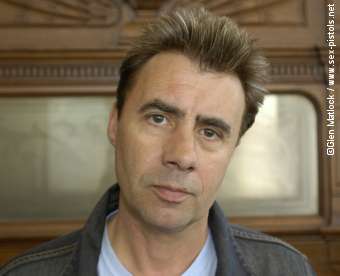 The next day mixing began on Better Start Getting Used To It. The track reflects Glen's own self-confidence, a direct result of how comfortable he is with himself and his song writing. Pinning his colours firmly to the mast, you can either like it or lump it, either way, you'd better start getting used to it. A million miles away from his wilderness years in the 1980's, he's doing what he always did the best, and here I feel that Glen is well and truly sweeping away the shit he's had to endure over the years. He wants your attention, and this song demands you ignore him at your peril. It fizzes with a tension that The Philistines manage to harness, while giving the simultaneous feeling that it's about to run out of control. Chris Musto's drumming is particularly important in steadying the ship, allowing Glen and Steve room to rock. This is set to become a Matlock classic.
Piece Of The Action was next up. This track was completely new to me. Any song with the word 'action' in its title comes with a certain expectation. Lyrically, it's a request to get involved with what's going on around, and to make it your own. While it sounded sonically dynamic to my ears, Glen was clearly looking for a missing ingredient. Relistening to the mix countless times, and tweaking it hear and there, the proverbial light bulb lit up, and Steve was dragged away from the Internet. A short blistering solo was called for. Steve gave what was required; in fact the boy couldn't be stopped as he performed numerous permutations. Additional guitar 'screams' were also on the agenda. Now Glen and Greg had a new angle to work from, as they sought to use the most appropriate pieces, mixing them into the song at the required locations. While it sounded a thrilling slice of action to my untrained ears, Glen had one final piece of the jigsaw he wanted in place. He ushered Steve & myself into the adjacent recording studio to record handclaps. Great, I thought, I've made it onto Glen's album! The handclaps may be low in the mix, but believe me, they are in there!! So for purely selfish reasons, I adore this butt-kicking tune!
As the session continued into the early hours, the name game continued, 'David Blaine', 'Roman Polanski', 'Trevor McDonald', 'Ulrika Jonsson'…only this time if it was your turn you had to wear the Nelson hat (crafted c/o Glen's origami skills).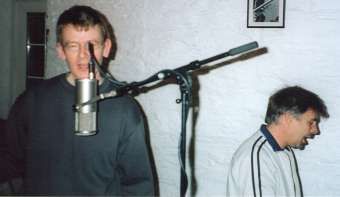 (Pictured. More spontaneous rock 'n' roll at the Sawmill. Phil sings (?) and Glen provides the tune during a break from recording)
One final day and one final tune, On Something. What more can I say about this track that I've not said previously in live reviews? This is simply my favourite song of recent times, and showcases Glen at the top of his game. The perfect illustration of a top songwriter combining a terrific tune with his own unique style. Glen's observant, reflective, and personal lyrics deserve the attention of the listener. The bottom line is that Glen isn't on something. Would he, like 99% of the population, occasionally like to be? He's not saying, but it may well force you to rethink your own position. In a just world, this would be a top 10 single. We're not living in such a place, which is why artists like Glen are still out there, providing an alternative, and producing music that puts many of today's top artists to shame.
As I boarded the boat to return to civilisation, I came away with an overwhelming feeling of optimism for Glen's forthcoming CD. The seven tracks I was privileged to hear sounded fantastic. Quality song after quality song were mixed and fine tuned into something no Pistols fan will want to be without. Bottom line, as a Pistols fan, it gives me what I'm looking for. This is the real deal. For God's sake, don't let it pass you by.
Part Two. Over the following months, the album's final mix was completed. A further five tracks were recorded as the album came together to create the quality product Glen was striving for.
After the fiery opening Piece Of The Action, Be Somebody encapsulates the mood of the CD as a whole with its combination of reflective and forward looking lyrics, underpinned by solid guitar and a catchy refrain. Glen has a knack of penning songs that can be taken as either autobiographical or third person. We've all been there, engaging in pointless actions striving to achieve something unnecessary, or to be someone we're not. Be Somebody…who is he referring to? Could it be you?
Playboy Blues bounces along in true Glam Rock tradition. It's back to 1974 for an energetic slice of pop, Tiger Feet style. The tongue in cheek lyric humorously lampoons the "woe is me" crowd. Effortlessly inducing a feel good factor with involuntary toe tapping, this track has emerged as a favourite of mine on the album.
On The Horizon conjures up an epic feel with a sweeping lyric combined with a subtle film score backing overlaid with skilled guitar and keyboard work. The strong production lends itself to the feeling of scale that the song strives to evoke, a perfect example of the musicians and engineer working together to achieve that extra ingredient. An optimistic tale of a better future.
Kooky Animal is a mid-paced pop tune, with punchy verses and an underlying distinctive repeating guitar riff. The song is reminiscent of the classic Sad Meal For One from Glen's Open Mind album.
The set concludes with The Swanker, Glen's tribute to the work of composer John Barry. Fans of early James Bond films and the classic TV series of the 60s/70s will know exactly where this instrumental is coming from. As well as John Barry, other great composers of the television music genre such as Ron Grainer and Laurie Johnson spring to mind. Close your eyes and you can picture the opening titles of series such as The Persuaders, Man In A Suitcase and The Saint. The track rises and falls like a true epic, and Terry Edwards' keyboards chime in all the right places bringing a chill to the spine. The Swanker is crying out to accompany a series or film. An inspired way to close the album.
On Something. Why you need this record. From hearing a number of tracks live over the past few years, witnessing the album being meticulously recorded and engineered in the studio, through to the finished product, the quality and strength of song writing combined with the high production values has made this album one of the all time great releases by anyone with a Pistols connection. In terms of song writing there is no one with a stronger Pistols connection than Glen. Skilfully constructed, musically direct and tidy, Glen has never sounded so buoyant. He has also developed a strong vocal style that has come on in leaps and bounds thanks to the numerous acoustic shows performed over the past few years.
White Knuckle Ride states "No idea where ya blew in from" summing up the listening experience. The set displays the wide range of influences that helped shape the Sex Pistols sound. Punk energy sits alongside 70s Glam rock, 60s mod, and theme tune influences to deliver a rich mix. Repeated listening delivers even more rewards.
Glen's music has changed your life in the past. On Something may not be as life changing as Anarchy In The UK, but it's a damn fine album, befitting of Glen's Pistols legacy.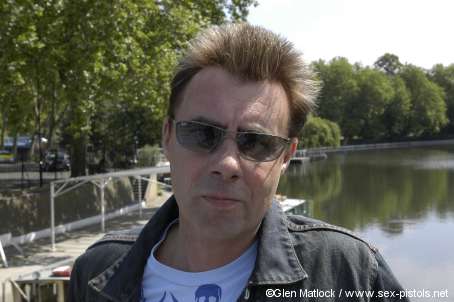 Interview - Glen Matlock's track by track lowdown
---
Text / Sawmill photographs ©Phil Singleton 2004 / www.sex-pistols.net
All rights reserved. Not to be reproduced without permission.