| | |
| --- | --- |
| Glen Matlock "Barry Cain Presents" | |
Rebellion Festival, Blackpool
Pavilion Stage, August 5th 2017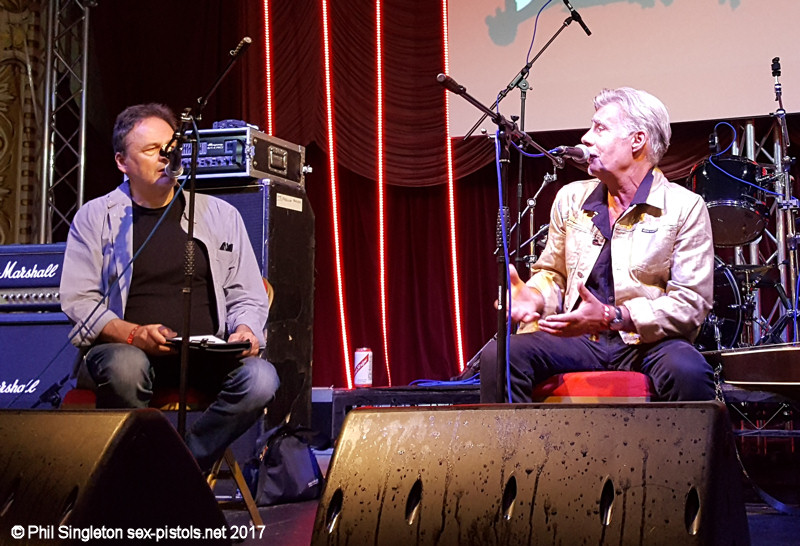 Barry Cain, author of the astonishingly brilliant 77 Sulphate Strip, hosted a number of artists over the weekend of the festival. On Saturday afternoon Glen was Barry's special guest. The format - interview followed by acoustic set - was refreshing and gave some of us a breather from the frantic nature of the Rebellion experience.

Barry lived the punk revolution first hand, which gives him a distinct advantage as an interviewer; he's much more than a mere historian. He kept his questioning to the keys points surrounding Glen's Pistols days with an emphasis on the songwriting dynamic within the band. Hardcore fans may be familiar with some aspects but there were many present who were seeing and hearing Glen talk and play live for the first time. And of course, there's always something you've not heard before.

With the chatting done, Glen put on his guitar and, with plenty more anecdotes thrown in along the way, performed his good-natured and insightful acoustic set. In amongst the nuggets, he surprisingly revealed he felt Iggy Pop could have made a better job with his cover of his song Ambition. It illustrates how the perception of a song in the writer's mind can be different to how it's interpreted by others, even by one as mighty as Iggy.

Pistols favourites God Save The Queen and Pretty Vacant have to be included in any journey through Glen's catalogue, as do Rich Kids favourites, Burning Sounds (first song written after leaving the Pistols), and Ghosts Of Princes In Towers (with its journalistic origins). Glen may be able to perform these in his sleep but he's fully switched on and alert, connecting with the crowd throughout. It's fair to say Stepping Stone now belongs as much to the Pistols as it does to The Monkees and Glen's version is a collision of the two, with an emphasis on the fast 'difficult section' of the song ironically avoided by the Pistols!

On a personal note, Somewhere Somehow and A Different World always hit the spot - both are unerringly emotional compositions infused with a mixture of self-examination and exploration. Sexy Beast shifts the crowd participation up a gear - if you don't have a sense of rhythm before a Glen show, you will have the building blocks for one by the time it's over. You try not clapping your hands. Impossible.

Blank Generation has cemented itself into Glen's recent live sets, and is an open acknowledgement of the song's importance and influence both on himself and punk rock. Glen wraps up proceedings with one of the great songs of the 60's, All Or Nothing. The song is so important to Glen in shaping and inspiring him, the raw passion in his performance is infectious.

An entertaining, feel good show smack bang in the middle of Rebellion, performed by a Sex Pistol. As Barry Cain remarked in his introduction, there is a Sex Pistol here. Pretty amazing when you think about it.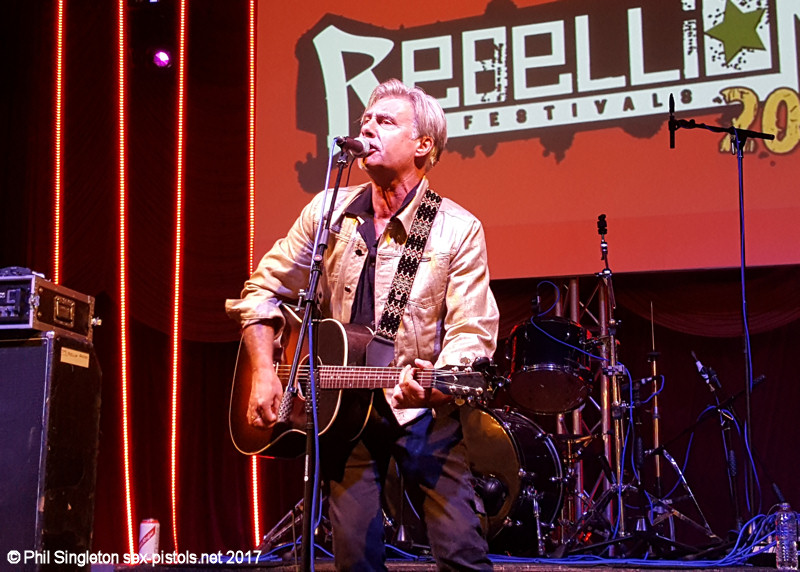 Review & pictures by Phil Singleton

---