| | |
| --- | --- |
| Rattle Your Cage!! | Live Reviews '16 |
An Evening With Glen Matlock
Newhampton Arts Centre, Wolverhampton
10th November 2016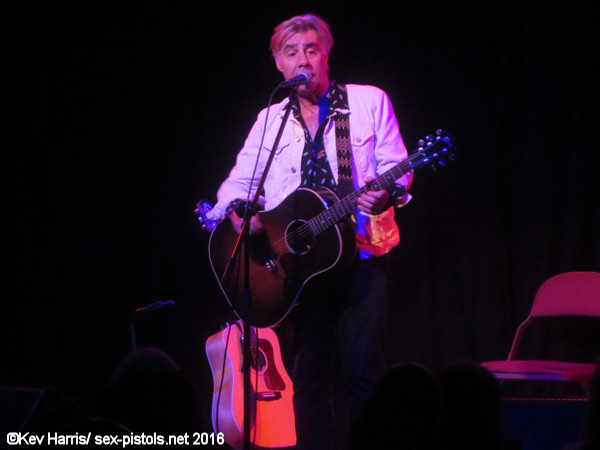 The Arts Centre is a great little venue. Glen was really good tonight - he sang a mixture of songs varying from punk, Pistols, solo, Rich Kids, and bands that had influenced him like The Faces and The Kinks. Songs he performed amongst others were Petty Vacant, Dead End Street, Steppin' Stone, Blank Generation, Ghosts of Princes in Towers, Burning Sounds, and Ambition. He got everyone interacting with the music, clapping and tapping their feet to the beat of the songs and ramping up the sound.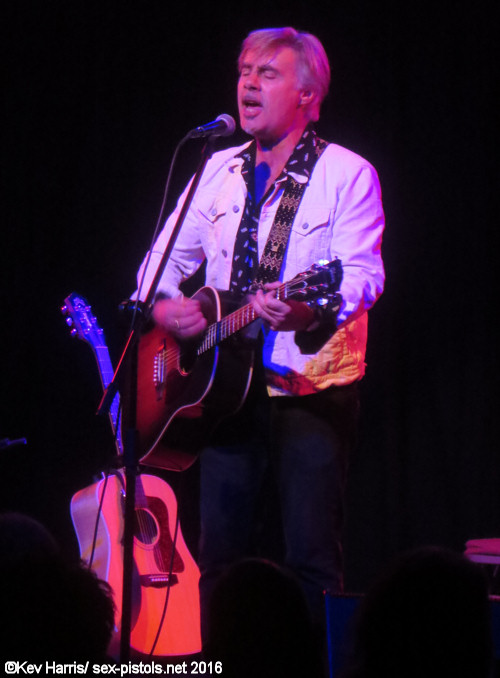 Inbetween songs he chatted with the audience, entertaining us with tales from throughout his life. The show lasted about 1 hour 45 minutes. Afterwards, Glen came out into the bar area and mixed with the fans. Glen has definitely got time for the fans - talking to anyone who'd waited. I left the venue at 12:30am and Glen was still chatting!

Review and pictures by Kev Harris

---
Glen Matlock Band
(Glen - acoustic guitar and lead vocals, Slim Jim Phantom - drums,
Chris Spedding - lead guitar, James Halligan - double bass)
Brooklyn Bowl, London
Saturday 9th July 2016
A spacious venue with the stage at a perfect height for all to get a good view. Just two weeks ago Glen was with the Rich Kids and now he's performing a totally different set of songs with another band. Tonight, as the band includes stand-up drums and stand-up double bass, there is a distinct rockabilly feel. Brand new songs are mixed in with classics from the Sex Pistols, Stray Cats and Chris Spedding's big hit Motorbikin' from the 1970s, plus some other cover versions. The band look impressive with the four of them lined up across the front of stage with Slim Jim on the right. Chris Spedding is now aged 72 but his deft guitar playing really is something special. It was a brilliant show and they ought to sort out a full UK tour pronto!

The band play a 70 minute set: Happy / Blank Generation / Cloud Cuckoo Land / God Save The Queen / Hook In You / Sexy Beast / Speak Too Soon / The Price Of Love / Motorbikin' (Chris Spedding vocals) / John I'm Only Dancing / Chill / Honey Hush / Couldn't Give A Damn / Keep On Pushing / Rock This Town (Slim Jim Phantom vocals) / Pretty Vacant / Encore: Steppin' Stone
Review by Ray Morrissey
Facebook Review...

---