| | |
| --- | --- |
| Rattle Your Cage!! | Live Reviews '14 / '15 |
Glen Matlock
Camden Rocks Festival
Saturday 30th May 2015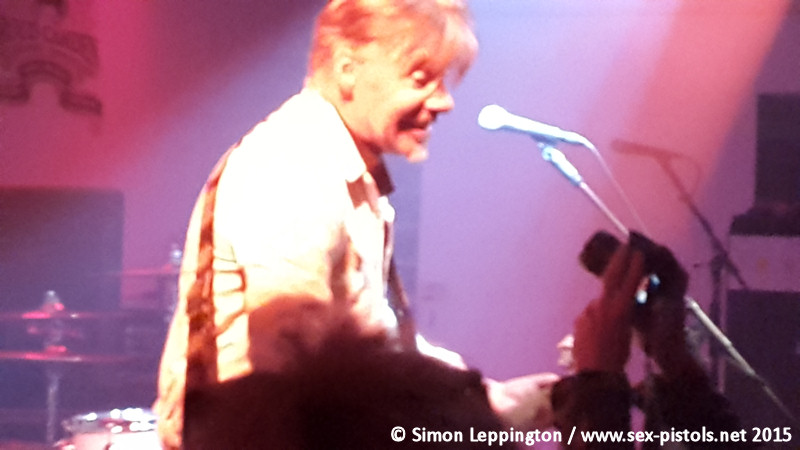 The Camden Rocks festival is a one day event in the north London enclave where over 20 venues host bands all day and a wristband allows fans entry to all of them. It's on a 'first come' basis and so it is that before Glen takes the stage, it's one-in one-out and some fans have to settle for listening to the show outside through the open doors.
Glen introduces himself and his first number, the Rich Kids' classic "Burning Sounds". The crowd is well up for it and from the off the sound is great. Really strong vocals. Without pause he's straight into "A Different World". He instructs the crowd to clap along rockabilly style "like my mate Slim Jim Phantom" and goes into the Pistols classic "God Save The Queen".
He explains he has just returned from New York playing the Joey Ramone Birthday bash. Next up is "Ambition", a track he wrote for Iggy Pop and then we get a great new one called "Sexy Beast". "Happy", the Pharrell Williams tune which he recorded with Earl Slick and Slim Jim puts a smile on the crowd's faces. Glen seems to be really enjoying himself as there's lots of banter between the songs, not least the explanation for the meaning of "On Something".
The crowd don't need much encouragement to sing along the chorus for "Steppin' Stone", a regular feature of his solo and Philistine shows. Jim Lowe, bass player and producer is in the crowd tonight and gets a shout out for "Born Running".
"You might know this one" says Glen before the famous riff to "Pretty Vacant" is played out. The crowd sing the chorus so loud that it actually drowns him out. For the encore we get the Small Faces' "All or Nothing" that rounds out a great set. A really good performance.
Review by Simon Leppington
---
Thursday 19 March 2015. 6.45pm to 2am
The Boisdale Boogie Woogie Dinner with Jools Holland and guests
Boisdale, Canary Wharf, London
Fundraising event was for The Joe Strummer Foundation. Around 300 were here at this Jazz-Blues-Soul venue. The ticket prices were pretty hefty. £500 each for those near the stage with a three course meal and complimentary drinks all night. There is rock 'n' roll memorabilia here signed by the artists for auction later. Others here included Bobby Gillespie, Chrissie Hynde, Suggs, Martin Chambers, Nancy Dell'Olio, Chris Musto, Gem Archer and Pam Hogg.
First act on stage was Mike d'Abo who sang 'Handbags & Gladrags'. Then Jools Holland played a few boogie woogie tunes with a small band.
At 11.20pm the all star band took to the stage and played 9 songs over 45 mins with special guest vocalists. The band was Jools Holland (keyboards), Glen Matlock (bass), Martin Chambers (drums), Gem Archer (guitar), and James Walbourne (guitar). Glen and the band did a great job considering just a couple of rehearsals were done. Everyone was up and dancing and singing along.
Highlights included Suggs singing London Calling and Madness, Chrissie Hynde singing Janie Jones and I'm So Bored With The USA , actor Patrick Baladi singing Rock The Casbah, and Mick Jones with Train in Vain and Should I Stay or Should I Go.
The Hippodrome Casino were one of the sponsors and provided the goodie bag that included £100 of gambling chips and cocktail vouchers for use at the casino.
Visit the Joe Strummer Foundation website here.
Review by Ray Morrissey
---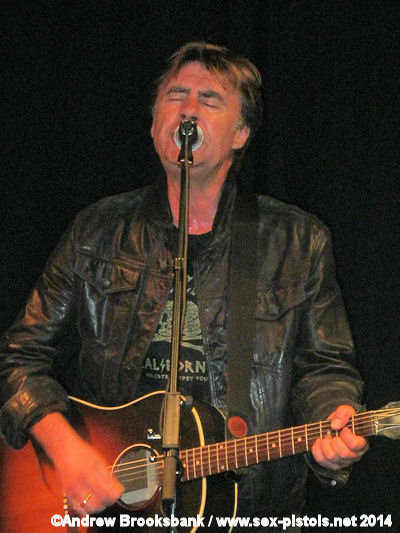 Glen Matlock
Town Hall, Selby
Saturday 24th May 2014
A tiny beautiful old building in the heart of Selby was this evening to play host to one of British music's most iconic musicians. Responsible (depending on whose truth you believe) for such timeless classics as God Save The Queen and Pretty Vacant amongst many others.
A queue began to snake around the Town Hall when our hero casually walked along the front of said building, either checking out his evening's audience or simply going for something eat...most probably both. A very amenable usher opened the doors to reveal an all seated little room and a tiny one mic /one spot stage adorned with a pair of semi-acoustic guitars.
Without any fuss, Glen was introduced. He went on to explain how the evening's events would unfold...he would be reading passages from his autobiography "I Was A Teenage Sex Pistol" now updated and revised and indeed the very reason he (and us) were here, expanding on this reading by adding anecdotes. This would be followed by a short interval and he would then return and play an hour long set of his songs.
Subjects covered amongst others included his joining of the band that would eventually become the Sex Pistols, the (in)famous Grundy incident, John Rotten's audition, the Dolls and the Anarchy Tour and the rather amusing art of begging, borrowing and stealing of music.
After the interval Glen delivered what was both promised and expected, running through a clutch of songs, a healthy dose of GM solo material, the core of which was available on Born Running and the excellent Rattle Your Cage compilation (both for sale at the merch stand), Hard Work, Electricity, Yeah Right!, Somewhere Somehow, In A Different World, fused with a couple of Rich Kids numbers (Ghost Of Princes In Towers), a Kinks cover (an unknown Kinks song to this writer), Ambition (a GM composition from Iggy Pop's Soldier album) and of course those songs.
Those songs consisted, and rightly so, of God Save The Queen and Pretty Vacant, together with a fantastic rendition of Steppin' Stone - a song by the original boy band (The Monkees) but one that will always be synonymous with the Pistols - before closing the set with a terrific take on his first true love, The Small Faces' All Or Nothing.
Glen returned after politely excusing himself (he was in desperate need of a fag!) after a few minutes to meet and greet this evening's audience.
A tip of the hat here must go to GSTSP for had it not been for you, I (and one or two others no doubt) would have never known of this intimate and thoroughly enjoyable evening and it would have sadly slipped by unnoticed.
A great evening was had by all...thanks again.
Andrew Brooksbank for GSTSP
---