| | |
| --- | --- |
| Rattle Your Cage!! | Live Reviews '05/06 |
Glen Matlock, Gramophone, London - April 19th 2006
This elegant East London hangout has only been here since January, being opened by ex-Philistine Terry Edwards, however it has proved to be a popular venue for intimate evenings by a variety of performers.
Glen has by now played many of these types of evenings - his performance, particularly the vocals, sounding powerful and self-assured. Opening with "A Different World" and then perennial favourite "Burning Sounds", he moves up a gear and into more recent material with "Whose Side Are You On". By this time the crowd have moved stagefront and are instructed to help out with one of The Philistines' new tracks "Yeah Right". This audience participation hits the spot and so Glen seizes the moment and repeats the trick with "White Knuckle Ride", the crowd now gleefully screaming out the chorus.
Taking the tempo down a little, we're treated to Rich Kids' classic "Ghosts Of Princes In Towers". Of course the crowd don't need any coaxing into helping along with "Stepping Stone" and then Glen demands to crowd calls for "Pretty Vacant" - even Duran Duran's Andy Taylor can be seen chanting from the back of the venue.
A short but punchy set in great surroundings.
Review by Trixie Palmer
---
Glen Matlock, Hard Rock Cafe, Leeds - October 13th 2005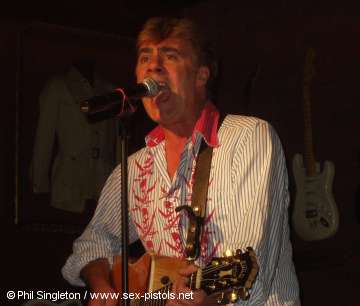 How to put on a show, deliver it, and appreciate it. This was a credit to everyone concerned: Hard Rock Café Leeds, the punters, and Glen himself.
The Hard Rock Café is an excellent venue for a solo show, blessed with an ample-sized stage and relaxed atmosphere where you can treat yourself to a burger and a drink. Perfect intimate surroundings for an acoustic show. Hats off to the Hard Rock Café for some decent promotion and to all those who attended, making it an excellent turnout of a couple of hundred. Ideal for the venue.
Glen kicked off with Burning Sounds followed by Mugs Game, both going down well. It was heartening to be part of a crowd devoid of any cynicism, who were as delighted by the solo material as by the obvious hits. There were no irritating shouts of 'Vacant' (it's the expected encore anyway, so you may as well call out for something original). The Leeds crowd were here to listen to the man and his music, and the between-song banter. It must be hard to think of original anecdotes to use as song introductions, but Glen delivered a fair few good humoured stories that were new to me, and helped shape the feel good vibe in the audience, who responded with laughter and red-hot appreciation. I won't reveal any anecdotes for you here, go and see the man.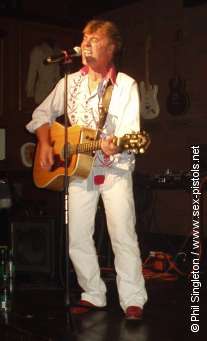 Ambition, plus Idiot with its raucous audience participation, galvanised the crowd, and the rockabilly take of God Save The Queen remained ever popular. Live staple Different World acted as a nod towards his 1996 solo album, while Sad Meal For One remains one of the best of Glen's Philistines compositions, showcasing his attention to detail in both tune and lyrics, leaving no doubts as to why Glen is a top songwriter. Ghosts Of Princes In Towers was a blast from his Rich Kids past, and was accompanied by the story of its origin.
Glen put such energy into Stepping Stone, augmented by the audience, that the microphone stand flew off the stage at the end of the song! It happened so fast, quite how I don't know, but there was an energy spike from somewhere! Quick repair work by fellow Philistine Koozie Johns, acting as roadie tonight, added a further touch of humour to the event with some good natured back-chat between the pair.
White Knuckle Ride and On Something, two recent highs, rounded off the main set, before the previously mentioned Vacant encore. After a short rest, Glen was available for a signing session, and there was no shortage of people wanting to meet the man. When, eventually, the end of the line was in sight, the Hard Rock Café staff seized their chance to have pictures taken with Glen. The show had been a hit, and the reaction from the staff was a reflection of that. Everyone went away happy.
If this is representive of a Hard Rock Café gig, I can only hope this won't be the last collaboration with Glen. Top night out.
Review by Phil Singleton
---
Glen Matlock And The Philistines - September 8th 2005
The Rhythm Factory, London
My ears are ringing with the Philistines sound! Superb show last night. Always good to see a top notch rock operation, tight as a thumbscrew!

Short set, as there were about 4/5 bands on the bill, but Glen & Co turned in 30 minutes of wall-of-sound quality. There was a 9 camera video shoot capturing the event for a forthcoming DVD on the life of........Dave Goodman! So the boys were loving the cameras, guitars being thrashed, strings breaking, the works. Songs I remember; OK Kiddo, Be Somebody, Idiot, Piece of the Action, and Whose Side Are You On. Ray McVeigh must now be the most OTT "guitar slinger" in town, couldn't quite hear his solos due to the sound, but it looked like he was playing like a demon!

Made the other bands just look plain amateurish.
Review by Steve Glitterbest
---
Glen Matlock And The Philistines - August 2005
live at Plaza De Toros (The Bullring),
Medina Del Campo, 80 miles North West Of Madrid, Spain.
Here we are outside Madrid in this bullring as 500 up-for-it Spaniards are lucky enough to witness the first show of 2005 by Glen and the boys. Things start late here because of the heat so its after midnight when the band arrives on stage but its nice and cool and dark so even though we are outdoors it feels like it could be in a small club with the lightshow and dry ice.
The band are all looking super cool and tanned as they launch into "Hot Water" and " Be Somebody" . Glen manages to squeeze in a few words of Spanish and its clear he loves Spain as much as they love seeing him as this was the bands third or fourth visit to this country in as many years . Ray and Koozie play guitar brilliantly off each other and offer great backing vocals to most of the songs. Chris Musto's drums keep the unit together tightly for every song. Ray's low slung guitar playing has now got to the stage where he was a playing a couple of songs with the guitar down by his ankle.
It did not take long for the front of stage to be full of fans jumping around. The Faces influenced "OK Kiddo" was another real treat and Glen's lyrics and voice were on top form. "God Save The Queen" created some chaos down front and a couple of the crowd jumped on stage to help with backing vocals. "Piece Of The Action" and "White Knuckle Ride" from the recent album "On Something " were both fantastic catchy rockers that had everyone roaring for more. A finale of "Pretty Vacant " was a superb way to end this excellent hour long set. Let's hope the band plays their postponed UK tour dates before the end of the year and maybe we might see them get a major tour support slot in the future as well.
Review by Ray Morrissey
Full Setlist: Hot Water, Be Somebody, Don't Put Me On, Whose Side Are You On ?, Stepping Stone, OK Kiddo, Idiot, On Something, Suck It And See, God Save The Queen, Piece Of The Action, White Knuckle Ride, Pretty Vacant.