Glen Matlock
in conversation with Phil Singleton
5th September 2016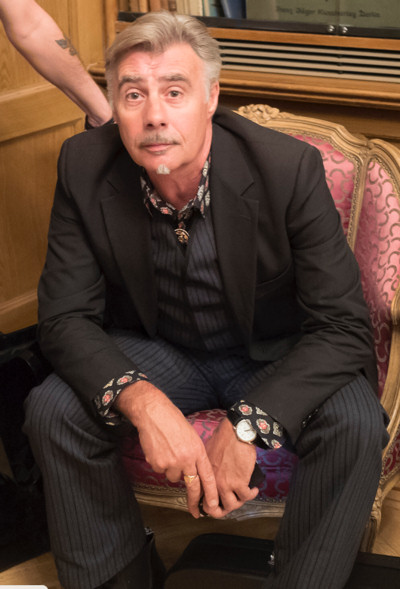 Tonight would see Glen, along with Paul Cook, take to the stage as part of Zak Starkey and Sshh Liguz's Teenage Cancer Trust project album launch.
With Glen as busy as ever, there was no better occasion to catch up on the latest Pistol to turn 60.

Phil: You're 60 now Glen, why oh why?



Glen: Why am I 60? Because I used to be 59, and life is like one of those old movies where the calendar pages fly off at a rate of knots. I feel like I'm 50, but I'm wrong, I'm 60. I'm the last one out of the Pistols to be 60 though!



It's 40 years since it all started with the Pistols..



And it's been 40 years of being reminded about it!



20 years since the Filthy Lucre Tour...



That's the surprising thing. Time goes quicker when you're older. But during that time I've been really busy with lots of different projects. None are runaway successes but I get around a lot; put a smile on people's faces sometimes. I feel in a good place. I was chuffed this year when I did an acoustic set at Glastonbury and 2000 people came and checked it out. Just me and my guitar. I did the Montreux Jazz Festival - it's not really a jazz festival, it's more "all that jazz" - and I played in a big club and it was rammed. So I think people dig my particular take on things.



You're playing to many people who won't have heard you before. It must be satisfying to make a connection with them.



Yes, at Montreux definitely. There was a lot of young people at Glastonbury, older people brought their kids down. It's back to what I always say, all the songs I've been involved in started life on an acoustic guitar. When you're presenting them like that it's the connection with the audience of something that was once a figment of your imagination, a few guitar chords, a pad of notepaper, and you get something together and people dig it. That's what I thrive on. I don't only like doing that. I got back from Stockholm recently where I played at a private party with a couple of Swedish guys, Nicke Borg and Dregen from the Backyard Babies, and Phil Campbell from Motorhead! It was fun.





I did a gig at 100 Club recently with Slim Jim Phantom. Jim and me are involved in an ongoing project that Earl Slick has been involved in. Earl wasn't available so I asked Chris Spedding. We also played the Brooklyn Bowl at the O2 and a festival in Spain with Spedding. Everyone knows each other and we are on the same wavelength. We used Mark Halligan, the bass player from Furious, the band from Liverpool. He's a really good stand-up bass player. It's like the loud version of my acoustic set. It works, so I think there will be more of this down the line.





In November I've a dozen dates around the country, just me, which I'm looking forward to doing (An Evening with Glen Matlock). It's a version of the show I did at the Edinburgh Festival which was successful, and I did one in Nottingham a month ago. I like doing it, it's more scary doing it yourself than with a band, but that's a good reason to do it. It puts hairs on your chest. The more you do it, the more accomplished you become. And I don't have to worry about the band having to know all the songs!





If I see someone in the audience doing something that reminds me of a song - and I've plenty up my sleeve - I can just launch straight into it without worrying about the band knowing it.

I read from my book a bit, go off on a tangent, then pick up the guitar, then come back, read a bit more. It's kind of loose. I try and get some crowd participation going. The songs are written by me so they all slot together pretty well and people seem to dig them as much as the old chestnuts. Maybe cos they are all in the same key and I'm wearing the same shirt!
People of my age group don't always want to go to a gig and be threatened with having a beer spilt down their back; they want it a little more upmarket and not so loud. I like the loud but I like the more considered as well. Every musician I've liked has been a singer song writer. One of the best shows I've seen this year was Donovan at the London Palladium. That was kinda cool.
I don't think the world needs a brand new rock band by some 60 year old blokes pretending they are 19. So I've stayed clear of that. But, who knows if one day Rotten wants to do some Pistols shows, I can always do that maybe.
I think everyone in the music business has to be flexible. Look at the Pistols. John does his Public Image Ltd, his butter adverts, presents wildlife programmes, and does talks. Steve does his radio programme and wacky things in LA. I'm doing loads of different things as Paul does. Me and Paul are playing tonight, we are doing this little showcase, helping Zak Starkey and his girlfriend out with their Teenage Cancer Trust Project, SSHH.

You have to diversify but what you are doing all the time is playing music. There's just different aspects to it. And it means you are still getting around a bit. This year I've been to Australia, Italy several times, Sweden, Berlin, the States, around the UK. It's only just gone August! It's not such a bad place to be.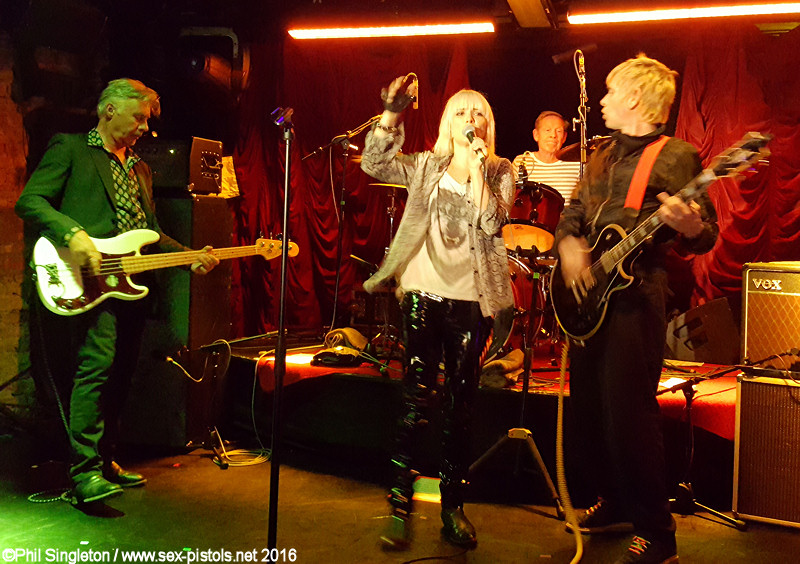 SSHH - 5 September 2016 (Glen, SSHH, Paul Cook, Zak Starkey)

So retirement isn't something you're considering at the moment?!



No, I've never even thought about it. It's like the Rolling Stones - Keith Richards sees himself as some old blues bloke. It's not a grind, but when you are going to Australia and you get into Hong Kong at 6 in the morning and are sitting by yourself waiting 3 hours for the connecting flight you do think to yourself, what am I doing here? But then your plane lands in Brisbane in early February and it's all sunny and you think, oh yeah, I remember! But the other thing is, if you say you are a fisherman and you don't go fishing, or say you are a mathematician and you don't do any maths, or you are a musician and you don't play any music, you're full of shit. It's what defines you. So you've got to keep doing it. So come and watch and support your local rock 'n' roller.





I've got some good new songs. I've an album in the can which I'll get out later this year, or early next year. I'm really proud of it. It's got Slim Jim on drums, Earl Slick on guitar, and I've cut another track with Spedding on it. It's quite funny actually, I had this song and thought it needed something, needed a riff like on The Price of Love by Bryan Ferry. I looked the song up on YouTube and there is Spedding playing guitar on it! So I called him up and asked if he fancied coming down to the studio and he said "yeah sure". He said he didn't want anything for doing it cos I played on his record for nothing. There's a lot of that going on, a barter system. Then I had a couple of gigs and asked if he fancied doing them. He's a great guitarist.





As a bit of a blueprint for what I'm trying to do band wise, I went to see Dylan a few years back at the Albert Hall and while I'm not a big fan, I can appreciate him. But the band were great, a stand-up bass player, a drummer playing brushes. I thought if I can put my more punk slant on that I'd have something which I've kind of got now. What's eluded me is the good business side of things, but I'm getting there slowly. Sometimes my timing has been out, but this is the time of year you set things up for next year. I can play with my band and I can go and do acoustic shows. I like doing it, there's never that much on telly.



Do you enjoy being a musician more now you're older than say, when you were 25?



I don't feel as uptight as I used to. The Pistols is one thing and we reformed in 1996 and it was a really big deal everywhere we went, but I've done everything. I've seen the whole music industry change and it just isn't what it was. I know so many people in my kind of field who can't get a record company. Everything is different and all you can do is carve a niche for yourself. I do it cos I want to do it. If you think this has got to be a hit you come across as desperate and it comes across as desperate on stage a little bit and people pick up on that. If you are doing it for fun and a laugh that comes across as well and people dig it more.





The invitations come. The phone rings, or Facebook clatters into life, and you size it up. Saying yes to one thing can lead to something else. You have to get on with doing what you want to do. You see those artists who paved the way for you passing away.... life's short and you have to get on with it. We are all trying to give a good account of ourselves with the hand we've been dealt. I don't think you can do much more than that.



Now you are 60 you can get a free Oyster Card (free public travel in London). How do you feel about that?



Well, I know a lot of people who didn't make 60 sadly. Some through misfortune, some through their own devices, so yes, it's an achievement. A couple of years back when it was my birthday I happened to be playing a festival and Dave Gilmour (Pink Floyd) was there. As we were waiting for a knife to cut the cake, he asked how old I was. I said 58. He said "do you know you can get a free Oyster Card when you are 60?!" I said "hang on Dave, I'm supposed to be a prime mover in punk and you are in psychedelia, if anyone could hear us talking about free travel passes!" We both had a laugh about it. Reaching 60 is a badge of honour. I was chatting to Paul Cook about it yesterday.



Is there anywhere you've not been to that you'd still like to visit?



I've never been to Africa or India. I'm fortunate cos I get to go to places most people pay good money to visit.



How much did you enjoy the Rich Kids reunion this summer, bearing in mind Steve New is no longer around? Was that odd?



We only did it for the hell of it. I'd bumped into Midge Ure and I'd seen The Professionals at 100 Club round about the same time, and I thought maybe we could do some shows as a double header. We were going to do a tour but it didn't quite come together. Then we were doing the Shepherds Bush Empire but the ceiling had fallen in, so that moved to Islington O2. Anyway we did it and it was good. Gary Kemp (Spandau Ballet) stood in for Steve who passed away 6 years ago now. We've all come to terms with that. Gary was great. I roped my mate James Halliwell in, he's a fantastic Hammond organ player. It all clicked. Whether there will be any more, I don't know. I think we are all open to offers, we know we can do it.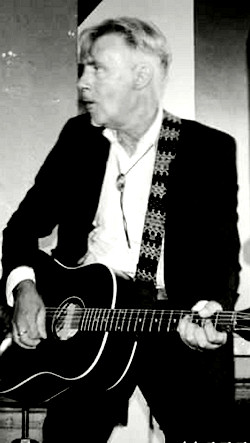 Gary Kemp guested on stage at one point during the Rich Kids 2010 reunion.



The connection is that Gary is a contemporary of Midge's, a bit more 80s than me! I didn't know that Gary was a Rich Kids fan. Gary said to me that doing the Rich Kids was like me doing The Faces. He was a fan and told me he'd queued to see the Rich Kids play at the Nashville, and now he was playing with them! It was good having him play cos I was able to say "Now we've a real rich kid on stage!"





Earlier in the year I produced an EP for a Japanese girl band called The Tomboys. I'll be going back in the studio to do more with them. They are a punk rock band who look like they have been studying Mary Quant adverts from the 60s. They play good.





I did a talk at the British Library, like Rotten did. We are kind of elder statesmen. They have a shop there with a display with pristine punk record covers. I asked if they were reprints, and they said they were originals, they keep a copy of everything that's issued. I knew they did that with books, but they do it with records as well. It's funny because a lot of my contempories who were punk fans have now got positions of authority.



How do you feel being asked to take part in yet another 40th anniversary talk?



The first thing you ask is how much are you going to give me?!



Is punk still going to be talked about in another 40 years?



Not by me it won't be! The problem with punk nostalgia, and I'm sure the other Pistols feel the same.... good luck to John with Public Image but people still think of him as Johnny Rotten of the Sex Pistols and I'm sure that must drive him mad. Me as a writer, I write a whole bunch of stuff and I'm really pleased with it, yet it's a struggle to get it out. You think it's you, but it's not, it's the way the music business is. I just wish people would give what you are doing now a higher percentage of their attention than they do give it, so you are not living in the past. All my life I am taken back to living in the past. It's not that I want to be like that. Half the week the phone rings and it's someone asking "what do you think about what Rotten's done?" ! What I'm actually thinking is, I've got to get to Homebase because they've got that kitchen deal on!





Take my song On Something, I know you like that. To me, in its own way, it's as good as Anarchy In The UK, but it's falling on deaf ears all the time. So by doing the shows I'm doing I'm getting some of that across. "I'll play the one you want to hear, now you listen to this one." People sing along to it now, which is pleasing, far more than actually bought it. I play Sexy Beast, a rockabilly-ish one, that always goes down well.





I played in Nottingham recently and this bloke came up to me at the end and said "Why wasn't that song a hit?" I asked which one. "Born Running. I've got that in my cab." I thought he must be a taxi driver. He said "No, the cab in my lorry. I've a fleet of lorries and I've put a copy of the album in each cab. It's great driving music!" Little things like that are good.



You've played Blank Generation (Richard Hell and the Voidoids) live recently.



Yeah. All around the world people know it. The playing on the record is great, Robert Quine, Ivan Julian and Marc Bell.

I think it's the most important punk song.



It seems you've got an uncharted road map ahead of you.

Yes, there's always more things happening on the A6 than the M6.


---
Report on SSHH: Issues album launch, featuring Glen, Paul Cook, Zak Starkey & SSHH

---
Text & SSHH photograph ©Phil Singleton 2016 / www.sex-pistols.net


All rights reserved.
This feature is copyright to God Save The Sex Pistols and the author and may not be reproduced without written permission.