Glen Matlock Interview & Album Review Feature
Born Running - Track By Track
As told to Phil Singleton
In this special feature to commemorate the release of Born Running (Freeworld Records FREEM5024),
Glen Matlock talks to God Save The Sex Pistols about his new album and gives a track by track insight.
A www.sex-pistols.net exclusive.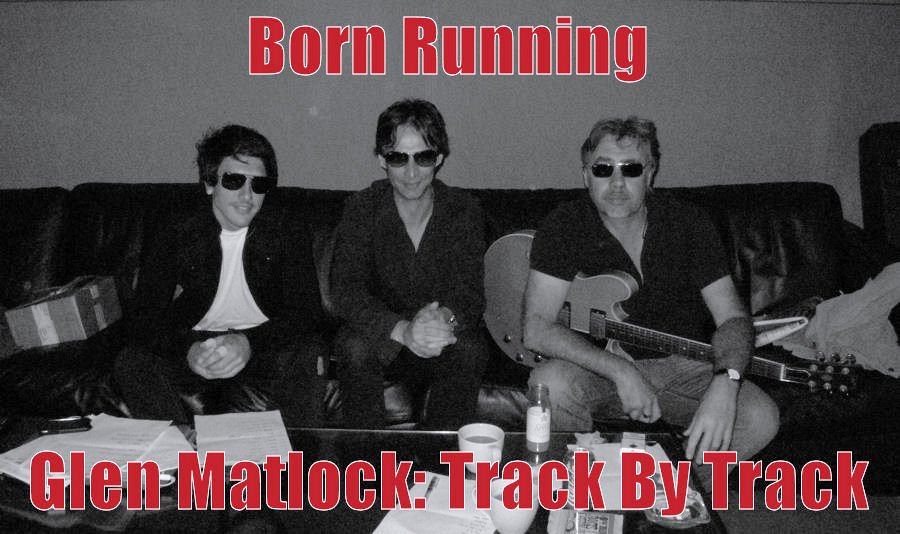 Part One. Introduction

Background to Born Running
I worked with Jim Lowe again who I recorded my Open Mind album with. Over the years we've become big chums. His career took off - he did the Stereophonics – we kept in touch, we go down the pub together. I'd been talking about doing an album for a while, and I write songs as I go along so I had quite a number of them. Jim owns the same equipment as me but he knows what he's doing more than I do. So we were just hanging out and came to the conclusion I had enough songs to do an album. So we did.
I thought; who is going to drum on it? It may be time for a change. The previous Philistines guys were great but their availability wasn't always good. Jim suggested I use Javier Weyler from the Stereophonics. I met up with him; he was a lovely bloke and a great drummer.
I got a deal on the studio and started putting some stuff down. So mainly the band was me and Javier, with Jim in the control room sticking his oar in saying "change this, do that." I played rhythm guitar and bass on it. I couldn't get hold of Tony Barber, I couldn't find him. Tony could have played bass on it 'cos I fancy being a rhythm guitarist for the time being.
I got some guest guitarists down to do the twiddly bits. Steve New played on some stuff, James Stevenson played on two tracks, and a mate of mine, Jon Tiven - who's a record producer - played on a track. Terry Edwards, who has worked with me many times over the years, plays keyboards on a track.
It was recorded at Dean Street Studios in Soho, Tony Visconti's old place. Bowie's Scary Monsters was done there, and a lot of the T Rex stuff. It's got a good vibe to it - a proper old fashioned rock 'n' roll studio. It's got blue lights in the ceiling, they look like little stars. I felt like a little star! It's opposite a pub called The French House which used to be the York Minster, an old art school hang out. If you sit outside long enough you'll see everybody there; all the movers and shakers of London. It suited my London-ness. I delight in being a professional Londoner these days, and that was the spot to do it.
Composing Born Running
When I have an idea for a song, I write. I've got a studio at home where I put my ideas down. Before you know it, you've got brand new songs, you've got some old songs, and some half finished ideas which can go one way or the other.
When you start deciding what things you want to go for, certain things fit and certain things don't. There's 12 songs on the album. We put down maybe 18 backing tracks and picked the 12 that fitted what the album was becoming. A modern rock album. It's got that right degree of trouser flap; lyrically, what the songs are about is where your head's at. I wonder how many song writers go to therapy? I bet they don't, because writing a song is your therapy. You can get out on paper what you're thinking. Be it, you're in a good mood, a bad mood, pissed off with life, striving for this, that and the other. All of that rolled up into one, and in a way that's not literal. It's the music and the words together. It gives it an esoteric kind of bent. Hopefully, it's more than a sum of its parts.
I was half thinking of calling the album SOS, Same Old Shit. But it's good shit. The album has ended up pretty contemporary sounding. A lot of music these days is a bit of this, a bit of that; people have run out of ideas and they think if they have a load of old ideas and stick them together they'll come out with something new. If I'm going to rip anyone off, it'll be all the people I ripped off originally, but mainly myself.
Part Two: Track By Track
Glen takes us through each track in turn, followed by my own thoughts and track review.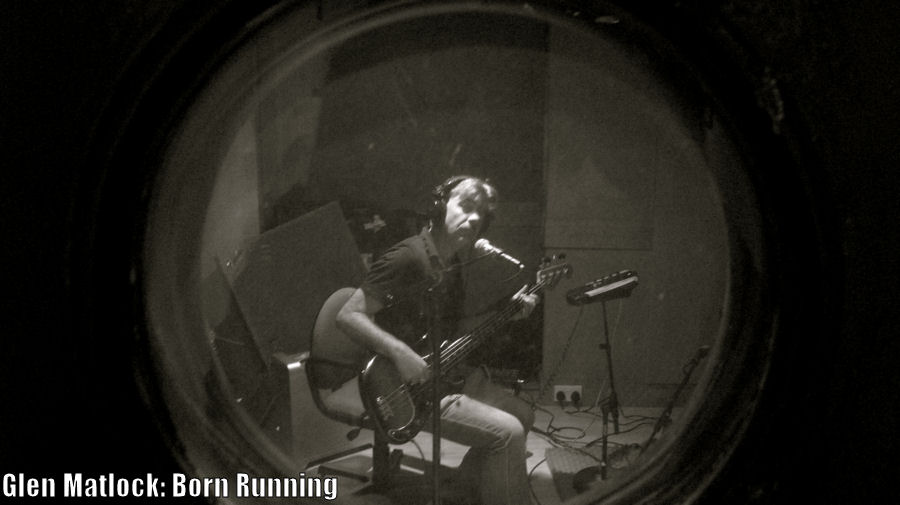 Born Running
Glen:
I wrote the title song when I was coming up to 50, which is a milestone in anybody's life. A lot of people I know haven't made it to 50. When you're a kid, it seems ages until it's your birthday and Christmas, but when you are older, time just seems to pass quicker. It was coming up to my 50th birthday and I was musing on personal relationships going on in my life and had the feeling that unless you get on with doing something, the opportunity or chance goes. Carpe diem - seize the day. But carpe diem is not a very good headline for a rock 'n' roll song! As soon as you are born, you start dying. I don't mean it in a really heavy way, but unless you get on with things, the opportunity will pass you by. Born Running means carpe diem.
It's a simple riff - a four chord sequence. The tune is from an older song I had which I resurrected. Sometimes you have ideas in a workbook in the back of your mind and then you get the right phrase or what you want to sing about, and think "that'll fit that riff." Which is what happened.
There's a little bit of miserable-ness involved in it, but it's also about embracing one's inevitability and making the most of it.
Phil:
It's a rock album, so the opener kicks the proceedings off with the required amount of zip. With its message to get on with things while you still can, it catches this sense of urgency, lyrically and musically. The tune chimes over the top of the steamrolling sound while Glen conveys his thoughts clearly. The very physical sound of drums being pounded with vigour and style lend an authentic air to the recording, one which is maintained throughout the album.
Get What You Get
Glen:
I always take everything with a pinch of salt. I try to see the funny side of things. It's that John Lennon thing; life's what happens while you're making other plans. It's a bit of a relationship kind of song. Relationship songs also impinge on what else you're doing in life, and life in general; everybody inter-relates with everybody. Sometimes you can be caught up in a scenario that you're not entirely happy with, but it's what's landed at your feet. You have to make the most of the hand you've been dealt and get on with it.
This is one that has the Scary Monsters vibe from the studios. There's three kind of songs. There's one that's got a good set of chord changes musically, a song that's got a good riff like Whole Lotta Love, but the best ones have a good riff and a good set of chord changes. Like Pretty Vacant, or Get What You Get.
I had the chord changes and thought it needed something else, so I was fiddling around and I found this guitar riff that fitted over everything, through all the chord changes. A bit like Have You Seen Your Mother Baby, Standing In The Shadow? by the Rolling Stones. Everything plays the riff, all together, all the time, always. Totally over the top. It's a good rocker. A rum rocker.
Phil:
A powerful number with a bass bedrock that underpins the energy without smothering the melody. There's a hint of Pistols in here. Glen shows he's lost none of his talent to deliver a rock groove. Coupled with an upfront message to make the best of your situation, it pulls no punches. There's no self pity on this album.
T-R-O-U-B-L-E
Glen:
Someone sent me a track; they wanted me to do some singing on it. It was a house music kind of thing. It didn't work out and I forget who they were because they changed their internet account and I've got no record of them. I totally chopped up the song and thought there's something here. I played it on guitar and then I got a melody line over the top. There's a keyboard in there and some acid house. It's a bit out there and wacky. What Jim Lowe and I tried to do was make it a bit rocking but be aware of what else is going on in the world musically.
The song is about being in some situation where you are left with egg on your face. Being in trouble, rather than causing it. A boy - girl song, someone's got the better of you; your desire's out of control. When you write a song it's almost like having a diary, but you also tend to live in a bit of a dream world.
It's a rocking record, but this is the track that lets you take your breath; it offers something a little different. What I like about it is it's a totally different construction musically to most songs I write. T-R-O-U-B-L-E, trouble.
The album is a rock record. I've been doing these acoustic shows and yes, I can get a little bit soulful, but I want to rock out a bit. My ideal is that the album gets a sniff and I can go out with the band. That's what I'm working towards.
Phil:
Slightly out of kilter with the rest of album, this is a spiky, menacing track. The dagger-like bursts of guitar that punctuate the track add to the atmosphere of danger, while the stop - start motive of the song thrusts itself back and forth at the listener in a strangely addictive manner, reflecting the relationship tug-of-emotion lyric.
This gets stronger with every listen.
Nowheresville
Glen:
This is about the feeling that at some stage in your life, you are up a gum tree and your road's heading nowhere, but you don't necessarily wanna go there. There's life beyond the dead end. It's a "time to move on" lyric. Musically it's an up song, quite epic sounding in an On Something vein. Like a number of the songs, I wrote them as I was approaching, or had just passed, 50. You become aware of the passing of time and you don't want to waste any of it doing the wrong things. I wanna be doing the right things.
The place Nowheresville is in your head. It's an American expression. If something's not happening it's "nowheresville, man." I quite like using the Anglo-American language.
Steve New plays a blistering lead guitar solo – he got a bitter sweet aspect on his guitar playing on this one. There's keyboards on it, and an arpeggiator – you programme the notes in and feed it through a Moog synthesizer. You put effects on it and play with the filters. It sounds like the notes are changing but actually the pitch is the same but the tone is changing. It sounds like it's rising and falling through the song. I play some Hammond organ on it. There's a lot going on in the track – it's one of the most "produced" tracks on the album.
Phil:
Busy, yet uncluttered, it's instantly memorable. A reflective, positive and buoyant song with a trans-Atlantic lilt, it motors aided by an uplifting riff and wonderful guitar from Steve New which embellishes the sense of urgency and the need for action the song demands. The backing vocals are used to great effect, providing some additional weight behind the lead. Lyrically, it straddles the fine line that divides frustration with the past and opportunity for the future.
Rock Chick
Glen:
Isn't it great when you go out on a Friday or Saturday night somewhere and all the secretaries get dressed up to the nines and all want to be rock chicks? It's great just watching them. It's fantastic that they go to all that trouble just for us blokes. I think "good for you." It makes life more interesting. I'm on your side, darlin'. It's an everywoman song.
James Williamson (The Stooges) was going to play on it, but his schedules didn't work out in the end. Steve New plays the lead guitar on this and I'm glad he did – it's quite dark and sexy. The drums are great - during the middle eight and at the end they are a bit like Aynsley Dunbar's drum sound on Bowie's Pin Ups album.
Some songs play themselves; you have a main riff and a lyric and it all slots into place. It's a guitar heavy song. There's a great solo from Steve. I'm pleased I got some hot shit out of Steve. There's backing vocals by Maggi Ronson and Tracie Hunter - a couple of rock chicks.
Phil:
This one screams at you! If ever a song sounds exactly like it should sound, it's Rock Chick. Noisy, brash, blistering, rip-roaring, take your pick. It's a full-on affair. Steve New's performance reaches bone shaking psychedelic proportions, as Glen pays tribute to those fine girls that light up the scene. Exciting, unpredictable, and in-your-face. Isn't that a Rock Chick?
Timebomb
Glen:
A song co-written with Patti Palladin. A more poppy track. We were writing about a mutual acquaintance who is always on the edge of a big explosion. You're on their side; "It's finally clicked, you ain't on solid ground, seems you lost all sense of purpose, I know you're not but you think you're worthless, I only get to scratch the surface." In other words; what's going on in there? Get it out.
We did both the music and lyrics together. I think I had the Timebomb idea, Patti had a couple of lines, so we sat around qualifying what we were trying to say. It's got a good set of chord changes in it and I like the way the riff sits all the way through. I play all the guitars.
Phil:
By the time you reach this point in the album you know exactly what type of set you're dealing with. Timebomb is another rip-roaring affair with great guitar playing by Glen - it tears out of the blocks. The bass rocks throughout, supplemented by a thunderous display by Javier Weyler on the drums.
With a hit single feel to it, Patti and Glen have written a punk/pop/rock powerhouse. Timebomb waiting to explode? More like an air bomb repeater.

Hard Work
Glen:
It's an older song, but it's been revitalised for today's modern music market! Hard Work fitted in with the feel of the kind of album we wanted to make. It's having a moan for a bit of a laugh to get it off your chest. The trials and tribulations of life in the noughties. In the tail out it says: "Hard work, that's OK, wouldn't have it any other way." You find obstacles, you surmount them and it makes you a stronger person.
It's a rocker. My mate, record producer Jon Tiven, played guitar on it. He's an American guy who lives in Nashville and was in London at the time. I like the way the backing vocals come in at the top of the song. Me and Jim Lowe did those.
Phil:
Glen's not one to shirk a bit of hard work and that's what this song is all about. The confident solid rocking sound gives a lesson in how to give a top tune a backbone befitting a song with "hard" in its title. Jon Tiven's guitar never lets up, an impressive mixture of riffs and solos. The production on the album is fabulous – listen to Hard Work with your headphones on, it grabs you by the throat.
Something Tells Me
Glen:
I wrote this song for Patti Palladin when she had the hump and was feeling a bit down. It's the album's ballad. I like a ballad. You write a song because of the mood you're in. I was on the 'phone to Patti and she was fed up but I wasn't. I put the 'phone down and thought, something tells me it'll be alright. I picked up my guitar and off I went. It's got a Faces doing The Temptations vibe, there's a Temptations song I Wish It Would Rain – that vibe.
Terry Edwards plays grand piano on it. I play some Hammond organ. We played around with putting some strings on it, but decided against it in the end. It was over egging the pudding.
I like the lyrics on it, I'm proud of it. "When all you wanna do's get loaded, if all you wanna do is run, when it seems everything's imploded, stare down the barrel of a gun, if everything's become a circus, but you ain't clowning 'round no more, feel that you've barely scratch the surface, well just try knockin' on my door. What can I say..."
Phil:
A ballad it may be, but it's not out of keeping due to the consistent production values and feel of the album. This is the bravest song on Born Running. Glen has continued to work on his vocals over the years and it's borne fruit. He's no longer content to just belt out his rock songs, but now possesses the vocal strength to pull off this ballad with panache. It's opened the door to a more emotional side to his song writing and gives the listener a slight breather. A big, full sounding track, with a sonically wide texture. It proves to be the calm before the storm.
Electricity
Glen:
The punk rock Billy Jean. A disco groove. Lyrically, it's a pulling song. "It's like you turned on a spotlight, like a neon that screams electricity, between you and me, the way it's 'sposed to be, electricity."
We couldn't resist putting some electronica on there. We used the arpeggiator and Moog synthesizer again. James Stevenson plays the lead guitar on it, doing his Jimmy Ray Vaughn bit. It is quite bluesy. I like the fact there is just one set of chord changes all the way through. The bass line's quite happening as well. There's some good percussion on the track.
Phil:
Electricity... both vital and dangerous. This one had to reflect its title. It's a buoyant mix of traditional rock 'n' roll, strutting bass, and electrifying guitar. The sharp lyrics dealing with the spark between two people hitting it off, sit perfectly with the sound. Top song writing.
Yeah Right
Glen:
I wrote it with Patti Palladin. James Stevenson's on lead guitar. It's a live favourite. I like the lyrics; it's taking the piss out of someone who thinks they're the cat's whiskers all the time when evidently they are not. "You say you've got everything that it takes, reckon you rock and can make no mistakes, yeah you think you're the hottest piece of ass in town. You say you've got more than the rest, you say your game is better than the best, and yeah you're gonna go to the top and never come back down. Yeah Right."
It's just guitar, bass and drums. A straightforward rocker but it's an upbeat, knowing laugh. It's mine and Patti's version of You're So Vain.
Phil:
It's great to hear this on record. Always a high point of Glen's live set with audience participation bolstering the chorus chant, the studio recording adds even more weight to the song with sizzling guitar from James Stevenson and meaty backing vocals. There is more than a hint of punk rock in the no-nonsense delivery which goes hand in glove with the message. A song everyone can identify with - a tune for every time someone starts their tiresome boasting.
Way To Go
Glen:
It's about me meeting some old acquaintance and picking up where I left off. It's not a political intrigue raging against the government song, more personal politics.
I like pop music, I like things that affect people and song writing can be an outlet for what's going through your mind.
I think it has a thumping good tune, a toe tapper. It's myself mainly playing on this one with Steve New on lead guitar.
Phil:
The song itself could have come from the 1960s golden age of pop singles then given a shot of bang up-to-date rock 'n' roll courtesy of Glen and Steve New. The pair had a unique connection, and it's a privilege to hear them perform together with such zest. It's also a sad reminder of what we've lost. The combination of Glen's pop friendly tune and the explosion of Steve's lead guitar brought a smile to my face. They were great together, and Way To Go is a perfect example of their symbiotic understanding.
Somewhere Somehow
Glen:
I always liked Pete Wylie's Songs Of Strength and Heartbreak as an album title. It's about how life can get you down, but you kick against the pricks all the time and you'll get there in the end. Somewhere somehow you will get there. It's quite an up song. I opened my acoustic set with this but it's also a good closing sentiment. "The same old thing keeps going through my mind. Everything seems such an uphill climb, come to the ridiculous from the sublime, when all we're looking for is a chance to shine. For a chance to shine."

Steve New plays lead guitar on it. It's a stadium anthem song. Get your lighters out for it. Get your mobile 'phones out for it! It's been road tested live. It's a hopeful song. "It's always one step forward and two steps back. I don't need that anymore."

The song finishes with "Somewhere somehow, I believe that somewhere somehow, hey I can achieve that.... say how about that?!" The idea that we will get somewhere, somehow. Wouldn't it be great if it happens? Fortitude will prevail.
Phil:
A forward looking statement with which to close the album. A heartfelt lyric, one of Glen's most moving. He talks for us all with a clear message that you can succeed. After all, why shouldn't you? Remaining strong through adversity is a common link throughout the album, and the loss of Steve adds an unexpected poignancy.
The energetic production and layered instrumentation lifts the song in accordance with the subject matter. It's another strong vocal performance with which to round up proceedings, not forgetting a further chance to hear Steve New deliver his unique and gifted guitar sound. Listen closely to Javier Weyler skilfully adding his drumming finesse.
All the elements of this song are so striking, Somewhere Somehow often starts running through my mind at the most random of times... it's already been filed in a folder of select songs in my brain that surface without warning. Say, how about that?
Part Three: Album Overview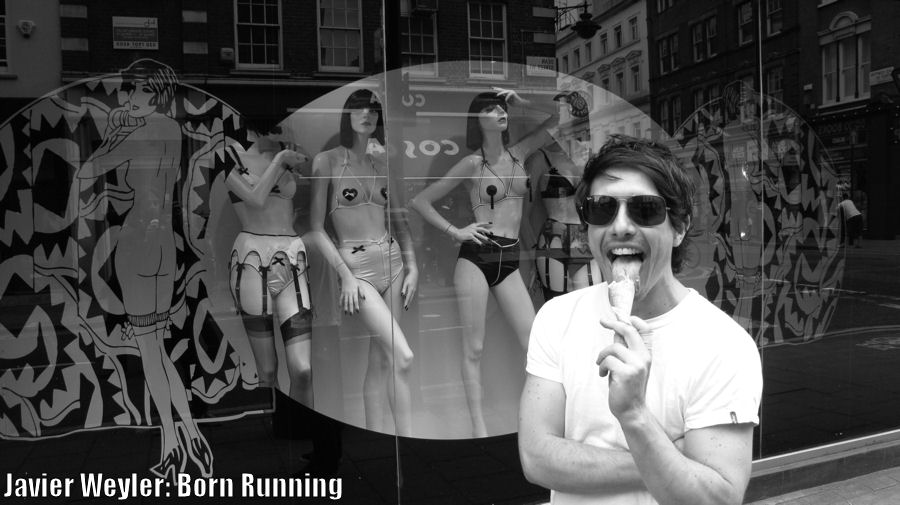 Glen's Reflections
I'm pleased with it because there are a few different styles of songs. Electricity and Something Tells Me, are out and out rockers, and there are some moody ones like Born Running. I think they all hang together like an album. It sounds like an album to me, a strong body of work.
Given my age, I've worked with some younger people - Jim Lowe and Javier Weyler - and I think it's a contemporary sounding album. It's not a bunch of old blokes. I believe if a young band came out with this album everyone would be all over it like a rash. I'm pleased with my singing on it as well, it's stronger.
I saw an interview with Lou Reed. Someone said to him "you only use 5 chords." Lou replied that he only uses 3 and there was still plenty of ways to re-use them. My whole raison d'être as a songwriter is to write the simplest song possible. I like the track Born Running because it's got the same set of chords that go round but we do different things over the top of it. You don't have to be clever – I could be if I wanted to, Ambition for example is a complex set of chord changes – but you don't always need that. Electricity is also a simple set of chords; it's knowing when enough is enough and when to shut up.
There are some strong lyrics on the album. It's got an everyman style of lyric, because hey, we're all part of the human race. People sometimes say "you don't sound like the Sex Pistols." I don't want to sound like the Sex Pistols. It's great playing like the Sex Pistols when you are playing with the rest of the Sex Pistols but I've got my own thing going.
Album Summary
Phil's Album Summary
On all fronts, the album captures the moment and the mood of Glen's song writing, performance and career. This is where he's at. His constant interaction with musicians from all eras, walks of life, and genres, enables Glen to immerse himself in a rich and varied musical landscape. He's absorbed these influences then stamped his own modern rock sound upon them.

Glen's craft revolves not solely around a great set of lyrics and a cracking tune, but in his ability to meld all the elements of the song to convey the message of the track via the feeling it projects. Lyrics, tune, singing, and musical delivery; all working together to deliver spectacular results. Jim Lowe, a skilled producer and musician in his own right, knows how to make dynamic records, and he's captured the Glen Matlock sound perfectly. Layered, extremely powerful, yet - crucially - clean. Everything committed to tape is done so for one reason - to enhance the track. It's an explosive, inspirational, rock album.

Never content to be constrained by the labels others have bestowed upon him, Glen has produced a series of solo albums which just get better and better. To some, he may have nothing left to prove, but Glen has never rested on plaudits from the past; that's not what drives him. Born Running confidently strides into the new decade with the desire of a man who continues to push his own boundaries in his quest to produce modern, thoughtful, tuneful, and accessible rock music. With his career trajectory on a high, care of The Faces and one - off projects such as The Silver Machine, Born Running rides this wave of optimism.

The man whose first recorded output was Anarchy In The UK, shows once more, why he was the musical cornerstone of a musical revolution.

Glen Matlock and The Philistines, Born Running with no sign of abating. Treat yourself to another set of Matlock magic.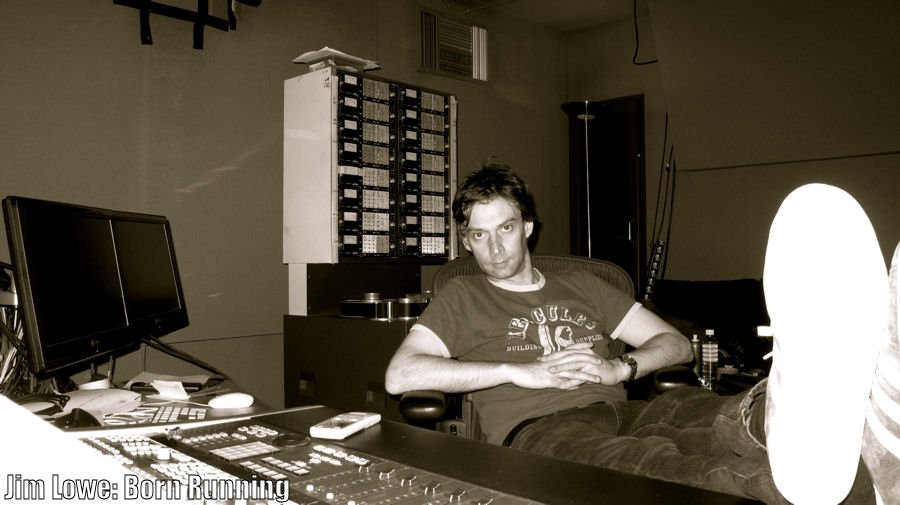 ---
Feature Two: Gallery - At Work In The Studio. Plus: What The Papers Say

---
Photographs ©Jim Lowe, plus Glen Matlock and Javier Weyler 2010
Text ©Phil Singleton and Gen Matlock 2010 / www.sex-pistols.net

All rights reserved.
This feature is copyright to God Save The Sex Pistols and the author and may not be reproduced without written permission.