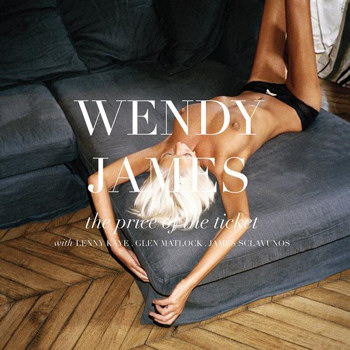 Paloma's Downs This is a confident start! Complex, mellow, alluring, operatic, injections of wonderful guitar, heavenly choir, all flowing with Paloma's ups and Downs. Wendy's singing is superb, able to convey a mood with a quick change of emphasis, leaving the listener in little doubt of her feelings. "Beat them to death with their own rules". It does just that.
Indigent Blues Beautiful Melody, beautiful singing and beautiful guitar from Lenny. The lyrics have that NYC underbelly edge, offering a challenge to the bravado bullshitters that lurk on the scene.
King Rat The one-riff song that sounds so much more. Glen's bass provides rhythm, there's yet more sharp guitar, and solid drumming - if I didn't know it was built around one riff I wouldn't have known. The pauses that punctuate the song enhance the "cut to the chase" garage sound. Yet again, subtle variations in vocal style within the track deliver the message, King Rat! Great subject matter behind the song's origins as well; Keith Richards/Brian Jones!
Love From The 9th Broken promises, too many last chances. Many songs do this, but lyrically there's a beginning, a middle, and an end; "I want you out of my life". Musically, it's soft yet spiky, with a great opening reminiscent of those 60s love songs; I'll Follow The Sun springs to mind for some reason.
Bad Intentions and a Bit of Cruelty Wendy James at her most scary. Down and dirty guitar, with intense passionate delivery at its most menacing. Visually it takes you to the creepiest backwaters of the South. The ghost of Fred Sonic Smith haunts this one as well.
You're a Dirtbomb, Lester Like Bad Intentions, this song has its musical lineage back via Sonic's Rendezvous Band, the Dolls, to The Stooges and MC5. Wendy's search for the human spirit which took her to New York, now takes us back through history to remind us that ground breaking pioneers of change have always been there, active in the times into which they were born. And there was a time before rock n roll. I think! The singing again combines perfectly with the music. From a gentle start (not dissimilar to The Casuals: Jesamine), the catchy, repetitive, addictive guitar riff, ups the tempo, then the vocals become more vociferous - but still clear- and the song just picks up pace and flattens the listener. The final surprise is that it finishes as it started, as gentle as it began. Full circle. Truly brilliant.
Screamin' Back Washington A story about being given away as a child, told from a mother's point of view, is a heartbreaking subject. A melancholy, acoustic feel is the only way to tackle this, but the guitar in the middle, tender though it is, toughens the song. It never strays into self pity, which must be tricky on such a personal song.
Why Oh Why Do You Hurt Me Still? One of Wendy's strengths is that she is impossible to pigeon hole! This is an up tempo dancing song! Is it Rock N Roll Jive or Country Hoedown? Do you twist or do a grapevine to the right? I can't decide! Now that's a good thing!
Farewell To Love Ah, the sultry delivery as Wendy gives her marching orders. What a better way to remind someone what they are going to be missing. Some top lyrics in here "you think punishment will set you free"; "ain't no in-between listening to you come clean. That time is done". It's like a letter put to haunting, quirky music. Another one that's got under my skin already! Magical melody, and yet again, no repetition in the lyrics. Wendy must have to write a least three times the lyrics than most artists do for their albums.
Cowboy Rhythm The last two songs see further forays away from the confines of the city and, on Cowboy Rhythm, make for the vast open spaces. As the lyrics infer, you can have a mixture of Country and Blue Eyed Soul as the song draws from a number of genres to reflect the story telling. Clear English diction steers the song away from any corny sounding Yankee twang! The guitar and bass replicate the sound of horses thundering through the landscape. That's how to lasso the Cowboy Rhythm!
Situation Normal At Surfrider It's uplifting to end the album with "the day looking good" on the beach. Of course, all things good and bad pass so it is also positive to have "good" as normality. There is only a slight hint of a resignation of good times being fleeting. This is brushed aside by the message to embrace good times because they do come.
What else can I say about this album? The lyrics are thoughtful, complex and original, presented in a personal and unique way, no standard pattern of repeating the second verse as the third etc. You never know what's coming in the next few seconds. Ms James is surrounded by great musicians who can deliver the garage feel, throw in the rhythms, play spine tingling solos (Lenny - wow), create atmospheres to enhance the mood, and importantly, allow the songs to breathe so the crystal clear vocals can be heard. And these lyrics need to be heard.
Outstanding.