THE VERY BEST OF
SEX PISTOLS
And We Don't Care
Nippon Columbia YX - 7247-AX
Released December 1979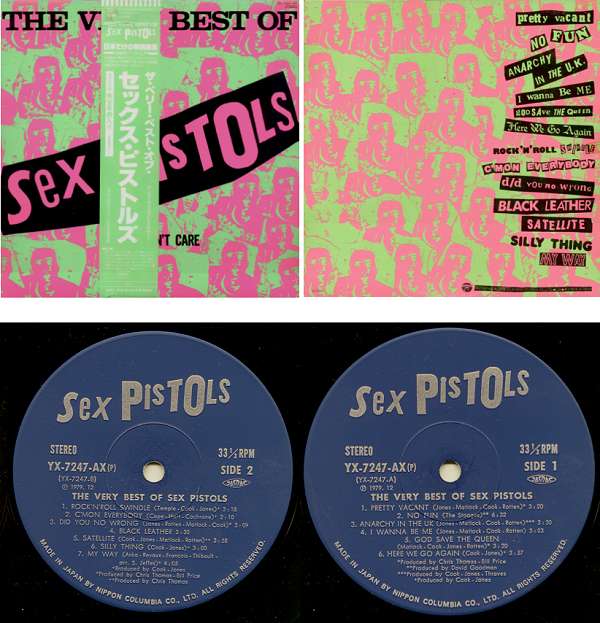 Side One: Pretty Vacant / No Fun / Anarchy In The U.K. / I Wanna Be Me / God Save The Queen /
Here We Go Again
Side Two: Rock 'N' Roll Swindle / C'mon Everybody / Did You No Wrong / Black Leather / Satellite /
Silly Thing / My Way
Notes. Japanese only compilation, which came with customary removable Obi-strip.
The album beat Virgin's own compilation, Flogging A Dead Horse, into the shops by two months and was heavily imported into the U.K.
It is notable for including the unreleased tracks Here We Go Again and Black Leather, a full 12 months ahead of their U.K. release as part of the "Pistols Pack" of 7" singles.
Silly Thing is the Swindle LP version featuring Paul Cook on lead vocals, not the single take.
The Great Rock 'N' Roll Swindle is titled simply Rock 'N' Roll Swindle on both sleeve and label.
Special thanks to Peter Reich for scanning his collection for use in this feature.

©Phil Singleton / www.sex-pistols.net 2000 - 2007
All rights reserved. Not to be reproduced without permission.
God Save The Sex Pistols ©Phil Singleton / www.sex-pistols.net 2007
---
Errors that may have occurred will make it obvious if an attempt is made to copy the above piece of work. Do not publish elsewhere and claim authorship. You have been warned.