ANARCHY IN THE UK
WEST GERMANY
- radio station variant
- sleeve and labels
Anarchy In The UK / I Wanna Be Me (EMI 1C 006-06 294)
Released 1976 7"
Notes: This pressing differs in some small details to more common pressing.
1. The cover is thicker than the normal.
2. It has no serrated anti slip necklace.
3. The label is a little bit different than the normal (GEMA is more centered for example).
The common bootleg of this record is scanned from the original single, and you can see it on the colours (Sex Pistols) and darker imagery. Neither are the labels that clear and precise as the original.
However, the labels on this copy are very prestine and not in any way photocopied.
Anyone else come accross it?
Update: GSTSPs contributor, Peter Reich, reports: "A few years ago when our local radio station in North Germany went digital they cleared out vinyl and tapes. I know some people at the station and I got this one from them. I think it's a pressing issued to German radio stations."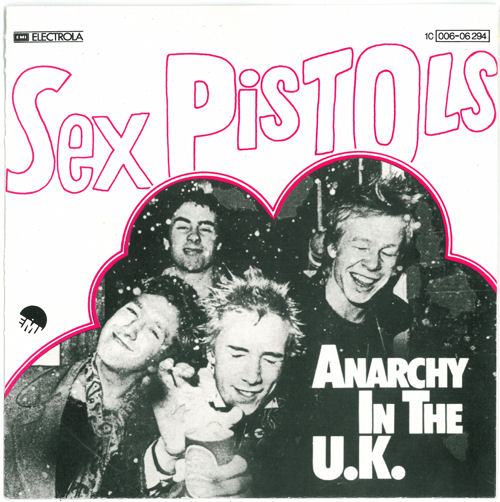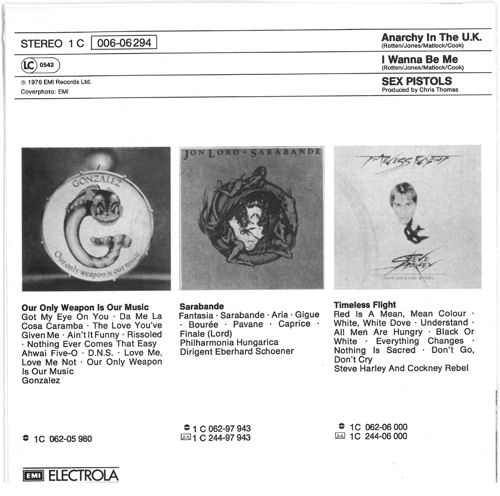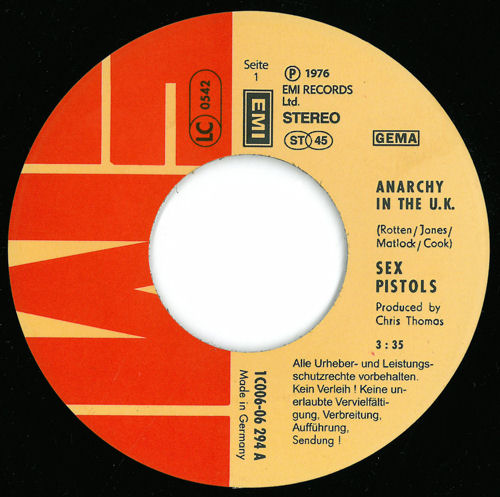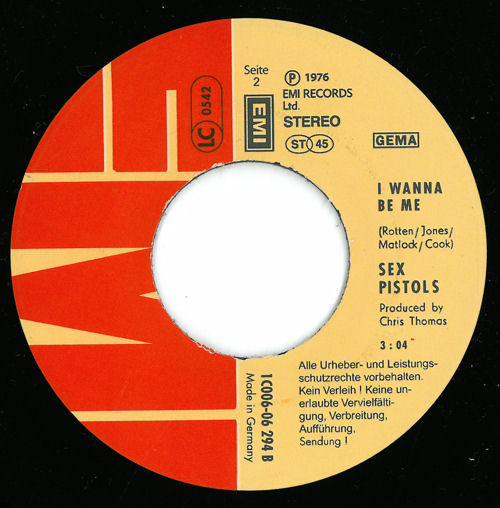 Special thanks to Bengt Persson for scanning his collection for use in this feature.
©Phil Singleton / www.sex-pistols.net 2015
All rights reserved. Not to be reproduced without permission.
God Save The Sex Pistols ©Phil Singleton / www.sex-pistols.net 2015
---
Although every attempt has been made to ensure the following listings are as accurate as possible, errors may have occurred. Please e-mail any additions and/or corrections.
Errors that may have occurred will make it obvious if an attempt is made to copy the above piece of work. Do not publish elsewhere and claim authorship. You have been warned.