Chris McCormack
interviewed by Phil Singleton
September 2017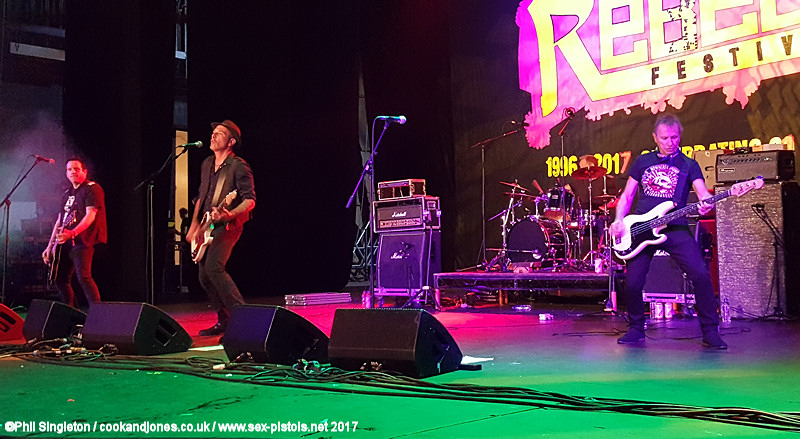 Chris, Tom, Paul & Paul at Rebellion Festival, Blackpool
---
The Professionals have spent the majority of 2017 working on their new album - What In The World - as a three piece. With the LP completed, the band have returned to the live arena with Chris McCormack enlisted as an additional guitarist to ensure The Professionals maintain their on stage sonic greatness.

Phil: Chris, how did you get to join the Professionals?

Chris: Through the persistence of Tom Spencer. He played with my brother in The Yo-Yo's so I've known him for years. To be honest, I wasn't looking to play in a band, I was concentrating on other things but he talked me into playing 3 songs at Camden Rocks Festival and then I got that infectious bug of hanging out and playing in a band again. They're a great bunch so it didn't take them long to persuade me into learning another 20 songs!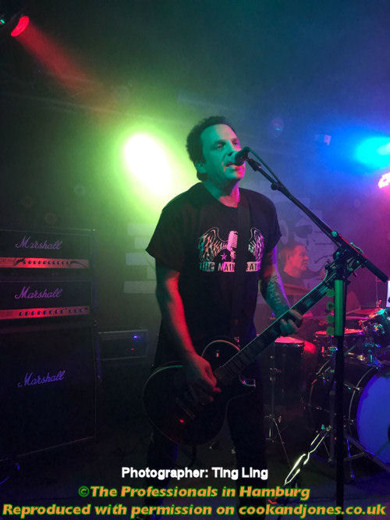 Is it fair to say you are a fan of the band from back in the day?

Absolutely, I'm a huge Sex Pistols fan. They're the reason I got into music, played guitar, formed a band and moved to London. I followed everything they all did individually after they broke up too. I actually covered The Professionals' Little Boys In Blue and Just Another Dream in one of my first bands. Silly Thing too, which is essentially the same band - The Professionals.

It must be good to be playing the songs as part of the The Professionals themselves! Any that really make the hairs stand up on the back of your neck?

Yeah, so many good songs from the early days and it's only going to get better with all the new stuff they're writing. Me and Tom really love playing Little Boys In Blue but Cookie and Myers weren't that bothered so it's been our mission to get them back into it. I think we've won! Ha ha ha!

Cookie told me they managed to get you on one track on the new LP. That must feel special?

Yeah, the album was already written and recorded before I joined but they were reworking a track called Hats Off and needed some guitars added so I played on that one. It was nice to at least be on it in some capacity as I wasn't expecting to be. Some great guitar players on the record.

You have Pistols connections going back quite some time. You played on Glen's solo LP released on Creation back in 1996. How did this come about?

I was working with Warner Chappell and they published Glen / Pistols. They asked me who I wanted to write with from their roster and I saw Glen's name so they set up a meeting. I'd never written with anyone before and he recently reminded me that I wouldn't let him change any of my ideas… I was very cocky back then and would have probably thought why would he want to change something that was so perfect!!

Anyway, from that we kept in touch, he played on some early 3 Colours Red demos and he asked me to play guitar on his new record. He had Alan McGee from Creation records come down to listen to some tracks while I was putting down some guitars and apparently he was impressed. I was a skinny little runt with holes in all my clothes living on Pot Noodles so he gave me a handful of the recalled (What's The Story) Morning Glory? album which were worth a few hundred quid in Record and Tape Exchange and told me to buy some food. He was asking me loads of questions and I mentioned I had my own band 3 Colours Red. He came to see us a few weeks later on a Saturday night in Ipswich supporting The Almighty and offered me a million pound record contract on the Monday morning. It was through working with Glen Matlock that I got my first lucky break.

3 Colours Red played the Finsbury Park Pistols show! Any memories of the day?

Yeah, Glen got me that too… I owe that guy! The gig itself was such a massive deal to me, getting to see the band play live was something I never thought would happen so getting to support them was huge. I'd also never played an outdoor festival show so what a way to burst my cherry! I celebrated after we played by doing a Bungee jump backwards on E which turned my head purple for a few hours… not a good look!

I also recall both Glen and Steve getting on stage with 3CR 20 years ago.

Yeah, they both played Anarchy with us at the Electric Ballroom. I lost the master that was recorded from the desk on a tour bus somewhere. Steve's such a big character and instrumental in how I play and sound.. so playing next to him and watching the master at work was very cool. The invisible cloak…. what a terrible role model!

You and Steve have also hung out a little in LA. Care to share any anecdotes?

Yeah, I spent quite a bit of time in LA with Grand Theft Audio and we hung out a few times. I couldn't possibly tell you what happened though as my mother is still alive!

Special thanks to Chris McCormack for the interview.
Hamburg picture by Ting Ling.

Paul Myers discusses The Professionals 2017 >
©Phil Singleton / cookandjones.co.uk / www.sex-pistols.net 2017
All rights reserved. Not to be reproduced without permission.
God Save The Sex Pistols / Kick Down The Doors ©Phil Singleton / cookandjones.co.uk / www.sex-pistols.net 2017