Paul Myers


in conversation with
Phil Singleton


7th June 2017



---
What In The World,

the much anticipated second Professionals album, was

announced via Pledge Music this week and achieved its pledge target in a matter of hours.

Following successful shows in Hamburg and Camden, the band's forthcoming Rebellion Festival debut will bring The Professionals' exciting new music to even more fans. It's time to get the latest from the only bassist in rock 'n' roll who looks good in a cravat, Paul Myers.

Phil: It's two years since you reformed, and now it's developed into a new album...

Paul: It's really odd Phil. Although we reformed it felt like 'what have we reformed for?' The idea was great, but we stagnated in a way. We weren't really playing or doing a lot, and a group really needs to be dynamic. Suddenly this year it's gone from an extreme of not doing much to getting really busy, which is fantastic.



You became a three piece late last year when Ray McVeigh departed. How did that affect the group dynamic?



There is a really strong bond between Paul (Cook), Tom (Spencer) and myself. We've gone into the studio with loads of energy and worked really hard, no messing about. We came out feeling rejuvenated. After a hard day's work, I'll go down the studio to rehearse and it sounds brilliant. We've all gelled together, there's a positivity. But we knew realistically we had to get someone else in, we needed another guitarist. It was fine for the Vintage TV show (December 16), but we winged it. It wouldn't have worked live. There was no intention of us ever going on as a three piece.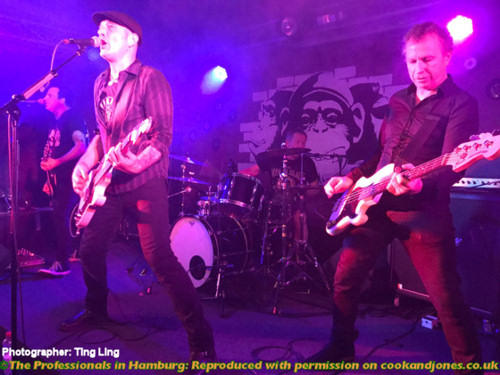 Chris McCormack has come in and he's done a really good job. He's a lovely guy and fits in perfectly. He's put so much work into learning the songs, and also organising the Camden Festival. I like that 'cos I had to work bloody hard to get up to speed playing with really good musicians. He's been totally enthusiastic. The proof of the pudding was the Hamburg and Camden gigs which went so well.

(Pictured: Hamburg 26th May 2017)

After all this time, do you finally consider yourself a bona fide musician?

I'm really proud of myself. I've learnt new numbers and I'm really quite solid playing live these days. I started this off as an exercise to see if I could really do it, and I'm good enough! I wouldn't consider myself a musician though. Here's a funny story, the other day we were rehearsing and talking about if anyone made a mistake. Tom said 'I'll look at you Paul and I'll show you the chord'. I told Tom I don't know bloody chords! What a waste of time, I don't know one from another! How great is that?! A non-musician. It's even better! I have to work hard all the time just to have the ability to do these numbers, but I'm doing it! I'm so proud that I can actually get up there and play with these really great musicians.

A part of what you do is underpin the songs with your bass.

Absolutely, and I'm reliable, I'm really confident now. The last two gigs at Hamburg and Camden I went on stage with no nerves, I just knew that with all the work I'd put in, I'd be fine. You just don't know what you are capable of until you try. Never write yourself off.

You must feel more accomplished now than you did back with Subway Sect in the 70's and Professionals in early 80's.

I've thought about this a lot. I would say I agree I'm more accomplished in my dotage than when I was younger.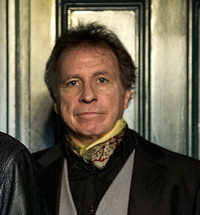 You look the part as well, in the Edwardian gent / cravat get-up.

I've always been quite dapper Phil. When I stroll into work people say things, 'are you going to court Paul?' I've always liked a bit of clothing. I'm a dapper old bugger and used to be a dapper young bugger! That's why I was so appalled at that picture recently taken of the four of us that was used for the Camden publicity (stood in front of red garage doors). We learnt a lesson not to say 'yeah alright' when asked to have our picture taken 'cos these days it can go all over the place! Let's get the worst picture we can find and use it all the bloody time! I said to Cookie, 'that picture is bloody appalling', and he said 'you're right!'

Which of the new Professionals songs do you enjoy playing the most from your own, bass playing point of view? I remember you saying how fast and difficult Join The Professionals was to play!

As for Join The Professionals, it's got a lot easier, but it's still a hard song physically. Paul Cook's been going to the gym again, 'cos it's a tough song! It's exhausting for him! Paul's totally consistent, and he has to put the work in as well; he has to be physically fit to drum, it's not an easy set. Some of the new ones are just great. We've brought two new numbers into the set, Good Man Down and Take Me Now, both from the new album. They're not particularly slow, just great. I love playing them and Paul does as well, he's got a new lease of life. Although we love the old ones, we just want to move on. At the album launch, probably half the songs will be new. They are all really catchy with great melody lines, all foot tappers. I can't wait to play more of them, they really stand-up. I think people will be impressed with the album.

How are you keeping fit? Have you been keeping your swimming going?

Swimming is the back bone to my life. It keeps me fit and puts me in a good mental frame of mind. I do a little bit of dancing and I play a bit of golf. And I know it isn't very rock and roll, but I used to go fishing when I was a kid. Unfortunately, Amazon online is like an addiction. Six weeks ago I went on Amazon to get a 10lb bag of bait, then thought while I'm on here I may as well get a rod, then I thought I've always wanted a bench chair, then I thought the tent I'd already got wasn't big enough so I bought a bigger tent. After about 24 hours of ordering, £800 had gone! I couldn't stop, it was as though the addiction had hit me. My whole place is kitted out with fishing gear. The thing is, when I just had my old rod and reel I caught fish. Since I've got all the proper gear I haven't caught any! Just goes to show, you can get addicted to anything.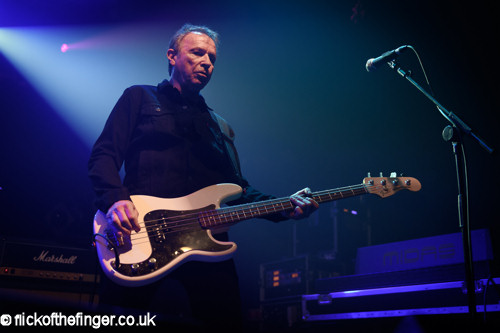 A bit like me and my website...

It's good though, you enjoy it. I think your website is just fantastic! I've learnt so much about the band I'm in from your website! It's true! I sometimes sit here thinking I wonder what's going on, so I go on your site and find out! It's a love, a passion, there's nothing wrong with that. It's healthy. Sometimes I rewind the time and think of the state of me in the 80's and early 90's and think, you know what, buying a bit of fishing equipment is not that bad.

(Pictured: Camden Rocks 3rd June 2017)

How does it compare being back in the studio now compared to working on I Didn't See It Coming in the 80's?

With Steve and I it wasn't good in the studio due to drugs. The album wasn't pleasant for Steve or for me. It was also more stressful back then, 'cos if you messed up you had to start again, but with the technology these days, if you want to change anything you can be dropped in to do one particular bit.

To be honest, I've always hated the studio 'cos I'm a bit hyper anyway so being dumped in a room has always been quite difficult for me. Me and Steve always had other things on our minds, i.e. drugs and going to get some, rather than the album. If either of us went outside, we'd just leave, just up and go. It was ridiculous, it would get people's backs up. Now all that nonsense has gone, I've been through all that. It is a lot easier now; it's a totally different mind set now in the studio and it's made for a much better experience this time. These days you can concentrate your mind on what you are doing, so it's a joy.

Do you construct the songs the same way in the studio?

In the old days, the bass and drums would be put down, then the guitar part, then the vocal. So roughly the same. I was with Tom about six weeks ago, and I put another bass track down over some of the numbers. It was just me playing. The track was there and I just went along with my Precision and put the bass on, just sitting in the studio with the engineer and Tom. It's quite easy these days, for example Paul sent over tracks to Steve Jones and he just played over the top. Steve could pop down to a studio in LA on a Sunday and put guitar over it. We would never have been able to get all those guest guitarists into a studio.

It's great to have Steve guesting on the album for the continuity.

Absolutely. Just for the history. Steve was into it, he wanted to be on it which is great. Steve has his radio show, it's his job, he loves that radio show. He doesn't want to come over here. The radio show to Steve is like my job is to me. The band is great and it's really important for me and my well being, but my job gives me a purpose and a reason to get up in the morning. We both have consistency, we both turn up for our jobs everyday and that's important.

Talking about Steve, I've said to Tom sometimes he doesn't realise what a fantastic job he's done stepping into some big shoes. Steve can't be replaced - you can't compare Tom to Steve - as an individual Steve is a one-off, but I do say to Tom 'you've done a great job'. He had to put up with all those comments on social media, 'it's not the same without Steve Jones', well it's not going to be, it's just a different group.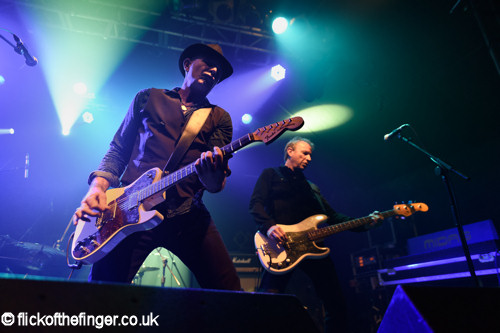 It was a scary thing for Tom. I remember when we played the 100 Club there were people saying they weren't going 'cos there was no Steve, but interestingly enough there are not as many comments as there were. Tom has stopped all the criticism happening. His confidence has been building, and he's great on stage and he's been contributing lots and lots to the band. If Tom didn't work, The Professionals wouldn't be around.

I've talked about the work I've had to put in learning the songs, but we've all given it everything. Paul's put loads of effort in, he's written the songs with Tom. So much work has gone into this album, everyone has given 100%.

(Pictured: Camden Rocks 3rd June 2017)

The LP reached its Pledge Music target within a few hours. It shows there's a healthy demand for The Professionals.

So I heard, yeah. In the bad old days last year we cancelled some shows, it wasn't good. Going to Hamburg and then playing Camden last week has been a fantastic springboard. The fans were amazing in Hamburg, I absolutely loved it. We played a great show there, and to come from there in a week to do the Camden show which also went amazingly well, I think a lot of people looked on thinking this band is going places. Those two gigs have worked wonders.

You're playing Rebellion in August...

They spoke to Chris McCormack. The other benefit about Chris is that he knows a lot of people. They asked would we consider doing it, we thought about it, and decided yes, let's keep the momentum going. It's come at a perfect time.

For a group consisting of people of a 'mature age', you've all kept your shape pretty well. It's good to see a band from the punk era get on stage looking quite slim!

That's true! We're all pretty slim. It's our raw food diet and mindfulness (laughing). You've not seen my pectorals! I can move my pectorals in time to 'My Old Man's A Dustman' - if you can do that at my age it's pretty good!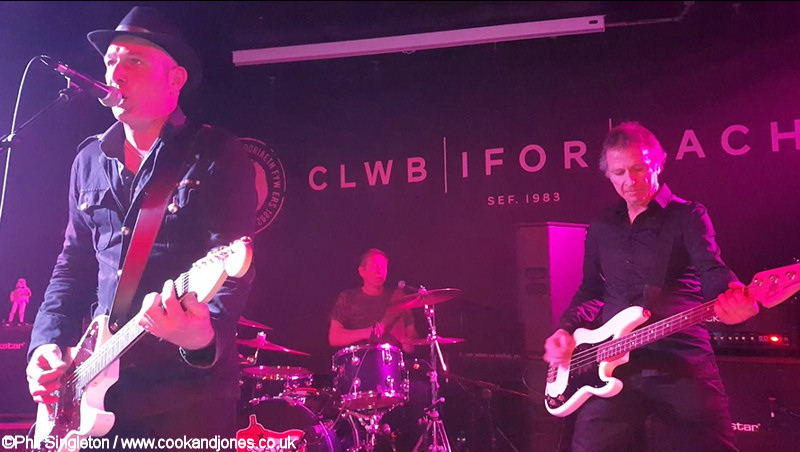 Special thanks to Paul Myers for the interview.
Text by Phil Singleton.
Hamburg picture by Ting Ling.
Camden Rocks pictures by www.flickofthefinger.co.uk
The Professionals In Hamburg 26th May 2017 >

Paul Cook discusses The Professionals' first year back together and early development of the new album >
©Phil Singleton / cookandjones.co.uk / www.sex-pistols.net 2017
All rights reserved. Not to be reproduced without permission.
God Save The Sex Pistols / Kick Down The Doors ©Phil Singleton / cookandjones.co.uk / www.sex-pistols.net 2017