The Professionals have been back on active duty for a year. Following their enthusiastically received live gigs, the band are moving forward with an

exciting

new album in preparation. It's the perfect time to catch up with a busy and upbeat Paul Cook.

Phil: Twelve months since The Professionals returned live, how do you reflect upon the last year?

Paul: We haven't done loads of shows, but what we've done has been good which has been encouraging - it's encouraged us to write some new stuff. If we're going to carry this on, I don't want to keep playing the same old album over and over, we want to get some new tunes into it, which we've been writing. I don't want it to be a nostalgia trip.



Does it feel different writing Professionals tunes with Tom Spencer rather than with Steve Jones?



Not really. It's the same, just two of us which is good. More than two and it starts getting confusing. When there is just two, you can bounce off each other and throw ideas around. We're not precious, we take on board what each other's got to say. We keep working on stuff and changing it all around until we're happy with it. It's great because Tom's really enthusiastic, coming up with ideas all the time. They are a work in progress, we keep working on the songs, just trying to chip away and make them slightly better every time. We've got about half a dozen songs together. It was a bit weird at first, thinking how's this going to sound, what's it going to turn out like? You heard one of them when you saw us play live. They are sounding good. I'm very happy with what we are coming up with, which has encouraged us to do some more and try and get an album out.



Do you find it easy to revisit the sound you had with The Professionals, what fans called the 'Cook 'n' Jones' sound?



They're not going to be the same because that was a long time ago, we can't replicate that, so it's going to be slightly different which is good, 'cos Tom's singing now and playing guitar. We'll just have to see how it turns out, but we won't find out until we go in a studio and see how it sounds then. That's the crux of the matter, when we go in the studio.



Any song titles you can reveal?


I don't want to give too much away! The song we've played live, New Generation, I think we're going to call it Ends In Tears. We've one called Take Me Now; we're coming up with titles still for the other ones. We've got the basics for half a dozen songs down so we only need the same again to get a good album. It's just a matter of time and how we're going to fund it. Hopefully early next year, depending on how it goes in the studio.



You clearly get on well together as a band. After the difficulties of the early 80's, is it good to be back with everyone fit and healthy?



It is, we've got three of the original band, and Tom has slotted in brilliantly. It's not that much of a change. Obviously we haven't got Steve there, but Tom has done admirably and is doing a great job. Tom's the driving force if you like, coming up with ideas for songs. He gets me going! There's been a few negative comments - "it's not the same without Steve Jones" - but they are very few. The reaction has been pretty positive. You've seen us live Phil, so you know how good it is.

So far so good as they say.



It's 35 years or so, but does it feel like only yesterday when you play Just Another Dream again live?



We hadn't played them for so long, and I do enjoy it. I know the production on the album (I Didn't See It Coming) was a bit weird as well which I don't mind 'cos it doesn't sound like anything else. What's good about it, is having not listened to the album for many, many years, I'd forgot how good it was and how good the songs were. It was great playing them again because you come at them fresh. I didn't realise how many people were influenced by The Professionals, people keep telling me how much they loved the album.



You play the occasional cover live, such as Suspicious Minds. Will there be any covers on the album or will it be just your own stuff?



It'll be all original material. I don't want to get too involved in doing covers. We did White Light White Heat at the 100 Club. Maybe we'll mix some up for live but I'm happy enough playing our own songs.



There was an unrecorded song The Professionals played live back in the old days; All The Nasty Girls.



I don't remember it at all. Ray (McVeigh) was going on about it. There is a version knocking around of it live somewhere but I don't think we are going to be revamping that one.



Everyone involved seems to be enthusiastic, Paul Myers has bought himself a new bass! He's well into it.



Yes, Myers is well into it! As you know, I've played with Paul over the years with Vic Godard. He's knuckling down again after not playing for a long time. The same with Ray. Hopefully he'll get a new guitar!



You've got some nice updated Professionals designs, there's a great one on your drum kit!



Ray did that, and all the T-shirts. He likes doing all the artwork. Everyone's got their own little bit they are doing, we're all chipping in.



Did you enjoy the joint headliner you did with the Rich Kids at O2 Islington? Was that fun?



Yeah, it was great. It was a good place to play. I thought we sounded great that night. If we can play some good sized places - it all depends on the demand obviously. It's not that easy getting people out. If we can make a good album we can take it from there.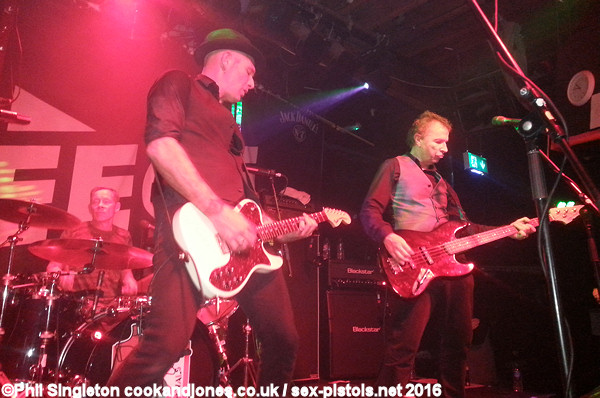 The Professionals are appearing on Vintage TV soon I believe.

Yes, we are. We are recording it 23rd November. Not sure yet when it'll be shown. It will be weird really, 'cos The Professionals originally never did any television at all. It was good Vintage TV wanted to do that, it shows there is a bit of interest there.



(Pictured: Cookie, Tom Spencer,




Paul Myers)





Back in the day you didn't get much coverage, even in the music papers.



People tried to brush The Professionals under the carpet. They thought "here's these two (Paul & Steve) trying to do whatever". Times had changed and people were happy to see the back end of punk, they'd had enough of it for some reason. They didn't realise until much later on what an important part of our musical history it was.



What about SSHH? That gig at The Box was great!



Yes, the Zak Starkey thing! I got involved with that. That was fun as well. As you know, Zak is playing guitar. He's done a cover versions album and got all his favourite rhythm sections in. Me and Glen Matlock did that. It's been good hooking up with Glen again, we just slot back in as though we've never been away. The gig was great. We might do some more of that in the new year when he's finished with his Who stuff.

Zak's been good, we've been going down to his studio in Henley, doing some recording which is great. We've done a couple of Professionals things, using his studio which is nice of him. The songs are all in the early stages, we need some backing for it to finish them off, get some money involved.

I've also been doing The Sharks with Chris Spedding which has been another experience. That's been good fun putting that together. It's all done on a shoestring these days, but we've made a good album which is out in the new year, and done a few shows like The Borderline, which was packed. There's a bit of an audience for them as well. Same as The Professionals, we'll wait till the album comes out and see what the reaction is to it, and what the demand is for a band that's even older than The Professionals! They were a good band back in the day. I saw them a couple of times, me and Steve used to go and see them. They were another band that were meant to go onto big things, but it never really happened for them, but they made a couple of good albums and they've still got a small fan base. It's great playing with Chris Spedding as well, with the history there. We go back a long way, he did our very first Pistols demos.

I've never been so busy these past few months with Zak's project, The Sharks and The Professionals.

Watch this space with The Professionals. I'm excited about doing the new songs and getting the new stuff out, and hopefully a few more gigs next year once it's out. It's tough, it's not easy. It's getting the gigs and promotion, and so on. Hopefully it'll work out as we go along, we'll get people involved who can help us out.



Will you be producing the album yourselves?



We'll be doing a lot of the ground work ourselves. I'd like to get someone quite good in to finish it off for us, to do the last bits of recording, mixing and production. When you do it yourself you can lose perspective on it a little bit. It's nice to have someone with fresh ears doing all that. I don't know who, but maybe something will work out along the way. I've been trying to get Steve to contribute some guitar on the album. I don't know if it's going to happen. It all depends if he's up for it or can be bothered!! It would be nice if we could. I'd love to have him on a couple of the tracks - it'd be great to have him involved. I don't know what his opinion is at the moment, it's hard to get him going! We're trying! Maybe when I see him if I go to LA and twist his arm!

I have a lot of good memories of The Professionals, even though it didn't last; it imploded pretty rapidly when we were in the States. We didn't give the band a chance initially. You know the history, Steve ended up staying in America and didn't come back. It all went pear shaped. So it's good doing it again and doing it properly.



So, 2017 should be a brilliant one for Professionals fans, a brand new album and some live dates to support it.



That's the plan, mate.