PRESS CUTTINGS
SID VICIOUS DEAD 2nd FEBRUARY 1979
from the archive of Gavin Walsh

Los Angeles Herald Examiner 2nd February 1979
Both Sid & Nancy made the cover upon his death of the Los Angeles Herald Examiner.
What makes this unique is the date ... it is from the SAME day Sid died - i.e. Feb 2nd.
What enabled this to happen were two things :
1. The newspaper ran a second edition,ostensibly for things that happened whilst the first one was in print/hitting the streets
2. The West Coast is three hours behind the East Coast (where Sid died).
Also worth noting, Sid made the cover of the 'tabloids' (both UK & US) the following day, however the Los Angeles Herald Examiner was a main-stream respectable broad-sheet (full-sized newspaper), so for Sid to have made the cover was pretty remarkable.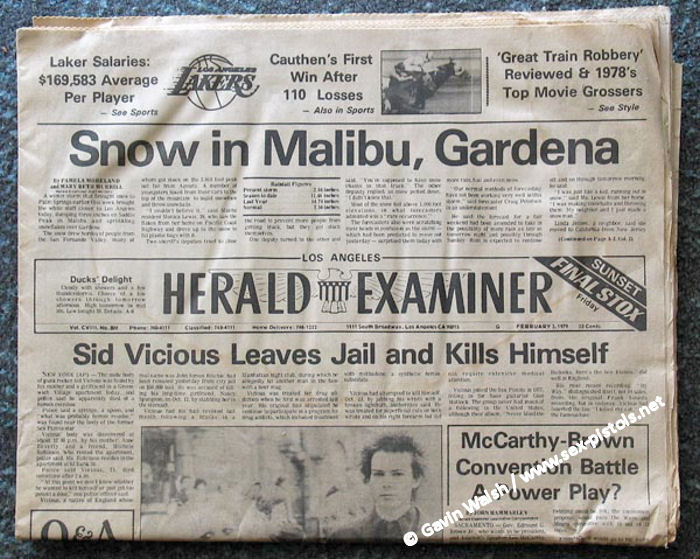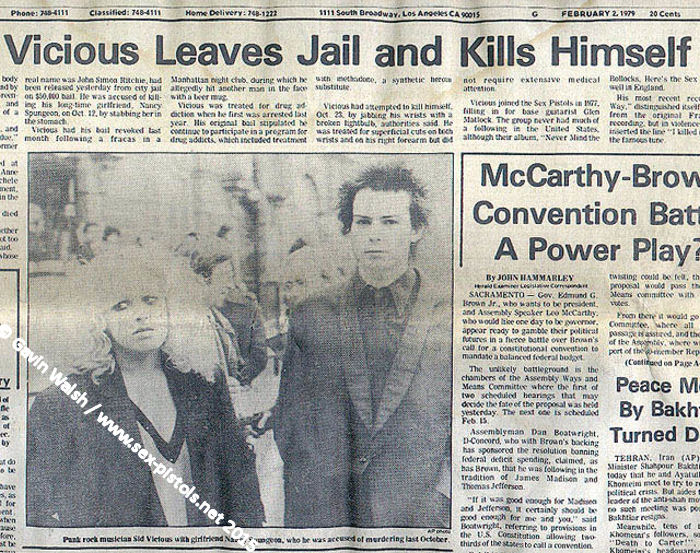 Press cutting & text submitted by Gavin Walsh
God Save The Sex Pistols ©Phil Singleton / www.sex-pistols.net 2015
---
Although every attempt has been made to ensure the following listings are as accurate as possible, errors may have occurred. Please e-mail any additions and/or corrections.
Errors that may have occurred will make it obvious if an attempt is made to copy the above piece of work. Do not publish elsewhere and claim authorship. You have been warned.