PRESS CUTTINGS
THE TITANIC SAILS AT DAWN JUNE 1976
from the archive of Dave Smitham

Introduction
Mick Farren died 27th July 2013.
Mick's 'The Titanic Sails at Dawn' June 1976 feature was one of the critical documents that formulated punk attitudes - especially with regards to 'rock royalty'.
GSTSPs contributor Dave Smitham remembers the relevance of the article both in 76 and the present day:
"Mick Farren died this weekend: he was a musician (co-founded the anarcho-hippy 'Deviants'), rock journalist (International Times / late 60s and NME / early 70s) and novelist. In June '76 he wrote 'The Titanic Sails at Dawn' for the NME: a call to arms in response to increasing criticism by NME readers against rock royalty's excesses. The feature identified tax exile rock stars as hanging out with movie celebrities and minor royalty, living in a sphere above and beyond their fans who were encouraged to pay increasing entrance fees just to stand behind a concert hall pillar (or in a field of mud) in a vain attempt to see their idols.
I defy any kid who cares about music to read this 37 year old article not to feel Farren's argument remains relevant for 2013 … and be talking about the present day Music Corporation's cynical exploitation of all of us. I can only pray that that 'kid' also feels sufficiently pissed off to bin their play station, delete all their mp3 downloads - buy a guitar, start a band and make some God damned awful noise to frighten us oldies to death! If not, we might as well all give up and pay £90 to go seeRod Stewart at an O2 Arena singing his versions of the Great American Songbook ."
Below: NME, 19th June 1976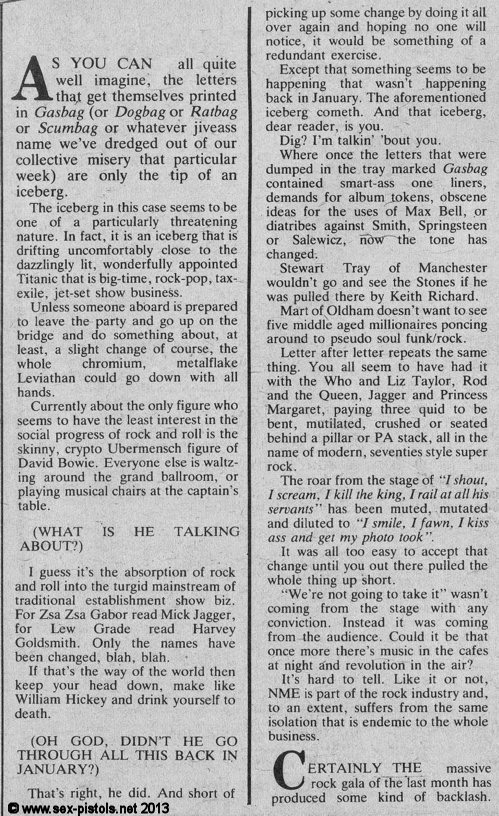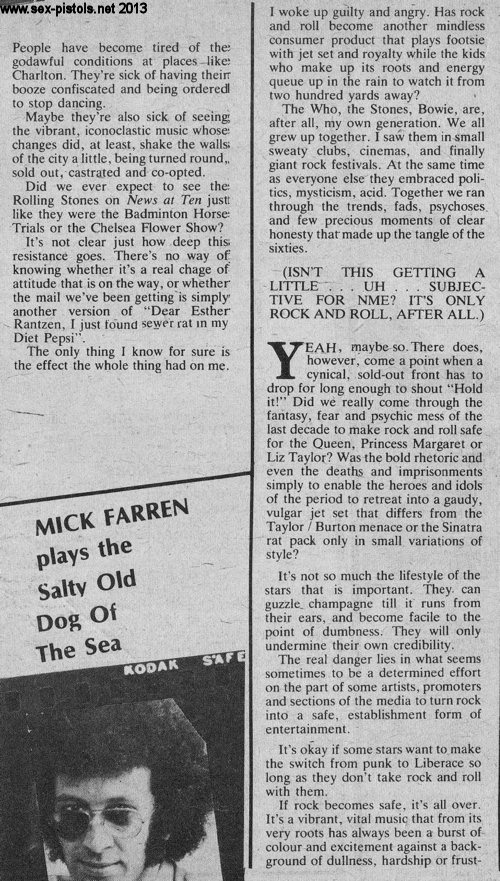 Press cutting submitted by Dave Smitham
God Save The Sex Pistols ©Phil Singleton / www.sex-pistols.net 2013
---
Although every attempt has been made to ensure the following listings are as accurate as possible, errors may have occurred. Please e-mail any additions and/or corrections.
Errors that may have occurred will make it obvious if an attempt is made to copy the above piece of work. Do not publish elsewhere and claim authorship. You have been warned.