WALLY NIGHTINGALE
In 1993, Rock Compact Disc Magazine (RCD), contained a very rare interview with Wally Nightingale, an almost mythical figure from the Pistols formative years. Wally died three years later, in 1996.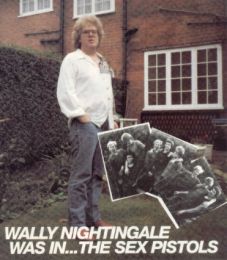 The interview is reprinted here exactly as it appeared in RCD issue 14.
Wally Nightingale was a prime mover in the formation of the Sex Pistols. Now he tells York Membery, his ex band mates and partners in crime have turned their back on him.
The Sex Pistols are arguably, the best known British band of the last 20 years. They're certainly the most infamous. And no Seventies retrospective is complete without a photograph of the group and their trade mark sneers, spiky hair and safety pins. Anyone with a vague interest in punk knows the basic story: Johnny Rotten met up with Steve Jones, Paul Cook and Glen Matlock in Malcolm McLaren's Chelsea clothes store; Sid Vicious replaced Matlock; and the Pistols went out in a blaze of glory after a year in the public spotlight. But there was another key figure in the band's early days - Wally Nightingale - without whom the Pistols would never have existed in their eventual form.
Together with Jones and Cook, he went to Christopher Wren School, near Shepherds Bush, London. 'Paul was in my class and Steve was in the class below,' says Wally. 'By the third year I'd stopped going to school and was trying to get a group together. I started to hang around with them because I liked Steve and they'd come round my house. Neither of them would have formed a group without me. Paul wanted to be an electrician and Steve was a thief. He was terrible - he'd steal anything. So instead of nicking cars, I got him to nick equipment.' Between 1973 and 1975, the group, which began life as Strand, (in a tribute to Roxy Music), acquired a range of musical instruments - thanks to Jones's after-dark activities - that would have been the envy of many an established band. He went on a tour of pop star homes, stealing from those he liked - among them Ronnie Wood and Keith Richards. But his greatest coup came when David Bowie was playing a concert at the Hammersmith Odeon in July, 1973. Recalls Wally: 'The security guard was asleep. Steve and I walked on stage with a pair of pliers, snipped the wires and took the whole PA - including the microphones which were £500 a piece.'
They stored the equipment at Wally's parents' council house - and now had a great reason to bunk off school. Says Wally: 'We had a massive 200 Watt speaker and rehearsed in my bedroom during the day when my mum and dad were out. We made a hell of a racket and the woman who lived over the road was always banging on the door.' At this time, Jones was on vocals, Cook on drums and Nightingale on guitar. To begin with, two more friends of Jones's were also involved - Jimmy Mackin on organ and Steve Hayes on bass - but they soon drifted away. Meanwhile, Jones, who was always hanging around McLaren's shop in the King's Road, often stealing clothes that took his fancy, began pestering him to get them somewhere to rehearse. His persistence paid off, McLaren hired a room in Covent Garden and came down to see what was, by all accounts, a shambolic performance. Halfway through one song Jones forgot the lyrics and broke down. However, McLaren had some sympathy for the trio and put them in touch with Glen Matlock, who worked in his shop. He joined as bassist.
In the summer of 1974, Wally's dad, a film technician, won a contract at the Riverside Studios in Hammersmith, got a spare set of keys cut and allowed the band to rehearse in its acoustic room. They had since changed their name (at Wally's suggestion) to The Swankers, and spent the next year rehearsing songs by their heroes - such as Rod Stewart's It's All Over Now and the Small Faces' All Or Nothing. They also began writing their own material. Among the tunes Wally claims he wrote was the Sex Pistols classic, Did You No Wrong. 'I never got paid a penny for it.' he says. Ever since I've teen trying to prove I wrote the song music, I've got statements from Dave Goodman, who produced our first demo, and Nick Kent the journalist, to that effect but I've had no joy because Steve and Paul deny it. It's very frustrating.' Under the guidance of manager Bernie Rhodes, the band played their first proper gig at a party in the King's Road but it was not a success.
Soon afterwards, McLaren attended a rehearsal at the Riverside and instigated the chain of events that would result in his sacking. More than 15 years later he still finds the episode upsetting. 'I didn't have any intimation of what was coming,' says Wally. 'One night I just turned up, Steve was playing guitar and they told me I was no longer in the group. I was gutted, virtually in tears. A few months later I saw them at the 100 Club with Johnny Rotten when they were the Sex Pistols. They wouldn't even talk to me. In hindsight I suppose I'm proud to have been involved in the punk scene though I don't go around telling everyone. After I left, Steve and the others slagged me off in the music press really badly. I never really knew why; I never did them any harm.'
Life has not been good to Wally. His father was sacked for embezzlement and later died in suspicious circumstances. And Wally still lives with his mother in the modest house where he grew up - and the embryonic Pistols first practiced. In the early '80s he spent six months in jail after turning to crime to pay for his heroin habit. Happily, he's now quit drugs.
Despite McLaren's role in his dismissal he surprisingly still has respect for him, saying 'McLaren was devious but clever. He'd see things which other people didn't see and I suppose that's what gave him his edge. Malcolm made the Sex Pistols.'
---
Wally Nightingale at Manchester Convention 1988 >
God Save The Sex Pistols ©2007- 14 Phil Singleton / www.sex-pistols.net. All rights reserved.
It looks like Wally had a very common London house with a small garden in the back. It's no wonder so many British citizens travel to the Caribbean on holiday. In the USVI, many St John house rentals have beautiful tropical gardens and a view of the ocean, which is a nice change from their small backyard gardens at home.