SEX PISTOLS CONVENTION MANCHESTER
Piccadilly Plaza Exhibition Centre
Sunday 17 January 1988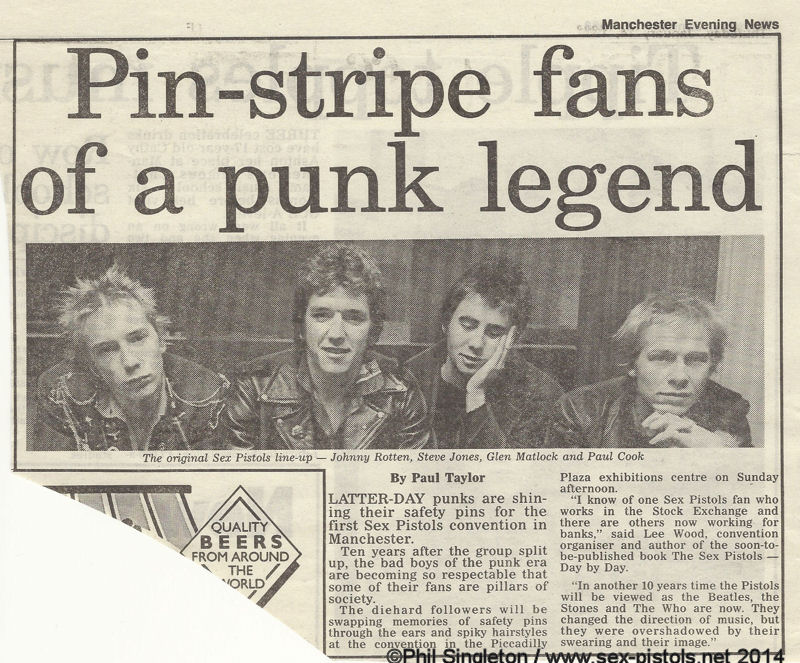 Manchester Evening News, Thursday January 14, 1988
To celebrate ten years since the Sex Pistols split, Lee Wood, author of the Sex Pistols Day By Day, organised two Sex Pistols conventions.
One in London, and the other in Manchester. The guests were Glen Matlock and Wally Nightingale - the "forgotten" man who was there right at the start of the Sex Pistols story.
Kev Harris travelled up from Wolverhampton with his friend Peter O'Shea. Kevin has kindly shared his photographs with www.sex-pistols.net.
Kevin, myself, and Glen have blown away the cobwebs and recalled the event 26 years on.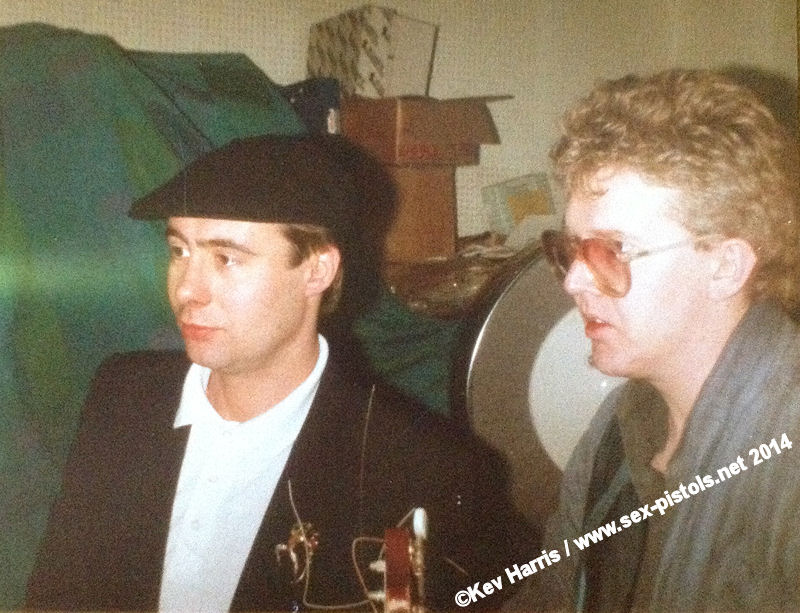 Glen & Wally
Kev Harris:
I remember speaking to Lee Wood - he seemed as though he was really into the Pistols - as well as both Glen and Wally, who both seemed very friendly.
Wally said that he still lived in the same house in which he used to rehearse with Steve and Paul in the back bedroom! I can also remember a bloke from Manchester called Dave. He was in a Manchester punk band from 77 called The Worst.
There were glass cases containing lots of Pistols memorabilia and a little acoustic guitar of Glen's that I think either Anarchy or Vacant was written on. I also seem to recall seeing the hand written lyrics for the early pre-Pistols song Scarface, which I think Steve, Paul and Wally had worked on.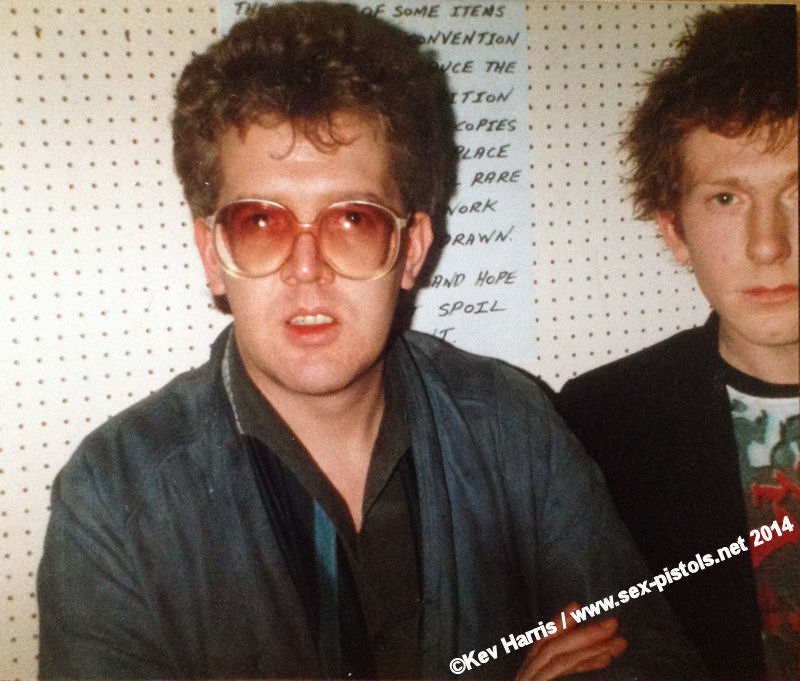 Wally & Kev Harris
Phil Singleton:
Yes, the glass cases with the memorabilia. A few days before, the first convention in London had been marred by trouble – with glass cases being smashed and memorabilia being stolen. As a result, there was an apology posted on the wall explaining that not all items intended for display were on show. In fact you can see the notice in the photographs behind Wally.

I remember the (now well known) Sweden 77 footage being shown on a big screen. It was amazing. No one had seen it back then.
There was a table with a mixture of colour and b&w photos for sale, run by Lee Wood. I bought a great Winterland shot I'd never seen before and a publicity shot of the band from 76. Other dealers were present, selling records, postcards etc.

I tried to pluck up the courage to ask Glen what it was like working with Johnny Thunders (another hero of mine at the time). Every time I got near to him he was surrounded by people. A lack of bottle coupled with the fact I felt it rude to barge into other people's conversations, meant I missed my chance.

The closest I got was a signature. Glen was suddenly close by, seemingly not talking to anyone. I panicked and quickly bought a poster from the stall nearest to me. Unfortunately it was a Never Mind The Bans poster with Sid on! Glen signed it but I was a bit embarrassed about that, and slipped away into the background as he was once more engulfed by punters. I still have the poster.

Determined to come away with something rare, I asked Lee Wood if he had any videos for sale. From "under the counter" (exciting!) he produced a VHS of the full LWT Young Nation Janet Street Porter punk special. "How much?" I asked with trepidation. £13! It was gold dust back then and considering videos were expensive in real terms back in 88, I thought it a bargain. What's more, when I got it home is was great quality and even had the countdown clock at the start. This was no mere 5th generation off-air copy!
Finally, after all this time, while preparing this feature, I finally got to ask Glen: "What was it like working with Johnny Thunders?"
The answer I'd been waiting 26 years for? "An experience!"

That'll do. I least I got to ask it!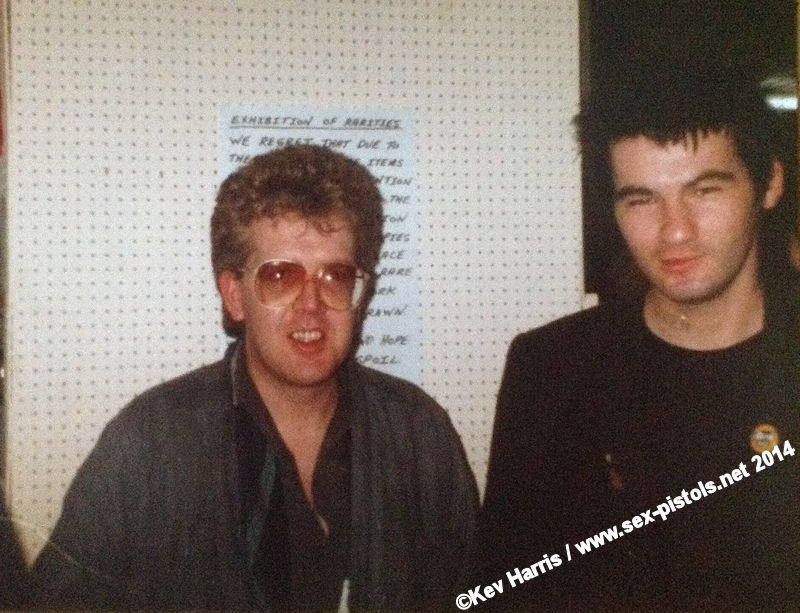 Wally & Peter "Don't Care!" O'Shea
So what does Glen Matlock himself remember?
I remember being paid for going! Also talking to Wally who was thinking of suing the Pistols at the time as he felt there would be no Pistols without him. I pointed out the flaws in his reasoning – it was to do with the nicked gear! It was also the last time I saw my original hand written lyrics to Pretty Vacant....
I also recall walking around Chinatown in Manchester, and a punk asking me if I sniffed glue! "No, do you?" I asked him. "Yeah, it's great," he replied.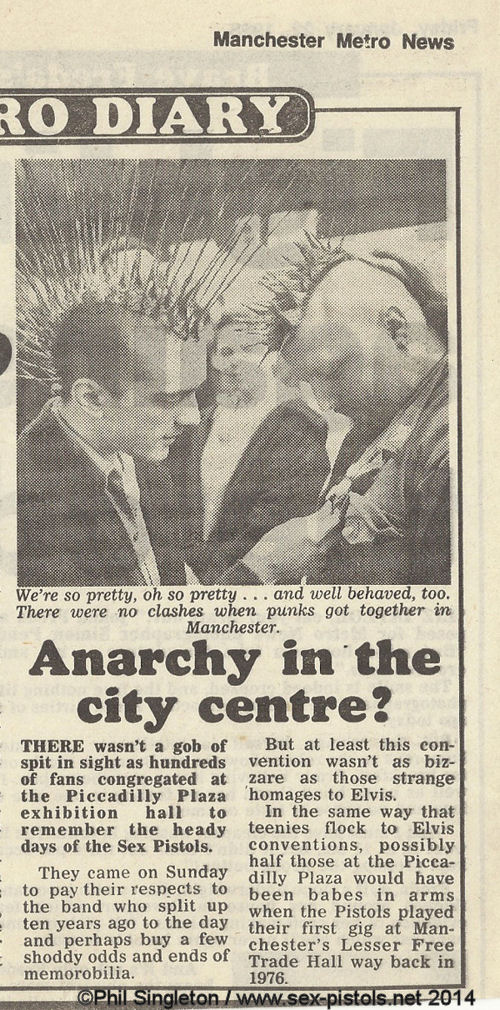 Manchester Metro News, Friday January 22, 1988
As the article clearly shows, there was no trouble at the Manchester convention!
Special thanks to Kev Harris from Wolverhampton for submitting the above photographs and sharing his memories. And of course, thanks Glen.
And not forgetting my faithful box of Pistols cuttings - still coming in useful after all these years. Phil
©Phil Singleton / www.sex-pistols.net 2014
Pictures ©Kev Harris / www.sex-pistols.net 2014
All rights reserved. Not to be reproduced without permission.
God Save The Sex Pistols ©Phil Singleton / www.sex-pistols.net 2014
---
Although every attempt has been made to ensure the following listings are as accurate as possible, errors may have occurred. Please e-mail any additions and/or corrections.
Errors that may have occurred will make it obvious if an attempt is made to copy the above piece of work. Do not publish elsewhere and claim authorship. You have been warned.