REVIEWS continued
Who Killed Nancy? DVD Soda Pictures SODAA089
Feature running time: 92 minutes.
DVD Extras: 90 minutes.
Having previously reviewed the movie, I won't do so again, but instead take a look at the DVD extras. The real jewel here is undoubtedly "Sid Vicious at the Roxy filmed by Don Letts." Don has allowed his footage of Sid fooling around off stage at the Roxy to be viewed for the first time. Totalling around 4 minutes, bits of the film appear in The Punk Rock Movie, but most has remained unseen until now, including Keith Levene kindly helping to tie his shoe lace (Sid's broken his thumb nail).
Bonus Stories provides an hour of additional interviews. Focusing mainly on Sid (with a little on Nancy and a tiny bit about Anne Beverley), we get to hear more stories about Sid's ability to attract trouble, his lack of sexual exploits pre-Nancy, the Jubilee boat trip, Huddersfield December 77, and his change to full-on rock star behaviour once he'd joined the Pistols. Steve English and Viv Albertine provide the lion's share of the most fascinating recollections. Unlike the movie itself, this section isn't burdened with having to tell a story, and is therefore interesting without being emotive.
The other extras are fairly inconsequential. Outtakes is a few minutes of larking about, Fast Track To Hell is a song performed on camera by Neon Leon; Proud Galleries features clips from the launch of the book No One Is Innocent; and The Alan G Parker Story is the director's personal journey...
The DVD extras total 90 minutes, so there's plenty to go at, with the afore mentioned Don Letts Roxy footage and Bonus Stories proving particularly good value.
Review by Phil Singleton (February '09)
---
Ladies And Gentlemen The Fabulous Stains. DVD Rhino Rock 'n' Roll Cinema 1
Running Time 87 minutes. 5.1 Surround Sound. Region 1.
Release date: 16th September 2008
Featuring Ray Winstone (Billy), Steve Jones (Steve), Paul Cook (Danny), and Paul Simonon (Johnny ) as punk band The Looters.
The Fabulous Stains. The ultimate cult movie musical. The word "cult" is thrown around too readily these days, TV shows with audiences of millions are termed "cults." The same goes for films, rock groups and books, almost anything that is popular. No, a real cult is a form of entertainment that has built up a following all by itself over a sustained period of time, largely by word of mouth. A cult also concerns something ignored by the mass public, who wouldn't "get it" even if it was staring them in the face. That's how I perceive the word. The Fabulous Stains is a cult movie. Filmed (mostly) in 1980 in Vancouver and Johnstown Pennsylvania (where the story is initially set), it disappeared off the radar almost immediately. Those of us who recall interviews with Steve Jones and Paul Cook in 1980 where they talked about "All Washed Up" (as it was originally called) soon gave up all hope of ever seeing the film.
During the late 80's/early 90's it began to crop up on cable TV in the US, and so the cult began. A friend in Pennsylvania itself sent me an off air VHS copy. Apparently it was a popular film amongst people of a certain age and within the punk community. He told me how the entire story centred on the song Join The Professionals, and included another great unreleased Cook and Jones composition, Conned Again.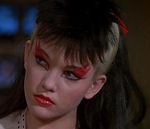 The story tells the tale of Corrine "3rd Degree" Burns - played by Diane Lane - who, following the death of her mother, forms the group The Stains with her two cousins. Attending a gig by aging 60's band The Metal Corpses, Corrine takes inspiration from the support band The Looters and manages to get The Stains onto the tour, at the bottom of the bill. And so the fun begins.
At last, almost 30 years later, it receives an official DVD release. For a film of this nature, the quality of the print used is vibrant and sharp (and I'm watching it through a multi-region player and PAL TV). Gratifyingly, the music sounds dynamic, which is a real plus for this release.
Firstly, a look at the DVD itself. The menu plays "The Professionals" (as the song was known as back then), albeit The Stains version, but it's a nice way to get in the mood. The "extra" picture gallery includes some excellent stills of Steve, the two Paul's, and Ray as The Looters, both on stage and off. There are two commentaries included, the first by Director Lou Alder, the second by Diane Lane and Laura Dean. Both are worth listening to. Whereas Lou's is more measured, and assumes the viewer is not familiar with the film, Diane and Laura are out to enjoy recalling their time on the film. They have a great affection for The Fabulous Stains and prove to be an enthusiastic commentary double act.
Onto the film itself. Despite the lack of experience of many of the cast, the performances are in the main first rate. Diane Lane, who was 15 at the time of filming, would later go on to big things in films such as The Perfect Storm and Unfaithful. Laura Dean, who amazingly was only 13, played Corrine Burn's cousin and fellow "Stain" Jessica. She would go on to star in the Jurassic Park series. Fee Waybill from The Tubes, played the part of the Metal Corpses singer perfectly, while up and coming actor Ray Winstone cranks his Cockney persona up to the max. Lou, Diane and Laura, all talk about Ray's accent in their commentaries, with some hilarious mimicking by the girls. Clearly the Americans could not understand him; "I like your hair" being the main offender. As for Steve and Paul, Lou points out that Steve had a lot to do with the production of the songs, which were recorded in Vancouver, and proved to be "a great help." Lou felt The Looters did a great job with limited time to rehearse, although it was hardest for Ray as he wasn't a musician. Lou also talks about the forthcoming release of the soundtrack - which has never been issued previously. The girls reveal that the The Looters played between takes at the big concert finale to keep the crowd happy. Although Steve and Paul don't have major speaking roles they do crop up throughout, throw a few expletives around, and star in some great on stage performances.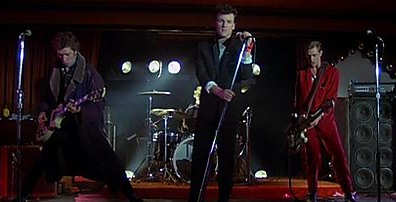 I like this film. It is what it is. A well told tale of youth verses adulthood, of image over musicianship, and of fading rock stars being brushed aside by a fickle industry and equally fickle public. As Lou points out, it doesn't relate to the modern music industry, but it is a time capsule from a period when managers and agents were king. And let's be honest, the Stains in their full Skunk dress (what little there is of it) look amazing. Ray Winstone was right when he said "I like your hair." And the rest. Well done Caroline Coon for supervising the Skunk look.
If you like Steve and Paul's work as The Professionals, you will enjoy this for the music, seeing the boys in action, and as an historical document. If you merely want to check out a real "cult" music film, and have a slight interest in the punk period and the Sex Pistols, give it a try. The film has remained outside the mainstream for so long, perhaps the DVD will change all this? Will it lose its cult status and become too popular? I don't think so. Like I said earlier, the public at large wouldn't "get it." Make sure you do.
To become a cult in the first place, a film has to have that certain X factor, something unique and special, something outside the norm yet able to draw like-minded people towards it. The Fabulous Stains has achieved this status on merit. Ladies And Gentlemen The Fabulous Stains is a cult classic in the truest sense of the word.

Review by Phil Singleton (15th September '08)
---
Winterland Concert

DVD (Tomorrow Film)
Released in Singapore.

Here is a legitimate factory produced silver bottomed DVD of the infamous Winterland concert. Although the claim of a 5.1 audio track is dubious, the picture is perfect - the best you'll ever see for this show and 1000 times better than bootleg DVDs like God Save The Sex Pistols.

The audio sounds a little thin compared to the beautifully remastered Never Mind Winterland bootleg CD which is understandable. This DVD seems to have been put out by the company that did the Far Eastern VCD of the same show, but I can categorically state that this DVD is unedited and is NOT sourced from poor or substandard material.

Review by Tim Bucknall (July '08)

Additional note: The Winterland Concert has been previously released on DVD in Japan in 1998 (Columbia COBY-90015), although it has been deleted for nearly 10 years. The format was identical to the Japanese Laserdisc and was released in a DVD jewel case with a CD sized booklet that had all the lyrics in English and Japanese liner notes. The sound on the Japanese DVD is Dolby Digital. The Longhorn show and the 1996 Japanese show were released on DVD at the same time. [thanks Scotty]
---
The Punk Rock Movie DVD Fremantle Home Entertainment

Running Time : 85mins (main documentary) + 34mins (interview) = 120mins
Extras: Peter Clifton Producer's Commentary / Johnny Rotten interview with Peter Clifton
UK Release Date: 9th June 2008
Starring the Sex Pistols, The Clash, Slaughter & The Dogs, Generation X, The Slits, Subway Sect, Wayne County & The Electric Chairs, Eater, Siouxsie & The Banshees, Johnny Thunders & The Heartbreakers, and X-Ray Spex.
Originally scheduled for release in the UK back in March 2006, and then shelved, The Punk Rock Movie finally gets a UK DVD release over two years later. Having compared the new Fremantle release with the version scheduled by EMI two years ago, I can confirm that they are identical apart from the DVD menu. Therefore I have reproduced my review of the DVD from 2006 (with some minor alterations).....
First, the technical stuff. In order to achieve 16:9 (widescreen), as you would imagine, information is lost at both the top and bottom of the picture, primarily at the bottom removing the original group names and song titles. These are have therefore been re-captioned. Don't expect a big leap in picture quality, after all, as Peter Clifton describes in his commentary, it was "bloody awful, but it was punk". The audio can be listened to in both Dolby Digital Stereo 2.0 and Dolby Digital 5.0.
On to the film. What else is there left to say that hasn't already been said about this movie? A priceless document of the time, filmed at various venues including the Sex Pistols at the Screen on the Green, footage from the final night at the Roxy Club, as well as, amongst others, The Clash and Johnny Thunders on tour. The infamous Keith Levene 'needle' sequence, missing from most prints of the film, is included. The sound is excellent, although the re-dubbing of some live tracks with the studio versions is frustrating and unneccessary. Those affected include Cranked Up Really High, White Riot, Oh Bondage Up Yours, Carcass, Chinese Rocks, and Born To Lose. Thankfully, the majority of the live sound, including all the Pistols material, is not affected.
The commentary: Peter Clifton has clearly spent time putting together a detailed script that delivers biographies of each group as they appear, ensuring that if you did not know about the groups in this film before you watch it, you will by the end. He gives the history of punk in 85 minutes! He also tells the story of how the movie came to be, including tracking down Don Letts, and how they overcame the technical difficulties working with Super 8 film. Despite the format's limitations, he clearly felt it was the only way to film it. He shows particular fondness for Siouxsie and the Banshee's song Carcass, and tells a 'new' story about filming the video for Public Image involving Sid Vicious. I won't spoil it for you.
The interview with John Lydon was conducted in Sydney, and althougth the caption states 1983, it's likely to be late '84 / early '85. Peter seems intent on referring to the 1960s, which John picks up on, pointing out he wasn't influenced by it! It's a fun, and rare, interview that gives a clear indication of where he was coming from two decades ago, as he reflects on the Pistols and discusses PIL, while at the same time fending off Australian insects. It's a warts and all piece of filming that even includes Peter's cutaways!
This Widescreen Special Edition DVD is, without doubt, producer Peter Clifton's baby. It is certainly worth getting - the John interview alone justifies it - but a definitive version of the film still eludes us.
Review by Phil Singleton (Feb '06. Revised May '08)
---
Sex Pistols - Spunk: The Movie & Other Sordid Tales DVD (Independent Music Ltd IM7475)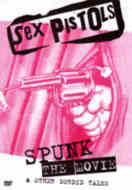 Track Listing - Spunk: The Movie: Seventeen, Satellite, Feelings (No Feelings), Just Me (I Wanna Be Me), Submission (Psychedelic), Nookie (Anarchy In The U.K), No Future (God Save The Queen), Problems, Lots Of Fun (Pretty Vacant), Who Was It? (E.M.I), New York (Looking For A Kiss), Substitute, No Fun, Anarchy In The UK (Version 2)
Other Sordid Tales: Sex Pistols Number 1 Promo Video, Anarchy In The UK Promo Video, God Save The Queen Promo Video , Pretty Vacant Promo Video, My Way Promo Video, Sex Pistols Promo Trailer.
Question: So what is Spunk: The Movie? Answer: Dave Goodman's studio demos synched to live footage. It's been lying around for a few years, and now an uncensored version has been released in Japan.
The sleeve is based on the Sanctuary Records 2006 re-issue of the album. The track listing follows that of the LP, although the July 76 Anarchy demo replaces the October 76 cut, and Liar is omitted altogether. Substitute, No Fun,and the Oct 76 Anarchy demo follow.
The Demo Not For Sale bleep (which appeared on the previously available pirate version of the videos) is no longer an irritation. This is particularly noteworthy, primarily due to the quality of the audio which is exceptional, sounding better than many of the available vinyl/CD recordings. There are other differences from the mixes we are more familiar with, most noteably a different vocal take on the July 76 version of Anarchy. In fact, the excellent sound of the tracks has now become the DVD's strength.
As I have previously reviewed the bootleg release, an abridged version of my earlier observations, edited to fit this edition, appear in the following box:
Dave Goodman's last bootleg hurrah. It seems inevitable, that having plundered his own Pistols catalogue in every way imaginable over the years, he would turn to videos as another way to rehash the same material. It's surprising he didn't think of it sooner.
Don't expect unseen material either. To compile this collection, Dave has used a variety of visual sources to obtain film of the band in action from 76 - 78, both legal and pirate, all of which is in circulation. The quality of the footage varies widely, from superb to awful.... Also, he has clearly made the decision to mess around with some of the film, and in some cases, downgrade it deliberately. The use of clips from the official promo videos also seems pointless. Oh, and Dave has dubbed crowd noises onto the start and end of some tracks.
The relative lack of Glen footage means that Sid inevitably gets to star in his absence, although Glen does appear in the two versions of Anarchy.
Fun can be had with Satellite and Submission. Dave found the cupboard bare for these two and other tactics had to be deployed. Video trickery, and more 'treatment' of footage makes for a reasonable job on Satellite, but inspiration was all but spent by Submission, which is merely a collection of repeating 'photos. However, it allows Dave to insert some pics of himself.
The clips of the band are expertly synched to the tracks, and therefore some of the videos are actually quite good! Viewing them all together is a little hard going on the eyes, but in small doses, they are far more palatable. Perhaps just as bizarrely, with his track record of suspect Pistols releases, the DVD seems to bring the Goodman saga to an almost logical conclusion, and acts as a strangely fitting epitaph.
Back to this new DVD release, the additional Other Sordid Tales rounds-up the well known promos of Anarchy, GSTQ, Vacant, and My Way (Rock 'N' Roll Swindle edit). More desirable are the 1977 Sex Pistols Number 1 GSTQ video and the 1996 five minute Promo Trailer, both of which are excellent quality.
Spunk: The Movie & Other Sordid Tales is well worth seeing; partly for the excellent sound, partly out of curiosity, and partly due to the unique nature of some of the versions. Could it be that Dave Goodman actually held on to his best until last?
Review by Phil Singleton (January '08)
---
England's Dreaming (Virgil Reality VisionVRV6001)
3 DVD / CD Box Set
Contains:
DVD 1: Sex Pistols Anthems - 23 songs
DVD 2: 14 Pretty Visuals
DVD 3: Pistols Live - 91 minutes
CD 1: Nashville Fight Night
These box sets seem to be the rage at the moment. The previously released sets, Never Trust A Hippie and Indecent Exposure, both which contained CD replicas of vinyl LP's, were enjoyable collections. This latest offering, limited to 1000 numbered copies, is a disappointment.
The card sleeves for the DVD's feature famous 1977 music paper covers from NME, Sounds, and Rolling Stone.
DVD 1: Sex Pistols Anthems. The first DVD brings together clips of the Pistols from various sources. Although no information is given with the box set, having watched it, the tracks and their origins are as follows: Anarchy (So It Goes); Vacant (Maasbree); Anarchy (Maasbree); EMI (Maasbree); GSTQ (promo); No Fun (Notre Dame Hall); New York (Stockholm); 17 (Stockholm); GSTQ ("Sex Pistols Number 1"); Anarchy (from DOA); I Wanna Be Me (Stockholm - bootleg quality); GSTQ (from DOA); Anarchy (1992 promo); Vacant (from DOA); EMI (from DOA); Vacant (promo); New York (from DOA); Anarchy (Stockholm - bootleg quality); Problems (Stockholm - bootleg quality); No Fun (Stockholm - bootleg quality); Bodies (from DOA); Anarchy (Jubilee Boat Trip); Vacant (Jubilee Boat Trip); Problems (Jubilee Boat Trip).
The quality of the clips is variable (the Boat Trip footage plays slow) and poorly edited together with a fraction of a second missing from the beginning and end of many clips. It might not matter much, but it's avoidable. Most of this is available officially in better quality, and the rarer footage i.e. Stockholm, is of bootleg standard.
DVD 2: 14 Pretty Visuals. This features the Goodman "long lost videos" which appeared in 2005. These promos are taken from the same source and feature the brief, but annoying "Demo Not For Sale" on screen stamp and accompanying bleep. As I've reviewed these before I won't do so again. (Click here for review). These videos have now appeared on DVD in Japan without the warning/bleep, as Spunk: The Movie & Other Sordid Tales.
DVD 3: Pistols Live. This consists of the existing Longhorn Ballroom, Dallas 1978 footage and the full Winterland, San Francisco 1978 show. All of this has been available officially before, and in the case of Longhorn Ballroom is still widely available on DVD. The Winterland show is slightly out of synch, which makes this already pointless disc even more worthless.
CD 1: Nashville Fight Night. The only CD in the set, Nashville Fight Night is the best thing about this collection. I really do enjoy the CD miniature replicas, and although the original vinyl bootleg was only released last year, this still looks the part in its card sleeve which reproduces the insert from the LP. The contents are the same as the vinyl with a break between sides 1 and 2. Incidentally, the fight takes place during Pretty Vacant.
The booklet, while devoid of any information about the contents of the DVD's, reprints the text from the lengthy October '77 Rolling Stone article (although it fails to tell you this is where it is from!)
Whereas the previous two box sets I mentioned earlier were compiled with care and attention to detail, this was not. This is greedy and cynical. The fact that it contains widely available promos which can be found on official releases emphasises this. Naughty, but not nice.
If there is going to be any more of these sets, I hope they stick to reproductions of those long out-of-print collectable bootleg / semi-official albums. As for England's Dreaming, I'm not impressed.
Review by Phil Singleton (January '08)
---
Indecent Exposure (Exposed Records EXP 1001)
6 CD Box Set
Contains:
Indecent Exposure (Burton On Trent 24th Sept 76)
Welcome To The Rodeo (Dallas 10th Jan 78)
Gun Control (Winterland 14th Jan 78)
Party Till You Puke (Wessex Demos Aug 77)
Sweden (Halmstad 15th July & Stockholm 28th July 77)
My Name Is John (Atlanta 5th Jan 78). Includes 32 page booklet.
Limited to 1000 numbered copies, this new 6 CD box set continues the trend of re-issuing original vinyl LPs as CD miniatures in replica card sleeves. Indecent Exposure brings together 5 of the most famous live bootleg albums, plus Party Till You Puke which first brought to the world the Wessex Studio NMTB demos.
The card covers look excellent. Two of the LPs (Welcome To The Rodeo & Gun Control) originally came with paper inserts. Rightly, the inserts have been reproduced as proper covers. In both cases, the inserts have been reversed for the back cover, giving a mirror image. I don't think it would have mattered if the backs were left blank. The Gun Control insert has been stretched to fit the cover dimensions, but would have looked as good had it been left in its original ratio. The CDs have a generic label bearing the Gun Control cover image, which identify each disc as part of the set. A reproduction of a label from each bootleg would have been a preferred touch. The CDs have been mastered from the original vinyl as far as I can tell. This is most noticeable on the Sweden disc, although at no point is the mastering poor.
The Sweden LP was always my favourite bootleg album. Originally issued as a double LP with the track listing on sides 2 & 4 mixed up on the sleeve (as reproduced here), it works well in this new format, as does the sleeve which boasts one of the best ever bootleg covers.
Welcome to The Rodeo has been given a more complete release on CD bootleg since the original LP, but it is thankfully the original vinyl version here, just as it should be. Another immensely exciting LP back in the day, it gave a real feel of the Pistols confronting America. It also contains one of the most unintentionally funniest Pistols moments captured on vinyl: Sid announcing "This one's called Submission". The band then kicks into No Feelings!
My Name Is John has already been given a CD re-release in excellent quality on the Back To Zero label. This sounds identical. Another historic show, this was the Pistols' first American gig from their 1978 tour. The bands' musicianship is not at its best, but the attitude is present in spades.
Gun Control gave us the full San Francisco gig (minus a few slight edits) which ended the '78 tour. The gig has been made available many times since, but this is how we all first got to hear it.
As for the Indecent Exposure album itself, there was a time when these Burton-On-Trent recordings were rare, which seems almost inconceivable now. I hadn't listened to this material for well over a decade, and thoroughly enjoyed having a reason to play it again. It's a great performance and is presented here as per the original bootleg.
The final disc Party Till You Puke is the odd one out and is slightly puzzling. Firstly, it was issued on CD originally as well as vinyl, unlike the other LPs. Also, the running order here varies slightly from my own CD copy (although it's correct on the sleeve), plus I noticed the start of Submission on side 1 was missing the "warm-up" before the song starts. It's only a few seconds, but why? Strange.
A 32 page booklet containing a band biography and gig list completes the set.
My verdict. A great set celebrating the good old days of the vinyl bootleg. A lot of care has gone into it, and although it's not perfect, it is a fine way of reliving or experiencing for the first time, the exciting buzz of finding that long sought after bootleg at the local record fair.
Review by Phil Singleton (December '07)
---
Never Mind The Sex Pistols - An Alternative History DVD
(Demon Vision) Released 5th November
Independent un-official DVD biographies are a minefield for a fan of any band. Earlier this year saw the commendable Chaos! Ex Pistols Secret History which showed it could be done. A tough act to follow.
Billed as "An Alternative History", I was nervous. It conjured up images of a Sci-Fi alternative universe type approach where everything seems the same, but isn't quite.
First things first, there is no footage of the band, or music from the Sex Pistols. This is not a problem. Those who will be attracted to this DVD are fans who will have the footage already, and a few clips does not necessarily make for a good documentary. Plus, and it's a big one, it helps keep the cost down. So, what we have is a "talking heads" documentary accompanied by a number of excellent stills of the group.
So what's it all about? It's the story of the Sex Pistols, again. But do not despair; there are some excellent interviewees on show here with some intriguing tales to tell. The big names are Glen Matlock and Malcolm McLaren, and like all the contributors involved, they were filmed specifically for the documentary. Glen has told his side of the story before, but always manages to sound balanced, not to mention, wise. At one point he remarks that while it's hard to escape from his Pistols past, he is aware of the importance of it. Glen's presence is important as Sid Vicious undergoes a bit of a renaissance here, viewed by some as an asset. Even his musical ability is reassessed, care of Tour Manager John "Boogie" Tiberi.
You'll be pleased to learn that Malcolm McLaren is up to his old tricks. It's hard to believe everything he says, but he is pure entertainment. This time out he's "confessing" to never wanting to make a record with the Sex Pistols because he didn't want to fit in, and only saw the band as a way to sell clothes. "Making a record was pathetic" he now claims. Love him or loathe him, he's well worth a listen and he's even thought up some new anecdotes.
Steve 'Roadent' Connolly gives new insider insight on the immediate aftermath of the US tour when Malcolm was still hoping to keep the band together. The rarely heard John "Boogie" Tiberi talks calmly about the turmoil within the band and notably singles out John Lydon's relationship with Richard Branson as causing irreconcilable differences between John and Malcolm. Sex shop worker Alan Jones gives the most emotional account of the times as the atmosphere began to sour following the Grundy show, culminating in the violence on the Jubilee boat trip. The sight of his friends getting beaten by the Police on the quayside was the end of the road for Alan. It was no longer fun. Buzzcock Steve Diggle gives a non-London perspective on the impact of the band on not just himself, but on other likeminded individuals.
The documentary is not perfect. A quick edit here and there would have removed a couple of minor factual errors. The number of interviewees isn't great, and the brief re-enactments of scenes from the Pistols story are an acquired taste. Some work, some don't. But.... let's not forget it is an independent budget priced documentary.
So what is the "Alternative History?" I took this to be the new perspectives and anecdotes on offer. No Sci-fi trip, thank goodness.
Running to almost 100 minutes and retailing at little more than the price of a couple of pints, you'll find more than enough here to justify its purchase.
Back to my earlier reference to Chaos! The Ex Pistols Secret History. Never Mind The Sex Pistols - An Alternative History serves as its companion. Both are entertaining and informative. I can't say fairer than that.
Review by Phil Singleton (29th October '07)
---
Rock Case Studies DVD & Book Set
Edgehill Publishing (RMS2477)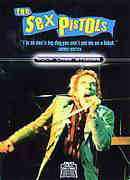 Previously billed as In Their Own Words, this set has been released with the revised title of Rock Case Studies.
It is basically a reworked version of the Punk Icons DVD from two years ago. Music Reviews Ltd who released Punk Icons are listed on the back cover, so I was expecting it to be identical. At least they've made an attempt to make it different.
This time the story of the band is told by Glen Matlock (reusing footage filmed for Punk Icons), author Alex Ogg, punk documentary stalwart John Robb (who was also in Punk Icons) and promoter John Giddings. It flows quite smoothly, but with glaring omissions (A&M, Virgin, boat trip, to name just a few). It also loses its way somewhat in the last twenty minutes by concentrating on Sid Vicious to the exclusion of pretty much everything else. There is good footage on show, but nothing rare; clips from the Anarchy and God Save The Queen promos, So It Goes, LWT, live in Dallas and San Francisco. Again, very similar to Punk Icons, only this time without that awful superimposed union jack which ruined the previous release.
The DVD extra, a gallery of 10 photos, is identical to Punk Icons and is worthless. As for the glossy 72 page book, it looks nice, and even smells nice, but do we need yet another biography and a song-by-song analysis? I don't think so. Most of the pictures, excellent though they are, appear in the documentary or the gallery. Few are rare.
The cover states "approximately 60 minutes". At 52 minutes, I'd call that very approximate.
I'm not doing a good job at selling this release, am I? To be fair, I settled down in front of the TV with a cup of coffee to watch it, and the 52 minutes passed without any undue distress. It's no Filth And The Fury, but it's no Music Box either (the all time low standard for any documentary).
If you own Punk Icons there is no point in buying this as well. If you don't, and are at a loose end having put the kettle on, you could do worse. The Glen interview is well worth seeing.
Review by Phil Singleton (25th September '07)
---
SID VICIOUS - SID LIVES! (Jungle FREUDCD095)
2 CD Set
Released 15th October 2007
Deluxe double-CD 'SID LIVES' featuring Sid's "last ever four shows."
DISC 1: Sept. 28th 1978. First Set: 1. Search & Destroy 2. Chatterbox 3. I Wanna Be Your Dog 4. Something Else 5. Stepping Stone 6. Don't Gimme No Lip Child 7. Belsen Was A Gas 8. Take A Chance 9. Chinese Rocks. Second set: 10. Search & Destroy 11. Chatterbox 12. I Wanna Be Your Dog 13. Something Else 14. Belsen Was A Gas 15. Stepping Stone 16. Chinese Rocks 17. Take A Chance 18. Don't Gimme No Lip Child 19. Something Else.
There's been Sid Vicious CDs before, many of them, but this CD promised something a little more.
The September 28th show (both sets) surfaced briefly for the first time in its entirety on the internet a couple of years ago. Would it be the same show and the same recording? Firstly, it IS the same show, and secondly, it IS a different recording. The first set of the evening has appeared on CD before, but never complete. The second set may seem familiar in part due to some of the between-track banter which appeared on Sid Sings. However, no music from this set was on Sid Sings.
This second set has only appeared complete before on the rare internet recording.
The recording sounds similar in quality and source to Sid Sings, rather than the internet version. Therefore, even if you were lucky enough to grab a copy off the 'net, you also need this. Although some of the band's between-song exchanges are not as clear as on the 'net version (perhaps due the positioning of the tape recorder on the night), the music is sharper and cleaner. On balance, this is the better recording. Guitarist Steve Dior is credited with restoring and remastering the recordings which may explain why the guitar is by far the clearest aspect of both discs in this collection. Let's hope "restored" does not mean "augmented". My only slight gripe is Sid's "1,2,3,4" introduction to the second set is missing, but I guess this wasn't on the original tape used here.
However, the pluses far outweigh any minor niggle. This is a good recording of a show that hardly anyone has heard complete before. Oh, and Chris Spedding climbs on stage to accompany Sid for the finale: Something Else.
DISC 2: Sept 30th 1978. First Set: 1. Search And Destroy 2. Chatterbox 3. Something Else 4. Belsen Was A Gas 5. I Wanna Be Your Dog 6. Stepping Stone 7. Take A Chance 8. Don't Gimme No Lip Child 9. Chinese Rocks 10. My Way. Second set: 11. Search And Destroy 12. Chatterbox 13. Something Else 14. I Wanna Be Your Dog 15. Belsen Was A Gas 16. Stepping Stone 17. Take A Chance 18. Don't Gimme No Lip Child 19. Chinese Rocks 20. My Way.
So onto the September 30th show. On paper, no recording from this night has surfaced previously, or if it has, it's been catalogued as a different night. First off, this is not the other show that surfaced on the internet along with the September 28th show. This is different.
The running order of the first set suggests this complete show has never seen the light of day before, and, as far as I can ascertain, there are versions of songs I have not heard before... I think.
After two days mulling it over, my opinion is this: The second set on the disc is what was previously believed to be the first set on 29th September. The first set on the disc is more of a mystery. My ears just aren't good enough to be 100% sure how much of it has surfaced before. It has to be said, the show is not one of Sid's most memorable.
This disc is going to prove a great deal of fun for the hard-core historians to unravel.
The 8,000-word 24-page booklet is a great piece of work featuring a terrific Sid timeline and an essay by Steve Dior, a "song-by-song background", and it was good to see www.sex-pistols.net credited as a reference source.
My initial verdict - if you're a Sid fan, you'll find this a real treat; the first disc is a gem. However, I'm going to leave the final verdict on the second disc to the Sid Live Recordings experts (Dino and Herve).
Review by Phil Singleton (12th September '07)
---
October 1st: Anarchy In The UK / I Wanna Be Me 7"
October 8th: God Save The Queen / Did You No Wrong 7"
October 15th: Pretty Vacant / No Fun 7"
October 22th: Holidays In The Sun / Satellite 7"
You all know the records.
For the first time in 30 years they are back in all their original glory. The sleeves and labels are reproduced with true attention to detail, and are more vibrant than ever. The card sleeves and heayweight vinyl give a meaty, substantial feel to the product. More bollocks all round.
As for the pressings. They sound like 1976/77 analogue pressings. THANK GOD.

I was dreading tinny digital remixes. These are supposed to be replicas of the originals in every way, therefore EMI/Virgin have reproduced not just the sleeves & labels as they were originally, but the analogue recordings as well. They sound very Rock 'n' Roll to my ears.
As I previously stated on the Vinyl Series 2007 Singles page: All the 7"s are cut from original studio production masters, i.e. pre mastering. These are the mixes as the producer and band had wanted. The cutting engineer would then have transferred these to vinyl with any equalising as necessary. All 7"s were cut advanced head (purely analogue).
Roll on Never Mind The Bollocks.
Click here for Vinyl Series 2007 Singles page.
Review by Phil Singleton (10th September '07)
---
Sex Pistols - Never Trust A Hippy (Hippy Records HIPPYBX001)
7 CD Box Set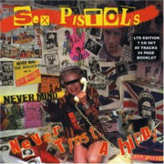 "Limited edition numbered 1000 copies - 89 tracks - 7 CD's - all in their individual original jackets and presented together for the first time. 24 page full colour booklet biography."
CDS: Never Trust A Hippy / Where Were You In 77? / Anarchy In The UK Live / Power Of The Pistols / The Best Of The Sex Pistols Live / Anarchy Worldwide / Cash From Chaos
So what is this? Who remembers the explosion of live unofficial Pistols LPs in 1985 that quickly filled the record racks? A rag-bag collection of live material from the likes of Atlanta, Halmstad, Newport, Stockholm, San Francisco and Burton upon Trent, all thrust upon us with no care as to the content. Different concerts would rub shoulders with one another, and unless you were lucky enough to have a correctly labelled bootleg or tape and already knew the material, the lack of sleeve notes ensured you remained largely oblivious as to the gig you were listening to.
Five LPs appeared in quick succession during late '85, all of which are included here; Never Trust A Hippy, Where Were You In 77?, Anarchy In The UK Live, Power Of The Pistols, and The Best Of The Sex Pistols Live. The remaining two; Anarchy Worldwide and Cash From Chaos, appeared three years later, and were much the same apart from the inclusion of the Goodman demos just in case you hadn't yet heard them. These last two albums seem out of place here and I would have been happy for them to have been excluded from this box set.
On their release, after the initial excitement, my patience wore thin due to the shortcomings I've already stated and the added irritation that they sounded like they'd been pressed in concrete. I was convinced they were damaging my stylus, and after Never Trust A Hippy, Anarchy In The UK Live, Power Of The Pistols and The Best Of The Sex Pistols Live, I'd had enough and quit wasting further precious beer money.
Anyway, here they are again in 2007. The collection comes in a sturdy box with a 24 page booklet containing a band biography, which is adequate but hardly what you will be wanting this set for. As for the albums themselves, the card replica sleeves actually look very good. The discs themselves are mastered from the vinyl LPs, which will come as no surprise, and sound just the same; a few crackles and pops here and there, but overall not as bad as I'd remembered.
However, for me the most enjoyable aspect of this collection is the disc Where Were You In 77? It's by far the best in the set by virtue that it is the only disc that contains a complete show, recorded at Newport, Shropshire, 23rd December 1977. It's also one LP contained in this set that I did not buy the first time around.
Although the shrinkwrap bears a sticker claiming Made In England, it is most readily available in Canada and retails for approximately $70. Whether it's worth tracking down depends on your desire to own these albums on CD. Maybe the originals hold a nostalgia value? Maybe you just want them in your collection? It's definitely NOT a must have, but on the plus side, what I can say is that you get exactly what you would expect, with nice sleeves and the desirable Where Were You In 77? album. Still undecided? Toss a coin.
Review by Phil Singleton (31st August '07)
---
Sex Pistols - In Japan (DVD)
Masterplan 4250079731954

I received an email last week drawing my attention to a new European DVD release, Sex Pistols - In Japan, which according to the accompanying information, was recorded in Sendai, Japan, November 23rd, 1996. What?! I almost fell off my chair. This footage has never been seen, or its existence even known about before. Incredible. Could it be too good to be true? I thought I'd better check it out before making an announcement and incurring the wrath of disgruntled punters, so I took the plunge and bought a copy.
The DVD duly arrived yesterday. The box is unspectacular with a picture of John from the GSTQ video mixed with a predictable rising sun on the cover. I flipped it over to read the back: "Recorded In Tokyo, Japan, November 16, 1996." Oh dear. I wasn't surprised. For those who do not know, this show was released officially in Japan 10 years ago as "Filthy Lucre Live in Japan". The video contained the full show minus the second encore of Roadrunner. Two tracks recorded at the Phoenix Festival July 21st 1996, Anarchy and Problems, were added to the release. That is exactly what you get here.
Opening the box I was pleased to discover this is a factory produced DVD, not a DVD-R. Well, you never quite know what you're getting these days. Next step... playing the disc. There is no menu with individual track selection, however the disc does contain track separation, so you can flick through once the disc is playing to find the songs you want. Basically, press Play and off you go. The first thing you notice is that Masterplan have put their MP logo in the top left of the picture, a bit like MTV etc, perhaps to combat piracy. This stays in place throughout, but is soon forgotten. Anyway, I can forgive them due to the excellent quality of the picture and the dynamic sound.
The show is best remembered for John's Austrian/Pinocchio outfit and Steve's rock and roll posturing and snarling - he almost has sex with his guitar at the start of Satellite. The Pistols themselves sound magnificent. It's certainly the best available professionally recorded show from the Filthy Lucre Tour.
The two songs from the Phoenix Festival could have been a DVD extra, rather than remain tagged on at the end as they were on the video, but it hardly makes any difference. They're included, that's the main thing.
So yes, I was disappointed that Sex Pistols - In Japan was not live in Sendai, but I am not sorry I bought the DVD. It's a quality DVD upgrade to my old VHS copy. Plus, including postage from Europe, it cost me just over a tenner! A bargain. If you don't have this show in your collection, now's your chance.
Review by Phil Singleton (28th July '07)
---
Sex Pistols Spunk 7" Singles Box. (Sanctuary Records Castle CMXBX 1534)
Released 30th July 2007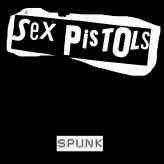 Disc 1: Nookie (Anarchy In The UK) / Just Me (I Wanna Be). Disc 2: Satellite / Problems Disc 3: Submission / Seventeen. Disc 4: No Future (God Save The Queen) / Feelings (No Feelings). Disc 5: Lots Of Fun (Pretty Vacant) / Liar. Disc 6: Who Was It / New York (Looking For A Kiss). Disc 7: Anarchy In The UK Denmark Street demo 1976 / Pretty Vacant Denmark Street demo 1976/ No Fun unedited version. Plus booklet with sleeve notes by Jon Savage.
Spunk re-released yet again? Yes, but what a unique and special way to do it. Seven singles, housed in a sturdy black box, with accompanying booklet. Discs 1 - 6, which play at 45 rpm, come in generic "Sex Pistols" sleeves, complete with central hole showing the label. Disc seven is a 33 rpm 3 track ep which pulls together the tracks which were added to Spunk to make the No Future UK? LP, and is housed in a colour picture sleeve. The labels feature a black and white reproduction of the original Spunk label. A great deal of care has gone into this package, and it shows.

There is something compelling about 7" vinyl singles. They elevate individual cuts into a different sphere of appreciation. The process of deciding which single track you want to listen to, then physically selecting it and placing it on the turntable, means you give the track full attention. It's light years away from sticking a CD in your player and idly flicking through the tracks. This box set makes you re-examine the songs individually. Guess what? Each cut sounds mighty fine as a single, whether it be an A or B side.
There is an additional plus to this set, namely the couplings of Nookie / Just Me, and No Future / Feelings which act as alternatives to the official EMI and A&M pressings of Anarchy and God Save The Queen. It's also nice to hear the un-edited No Fun appearing as a single cut. To pick a favourite single from the collection sends me scurrying in the direction of the less obvious. I'll go for Who Was It / New York. Or maybe Satellite / Problems. Or maybe......
The twenty page booklet comprises sleeve notes by Jon Savage, a number of photographs of the band from the period, reproductions of articles from the printed press, and a rare colour advert for Anarchy In The UK.
Sanctuary's latest offering is clearly aimed at collectors and vinyl connoisseurs. If you fit that description, you will love this.
Review by Phil Singleton (19th July '07)
Order from Amazon Spunk [7" VINYL]
---
©2013 Phil Singleton / www.sex-pistols.net
All rights reserved. Not to be reproduced without permission.