I was a big Pistols fan starting in 1977. I first heard them on local radio station that was known mostly for news. A song was played as a sort of curiosity as an example of this new punk rock thing. Pretty sure it was Holidays in the Sun. Thought it was ok. I first saw them on TV on a show called "Variety 77" to the best of my recollection. It was hosted by Marilyn McCoo. The Pistols were shown performing GTSQ outside in the daytime. I have never been able to find that footage anywhere. At that point I was hooked. Bought the U.S. album and later added all the singles.
Followed what I could through magazines and the local music weekly, Scene Magazine. Knew the basics of the breakup, etc. So by April, 1980 I was primed to see Johnny. I now had a car and was able to drive to Cleveland from Akron, about an hour. But I wanted to make sure everything went well since I had never been to the Agora. There were two shows there the same week, John Cale on the 28th and Rachel Sweet (from Akron) on the 29th. I decided to go to John Cale. I knew very little of him, only seeing his name while flipping through the record bins looking for Clash records. He was pretty good. I'll always remember the show for the altered "Ready for War". The Iran hostage thing had begun in Nov. 1979 and tensions were running high. The lyrics were altered to reflect the situation with Iran. To this day one of the most charged performances I have ever seen.
So two days later I was ready to go to Cleveland again and knew how to get there and out. Brought a friend, stayed mostly in the middle of the venue until after the opener, Hammer Damage. I thought I better get closer because people started to migrate towards the front. I wiggled my way up close and we were packed in like sardines. After what seemed like forever to my 19-year old mind the lights were turned out and people started to cheer.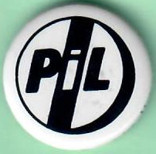 The band took the stage in the dark and then the lights came on and they launched into Careering. I was thrilled to be so close to Johnny Rotten! I think I knew that Keith Levene was the guitarist and was originally with The Clash. I really don't remember any female stage rushers like the review says (see cutting below). No one could rush the stage. It wasn't possible being so tightly packed. There was some abuse thrown Johnny's way, not so much coming back. I don't know if anyone threw a full beer can. Johnny did say something to the effect like "I don't care if you all die".
I was holding the brown microphone cord for sometime and I was thinking, "Johnny Rotten is singing through a cord I'm holding in my hand!" At some point he threw out a handful or two of PIL buttons. I got one and still have it to this day (pictured right). That was cool but not as cool as nabbing a Johnny Ramone guitar pick later in my concert going career. Still have that too!
My tape has seven songs on it with the seventh song cut part way. It would have been very difficult to change the tape under the circumstances and may have been seen by security anyway. I didn't want to get thrown out and lose my tape and camera. Pretty sure there was an eighth song played. There was no encore. I think they may have left earlier than planned. I remember Keith smiling and raising his guitar as he walked off.
It was quite an experience for me seeing a show so close up. I was to do it many more times in the coming years.