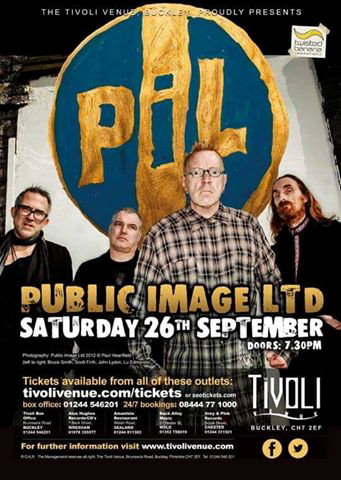 Tucked away in the small town of Buckley, North Wales, The Tivoli was a new venue for me & for PiL. It looks tiny from outside, but opens up into the perfect space for a PiL show. Intimate, atmospheric, and two bars. It was a later than usual start on stage due to the England v Wales Rugby World Cup match which the venue was showing to a partisan crowd.
At 10.10PM, PiL appeared. Where do I start? Quite simply, PiL just get better. Two hours fly past, with material from all eras blending seamlessly. The current incarnation of PiL surely is the best. Yes, people do reminisce about Metal Box - which was wonderful - but times change, and a dysfunctional group can only achieve so much. John, Lu, Bruce, and Scott prove that you can produce edgey, ground breaking music, and remain friends. These guys clearly feed off each other. With no tension between them, a wave of positivity swept from the stage across the crowd and back again.
PiL have chosen not to merely reguritate the older material note for note, but to develop it further into a new format. This Is Not A Love Song, Poptones, and Religion have all taken on a new life. Religion especially now operates on a whole new level. It's more relevant than ever of course, but rather than merely being delivered as a scary cautionary tale, it comes with a splash of humour as Lu takes on his Jesus persona. Meanwhile, Scott rips us apart with the bass as it gets louder and louder. Death Disco also hits the spot; it too has become more expressive with the band stretching and pulling it in new directions. Superb.
Further dynamic treatments were given to tunes from the late 80s: The Body, Warrior and Disappointed. This period is sometimes overlooked, but it shouldn't be - it produced a wealth of fine material. Fine and flexible. The original 12" mixes showed what PiL could do with these classics, and now, live, they make them sound original without stripping away their essence.
In case you hadn't noticed, PiL have a new album out. It's good, very good in fact. Double Trouble kicked off tonight's proceedings followed by Know How. The new songs were instantly accepted by the crowd who were bouncing from the word go. I suspect most here tonight already own the album, and those that don't, soon will. The venue was rammed, and to a man they knew 2015 PiL is the real deal. Corporate, and my personal favourite, The One, are smart pieces of song writing and their inclusion were welcome highlights. One Drop and Deeper Water, both from This Is PiL, were a reminder that PiL have been back in our lives for a good few years, pushing the boundaries.
Public Image and Rise finished the evening off in a rousing and frenzied display of mutual respect between audience and band. After all, isn't that what friends are for?
Truly brilliant.
Gig of the year.
Review by Phil Singleton
---
Manchester 19th September 2015 >
God Save The Sex Pistols ©2015 Phil Singleton / www.sex-pistols.net
All rights reserved. Not to be reproduced without permission.