NEVER MIND THE BOLLOCKS HERE'S THE SEX PISTOLS
FRANCE / BELGIUM / GLITTERBEST
Barclay 940 553. Version 1
- sleeve and labels.
Never Mind The Bollocks, Here's The Sex Pistols (Barclay 940 553)
Believed to be the first ever release of the album in the world. But is it?
(See version 2)
In fact V1 &V2 are both the first edition. They were made and released same day, but V1 & V2 labels are different because they were manufactured at different pressing plants. The Belgium press (Version 1) was distributed in some parts of France and the French press in other areas. After the initial rush the rest of both stocks were mixed and distributed widely. There is no first and second pressings but two first pressings.
Released 11th or 18th October 1977 (exact date not established)
Notes. 11 track pressing. Pressed in Belgium.
On Glitterbest Barclay 940 553 releases, the sleeves are predominantly yellow / red, as opposed to the yellow / pink UK pressings.
Some sleeves had 'A' printed on top right of rear, others had an 'A' sticker.
Label states "Never Mind The Bollocks It's The Sex Pistols."
Holidays is mis-spelt Holydays.
Side A. Holidays In The Sun / Liar / No Feelings / God Save The Queen / Problems
Side B. Seventeen / Anarchy In The U.K. / Bodies / Pretty Vacant / New York / E.M.I.

Close-up of top right of cover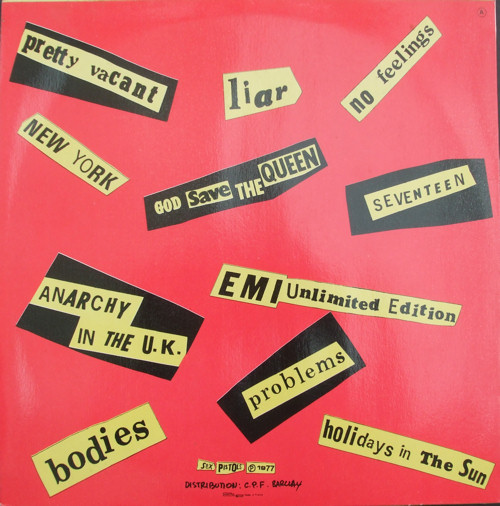 Close-ups of rear of sleeve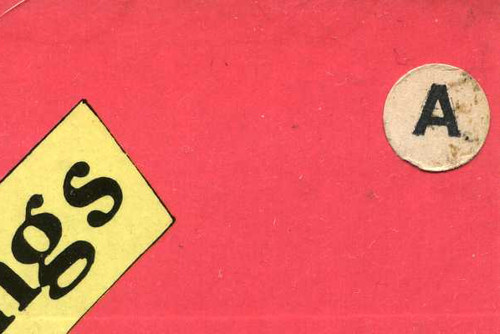 Rear sleeve with 'A' sticker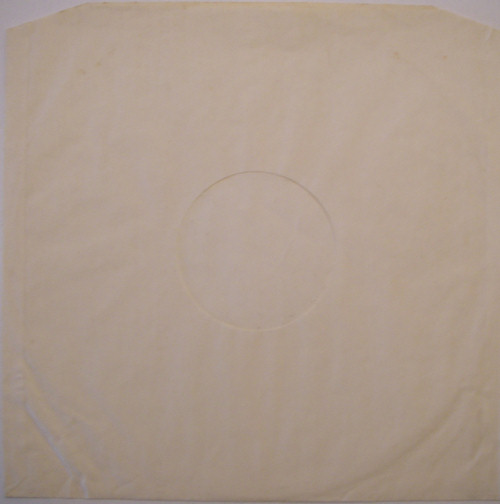 Inner paper sleeve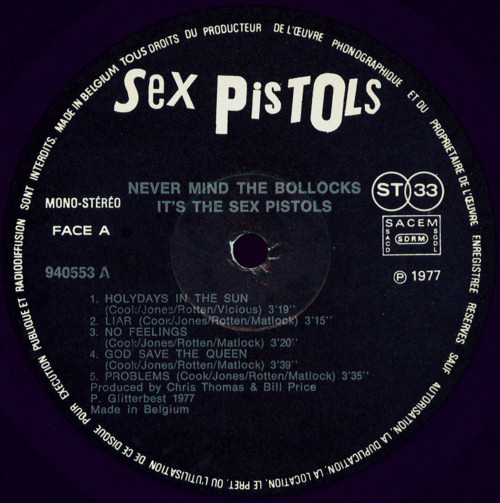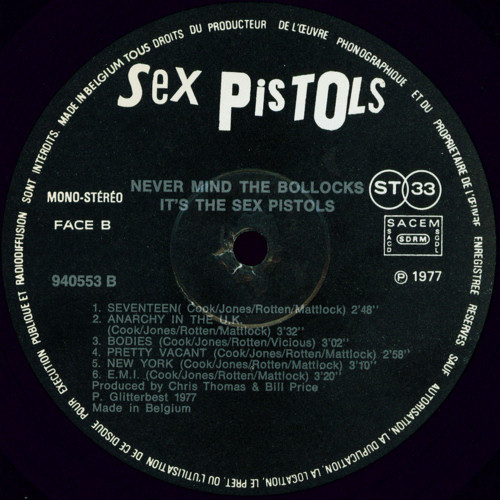 Special thanks to Andy Biddle, Jimmy King, and Chris Visser for scanning their collections for use in this feature. Thanks to Geant-Vert.
©Phil Singleton / www.sex-pistols.net 2013
All rights reserved. Not to be reproduced without permission.
God Save The Sex Pistols ©Phil Singleton / www.sex-pistols.net 2013
---
Although every attempt has been made to ensure the following listings are as accurate as possible, errors may have occurred. Please e-mail any additions and/or corrections.
Errors that may have occurred will make it obvious if an attempt is made to copy the above piece of work. Do not publish elsewhere and claim authorship. You have been warned.