NEVER MIND THE BOLLOCKS HERE'S THE SEX PISTOLS
WEST GERMANY
mis-press (Bodies x 2)
- sleeve and labels.
Never Mind The Bollocks, Here's The Sex Pistols (Virgin 25 593 XOT)
Released October 1977
Note. The labels state 12 track pressing with standard UK track listing.
However this German mis-press is a 12 track version with a difference - it includes Bodies twice & omits Submission. The easist way to spot if you have this mis-press, is to either play the record, or compare the grooves of a correct pressing with this one.
Side One: Holidays In The Sun / Bodies / No Feelings / Liar / God Save The Queen / Problems
Side Two: Seventeen / Anarchy In The U.K / Bodies / Pretty Vacant / New York / E.M.I.
Cover same as regular first pressing.
Although it states "Submission" on the label, the track is not actually on the LP.
Matlock mis-spelt Maflock on labels. Anarchy In The UK mis-spelt UX on label.
Matrix etchings are 25593 A - 2/77S | 25593 B-1/77S.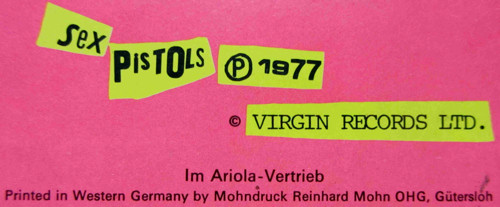 Rear sleeve credits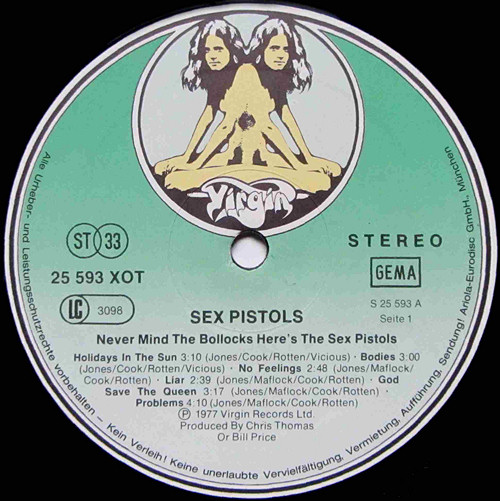 Special thanks to Patrick (Paul) Lilienthal for scanning his collection for use in this feature.

©Phil Singleton / www.sex-pistols.net 2015
All rights reserved. Not to be reproduced without permission.
God Save The Sex Pistols ©Phil Singleton / www.sex-pistols.net 2015
---
Although every attempt has been made to ensure the following listings are as accurate as possible, errors may have occurred. Please e-mail any additions and/or corrections.
Errors that may have occurred will make it obvious if an attempt is made to copy the above piece of work. Do not publish elsewhere and claim authorship. You have been warned.