Tuesday 7th December: Liverpool Echo - Front Page
The Liverpool Stadium show was cancelled on 6th December.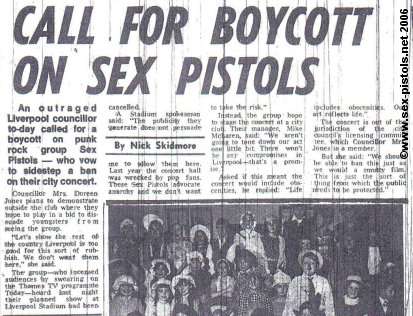 CALL FOR BOYCOTT ON SEX PISTOLS: An outraged Liverpool councillor today called for a boycott on punk rock group Sex Pistols - who vow to sidestep a ban on their city concert.
Councillor Doreen Jones plans to demonstrate outside the club where they hope to play in a bid to dissuade youngsters from seeing the group.
"Let's show the rest of the country Liverpool is too good for this sort of rubbish. We don't want them here," she said.
The group - who incensed audiences by swearing on the Thames TV programme Today - heard last night their planned show at Liverpool Stadium had been cancelled.
A Stadium spokesman said "The publicity they generate does not persuade me to allow them here....These Sex Pistols advocate Anarchy and we don't want to take the risk."
Instead the group hope to stage the concert at a city club. Their manager, Mike (sic) McLaren said: "We aren't going to tone down our act one little bit. There won't be any compromises in Liverpool - that's a promise."
Asked if this meant the concert would include obscenities, he replied: "Life includes obscenities. Our act reflects life."