29th December 2004
The classic BBC Radio One interview by John Tobler recorded for Rock On in 1977 with John and Sid, has been made available on-line until 4th January 2005 http://www.bbc.co.uk/radio1/oneclick/retro/sexpistols.shtml [thanks to Jos Hocks]
19th December
A new Public Image Ltd bootleg has become available on the internet - Russell Club Manchester. This show is incomplete, consisting of approximately 45 mins of Public Image Ltd at The Russell Club in Manchester on 18/6/79. The band was the Lydon/Levene/Wobble/Dudanski line-up, the latter apparently having joined three days previously. Setlist: Chant / Swanlake / Memories / Public Image [false start 1] / Public Image [false start 2]/ Public Image / Anna Lisa / No Birds Do Sing. [thanks Glyn]
4th December
Public Image Limited's infamous appearance on American BandStand, performing Poptones & Careering, can be viewed at http://www.ookiine.com/archives/001031.html [thanks Jeff]
10th November
John Lydon is featured in next week's Radio Times (13-19 November), on sale tomorrow.
7th November
John Lydon's Mega Bugs debuts tonight on the Discovery Channel, 5pm (UK only). Repeated Thursdays 8.30pm. Today's Sunday Express magazine has an interview with John about his TV wildlife presenting. As for future Sex Pistols reformations, John says "We're all individuals. We do what we want. If we feel like it we might do it. If we don't we won't."
4th November
John Lydon's Shark Attack feature http://news.scotsman.com/features
3rd November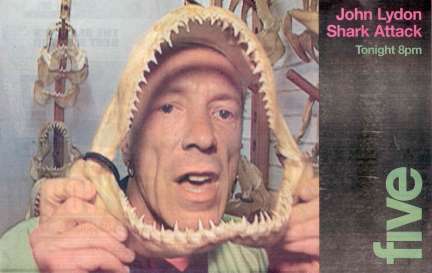 John Lydon's Shark Attack. Channel 5 (UK), 8pm tonight! [thanks Joe for advert]
2nd November
John Lydon's Mega Bugs is Today's Choice in Radio Times for 7th November: "The punk hero who once howled insults for the Sex Pistols proves an engaging and unpretentious wildlife presenter. Lydon, much more enthusiast than expert, shows a real affinity for spiders as he unearths some of the "scariest and airiest" examples in the US." Discovery 5pm (UK only)
31st October

The News Of The World previews John Lydon's Shark Attack (3rd November 8pm - Channel Five) and John Lydon Goes Ape (10th November), with a two page spread in its Sunday Magazine supplement.

"I'm good in the jungle - I merge in well."
"Gorillas are the biggest fluff balls on earth."
30th October
Coverage of John Lydon's Shark Attack (Wednesday, 3rd November 8pm) is generating coverage in this weekend's press and TV guides. The pick of the bunch today is in We Love TV (Mirror), which includes a full page feature/interview, under the heading Squid Fish-ious! It also lists John's Fishy Hits: Cod Save The Bream, Never Mind The Scallops..., The Hake Rock & Roe Swindle, Haddocky In The UK, Who Killed Scampi. [thanks Joe]
26th October

JOHN LYDON'S
MEGABUGS

---

Begins Sunday 7th November

5pm

(UK only)
25th October
The Discovery Channel are running adverts for John Lydon's Megabugs series, featuring John in an all white studio. A least two variants are being run, including John with his mouth taped up, and a large flyswat! John to camera: "It's me, Johnny. Don't be frightened. You need to be though!"[Thanks Mark]
22nd October
Today's Daily Star has an article about John Lydon's Channel 5 show John Lydon's Shark Attack (3rd November 8pm). [Thanks Scott Brawn]
19th October
Zoo magazine (free with November issue of FHM) lists John and the ostriches as the no. 1 I'm A Celebrity moment. [Thanks Alan]


17th October
Women's magazine Best, dated 19th October, has a small feature on John Lydon in an article titled "We were all expelled from school." John, it states, was expelled for dyeing his hair. The Daily Star on 15th October also featured John in an article titled "Following Beckham's yellow card apology, we look at how other stars have grovelled." According to the paper, John was "extremely sorry" for swearing on I'm A Celebrity! [thanks Joe]
November edition of Mojo has a colour picture of John Lydon on location for John Lydon Goes Ape.
16th October
The John Lydon feature in The Sun newspaper was held back until today's edition. Tilted "Johnny Rottenborough. Never Mind Sir David, Here's the Sex Pistol" it focuses on John Lydon's Shark Attack, John Lydon Goes Ape, and Megabugs, and compares John to wildlife expert, Sir David Attenborough. http://www.thesun.co.uk/article/
14th October
John Lydon is interviewed in tomorrow's The Sun newspaper. John's two part Channel 5 show will be shown on November 3rd (John Lydon's Shark Attack) and November 10th (John Lydon Goes Ape). John's 10 part insect series, Megabugs will debut on the Discovery Channel on November 5th. [ack www.johnlydon.com]
23rd September
From today's Sun. "Rotten's just wild for bugs: ROCK wildman John Lydon has signed up to front a wildlife show all about INSECTS. Lydon, 48, who fronted the Sex Pistols as Johnny Rotten, is already presenting two wildlife shows for Five about gorillas and sharks. Now he will be revealing his love of creepy-crawlies in a Discovery Channel documentary. During filming for John Lydon's Megabugs the foul-mouthed star was set upon by killer bees and sucked by leeches. Highlights of the series - which starts in November - include tarantulas, deadly hornets and glow-in-the-dark scorpions." http://www.thesun.co.uk/article/ [thanks Jeff]
17th September
John Lydon's forthcoming nature show is titled Megabugs. Featuring Johnny up close with "the most poisonous insects in the world", it's due to be broadcast in November, initially on the Discovery channel.
14th September
For a third year running the Sex Pistols are nominated for the Rock and Roll Hall of Fame. http://nme.com/news/109859.htm
"It looks like John Lydon - a.k.a. Johnny Rotten of the Sex Pistols - could be getting ready to die. The snarling Pistols frontman has found his band among the 15 finalists for enshrinement in the 2005 class of the Rock and Roll Hall of Fame, an institution Lydon once declared to be a "place where old rockers go to die."" http://www.mtv.com/news/articles/
12th September

"England's Invaded Springfield "announces the latest monthly issue of The Simpsons (UK). Among those depicted in cartoon form are Johnny Rotten.
[thanks Steven & Joe]
9th September
The latest issue of NME ORIGINALS is titled GODS OF ROCK & includes Sex Pistols, Led Zeppelin, Guns n' Roses, Nirvana and Thin Lizzy. Amongst the gems: Johnny Rotten gets beaten up by the cops, & Johnny Thunders chucks up on the tarmac at Paris Airport. Out now!
Johnny Rotten and the yellow jacket bees http://www.wcjb.com/news.asp [thanks Robert]
14th August
An interesting snippet has been received by GSTSPs from Louisiana State University. "A student took part in an excavation at a local national forest, Kistachie, to observe Leaf-Cutter ants native to the region. The dig was filmed for the Discovery Channel and the host was none other than John Lydon. The student did not get to talk much with the celebrity, but did get to observe his behavior, especially his interest in insects. The filmed segment should be broadcast in 2005."
13th August
US magazine Spin has listed it's 50 Greatest Rock Frontmen of All Time. At no.15 is Johnny Rotten. Other notables are Iggy Pop (12), Joey Ramone (16), & Joe Strummer (26).
For The Worst Rock Stars Ever see http://www.somethingawful.com/articles Johnny is at number 10! [Thanks Glyn Powell]
31st July
A new book, John Lydon:PIL, Pistols & Anti-Celebrity by Ben Myers is published September 20th (Independent Music Press).
29th July
Not so Rotten. says the Daily Star. "John Lydon has donated over £100,000 from his I'm A Celebrity jungle adventure to chimps. Johnny...has given the cash to the Tacugama chimp sanctuary in Sierra Leone." [thanks Joe]
See also http://breakingnews.iol.ie/entertainment/
21st July
Not strictly Sex Pistols, but Jah Wobble is still one of the most highly regarded musicians by fans of Public Image Limited. Jah has a 3 CD career best off collection due soon, covering the years 1978 to 2004, titled I Could Have Been A Contender. http://www.noblepr.co.uk/
Jah will be launching the collection with a gig on 9th September at Cargo Club, London EC2. Tel: 0207 739 3440 Nearest tube Old Street.
12th July 2004
World Exclusive!! The photography of Pierre Benain.

In August 1978, French photographer Pierre Benain shot an incredible collection of pictures at John Lydon's house in Gunter Grove, London.

These stunning shots, most of which have never been seen before, include John Lydon, Sid Vicious, Nancy Spungen, Poly Styrene, & Jeanette Lee (who would later join John in Public Image Limited). They are now available to view in the In Pictures section. Click on 'In Pictures' on the main menu above.

The pictures are reproduced with full permission of Pierre Benain.