CLUB DU CHALET DU LAC
LP Bootleg
Club du Châlet du Lac (A Limited Amount SP-DU-LAC)
Live, Paris, Chalet D Lac, 5th September 1976.

Side One. Anarchy in the UK / I Wanna Be Me / Seventeen / New York
Side Two. Don't Give Me No Lip / Stepping Stone / Satellite / Submission
Side Three. Liar / No Feelings / Substitute / Pretty Vacant
Side Four. Problems / No Fun / Did You No Wrong* (*from 3rd Sept 76 - allegedly)

Notes. Double LP. Surfaced April 2017.
Taken from live tape available on http://www.partnersincrime.fr - posted September 2016.
Same bootlegger as Anarchy In Cleethorpes, D-Day In Dallas, Dance To The Sex Pistols & Keeping It Cool At The Pingvin Club LPs.
LP comes with poster. The poster used for the LP's artwork was not originally a poster but an advertisement which was on display in Michel Esteban's shop in Paris. The bootleg artwork uses a poor quality internet picture where some details are omitted. The original artwork for the gigs was French and not connected with Jamie Reid.
Pressed yellow, clear and pink. 200 copies of each.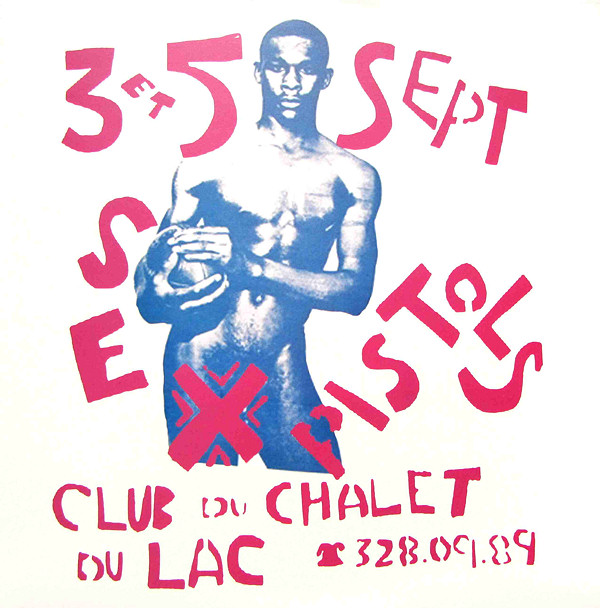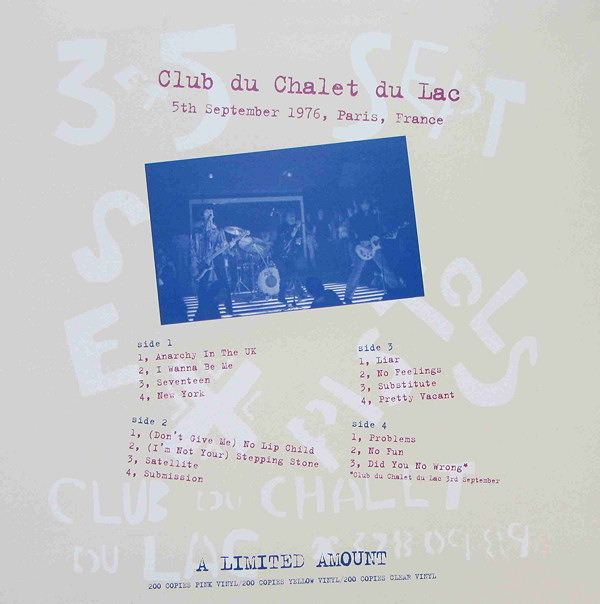 Rear detail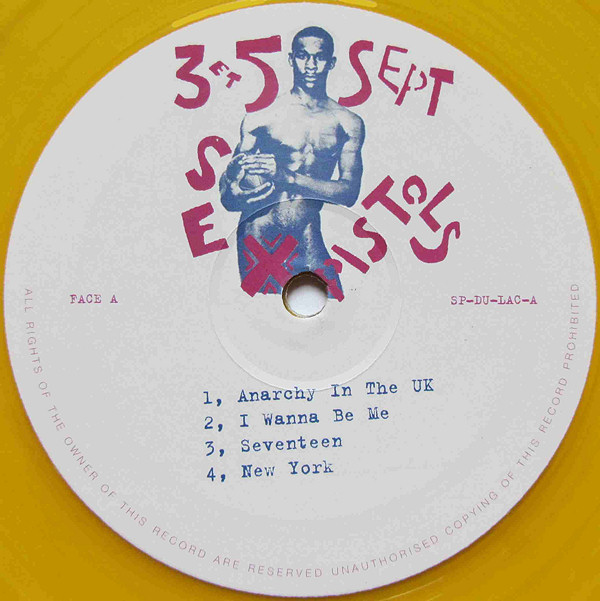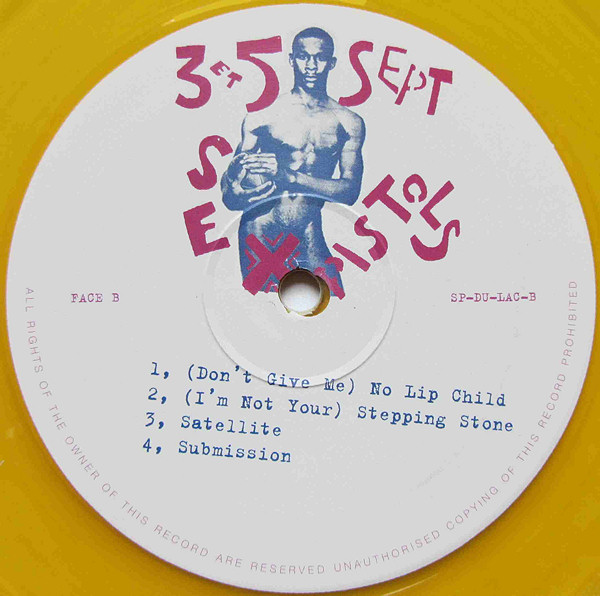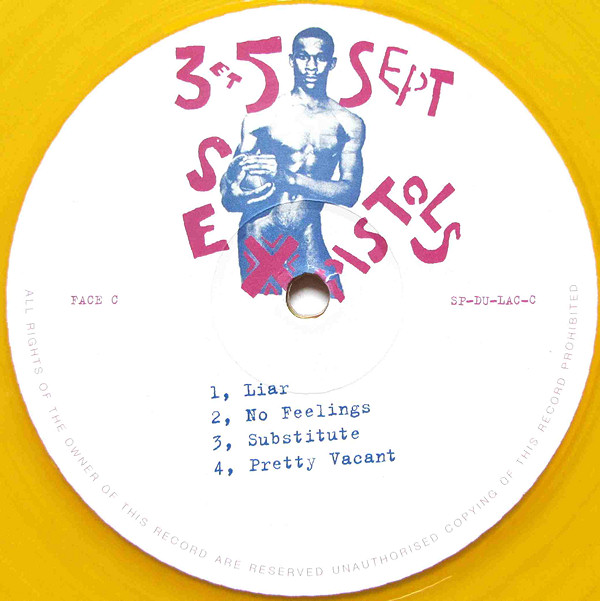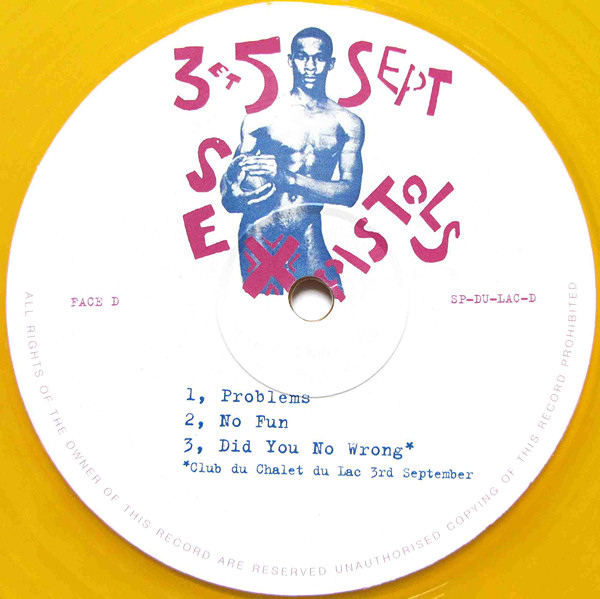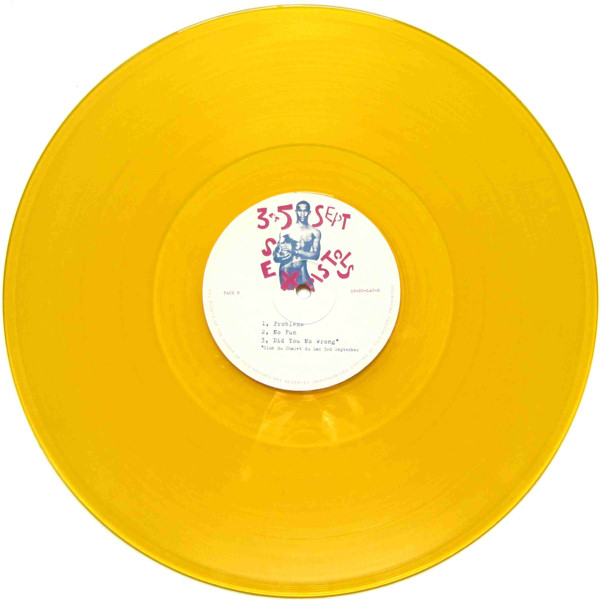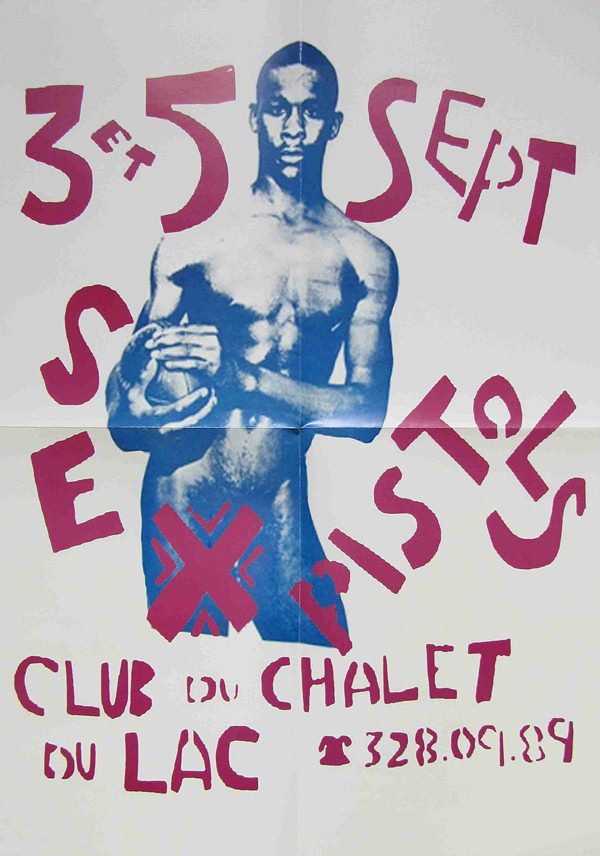 Poster

Special thanks to Patrick Lilienthal for scanning his collection for use in this feature.
---
Please e-mail any additions and/or corrections. God Save The Sex Pistols does not trade in bootlegs or anything else for that matter.
Please note: It is illegal to manufacture, distribute or sell bootleg or counterfeit recordings.
Bootleg vinyl pictured here is hereby merely documented. In no way are/were the administration team of this website involved in the manufacture, distribution or sale of these recordings. Bootlegs are illegal. Pressing and selling them is illegal.

God Save The Sex Pistols ©2017 Phil Singleton / www.sex-pistols.net. All rights reserved.
This feature is copyright to God Save The Sex Pistols and the author and may not be reproduced without written permission.