SOMETHING ROTTEN IN THE CITY OF LOVE
LP Bootleg
Something Rotten In The City Of Love - Paris 1976 (Friends Of Vicious FOV 003)
Live, Paris, Chalet D Lac, 5th September 1976.

Side One. Anarchy In The UK / I Wanna Be Me / Seventeen / New York / No Lip
Side Two. Stepping Stone / Satellite / Submission / Liar / No Feelings
Side Three. Substitute / Pretty Vacant / Problems / No Fun
Side Four. Dave Goodman Demos: Just Me / Suburban Kid / Submission (Psychedelic Remix) / Looking For A Kiss / Who Was It?
Notes. Surfaced May 2017. Swedish pressing. Double album. Limited to 50 copies.
Clear vinyl. Wrap around sleeve.
Sleeve incorrectly states 3rd September 76.
Labels state 'Revolt In Paris'. Sides 3 & 4 use French 'Face Three' & 'Face Four'.
Sides 1-3 play the gig.
Side 4 plays Dave Goodman demos - all previously released.
Includes yellow insert with quick resume by Caroline Coon regarding the opening night after Chalet Du Lac re-vamp.
Taken from recording posted on the internet September 2016.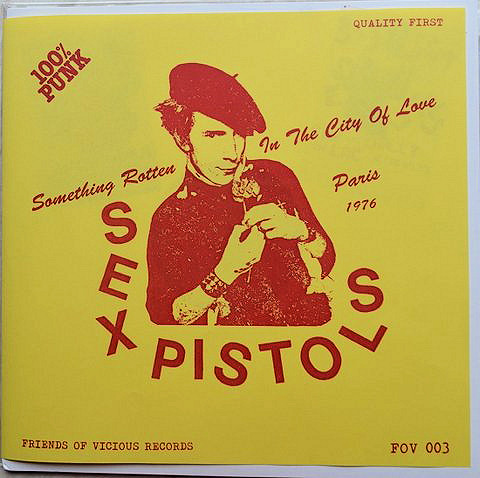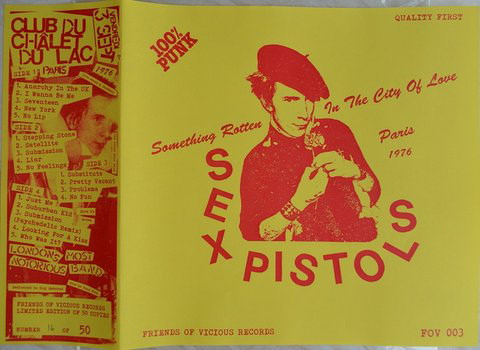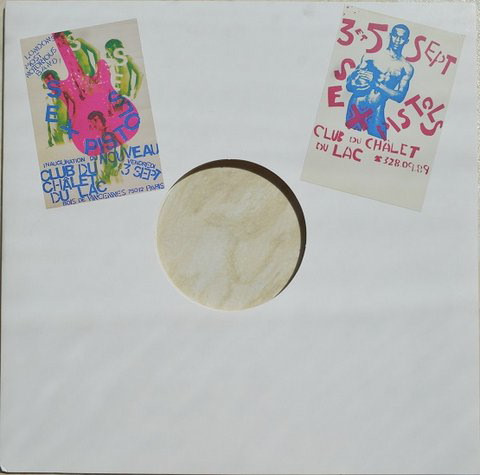 Both records housed in identical inner dust sleeves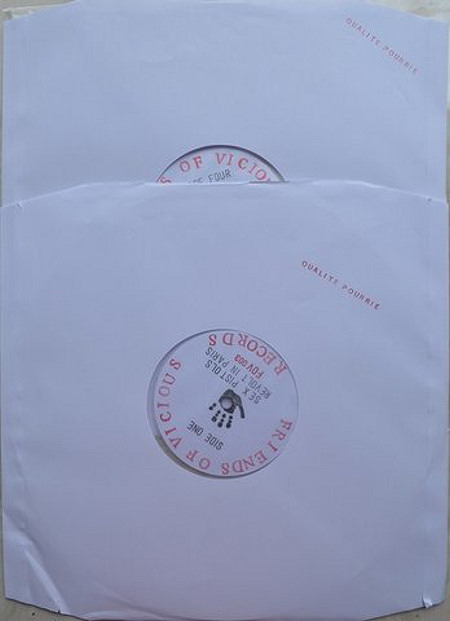 Reverse of inner dust sleeves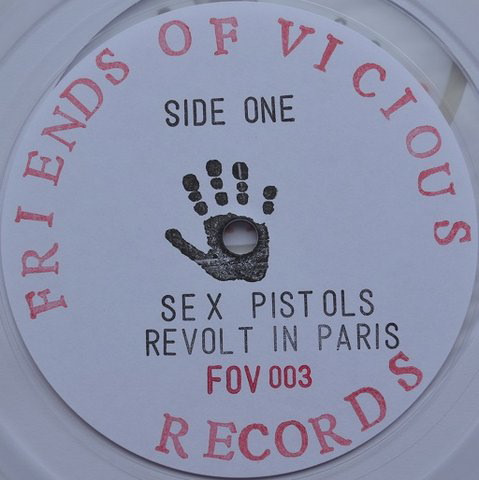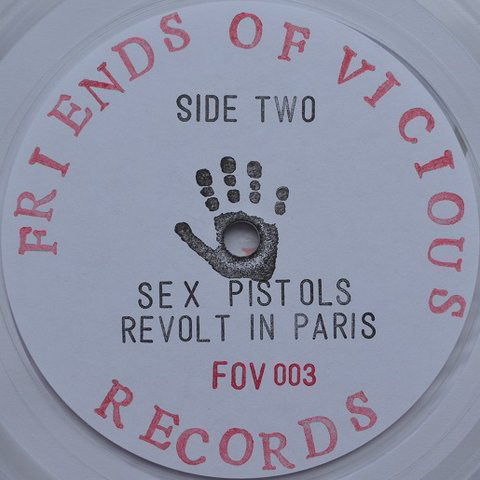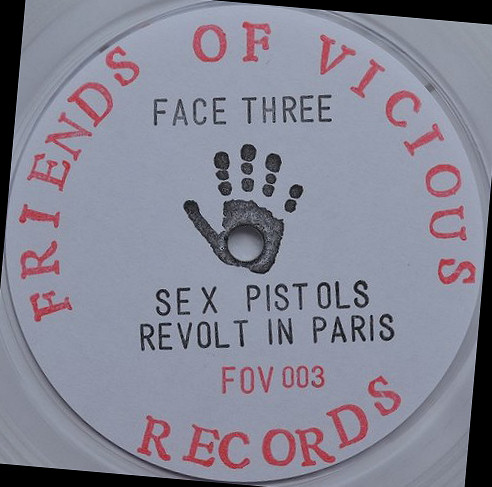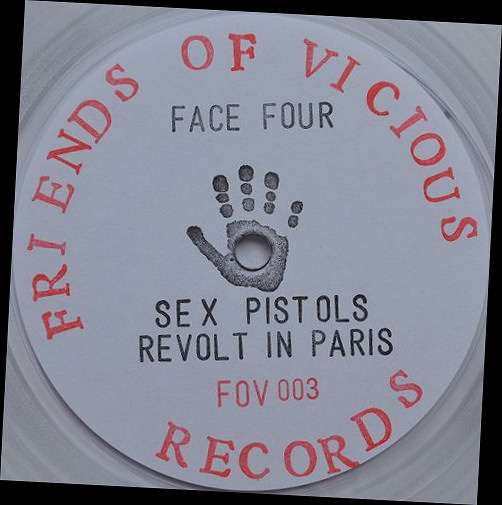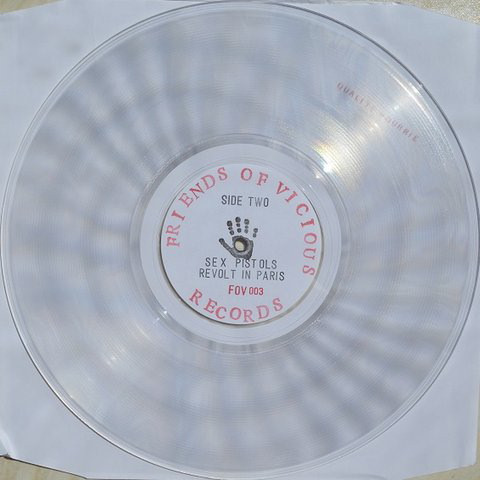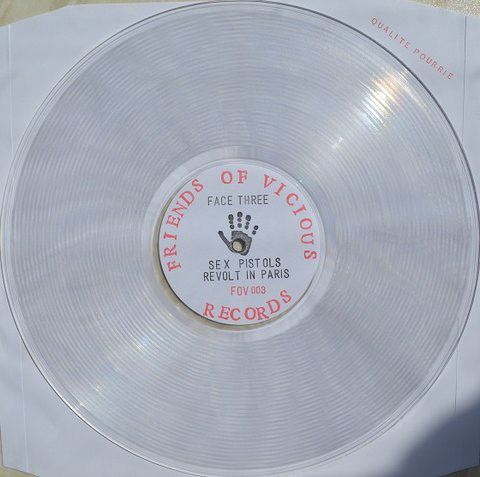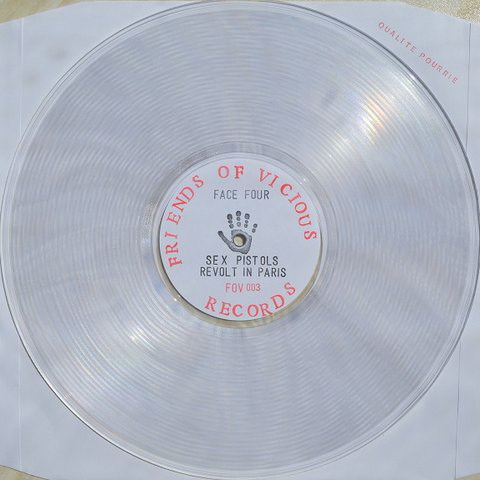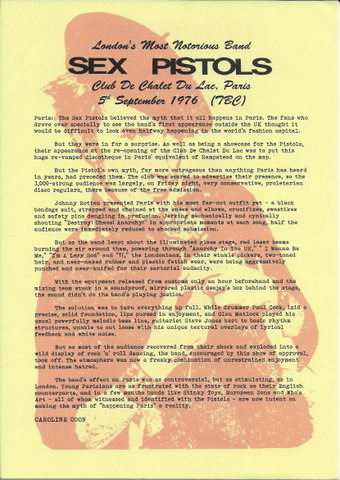 Insert front & back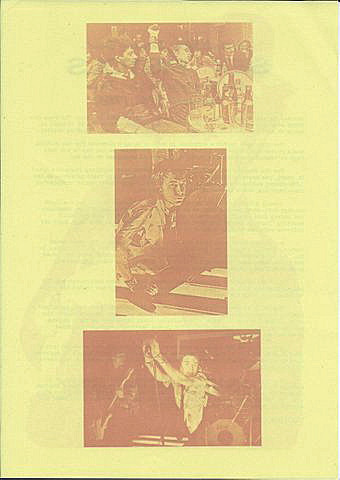 Special thanks to wiLF for scanning his collection for use in this feature.
---
Please e-mail any additions and/or corrections. God Save The Sex Pistols does not trade in bootlegs or anything else for that matter.
Please note: It is illegal to manufacture, distribute or sell bootleg or counterfeit recordings.
Bootleg vinyl pictured here is hereby merely documented. In no way are/were the administration team of this website involved in the manufacture, distribution or sale of these recordings. Bootlegs are illegal. Pressing and selling them is illegal.

God Save The Sex Pistols ©2017 Phil Singleton / www.sex-pistols.net. All rights reserved.
This feature is copyright to God Save The Sex Pistols and the author and may not be reproduced without written permission.