VIRGIN SAMPLE 8 TRACK ALBUM
UK PROMO ONLY PRESSING
featuring PiL and The Professionals

Sales Tape - Dick 9. Released circa 1981.
White label LP, with TOWNHOUSE matrix. Paper sheet stapled to front of plain white sleeve. The album was never issued.
Collection of tracks from Virgin and DinDisc label (a Virgin subsidiary).
Includes Public Image Limited (Careering 11) and The Professionals (Kick Down The Doors - Remix).
Additional notes by Thomas Envall, Sweden. The "Dick" sampler LPs seem to have been a series. They were handed out as promos without picture sleeves; just plain xerox copy paper sheets. I picked up two others at record fairs in London back in the late 1980s. One had a PiL track, (which I cannot remember but it wasn't anything unique). The other LP featured Kamikaze by the Professionals, an unreleased song back in those days.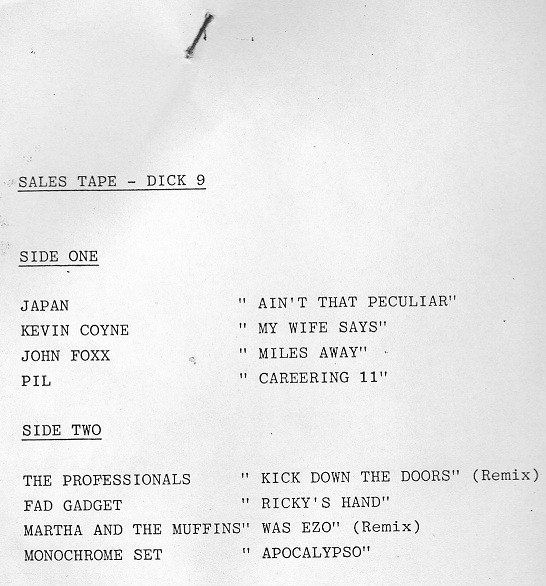 Australian Sampler Compilation >
Special thanks to MoMa for scanning his collection for use in this feature.
©Phil Singleton / www.sex-pistols.net / www.cookandjones.co.uk 2010
All rights reserved. Not to be reproduced without permission.
God Save The Sex Pistols ©Phil Singleton / www.sex-pistols.net / www.cookandjones.co.uk 2010
---
Although every attempt has been made to ensure the following listings are as accurate as possible, errors may have occurred. Please e-mail any additions and/or corrections.
Errors that may have occurred will make it obvious if an attempt is made to copy the above piece of work. Do not publish elsewhere and claim authorship. You have been warned.