"I was getting bored again and there didn't seem to be anything for me to do. We had been in the Student Union for quite a while, and I watched as people came and went on stage. I watched Sid put a white bass on, plug it in and test the sound. He looked up from what he was doing and our eyes met briefly, and I felt myself blush. I don't normally blush and it was annoying as I felt my cheeks heat up. I was trying to act cool, like I didn't really care that he kept staring at me, and my blushing all the time made this unconvincing.
Sid was very attractive. I felt my heart miss a beat when he smiled at me. He had taken off his leather jacket and he was now wearing a singlet T-shirt. He was sinewy and muscular, tall and very good-looking. He wasn't the sort of guy I would normally find myself attracted to. Not that I'd had much experience with boys as boyfriends. I seemed to have a lot of male friends, but wasn't romantically involved with any of them. There was something about Sid that just clicked with me. I definitely liked him.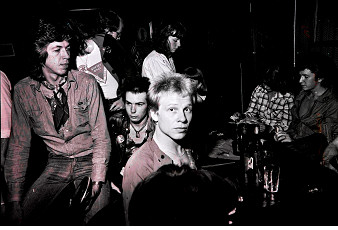 Photo Arne S Nielsen © Bollocks-Chops, Sid, Paul Cook Teddie in checked shirt with Steve Jones. Hawk Club after-party
Sid jumped down from the stage and made his way towards where I was sitting. Several people called out to him, saying he could sit with them. One even made room for him by asking someone else to move, but he just ignored them. He practically had to climb over them to get to where I was sitting.
When the arrogant musician saw that he was making his way towards me, he made a rude comment in Norwegian, "Oh, right, I see. He's checking out the local babes." Some people laughed. It made me angry and I made a mental note that I would tell him off later.
Sid sat down beside me and I said, "Wow, aren't you Mr Popular," indicating to the people wanting him to sit with them.
He seemed surprised by my comment at first, but then he smiled and said, "Yes, well, I don't bother much about that." Then he held out his hand for me to shake, saying, "Hi, I'm John, but you can call me Sid."
It made me laugh. "Hi, I'm Teddie. So how is Sid short for John then?"
I knew Bill was the common nickname for William, and I assumed this was a shorter version of John gone wrong, like he was making a joke."It's not short for John. It's just what they call me. So how come you've ended up here in this shit hole?" he asked.
"Hey, Trondheim's all right. It's nice here," I answered indignantly, but smiling widely.
"No, I mean it must be very different after living in England. John told me you are half English. I can understand someone moving to Oslo, but this place... well."
"No, John's wrong. I'm 100% Norwegian. I lived in a tiny village in Yorkshire for a few years, so Trondheim is a metropolis in comparison. I do feel a bit cut off from civilisation from time to time though."
I had the bottle of coke in my hand and I took a sip, before handing it to him so we could share it, and he accepted appreciatively.
"Don't you get bored? I would be bored out of my skull if I had to live here. What do people do here for fun?" he asked.
"Yes, I do get bored sometimes, but then we get some interesting visitors from England to brighten up my life and it makes it bearable for a while until they leave again," I joked, and he laughed.
"So are you a roadie?" I asked, changing the subject.
"No, I'm the bass player," he answered, smiling at my mistake.
"I'm sorry. I know who John is, but I'm not really into punk music," I said, sheepishly.
Funnily enough, I felt a little disappointed that he was in the band. He didn't seem to mind that I had no idea who he was. We'd handed the coke bottle back and forth between us, and then Sid offered me the last sip of coke, which I declined. He emptied it and put the bottle on the floor by his feet. He pulled a packet of Wrigley's Spearmint Gum from his pocket and offered me one, which I accepted. "Hey, thanks. I haven't had one of these for ages."
"I've only been in the band a little while," he said. "I was in The Flowers of Romance with Keith Levene, Palmolive and Viv Albertine earlier, but they never got any gigs and I got bored."
The name of the band made me laugh out loud. "That has got to be the most stupid name for a band I have ever heard," I said. "Did you play punk music or was it something girlier, with sugar and spice and all things nice; oh, and flowers." I giggled. "I'm betting money on it being the girl, Palmolive, who came up with that name."
"Hey, don't knock it. It's a perfectly decent name for a band, I think. But, yeah, girls thought of it first. We were quite good. Doesn't matter what we called ourselves," he said, laughing with me.
"When the chance to be in the Sex Pistols presented itself, I had to grab it," Sid told me. "I don't know how long I'll be allowed to play with them, but I've made myself available for as long as they want me. So I'm playing on a trial basis really. My band mates in The Flowers of Romance were not pleased with the deal as they've finally gotten some gigs lined up. I thought it was too little too late. Keith kept saying he'd get us some gigs, but he never did. We'd only been rehearsing and I got sick of it. It got fucking boring. We'd been rehearsing in The Clash's rehearsal rooms and never got out of there," he explained.
"So are they a bit peeved you left?" I asked, just making conversation and not really interested in the band he was talking about.
"Yeah, Keith was, but Viv understood I had to do this. If you are mates, you want the best for them, don't you? Viv knows I didn't leave to split the band up. He seemed quite shy around me, and I instinctively thought Viv was a man since this person was obviously close to Sid. He didn't seem like the type of guy who would be comfortable with close female friends since he seemed a little awkward around me. Of course, Viv Albertine is very much a girl and was a close friend of Sid's.
"I wrote a song, Belsen Was a Gas, and let them use it as a form of compensation for leaving them on short notice."
I was a little shocked by the title, and he added, "It's irony. Not meant as anything else. I hate people who don't get that. If they don't like the 'shocking' title, then don't listen to the fucking music. I make music for me, and I don't care if people like it or not. Why do people always have to have an opinion? Don't listen if you are put off by the title."
I knew he didn't mean me, personally, but I thought I'd put him straight and said, "Hey, don't get your knickers in a twist about it. I was just saying it might offend the people out there who had lost family in Belsen. I think your irony, as you put it, would be lost on them. But then again, they're probably not the people who would listen to it anyway."
VIV ALBERTINE: I wasn't in the Flowers of Romance any more by the time Sid went on the Scandinavian tour.
He seemed to like the fact that I stuck up for my views and didn't just pay him lip service. I caught him staring at me when I talked and I tossed my hair back as it was making me a little nervous. Although Sid was obviously a working class guy from a poor background, he was very intelligent. He had a lot of opinions and seemed to think things through. When I asked him a question, he would answer in a calm and easygoing way, but at the same time I knew he was taking me seriously. He wasn't messing around and making the mistake of thinking I was an airhead.
ROADENT: We hung out in squats. The Flowers of Romance were allowed to rehearse in The Clash's rehearsal rooms by Camden Market. A few of us would gather to do drugs when we could get some. Once, a chap came into the rehearsal room with an unmarked bag of pills. I carefully took one, but Sid took a whole handful and swallowed the lot, smiled, and said, "What's this then?", while we looked on in shock.
We couldn't stop talking. He told me he knew Casino Steel of London-based punk band The Boys, and asked me if I knew him since Casino was Norwegian and from Trondheim. I said no, as I'd never heard of him.
"He's in a band in London and writes about the London music scene for the local newspaper here, I think," said Sid.
"Yes, well, I don't pay much attention to that sort of stuff, myself. Now, if he was writing about make-up, I might know who he is," I answered as a joke, and he laughed.
CASINO STEEL: I moved to London because I was bored with the Norwegian music scene. I wanted to be on the same soil as my idols, The Rolling Stones and The Beatles. I sold newspapers at Paddington Station for three years whilst I pursued my dream of playing in a band and making new music. I joined Honest John Plain, Matt Dangerfield, Kid Reid and Jack Black in the punk band The Boys in 1976, and I was also writing a weekly column for the Norwegian newspaper Adresseavisen about the music scene in London.
By the autumn of 1976, I had written passionately about the changes taking place in the music that was popular in the UK, and featured bands such as The Ramones, The Clash, The Damned and The Runaways. I got to know Lemmy (Killminster, frontman for Motorhead) in 74-75, I reckon. Lemmy used to hang out at the St Moritz Bar, which was straight across the road from the Marquee Club. Lemmy was always on the pinball machine. That place was open after the Marquee Club closed and we used to go there. It's just a bar really.
I got to know Sid in 75-76. He used to hang around the Sex Pistols. He was a member of the Bromley Contingent. We were up in Maida Vale in north London. The Pistols, Siouxsie and the Banshees, and Generation X were down in south London. Up in Maida Vale were The Boys, The Clash, The Damned and a few others. Sid Vicious moved up to Maida Vale, and we all basically just hung out at the same bar and the same basement studio, which was in Warrington Crescent. It was a four-track studio, owned by our lead guitarist. We would all hang around there and we would do demos.
"Casino is a mate of mine. I would have thought you'd have heard about him since he's supposed to be famous here."
"No, never heard of him, but then I'm not really paying attention to the music scene here and I'm not impressed with fame either. Honestly, some people get so arrogant. Just because they've been on TV or in the newspaper, it's like they're so far up their own arses they are practically inside out," I said, eyeing the arrogant musician sitting a little further along the row of seats.
Sid laughed at my expression, turned to look in the same direction, and smiled knowingly when he noticed it was the guy who had been so eager for Sid to sit with him.
"Yeah, I know what you mean. There are so many arrogant people in this business, it's incredible. Lots of backstabbing and manipulation going on. A while ago I was asked to try out for another band, The Damned. I bet you haven't heard of them either?" he asked, laughing when I shook my head. "I really like them. They were looking for a vocal/front man and Rat Scabies said I could audition, and they'd let me know the time and place later. They sent a message with a mate and he never told me, bastard. I met him the same day and he didn't say a word," he said, sounding irritated. "I really wanted that job. I wanted it more than being in the Sex Pistols at the time."
"That's a shame," I answered. "Perhaps he just forgot."
"No, he didn't forget. He didn't want me to get the job. I thought he was a good mate and it turned out he was a better mate to David Vanian than me. That's who got the job. Later, I heard they gave the job to David because I never turned up for the audition. I didn't fucking know about it," he said sourly.
"Well, I'm glad you didn't get the job, and that you're in the Pistols and not the Damned, or I wouldn't have met you," I said, smiling.
"Thanks, so am I now." He smiled back at me and nudged my shoulder."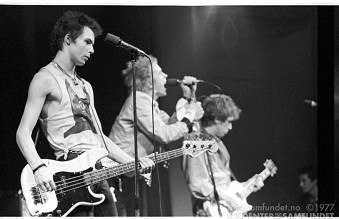 Photo Håkon Finne/foto.samfundet.no © Trondheim concert. July 1977