LATEST BOOK REVIEWS
A Vicious Love Story: Remembering the real Sid Vicious by Teddie Dahlin (Little Acorn Publishing)
Published 13th July 2012
The story of Teddie Dahlin's liaison with Sid Vicious first came to light in last year's book
Sid's Norwegian Romance- Exiled to Trondheim
. Teddie has decided to tell the full story directly herself.
A Vicious Love Affair begins by covering her upbringing as a partial outsider growing up in the UK from age 4 and then a decade later moving back to Norway – the cultural differences being quite stark for a self-conscious teenager. Then, along comes 1977, with Teddie still just 16 years of age, and a summer "that would shake my whole existence to the core and change me forever" when the Sex Pistols became the first big name band to play Trondheim. Ironically, the Pistols didn't initially appeal to her, representing everything she disliked about Britain. She also didn't like the fact they offended the Queen. She got involved simply because her stepfather had turned down an offer to act as a liaison between the band and the Norwegian staff working on the show. He was offered the role because he could speak English – in stepped Teddie to do the job in his place.
Her lack of interest was such that she was sat next to Sid in the hotel lobby when the band were checking in, and struck up an instant rapport with him without even knowing he was in the band, let alone who he was – in fact she was disappointed to later learn he was in the Pistols.
The most compelling part of Teddie and Sid's meetings during the afternoon of the concert is how normal they were in terms of two young people becoming attracted to one another, and all the embarrassing and awkward moments that occur. Teddie recalls some interesting conversations; Sid saying he understood he was in the Pistols on a trial basis, and his disappointment in missing out on becoming The Damned's singer. Her observations of band tensions are also intriguing, such as one-upmanship between John & Steve.
It seems bizarre to refer to Sid as tender, but this is the underlying emotion that Teddie experienced. It's how she – a girl with no knowledge of the man – found him to be. However, tellingly, "Sid would be very sweet and then suddenly serious. It confused me. I didn't understand his behaviour and decided to do nothing in case I was misunderstanding the situation." Such barriers would soon begin to crumble.
This book has two main draws; as a unique insight into Sid, and a snapshot of the Sex Pistols and their entourage engaging in the mundane aspects of touring. The difference being, with the Pistols, even the mundane takes on a different light; whether it's eating dinner, or getting into the venue for the show. Yes, there are glimpses of violence, drugs, and Steve on the pull (including kissing Teddie).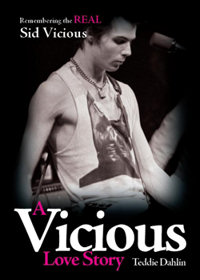 As for the gig itself, Teddie was bored by it! What happened the moment the show was over was altogether less boring......
A lot happened after the show including some shocks, and more, much more, over the following two days. How deep was the romance? From Teddie's side it was very real; Sid asking her to come to London to spend time with him. Sid had even convinced her that his relationship with Nancy was on the rocks (Steve revealed to her that Sid had a girlfriend, after she turned down Steve's advances !)
Going to London to be with Sid was something she would have loved to have done, but deep down she knew the practicalities alone would ultimately render this an impossible dream. She pulled out of travelling with Sid to Sweden for their next show. Although her dreams came to nothing, she did receive two further messages from Sid both with the same sentiment "...can you get a move on.."
Teddie reflects all these years later that she regrets not running away with Sid when she had the chance; could she have made a difference to the fate that befell him?
A heartfelt tale told from a mature and reflective perspective, but never losing sight of how important and intense love can be for a teenager. Grippingly recalled in almost photographic detail, you don't need to be a fan to enjoy the story. It achieves the status of both a page turner and an eye opener. A rare achievement. Treat yourself to the most personal of stories.
Review by Phil Singleton (July 2012)
---
Punk! The Culture In Pictures (Ammonite Press)
It may be compact in size, but it is a veritable treasure trove of punk pictures. 500 images taken from the Mirrorpix archive, it covers all aspects of punk, from the bands to the fans. The Sex Pistols themselves feature from 1976 through to 2008 at the Isle of Wight Festival.
What makes this book a must is the choice of pictures. Very few are familiar; the compilers have gone for the less obvious and it's paid dividends. Away from the groups (Pistols, Clash, Damned, Stranglers etc etc), some photos of the punk rockers (yes, that is what we were called!) take you right back to another time, another place. Of note is a terrific set of shots of the Sid Vicious memorial march from February 1980. Loads of punks watched on by the police........ looking back from 2012 it may well have happened on another planet. The fashion, from Malcolm's shop through to the leather, studs, and mohicans of the DIY street punks, is all included.
The book is weighed heavily in favour of early UK punk, with nods to some US pioneers: Iggy, Patti Smith, New York Dolls, Ramones, oh and a special mention for a fetching Debbie Harry image. The Beastie Boys even get included as do Green Day briefly, but by and large it's a pictorial study of UK punk.
Available at a great price, I fail to see how anyone could be disappointed by Punk! The Culture in Pictures. I guarantee, you will not have seen all the photographs. Just buy it and enjoy a visual time capsule of punk rock gold.
Review by Phil Singleton (May 2012)
---