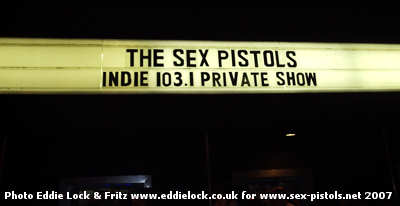 It was difficult to build up an appetite for this show due to the demand in tickets for the event and the size of the venue being 400-500 capacity only. There were so many fans and friends that wanted to attend this gig and i was surprised to find out the next day that many of the important Indie103.1 staff couldn't acquire tickets directly through their work colleauges. Jonesy did a competition for a pair of tickets on the eve of the gig and the question read...."What was the last gig the Pistols played in the UK prior to leaving for the USA and then disbanding?" Steve told the listeners it was Brunel, when in fact it was Huddersfield. Unfortunately, the alleged winner lost out!
When we arrived at the venue outside was mobbed and our car was being followed by dozens of fans carrying Never Mind The Bollocks albums. There was an electric atmosphere within the venue and yet again the Pistols were supported by a dance dj playing a somewhat strange blend of dance music, if i don't mind saying so myself.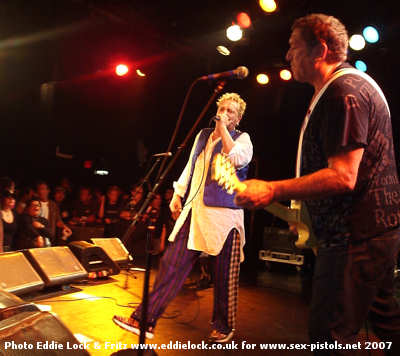 On taking a photo of the outside venue, the advertising board looked reminiscent to those featured in the american late 1970's shows. The band came on a little late and started with Holidays In The Sun with John adding some interesting new lyrics along the way.The Pistols sounded tight and prepared, or should I say well rehearsed, despite some not so positive LA local paper reviews.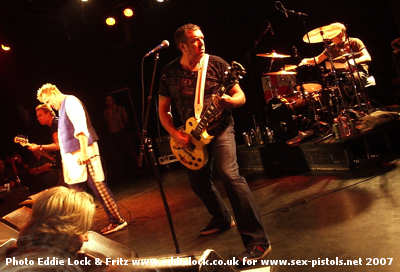 They continued into 17 and No Feelings and John decided to take a toilet break soon after some adoring Steve Jones fan jumped on the stage and de-tuned his guitar by trying to stick her tongue down his throat. The set lasted just over an hour and the band finished with Anarchy in The UK. I'm sure I read that "Bodies" was also on the set list for the encore and they may well have played this but I had another matter to attend to...... Other songs featured included "New York, Liar, Pretty Vacant, Submission, No Fun, ('I'm Not Your) Stepping Stone, Problems, God Save The Queen, and EMI".
Photos and review by Eddie Lock & Fritz www.eddielock.co.uk for www.sex-pistols.net
Further Roxy Reviews & Pictures >
Holidays In The Sun 2007 Index
Feature ©www.sex-pistols.net 2007. All rights reserved. Not to be reproduced without permission.
God Save The Sex Pistols ©2007 Phil Singleton / www.sex-pistols.net.