Never Mind The Reuters Hacks........
Set list: Holidays In The Sun / Seventeen / No Feelings / New York / Did You No Wrong / Liar / Pretty Vacant / Submission / No Fun / Steppin' Stone / Problems. Encores: God Save The Queen / EMI / Anarchy In The UK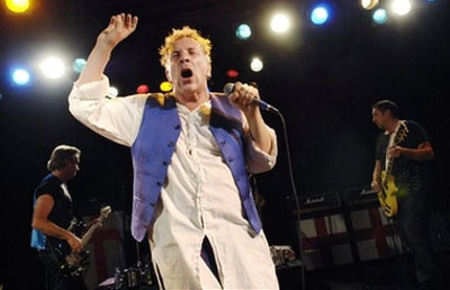 For the first time in four years the Pistols re-united to play a warm-up gig at the Roxy to precede the forthcoming mini British tour. This club night was sponsored in association with the Video game Guitar Hero 3 & also Radio Indie 103.1.
The hottest ticket in town had the 400 capacity crowd rocking as the band played a selection of numbers from NMTB, plus also included were some old favourites from early sets such as No Fun, Did You No Wrong & the classic Steppin' Stone.
The Pistols were loud & raucous like a runaway express train & they clearly were having great fun up on stage. The 70 minute show concluded with encores of God Save The Queen plus EMI, then a final powerful rendition of Anarchy in The UK. The audience, which included Clem Burke from Blondie/Slinky Vagabond, Siobhan Fahey, & Carl Barat from Dirty Pretty Things, were treated to a tremendous performance. Bring on the British dates... I can't wait.
It was fantastic.

Review by Sid Boggle for www.sex-pistols.net
---
I waited 30 years to see these boys play, and have to say I had the night of my life...they were fantastic!...much tighter than I expected.
Forget about Lydon forgetting a few words, who cares! The crowd, being LA, was a bit lame, worried a bit too much about people knocking into them and spilling their cocktails. I had to point out that Barbara Streisand wasn't on stage! I wish I could be in London for the Brixton shows, but feel very privileged to have seen them with 499 other people!!
Review by Mr Miles for www.sex-pistols.net
Pictures ©Reuters & LA Times
The Tonight Show With Jay Leno >
Holidays In The Sun 2007 Index
Feature ©www.sex-pistols.net 2007. All rights reserved. Not to be reproduced without permission.
God Save The Sex Pistols ©2007 Phil Singleton / www.sex-pistols.net.