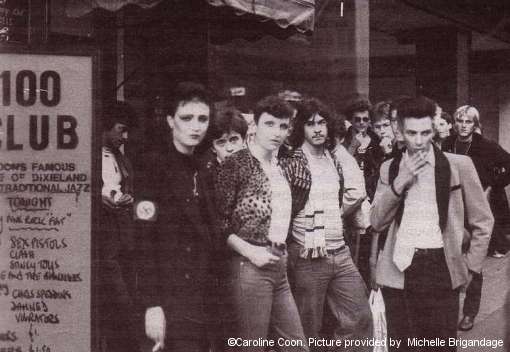 Siouxsie Sioux, Michelle Brigandage, and Steve Severin at the front of the queue, the 100 Club, 20th September 1976
My boyfriend Bruno and I were a little different at school in that we loved Roxy Music. I think we loved them better than Bowie - 'though we saw him on the 76 Thin White Duke tour. We loved Lou Reed and the Velvets and the Rocky Horror Picture Show. Bruno had a massive record collection for the time. We just liked things that weren't long hair and flares and dull, like Led Zeppelin, Lynyrd Skynyrd, Genesis.... this made us odd at school.
He read the Melody Maker and when we were about 15/16 we started going to gigs, even rock'n'roll gigs. It was fun but there was a feeling in the air that something was about to happen, about to explode - then one day we read about a band called Eddie and the Hot Rods and they sounded exciting. But for some reason we didn't make it to the gig, I think we had tickets for the Doctors of Madness instead! Then it happened: the Pistols' front page of the Melody Maker - the fight from the stage in the Nashville. That was it - straight up to town to see them. They just seemed so exciting, out of the ordinary, looked like us, were young. THEY DIDN'T HAVE LONG HAIR! IT WAS SHORT LIKE OURS.
People don't really realize how absolutely boring and tedious Britain was in the early 70's, how the Sixties dreams of revolution had died and left a vacuum. Also, it was a lot easier for me to get to gigs because I lived in a suburb of London.
The atmosphere at the 100 Club Punk Festival was electric. We'd seen the Pistols several times before, and The Clash, they had 5 members then - Keith Levine was their guitarist for a while. Dreadful bands used to support them like the Suburban Studs - they were dreadful - we nearly walked out before the Pistols came on!. They brought a dead pig's head out on stage - so you see people were already trying to latch on to this new feeling but getting it terribly wrong.
It was an incredible 2 nights but it was marred by the glass throwing incident, which Sid was later blamed for. My cousin and I got small bits of glass showering over us into our face but it was a friend I'd met at the Blitz - Cherry - I think that was her name, who got it straight in the eye. It blinded her in one eye and I think she was going to be an artist and that put paid to that. So obviously the atmosphere changed suddenly. There was blood, screaming, crying and ambulances. It calmed down after she was taken away but everybody started to leave and Siouxsie stood on the stairs and asked people to stay and watch the Buzzcocks! We couldn't coz we had a train to catch to get back home. Should have stayed to see them - it was Howard Devoto.
All I can say about seeing the Pistols was, that the first time Johnny stepped on stage I practically fell to my knees - it was like a religious experience - here was someone who understood what I was feeling inside - we no longer felt alone - we were individuals but with others, not some mindless gang, but a group of people who had finally found their way to a home.
Text © Michelle Brigandage
Michelle manufactures her own range of stunning punk clothes under her label Sexy Hooligans:
http://www.brigandage.com | stores.ebay.co.uk/brigandage