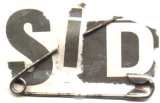 SID MEMORIAL MARCH 2nd FEB 1980
A PERSONAL ACCOUNT OF A DAY OUT IN LONDON BY GUS NICHOLSON - 30 YEARS ON
Punks on the march for Sid
February 2,1980 was the date set to mark the passing of Sid, 12 months to the day, with a march from Sloane Square to Hyde Park. Billed as a day of punk celebration for the punk icon, me and three others had already decided we would make a day of it, and travel by train from Liverpool to London.
Now, I know most people have read or seen articles about the march, and maybe younger ones wish they had been there to pay their respects. With hundreds of punks on the sreets of London, what could possibly go wrong? Well, quite a lot for us four.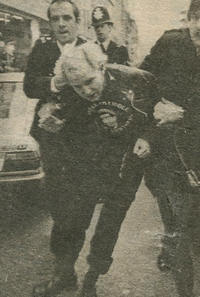 We set off nice and early and got to Euston about 10.00am, making our way straight to Sloane Square underground station. Once on the Kings Road, we could see a few hundred already gathered, mostly punks, some skinheads and general onlookers. We still had some cans left from the journey, and just hung around drinking. Journalists and camera crews started mixing among the crowd; I remember a female American news channel reporter asking if anyone knew Sid personally, obviously hoping for some insight, but she wasn't having much luck.
Just before the march was due to start, we saw a mate from Liverpool who had moved to London a year before. He could hardly stand up, having been drinking for some time. Anyway, the march had just got going, when our drunken friend starts to sing some Liverpool football tunes at the top of his voice - not a good idea, as this attracted the attention of about 20 skinheads who decided to march right behind us. We just knew it was going to kick off.
Everyone else seemed to be enjoying the day, singing My Way and various other punk classics. Just as we got into Hyde Park, the trouble started. Robbo (who used to be a roadie for Adam And The Ants in the early days) took the worse of it, having fallen over and then getting hit with a park bench. Me and Chris got kicked around the floor before the skinheads backed away. There was a short stand off and then we got chased across the park and eventually split up. Me and Chris didn't have a clue where we were.
Having wiped the blood away as best as possible, we went underneath a walkway, only to see one of the skinheads on his own. It didn't take us long to catch him. We gave him a good kicking until he wasn't moving. Bastard.
We managed to get back to Euston for the train home. Robbo never made it back until the next day. Everyone was battered and bruised, but at least we were there.
Written by Gus Nicholson (February 2010)
---
Sounds music weekly reported the memorial march the following week 9th February 1980.
Note: the article ironically states "Despite a 60 strong skinhead turnout at Hyde Park the march passed off without incident." Not for everyone.......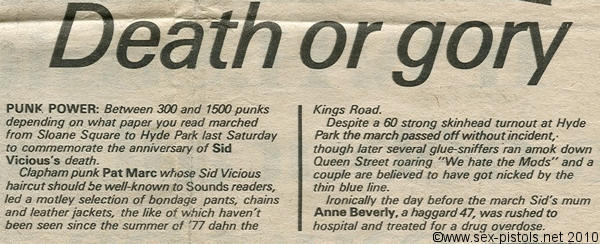 This feature is copyright to www.sex-pistols.net and and may not be reproduced without written permission.
All rights reserved.
All material ©www.sex-pistols.net
---
God Save The Sex Pistols ©Phil Singleton / www.sex-pistols.net 2010
All rights reserved. Not to be reproduced without permission.