The Pallbearers were Terry Edwards, Glen Matlock, Tony James, Chris Musto, Mark Helfond, and Rhys Mwyn (pictured above).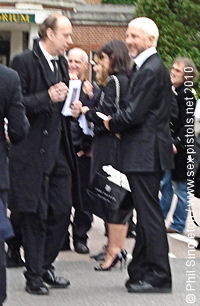 Also amongst those present were fellow musicians Mick Jones (pictured right with Tony James) , Viv Albertine, Ray McVeigh, James Stevenson, Koozie Johns, Jim Lowe, and Patti Paladin. Patti had put together a New Orleans style heart, feathers and rose arrangement which she was sure Steve would have loved . Flowers were laid on behalf of Steve Jones and Paul Cook by Ray McVeigh. The crematorium was packed, with many mourners stood around the sides to listen to the secular service.
Steve was portrayed with perfection during the hour long service by the Celebrant: "He was never a puppet; never would he dance to someone else's tune. He was always his own unique self, he had a settled confidence and showed others how to be themselves. He was a lord of the dance."
Steve's manager talked about both the Rich Kids and the more recent project Beastellabeast, on which he had worked closely with Steve. Describing him as a pop genius, Rhys concluded that there was one thing Steve was never capable of doing... selling out.
The Celebrant covered all sides of Steve's complex character, from his latter day transvestitism to his struggle with drugs: "Heroin was a close companion for many years. He knew it had interfered with his mission and he took himself off it and instructed others on how to rid themselves of the beast." Humourously, during his battle with cancer it was noted: "He loved his bottle of liquid morphine which he carried around with him and necked anywhere in the knowledge he was legal and the police couldn't touch him."
The Rich Kids reunion show on the 7th January this year had clearly given Steve a major lift during his illness; "It was a night to remember." His brother Dave, who is the drummer in Beastellabeast, recalled with a smile that they had opened their own set with There's No Business Like Show Business, which seemed completely appropriate. Unfortunately, it was to be their last show together. The next day Steve had texted Dave to say "we must have done something last night, the reviews on line are amazing." This touched me personally as I know my own review had been appreciated.
Steve's partner Laura Hopkins spoke eloquently. Initially attracted by his "sense of frankness, sense of fun, non conformity, and delightful energy", it was his love of books, and specifically his practice of storing them in the kitchen cupboards, which caused Laura to fall in love. Laura placed a card on the coffin: "Think Good Thoughts."
Two passages from the service perfectly reflected both Steve and the gravity of the occasion: "He was a natural anarchist. He relished all that others regarded as mayhem. He liked to introduce the unexpected, he represented the unexpected, and he did this heroically."

"He died on his terms, just as he had lived on his terms, with a great fearlessness and a genuine wonder. Our condolences are with his family, friends and fans, and all those who loved him, especially his children Deva and Frank and his partner Laura, and his brother Dave who must bear a special grief as the last surviving sibling of the three."
Goodbye Steve Charles "Stella" New.