Johnny Thunders
GLEN 'N' JOHNNY THUNDERS
In 1986, Johnny Thunders toured Japan with Glen on bass, Jerry Nolan on drums, plus Barry Jones (ex- Idols and London Cowboys). Glen had previously played with Nolan and Jones on The London Cowboys' "Street Full Of Soul" single (which he wrote and produced) and their "Tall In The Saddle" album. Jerry and Glen also played with Johnny on Jimmy K's "Trouble Traveller", the album Johnny produced for the Japanese rock star.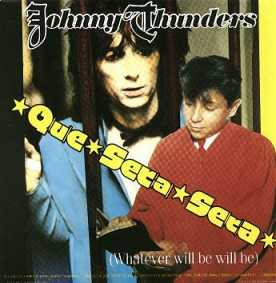 In February '87, Johnny Thunders recorded "Que Sera Sera" for release as a single, (JUNG 33). The track was recorded at Remaximum Studios in Clapham, London, and featured Glen on bass and Dave Mackintosh on drums (who played with Glen in Concrete Bulletproof Invisible). Two years previously in 1985, Thunders had released an album "Que Sera Sera", which did not include a version of the song itself. A later re-issue of the album (JUNGLE - FREUD CD009) added the '87 single. The single was however backed by "Short Lives", a track from the album.
Glen would later contribute to the 1995 Thunders' tribute album "I Only Wrote This Song For You", featuring on The Screwballs track "Help The Homeless"(CASTLE - ESMCD 401).
(with thanks to Mark Bannister)