The Sound Of Swinging London
Hayley O'Keeffe spends a day revisiting old haunts with Glen Matlock
A God Save the Sex Pistols exclusive.
I have arranged to meet Glen at 2.30. I arrive in London around 1.00 and sit down to my lunch blissfully thinking that Glen will probably be fashionably late, therefore I have bags of time. Well today is definitely going to be a day of surprises. Glen calls me at 1.30 to say he is there already!! I race through lunch and nearly miss my bus to take me to Chelsea where our adventure is to start!! Phew!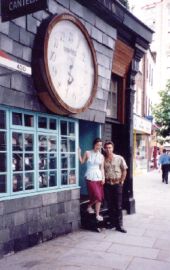 430 Kings Road Chelsea. I arrive feeling slightly bemused. I haven't seen Glen yet so I decide to give him a call. As I do this I glance down the road and see a man over the road answer his mobile ..damn!! We meet and go inside the shop. Glen makes his way straight to the back of the store where he notes that the shop (now known as World's End, and still run by Vivienne Westwood) still stocks one of each of the T-shirts most famously associated with Sex, Seditionaries, and Let It Rock.
We talk to the shop assistant and Glen tells her he used to work there. She doesn't seem to know anything about 430's punk rock heritage but Glen doesn't mind. We note that the floor in 430 has still not been levelled since the seventies, but the cash register has moved from where Glen had once stood talking about style and music with Malcolm and Vivienne more than 25 years ago. Glen eyes the walls and notices the famous Westwood 'Rock' T-shirt in a frame. The bones which hung at angles from the chest of the T-shirt (to spell the word) came from a shop over the road (now an electrical store). Vivienne used to collect the waste chicken bones in order to make the shirts!! We say good bye to friendly shop assistant and move on.
We walk down the Kings Road occasionally crossing over. We pass 'Boy' formally 'Acme Attractions' and Glen explains that on a Saturday, punks on the Kings Road would walk from 430 Kings Road to Boy and vice versa. As we walk Glen suddenly stops and veers off across the road saying 'I know this isn't very punk rock but I really need a new sofa!' I knew it was going to be a surprising day!!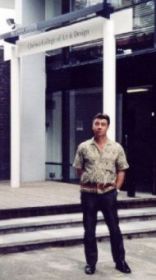 Before we leave the Kings Road, Glen turns down Manresa Rd which leads to Chelsea College of Art & Design. (right). He describes how the Sex Pistols played a Valentine's day gig there in the early days, and recalls that they forgot to put John Cale of the Velvet Underground on the guest list!!


We board the Tube, which takes us out of Chelsea and into the heart of London. There are lots of children on the Tube. Glen says they are all going to the Tower of London. Quite how he knows I am not sure. We get off and Glen leads the way through the busy London streets. 'I love walking through London' Glen says, and he certainly seems to be enjoying himself.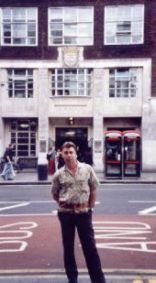 Left: St. Martin's School Of Art
107 Charing Cross Rd.
Site of the Pistols first ever live concert;
6th November 1975.
Interview
Hayley: So Glen, how has London changed since the 70's and punk rock?
Glen: Well the main reason that the Pistols formed was because there was nothing to do that was of any interest to us. So we thought we'd make something ourselves. For something to do!!
Hayley: Do you think that people have stopped doing that?
Glen: People are always doing it for themselves. It just depends whether it strikes a chord with other people. The Pistols did that. The thing with music is that everyone copies everyone else. In the 60s it was pirate radio and in the 70s it was Glam Rock and Punk. The only problem is nowadays there are so many bands it is hard to get recognised. People see it as a good career move to form a band. It's not about music so much anymore.
Hayley: What do you think about the commercial music revolution? (Destiny's Child etc)?
Glen: Well 90% of people are sheep and they don't want to put their neck out by liking anything that isn't deemed to be hip. They don't want to feel left out but they don't want to experiment. The world is getting a little more hip but a little bit more straight with it. Hip is the new straight.
Hayley: What do you think of the way punk is being trivialised?
Glen: There used to be a time when people would be shocked by music. In the 60s when the Kinks came out that was outrageous but now there's a band called the Revolting Cocks and no one is outraged! People have become less straight and punk has been trivialised by it. It's all about how you look, and that's all well and good because people want to feel like they are part of some thing. Like an army.
The walkabout continues.....
We move on, heading for 6 Denmark Street, the studios/rehearsal room used by the Pistols, and which Glen and Steve used as a home for some time until the mice, (John said they were rats), forced them out.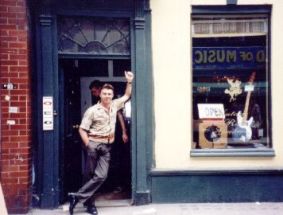 In front of the studios is a small guitar shop. We go in, and Glen eyes up a bass (maroon Sunburst). In another part of the shop is a board containing the signatures of customers, including Rat Scabies and Bob Dylan.
When Glen has finished with the bass we go through a tiny door into the somewhat compacted Denmark Street hovel. I was surprised how small it was (pictured below).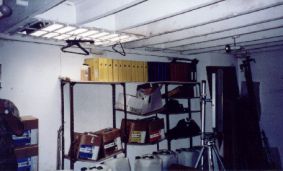 Glen becomes very animated describing how the place used to look. He reveals that after the Pistols split he bought the lease and did it up a little. He points to the skirting board. 'I did that' he says.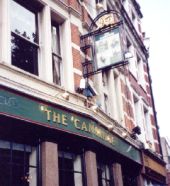 As we walk through Soho we stop at a small pub. Glen explains that this is actually where the French resistance was masterminded during the war. We move on, walking through Soho. We turn a corner. 'You see that pub there', says Glen, pointing to The Cambridge, 'that's where I had the idea for Pretty Vacant, in Moonies, the upstairs bar', 'Oh and around the corner they do a mean lasagne!' This is typical Glen, unassuming as always!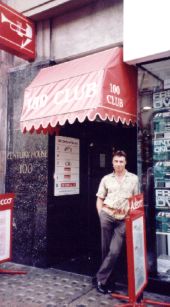 We move towards Oxford Street and the 100 Club. As we stop outside to take pictures, two boys of about 16 ask Glen for directions. I wonder what they would think if they knew they had asked a Sex Pistol for directions outside the 100 club!!
We talk about being 'Too posh for the Pistols'. 'What about John?' says Glen with a hint of irony, 'He married one of the richest women in Europe!'


Photographs & account by Hayley O'Keeffe.
© God Save the Sex Pistols www.sex-pistols.net 2002