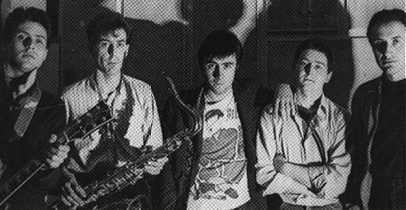 The Spectres

An early incarnation of The Spectres came together after the split of the Rich Kids and consisted of a line up of Glen Matlock, Rich Kids guitarist Steve New, former Tom Robinson Band (TRB) guitarist Danny Kustow, and drummer Budgie who was between spells with The Slits, and Siouxsie & The Banshees. Glen had previously hooked up with Budgie as part of a Bette Bright & The Illuminations tour after the demise of the Rich Kids, and he had met Kustow at a TRB gig some three years before. Kustow bit on a blood capsule during the set which alarmed Glen who thought the band's singer had punched him in the face! The band were tentatively titled 'The Jimmy Norton Explosion'. They recorded a Peel Session which was aired in July 1979 and Glen has since said that this may have featured Mick Ronson (Ronson had produced the Rich Kids album and in the 90's Glen performed at two Ronson tribute gigs as well as dedicating the track 'My Man' to him). Glen contributed three tracks; 'Getting Away With Murder', 'Lazarus' and 'Ambition'. The other track was the Danny Kustow penned 'Lost In A Landslide'. There were also a couple of live performances under the Jimmy Norton moniker.
The band's progress was halted when Glen, and initially Steve, went off to work with Iggy Pop on European and American tours, subsequently recording the 'Soldier' album (including Glen's 'Ambition'). Following this Glen reunited with Kustow and conceived the idea for The Spectres, leaving Steve New, in Glen's words, to develop his "snow white tan" (New would later reunite with Glen for his 1996 solo album 'Who Does He Think He Is When He's At Home' (Creation Records), and then go on to form the band Lude as well as becoming part of Glen's touring band). Kustow explained the problems with the TRB, "We weren't really happening anymore, it was getting sort of safe. Most of the sentiments and politics I agreed with, otherwise I wouldn't have been in the band, but it got to the point where Tom started to go off and do just what he wanted to do, his own separate show."
Glen refuted suggestions that the band's name referred to his own history, "Not really. No. Names to me are a bit silly. I remember when I told my nan our band's name, which was when I was with the Sex Pistols. She said 'Ooohh, that's a nice name', like nans do. You've got to have a gimmick though she said. Anarchy?"
Auditions boosted the line up to five, Arthur 'Art' Collins coming in on saxophone (having spent six years in the Grenadier Guards learning to play!), along with the Little Roosters drummer Graeme Potter and former TRB keyboard player Mark Ambler. Ambler had joined TRB in 1976 as a 16 year old. Also involved with the group during their relatively short career, at the suggestion of ex-Ultravox frontman John Foxx, was tenor/keyboard player C.C. Smith, formerly of Gloria Mundi. A third ex-TRB member Brian 'Dolphin' Taylor, later of Stiff Little Fingers, also featured on drums after Graeme Potter suffered a broken leg. The group began playing the London circuit in early 1980, the set consisting of Matlock / Kustow material including 'Ambition'.
Glen explained why the band featured horns, "I've always been into that John Barry kind of stuff, that more orchestrated kind of sound, the 'heads-down' gets a bit boring. I've always loved saxophones but I never learned to play it, so I thought we'd get some brass, but not in a soully kind of way." Glen went on to say, "The only reason I wanted to play music was to try to get ideas across that you can't do in other fields. Not literal ideas but more feelings and creating moods. I don't like modern art bands much, that tortured artist as an art form bit. As you become older you get more confident, you tend towards things that are interesting without being clever-clever. It's a more natural thing, to make you feel. I think some of Lydon's music is just a drone, but you can write modern music that is melodic and harmonious. Eno makes good music."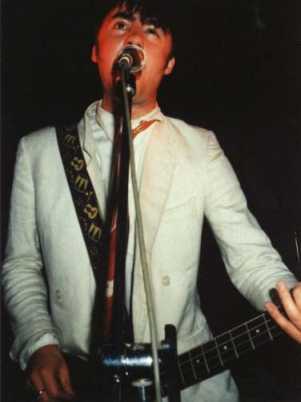 Glen. Spectres live
A May 1980 edition of Sounds reported that a single 'This Strange Effect' (a Ray Davies song) would be out soon with an album to be put together shortly. This single was released on a French label called Direct Hit, and was backed with 'Getting Away With Murder'. A gig that month at The Nashville in London saw Steve New invade the stage to jam with the group. A Danny Kustow track called 'Precious' was planned for a single on Jake Riviera's new F-Beat subsidiary Demon. Both this track and 'Getting Away With Murder' had previously been recorded by a band comprising; Glen, Danny, The Clash's Mick Jones and Pistols drummer Paul Cook, which Glen later wanted Dojo Records to remix and include on the Rich Kids 'Ghosts Of Princes In Towers' CD reissue in 1993. Instead of 'Precious', The Spectres next single was 'Stories' which was co-written by Matlock and Art Collins, and was produced by Clive Langer who Glen had played alongside on the Bette Bright tour. An enthusiastic music press review of the single read, "One of the most interesting bands of the moment, they've chosen in 'Stories' an ideal single. Verses bubble, and textures round outbursts of the title, while the endlessly attractive and busy arrangement incorporates sixties influenced melodies, and a fade-out on squalling sax. Something to give us all hope." The B-side of the single was a track called 'Things'.
A review of a live performance, with Dolphin Taylor on drums stated, "The Spectres work with a curious hybrid of styles, and amidst the dehumanised soundtracks of futurism stick out, if stick out they do, as singularly and engagingly naive." Glen agreed that the band were a progression for him, "Yeah, a lot more so. Just in terms of having respect for the people you play with. Before I'd say 'you play this', and arrange it all and not get the best out of people. But this time it's better, a lot freer. We've started to feel the songs a bit more."
1980 also brought a support slot to the Ramones at the Hammersmith Odeon, London. The group were working without a manager, fixing their own gigs and promotion, and keeping close control over artwork and publicity, mainly due to Glen's past experience, "With the Rich Kids it was so democratic it was ridiculous. There were so many people at the rehearsals putting their comments in that there was no point in opening your mouth. This time though, I put my foot down. It's more totalitarian." 'This Strange Effect' and 'Stories' proved to be the only two Spectres releases, with a potentially lucrative deal with Arista falling through, about which Glen said, "They were pissing us about. We do this song by a mate of mine called 'Hook, Line And Sinker', which Danny sang, and they insisted that it be the first single. I thought, if they're gonna be like that about the very first thing we put out, what are they gonna be like later on?" After the company had put out a story saying the band had signed they received a telegram from The Spectres, putting the record straight so to speak. Glen takes up the story, "After that we decided to go shopping in America. Just before Xmas (1980) we were waiting to hear from David Geffen, and then Lennon (who was signed to the label) gets shot!" The band had been chatting to David Bowie as a possible producer at this point, before reaching a verbal agreement with eccentric former Box Tops / Big Star frontman Alex Chilton. Danny Kustow and Mark Ambler left the group before the end of 1980, with Glen saying of Kustow, "He didn't like flying, and he didn't think we were going enough places fast enough for him." Rather bizarrely the music press said another source claimed Kustow left the band because he was afraid of "the Russians", and felt that in the event of attack or invasion he'd be less prone to persecution if engaged in a 'normal' job! The Spectres continued for a while with Glen saying "I think we're more an American type band. Not that we're vapid, but they've got this whole history of rock'n'roll. I'm not gonna be ska, rockabilly or electronic woofters in carpet slippers!" Mick Hanson was recruited as guitarist and a song called 'Lions Share' was recorded, but never released. Little more was heard of The Spectres and Glen's hope that they would materialise more completely than the Rich Kids had sadly faded.
To complete The Spectres story, 'Stories' was included on Connoisseur Collection's 1993 post-Pistols compilation 'After The Anarchy'.
(Text by Jim Henderson)
(Live photo by Mark Cooper)
THE SPECTRES DISCOGRAPHY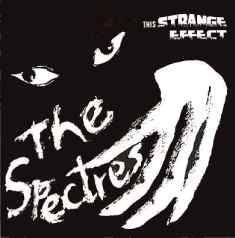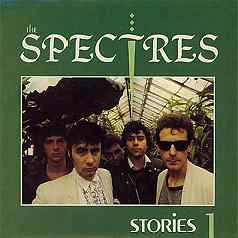 7"
THIS STRANGE EFFECT / GETTING AWAY WITH MURDER (P/S) Direct Hit DH 1 (5/80) (Limited edition of 5,000)
STORIES / THINGS (P/S) Demon D 1002 (10/80)
CD AFTER THE ANARCHY CONNOISSEUR VSOP CD 188 (?/93)(compilation CD of Sex Pistols solo work, includes 'Stories')