Zooparty: You Must Be Joking! (Devil Records)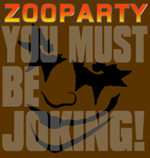 Album Review
Punk rock! Heads down and let's move with Zooparty! Following on from their impressive album Re-fuse, the boys from Sweden are back. Yet again they have engaged the services of Glen Matlock (on PMA) and Brian James (on Another Pack of Lies and Like Dancing on Deathrow).
Zooparty believe in traditional punk; meaty riffs, catchy choruses, and irresistible tunes. Like before, it's sung in English making it accessible to a wider audience. Head honcho Erik Pettersson is a superb guitarist in his own right, his licks matching the barbed lyrical attacks. PMA (Positive Mental Attitude) sums them up perfectly. Is it foot tapping stuff? It's better than that, it's pogo-tastic.
Review by Phil Singleton (July 2012)
Zooparty: Re-fuse (Acme Records Acme 27)
Album Review
A corker of a punk rock album. I've been playing the latest offering by Sweden's Zooparty since its release in October last year; I made it one of my choices of 2009 in my Editorial. It's time to give it a bigger plug. Why? Because it's pretty damn good. And it's bolstered by the involvement of both Glen Matlock and The Damned's Brian James. As mentioned in the report below, Glen played guitar on Raised On Boredom, The Nevers, Bring The Bored, We Have The Right To Know What's Wrong, C´mon and General Cutter. Brian James chips in with distinctive scuzzy lead breaks on C'Mon and We Have The Right...
Punchy and powerful, and sung in English, this trio of die hard punks tear through anti-authority anthems as though it was 1977. "We were raised on boredom, now we're raising hell" they scream like men possessed. It must be pretty grim over in Sweden. These guys are not happy; "bring a book with a happy ending" they urge during their opening gambit. Strangely enough, Re-fuse will leave you feeling pretty good about yourself. It's well produced, full throttle, and energetic.
If you fancy taking a punt on some derivative punk rock action from the continent, give Zooparty a try.
Can you refuse?

Review by Phil Singleton (February 2010)

Glen in Stockholm November 2008
Glen Matlock's visit to Stockholm, Sweden.
Words by Erik Pettersson.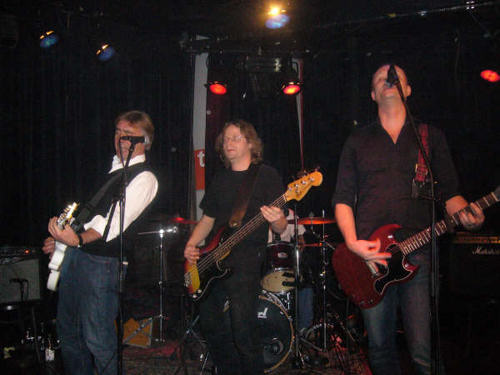 Glen Matlock visited Stockholm, Sweden, this past weekend to once again work with the Swedish punk band Zooparty. He arrived at Arlanda airport on Thursday 20th November and was picked up by Phil Hopkin from O-baren, Sturehof, were Glen was the special DJ later that night. http://obaren.blogg.se/
Hård-Per and Bumba drove up from Linköping and picked up Erik to go to the Fight Club at Mosebacke where Zooparty had a gig the same night. After a quick dinner, Glen Matlock and Phil Hopkin joined them at Mosebacke. Glen and Erik then ran through a song in the dressing before Zooparty hit the stage.
After six songs Erik introduced Glen and welcomed him on stage. Together they then played a great and heavy version of The Stooges' I Wanna Be Your Dog. There's a videoclip of the guest apperance at www.myspace.com/zooparty.
Afterwards Glen and Zooparty went down to O-baren were Glen played records till very late. Included in his set was E.M.F, Only Ones, Ramones and... Sex Pistols.
Early Friday morning Hård-Per, Bumba and Erik came down to A-stream Studio to start working on six new songs Zooparty have recorded. Erik had a bad cold but recorded lead vocals on three of them; General Cutter, The Nevers and We Have The Right To Know What's Wrong. Per then played some guitar overdubs on We Have The Right....
At lunchtime Erik went to Glen's hotel and picked him up and gave him a ride to the studio.
Glen just heard 20 seconds of first track Raised On Boredom before he started working. And that was the start of a great day when the band and Glen got a lot of work done.
Glen played guitar on all six tracks; Raised On Boredom, The Nevers, Bring The Bored, We Have The Right To Know What's Wrong, C´mon and General Cutter. He helped the band produce the tracks and came with great suggestions how the band should do the the songs even better.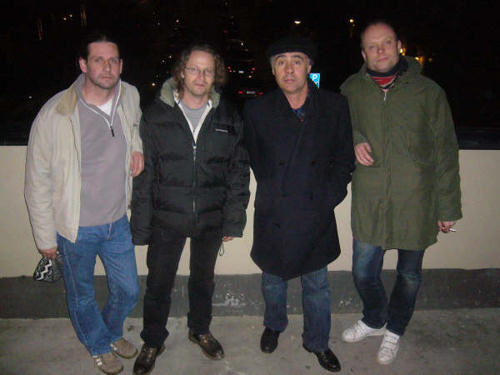 After a hard - but fun - day of work, the band, Glen and engineer Henrik Åström ended the evening at a nearby Thairestaurang.
On Saturday Erik gave Glen a ride out to the airport and the great adventure was over.
Thanks a lot Glen. We had a great time and really appreciate all your help.
Photographs & text ©Erik Pettersson / www.sex-pistols.net
All rights reserved. Not to be reproduced without permission.